Find it in On Demand > Movies > Virgin Movies
Prepare to travel back to a galaxy far, far away. Rogue One: A Star Wars Story depicts what happens immediately prior to the Star Wars saga, setting up the events that take place in the original films.
Jyn (Felicity Jones) is the daughter of an eminent scientist, Galen Erso (Mads Mikkelsen), who is forced to work for the Empire developing complex weapons. Jyn discovers that her father concealed a secret weakness in the seemingly indestructible superweapon, the Death Star. This knowledge becomes key to the rebellion against the Empire and sets in motion the chain of events that plays out in the Star Wars films.
After some initial reluctance, Jyn devotes herself to fighting for the Rebel Alliance. She is fearless and determined, a born Rebel leader who inspires others. The Rebels hatch a plan to steal the Empire's plans for the Death Star, which will enable them to find the hidden weakness planted by Jyn's father. Against almost impossible odds, a small group of Rebels launch a mission to travel to the heart of the Empire and steal the plans, with the fate of the Rebellion resting on their shoulders.
What do we think?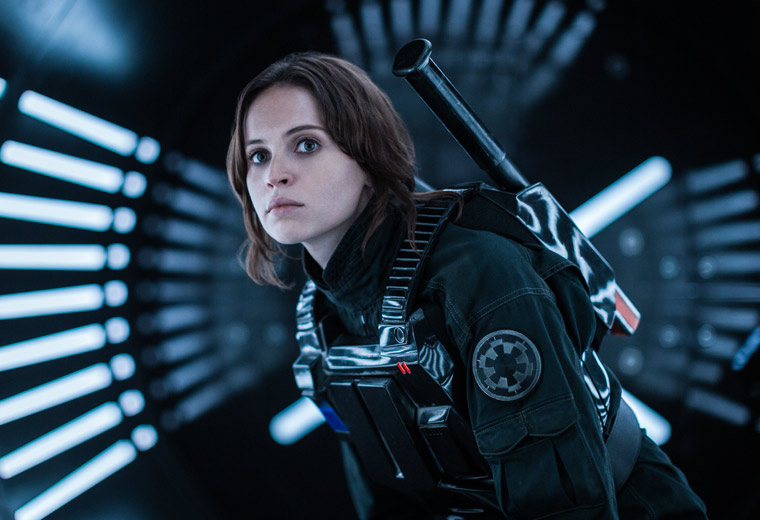 Rebel One operates within the Star Wars universe, but has its own distinct identity. Whether you're a Star Wars fan or not, Rogue One stands alone as a terrific action sci-fi film.
Familiar characters like Princess Leia and Darth Vader pop up, but the emphasis is very much on the new characters. The cast features Diego Luna, Riz Ahmed, Ben Mendelsohn, Donnie Yen, Mads Mikkelsen, Alan Tudyk, Jiang Wen and Forest Whitaker. But this film belongs to Felicity Jones, who is a revelation as Jyn. Having proven herself a brilliant dramatic actress in films such as The Theory of Everything (for which she received an Oscar nomination), Rogue One allows her to demonstrate her versatility – she is a commanding presence in an action film.
Director Gareth Edwards is best known for the highly-acclaimed Monsters and for the 2014 reboot of Godzilla. Rogue One is his most ambitious project yet and movies don't come much bigger than this, it's truly colossal. The effects are staggering and immersive, creating a whole new galaxy. This is a spectacular blockbuster, pure action-fuelled adventure.
Rogue One: A Star Wars Story trivia
- The synopsis of Rogue One is the famous opening sequence text of Star Wars: Episode IV – A New Hope.
- Tarkin, played by Peter Cushing in the original 1977 Star Wars film, is now played by Guy Henry as Peter Cushing passed away in 1994. Cushing's face was then superimposed onto Guy Henry.
- Sisters Rooney and Kate Mara both auditioned for the role of Jyn Erso, which went to Felicity Jones.
- Director Gareth Edwards, veteran Star Wars actor Warwick Davis and Rian Johnson (director of Star Wars: The Last Jedi) all make cameo appearances in Rogue One.
- Carrie Fisher (Princess Leia) passed away just after Rogue One was released. She did get to see the completed film and was said to be delighted with the digital likeness of her younger self used in the film.
- Canary Wharf tube station was used as a location for the Empire's security complex.