Not only is Moana one of the finest Disney animations in yonks, it's also one of its most Easter Egg-stuffed. It's no surprise, considering that it's directed by Gods of Disney Past Ron Clements and John Musker (The Little Mermaid, Aladdin, Hercules), and written by God of Disney Present Jared Bush (Big Hero 6, Zootopia).
So whether you've watched it 72 times already (and sung 'How Far I'll Go' double that number), or you're watching for the first ever time, keep your eyes peeled for these amazing Disney in-jokes…
1. Floundering Around

When Maui works his magic to turn the world 2D, a number of colourful sea creatures swim across the screen. Pay close attention, because for all of a second, you'll be able to spot the familiar blue and yellow striped pattern, quiff and oh-so-recognisable side-eye from a certain Flounder from Clements and Musker's classic underwater musical, The Little Mermaid.
2. Rock-y The Frozen-Nosed Reindeer

Being a Demigod comes with its fair share of magical perks, notably a supernatural fishhook that allows the user to shape shift. While Maui spends most of the movie struggling to regain his pro skills, one comical moment sees him cycle through a series of animals as he attempts to transform into a giant bird.
One that just happens to include Sven, the beloved reindeer from Disney's Frozen.
3. Melted Snowman

The directors have often spoken about how Sven isn't the only Frozen alum in the movie. But everyone's favourite sun-loving snowman Olaf is a LOT harder to spot. That's because, well, he's a puddle.
Look closely in Moana's vessel, and there's a bucket of fruit and vegetables containing a very familiar Olaf-shaped nose, next to a bucket of fresh water. Hey, at least he lived his dream.
4. Big Coconut 6

It's fair to say Moana has some of the cutest psychotic Disney villains ever created. When Moana and Maui are attacked by the Kakamora pirate tribe, they're besieged by an army of Mad Max-ish coconuts. Amidst all the chaos is one very familiar looking little Kakamora. Freeze-frame to spot the fella with a distinctively Big Hero 6 Baymax-esque faceplate.
5. Wreck-It Ralph 2
It's a time-honoured Disney Animation tradition that each new release teases the next in the studio's staple. In case you missed it, here was Zootopia's shout-out to the then-unreleased Moana…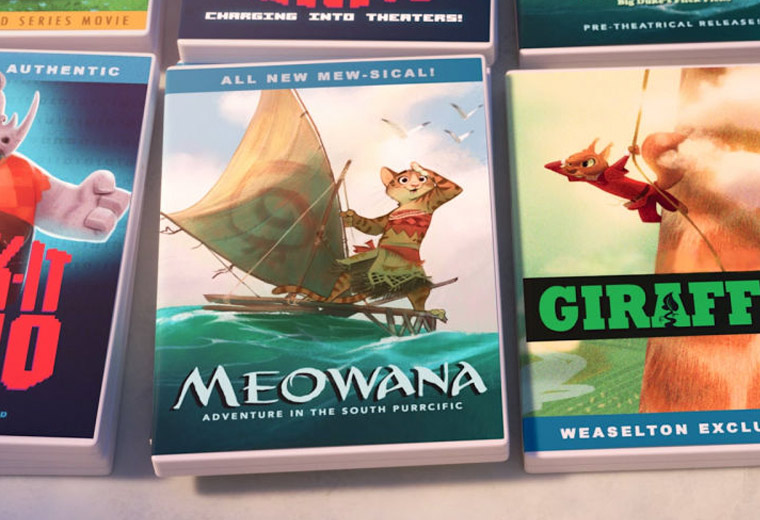 Admittedly, a muscle-bound video game character would be a hard thing to quietly smuggle into a fantasy island adventure, but hang around for the credits and you'll see a special, Polynesian-style appearance from none other than Wreck-It Ralph, in anticipation of his 2018 adventure Ralph Breaks The Internet: Wreck-It Ralph 2.
6. Aladdin's Lamp

Clements and Musker throw in a very subtle, but kinda brilliant ode to another of their Disney classics, in Tamatoa's lair. Amidst all the googly-eyed giant-crab mega-crazy, and disco ball glittery treasure troves sits a lamp.
A lamp you need to really, really know is there. And really, really need to zoom in on to find.
Yep, that's none other than the lamp from Aladdin. Just imagine if Maui had spotted it, given it a rub and unleashed the greatest genie in movie history. A crossover we'd like to see in the sequel, please.
7. Tamatoa vs Sebastian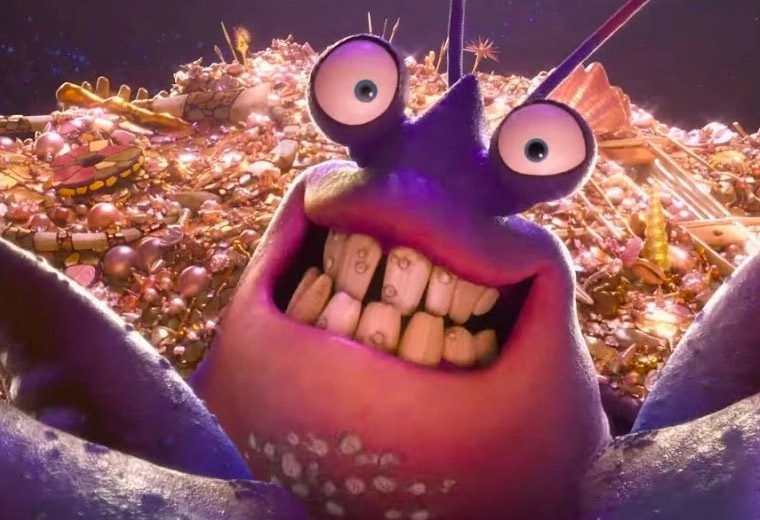 And Tamatoa's scene-stealing doesn't end there. Jemaine Clement's FABULOUS Bowie-crab would happily spend the movie's 107 minute run time shaking his sparkly thang to camera (and, tbh, we'd probably watch that).
As the credits roll, he's obviously keen to soak up all your attention - still stuck on the back of his shell, he urges the audience to help him get back on his good side, before snarkily grumbling that we'd help if he had a Jamaican accent and was called 'Sebastian'. *cough* The Little Mermaid *cough*.
While we love 'Shiny', it's hard to deny that Sebastian won us over with one of the greatest Disney songs ever made.