Writer-comedian-actor Aziz Ansari hit the headlines recently when he hosted Saturday Night Live the day after Donald Trump's inauguration. (Sample line from his opening monologue: "Pretty cool to know he's probably at home right now watching a brown guy make fun of him, right?") To mark the release of the second season of Ansari's hit Netflix comedy Master of None, we've rounded up some of his funniest moments, from his stand-up routines and chat show appearances to the genius comic creation that is Parks & Recreation's Tom Haverford. Enjoy!
1. Indians on TV – (Master of None)
2. Dev's dad (Master of None)
Clearly, Ansari isn't the only scene-stealer in his family. His real-life father plays Dev's dad on Master of None and ends up becoming the show's break-out star with his comic timing and delivery. That's very much on display here, when Dev quizzes his dad about how his parents got together.
3. Relationships (Master of None)
Dev's on-off girlfriend on Master of None is music publicist Rachel, played by Noel Wells. In the season one finale (entitled "Finale"), Dev quizzes her about the racial breakdown of her previous relationships.
4. Dissing frozen yoghurt (Master of None)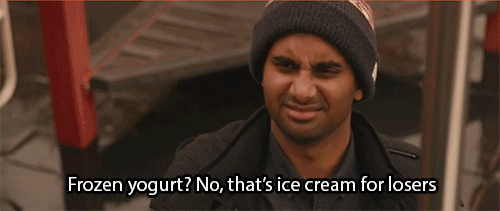 A common subject for Ansari, in both his fictional characters and his stand-up is his love of food, which leads to this brutal diss of frozen yoghurt. It's funny because it's true, etc.
5. Food nicknames (Parks & Recreation)
As Parks & Recreation's Tom Haverford, Ansari takes his love of food to a bizarre new level, reeling off a long list of the quirky names he gives different food items, e.g. calling desserts "zerts".
6. Twitter trial (Parks & Recreation)
One of the funniest moments in Parks & Recreation involved Tom going to court over a traffic violation, during which his tweets are used in evidence against him. The scene is funny enough as it is, but Tom's evident pride in the coolness of his social media postings pushes it over the edge.
7. Investment ideas (Parks & Recreation)
There are plenty of great running gags on Parks & Recreation, but one of the best involves Tom's never-ending list of great entrepreneurial ideas, such as contact lenses that display text messages and a phone that smells good.
8. Bowling with Tom Haverford (Parks & Recreation)
In just under two minutes, this delightful clip of "Bowling with Tom Haverford" encapsulates everything that makes the character great, from his extreme self-confidence, to his indecisiveness over choosing a cool nickname, to his ridiculous bowling stance (Ron: "Son, people can SEE you!"), his cheerful trash-talking and his sudden reversion to childhood when he hurts his finger. Brilliant.
9. "Wasting time on the internet" (Dangerously Delicious)
Ansari's stand-up material is hilariously on point, particularly when he's talking about online activity. If you've ever found yourself heading down an internet black hole, this routine will be painfully familiar.
10. "Texting with girls" (Dangerously Delicious)
The subject of texting in modern day relationships comes up frequently on Master of None and forms a big part of Ansari's best stand-up routines. Once again, it's funny because it's true...
11. 50 Cent grapefruit story (Dangerously Delicious)
An inspired routine (apparently based on a true story), in which Ansari discovers that rapper 50 Cent doesn't know what a grapefruit is.
12. Aziz Ansari teaches Zach Galifianakis about swag (MTV Awards sketch)
In 2010, Ansari hosted the MTV Awards and appeared in a number of comedy sketches throughout the night. One particular was a sketch in which he played the character of Taavon, Swagger Coach to the Stars, alongside Zach Galifianakis. Sample line: "When you have swag, you live by certain rules. One rule I have is, I only sit on things that are purple. I can only go to like two movie theatres..."
13. Pork-fuelled feud with parents (Conan)
Like most stand-ups, Ansari is extremely good value on the talk show circuit, where he frequently mines his personal life for big laughs. Here's one of his best stories, on his relationship with his parents and their clashes over the issue of eating pork.
14. Ghost Plane (Conan)
There's something endearingly silly about this whole bit, in which Ansari persuades Conan and sidekick Andy Richter to help him act out a screenplay he's written called "Ghost Plane". Conan's portrayal of "Academy Award Nominee Jennifer Lawrence" is particularly good, while Ansari uses the bit to deftly sneak in gags about racism in Hollywood.
15. SNL monologue after Trump's inauguration (Saturday Night Live)
There are plenty of great Trump-bashing moments in Ansari's nine minute opening monologue for Saturday Night Live, but the highlight is his scabrous routine about "the lower case kkk" and how racists need to go back to pretending they're not racist. (Also great: his point about the musical accompaniment to scenes of Muslims on TV).