We've seen him dressed as a woman. We've seen him fight in the Napoleonic Wars. We've seen him die – a lot. But now, we get to see a whole new Sean Bean.
Fans of I, Daniel Blake will appreciate this raw, socially relevant drama in which Bean stars as Father Michael Kerrigan, a Catholic priest presiding over a parish in the North West of England. While he struggles with the pressures of priesthood in modern Britain and wrestles vicious inner demons of his own, Father Michael's congregation is faced with poverty, unemployment and shattered dreams.
Broken sees Bean reunited with Accused writer Jimmy McGovern in this six-part series. Completing the stellar cast are Anna Friel (Marcella), Paula Malcomson (The Hunger Games), Adrian Dunbar (Line Of Duty) and Mark Stanley (Dickensian).
Ahead of the launch of this powerful new series, we sit down with Mr Bean himself to find out about life as a man of the cloth…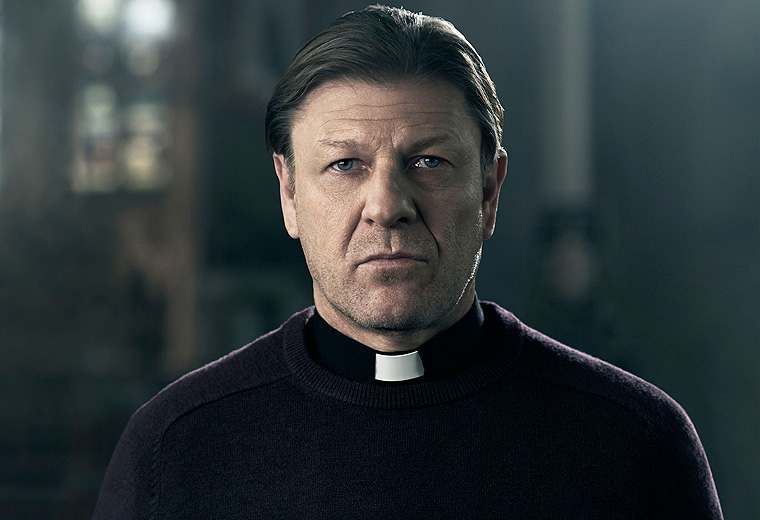 So, Sean, what hooked you about the show?
I talked to Jimmy [McGovern] about it a couple of years ago. He's a brave storyteller, with radical ideas. His writing is just amazing – it feels so good to say his words.
Tell us about your character, Father Kerrigan…
He went the wrong way in life and then he finally found his faith again. Broken is a fitting title for the character I play. He has been broken in the past. He suffers at the moment of the consecration with awful flashbacks that disturb his mind at that crucial point.
He has flashbacks to experiences of his mother and how she treated his father, and how he used to treat women. He's very radical in what he suggests and his vision for the Catholic Church. It should be much more accessible in the community.
It's very different to your previous roles…
I'm dealing with other people's problems whereas, in a lot of other things I've done, I'm causing the problems. That's why I get killed all the time… although I've stayed alive quite a lot over the last few years.
How did you prepare for the part?
I went to Liverpool and spoke to priests and brothers. They took me through the mass. It's quite theatrical. I spent a lot of time with a man called Father Dennis. I wanted to know what his life was like on a day-to-day basis – what he does when he's on his own, where he goes, where he buys his food.
What's been the reception from the Church?
I was on the front cover of Jesuits & Friends, so they must be quite happy with what I've done! It's not anti-religion and it's not overly religious. It's for you to make your mind up what you think.
It reminds us of I, Daniel Blake. Do you think we need to see a wider cross-section of society represented on screen?
It's more representative of our country than the likes of Downton Abbey. Downton was a good show, but it was just about the aristocracy and the upper classes. It's brave of Jimmy and the BBC to do something like this.
What TV do you like to watch?
There's so much good television at the moment. I love Line Of Duty, Breaking Bad and The Returned.
Tuesdays, 9pm, BBC One (CH 101) and BBC One HD (CH 108). Also available for 30 days in Catch Up > Channels > BBC iPlayer