Find La La Land in On Demand > Movies > Virgin Movies
If you haven't seen this film yet, what are you waiting for? La La Land is a very modern romcom musical, putting a spring back in the step of a genre that fell out of fashion for a long time. It tells the story of the romance between aspiring actress Mia (Emma Stone) and jazz pianist Sebastian (Ryan Gosling).
Mia first encounters Sebastian one busy morning when stuck in a busy Los Angeles traffic jam. Their encounter leaves Mia fuming with road rage. From there, fate continues to throw them together and they continue to bicker, until gradually, the bickering blossoms into a beautiful romance and the two of them fall head over heels in love.
It's a whirlwind adventure as they share their passions for acting and jazz music with each other and quickly move in together. But reality starts to bite when they realise that following their career dreams and keeping their passion for each other alive may not be as easy as falling in love was.
What do we think?
It's more accurate to describe La La Land as a phenomenon than a film. Movies like La La Land don't come along very often, it was almost universally adored and prompted a global trend for tap dancing.
Director Damien Chazelle (whose previous film Whiplash was a huge hit with critics) creates a vibrant, colourful, enchanting vision of LA. Under his direction the whole film sings and it's no wonder that La La Land scooped a remarkable number of awards.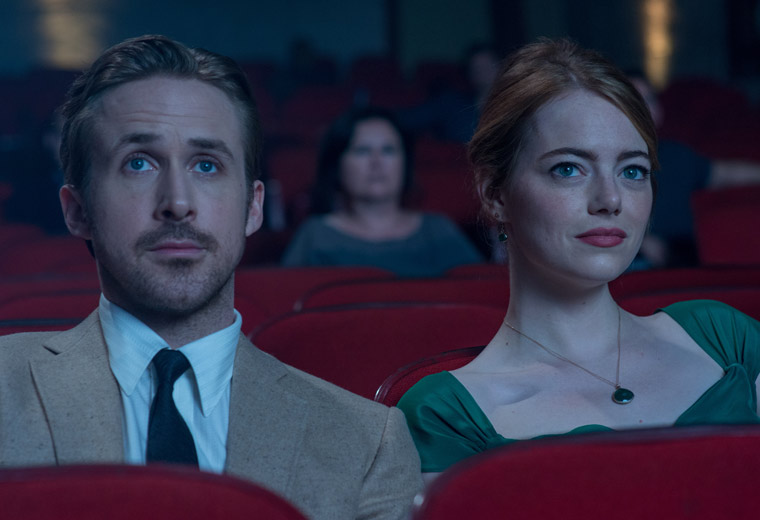 Emma Stone and Ryan Gosling are perfectly matched as the star-crossed lovers, the chemistry between them is palpable. Emma Stone shines and she bagged the coveted triple award – Bafta, Golden Globe and Academy Award – for her performance.
It's a rush of nostalgic joy to see the traditional musical revived for a modern audience with such love and care. It's full of heart and colour and music, a real cinematic feast.
La La Land trivia
In one of the most infamous Oscars moments ever, La La Land was incorrectly announced as Best Film, only for the award to then go to Moonlight.
With 14 Oscar nominations, La La Land holds the joint record for the most ever nominations, alongside All About Eve (1950) and Titanic (1997).
It won six Oscars, including Best Director and Best Actress.
Miles Teller and Emma Watson were originally set to star as the leads.
Ryan Gosling learned how to play the piano for his role in the film. He practised for two hours a day, six days a week.
Emma Stone and Ryan Gosling previously co-starred in Crazy, Stupid Love and Gangster Squad.