Saturday, 6pm, Sky Sports Box Office + Sky Sports Box Office HD. Pricing is £16.95 for SD and £17.95 for HD
British boxing is the gift that keeps on giving. In early March, it presented fans with the epic tussle between Tony Bellew and David Haye. In late April, it brought us Anthony Joshua's sensational win over Wladimir Klitschko. And now, this very Saturday, it's serving up a potentially explosive battle between Sheffield's Kell Brook and America's Errol Spence Jr.
"I'm looking forward to putting a show on and showing the world I'm number one," says Brook, who returns to the welterweight division after stepping up to middleweight to take on Kazakh boxing genius Gennady Golovkin. The 31-year-old Yorkshireman suffered the first defeat of his 37-fight professional career in that gruesome battle, and is looking to bounce back by defending his IBF Welterweight title at the home ground of his beloved Sheffield United. "It's long been a dream of mine to fight outdoors at Bramall Lane and I'm pleased to do that in the biggest fight in the welterweight division," says Brook. "A lot of people talked about how I would avoid Errol Spence. They don't know me. They don't know what I'm about."
Those people might not know what Brook is about, but Spence Jr sure does. He knows that Brook likes to use his jab to set up other punches like his left hook. He knows that Brook has a lethal uppercut. And he knows that Brook won his IBF title in a thrilling scrap against an American in America.
"He took the title and brought it to the UK, and now I'm going to the UK to bring it back to the United States," says Spence Jr. "It might be a knockout, it might be a win by decision, but the end result is I am coming back with the belt."
It's the kind of tough talk you'd expect from someone who has won all 21 of his previous fights, but, as Brook is quick to point out, the 27-year-old from Long Island has yet to face anyone of his quality. "They think he's going to be the next big star of American boxing, but he's fighting me, and I'm a world champion who believes that no man can beat him," Brook smiles.
Excited? You bet we are. The fists start flying at 6pm on Saturday and you can watch it live on Sky Sports Box Office or Sky Sports Box Office HD if you've got a TiVo® or Virgin TV V6 box! Until then, let's look at the stats…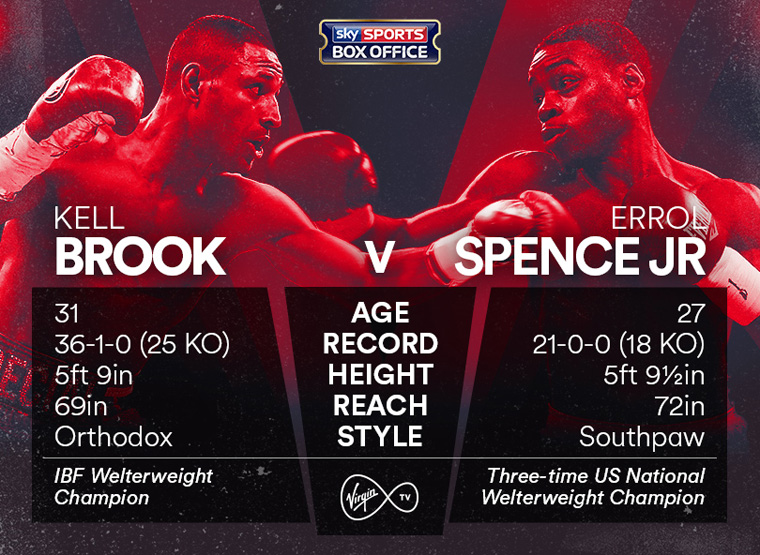 How to order
Go to Home > On Demand > Live Events > Current & Bookable Events. Once you've bought it, you can watch the event as soon as it's started. To do this go to Your Rentals > Live Events.