Incidences of stirring, real-life heroism have always made a compelling subject for filmmakers, because these stories capture both the imagination and the hearts of the public, forcing us to ask what we would have done in the same situation. Mel Gibson's Hacksaw Ridge provides an excellent example, telling the story of pacifist WWII medic Desmond Doss (Andrew Garfield), who repeatedly risked his life to save the lives of wounded soldiers during a prolonged and bloody skirmish on the titular battlefield. With Hacksaw Ridge now available on Virgin Movies, we've assembled a list of seven other real-life heroic tales that inspired the movies.
Find Hacksaw Ridge in On Demand > Movies > Virgin Movies
1. Hotel Rwanda (2004)
Directed by Terry George, Hotel Rwanda tells the true story of Paul Rusesabagina (a deservedly Oscar-nominated Don Cheadle), a hotel manager in Rwanda who sheltered over a thousand Tutsi refugees from certain death during the Hutu massacres in 1994. Fittingly, the fact that Rusesabagina is an exceptional hotel manager contributes strongly to his heroic actions, because he knows exactly who to bribe and coerce in order to survive.
2. Erin Brockovich (2000)
Stephen Soderbergh's 2000 drama tells the story of single mother and legal clerk Erin Brockovich (Julia Roberts), who brought a 1993 case against California's Pacific Gas and Electric Company after discovering that they had been dispensing contaminated water for over twenty years. Portrayals of real-life heroism often prove irresistible at Oscar time and Roberts deservedly picked up the Academy Award for Best Actress for the role. Fun Erin Brockovich fact: the real-life Brockovich has a cameo in the movie as a waitress named Julia.
Erin Brockovich is available now on Sky Cinema
3. Sully (2016)
Airline pilot Chelsey "Sully" Sullenberger was catapulted into the public eye in 2009, when he maintained a cool head and dramatically crash-landed his failing plane on the Hudson River in New York, saving the lives of all 155 passengers on board. As portrayed by Tom Hanks (complete with an attention-grabbing moustache) in Clint Eastwood's 2016 movie, Sully is an ordinary man who happened to be really, really good at his job. Cleverly, the film finds multiple ways of replaying the centrepiece scene, by having the crash play out from different perspectives.
Find Sully in On Demand > Movies > Virgin Movies
4. Schindler's List (1993)
Based on the book Schindler's Ark by Thomas Keneally, Stephen Spielberg's 1993 historical drama tells the story of factory owner Oskar Schindler (Liam Neeson), who saved the lives of more than 1,200 Jews during the Holocaust. Running over three hours long and shot largely in black and white, the film went on to win seven Oscars, including Best Picture, Best Director, Best Actor and Best Supporting Actor for Ralph Fiennes' portrayal of concentration camp commandant Amon Göth.
5. Argo (2012)
Heroism in the movies often equates to saving lives at great personal risk. That's certainly true of CIA technical operations officer Tony Mendez, whose daring rescue of six American hostages during the 1979 Iranian Revolution forms the plot of Ben Affleck's 2012 Oscar-winner Argo. As portrayed by Affleck, Mendez' ingenious plan involves disguising the hostages as members of a fake film crew, which allows for some entertaining Hollywood satire alongside the nail-biting tension of the rescue itself.
Find Argo in On Demand > Movies > Virgin Movies
6. Braveheart (1995)
Inspired by the epic poem The Actes and Deidis of the Illustre and Vallyeant Campioun Schir William Wallace, by Blind Harry, Mel Gibson's Oscar-winning drama details the life and (spoiler) death of William Wallace (Gibson), a 13th-century Scottish warrior who led the Scots in the First War of Scottish Independence against King Edward I of England (Patrick McGoohan). Gibson is no stranger to acts of onscreen heroism, having received one of his earliest roles as a courageous Australian soldier in Peter Weir's Gallipoli (1981).
7. Norma Rae (1979)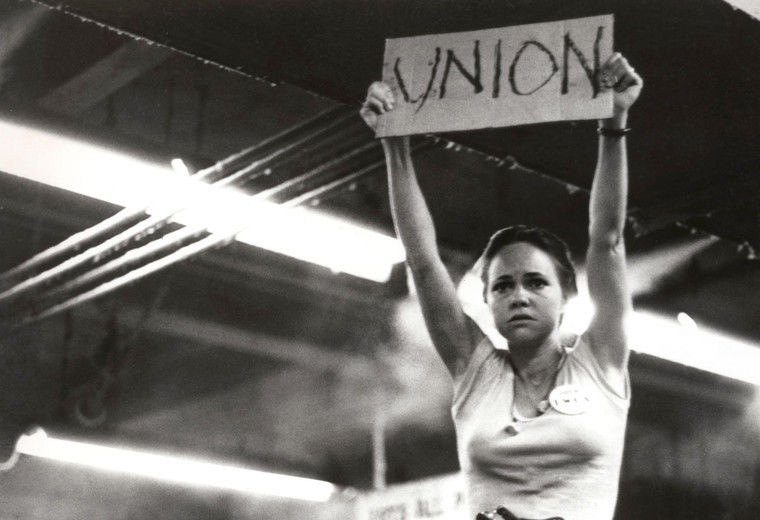 Based on the true story of Crystal Lee Jordan, director Martin Ritt's 1979 drama Norma Rae stars Sally Field as a small town textile factory worker who becomes heavily involved in labour union activities after the health of her fellow workers is compromised. Jordan's real-life protest forms the film's most powerful scene, where she writes the word "UNION" on a sign and stands on her workbench until everyone stops working. The film was nominated for six Oscars and won two, including Best Actress for Sally Field.