Slip on your never-worn tap shoes, kid yourself you're going to book yourself into piano lessons and prepare for La La Land, the swingingest movie musical in town, now available on demand from Virgin Movies! Star of La La Land Emma Stone won the Oscar for Best Actress, but she could have easily won an imaginary award we just invented called 'Lifetime Achievement Award for Services to Animated Gifs'. Emma Stone thrives in the medium, perhaps even more so than the big screen. These are the 10 greatest Emma Stone gifs from the whole entire internet and we dare you to prove us wrong.
This Emma Stone gif where she dances her sweet li'l feet off in La La Land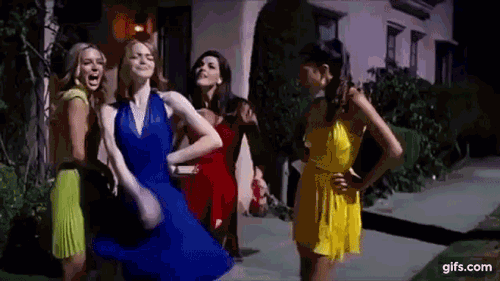 Here's Emma Stone in a gif with her girls in her extremely giffable dress, doing an extremely giffable dance against an LA backdrop once voted 'Most Likely to Appear in an Animated Gif'. The cameraman was so fond of this gif moment, he immediately pointed his camera at the sky, knowing no one could ever capture such a perfect gif on land ever again. We've established that Emma Stone is the best at gifs, but you need to prepare for how mind-blowing the rest of this set of Emma Stone gifs really is.
This Emma Stone gif where she correctly predicts her own gif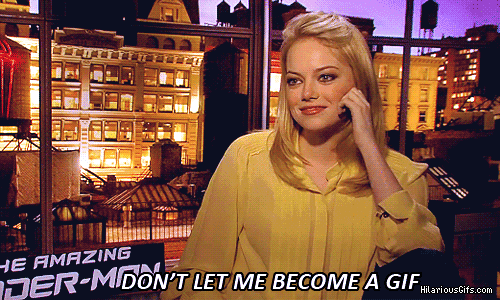 She can act, she can sing and she can dance, but even better than all of those things is that Emma Stone is digitally savvy. She knows about the gifs. She knows she's prime gif material. Emma Stone gives great gif face. She is basically already a human animated gif in beautiful high resolution. Sorry we turned you into a gif, Emma Stone, but you knew this was going to happen.
This Emma Stone gif where she gives the perfect thumbs up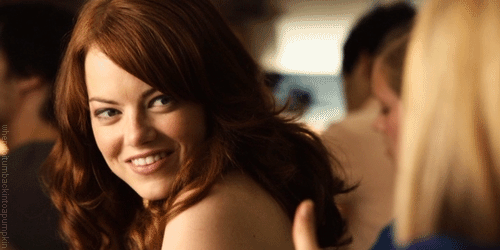 So many stars don't know how to give a proper thumbs up. You have old school thumber-uppers, like Donald Trump and Paul McCartney, who think that all it takes is to extend your lumpiest digit and reap the rewards. If you think the most important part of a thumbs up is the thumb, you are a rank amateur: it's all in the face! As Emma Stone proves here, commit with the face and the thumb ups all by itself.
This Emma Stone gif where she's singing in the shower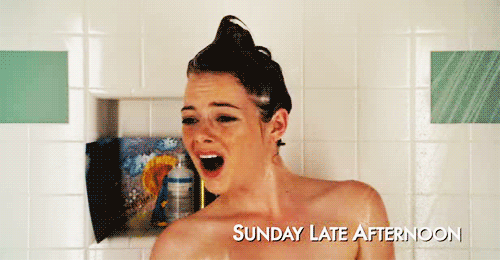 This gif is extra adorable because you just know Emma Stone sings in the shower for real. We can imagine it now. Not in a weird way, but in a cutesy, pre-watershed, Donald-Duck-in-the-shower kinda way, where she sculpts her soapy hair into fun shapes and croons old Madonna songs into a shampoo bottle. She knows she's great at singing but she still rates herself a 3 out of 10. We would buy an album called 'Emma Stone's Soapy Shower Songs' and we bet you would too.
This Emma Stone gif where she is basically all of us at dinnertime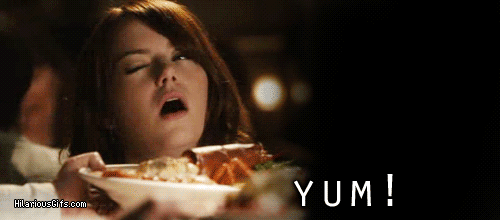 Try to count how many different things are happening on Emma Stone's face in this two-second animated gif. Eight? Twelve? The mouth, the eyes rolling independently from one another, the chin... Emma Stone's face is the busiest and hardest working face in showbusiness – it's the Clapham Junction of faces. This gif of a hungry Emma Stone just makes *us* hungry – hungry for more Emma Stone gifs that is!!
This Emma Stone gif of Emma Stone doing an impression of us looking at Emma Stone gifs

Sigh. Oh Emma Stone gif. It's as if you know us better than we know ourselves. This is our default facial expression when we gaze upon your animated wonder, looping again and again, your appeal never diminishing. Sometimes for hours on end. Days disappear. All there is is animated Emma Stone gifs. The rest of the world doesn't matter. And that's absolutely fine. Sigh.
This Emma Stone gif where she blows us, specifically us, a kiss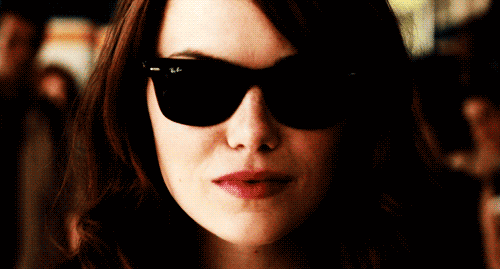 Hey, back off. That kiss was meant specifically for us, not you. Don't get in our way or we will take you down. When a good lady like Emma Stone floats an airborne lip gift like the one pictured here, it's good manners to let it flap unhindered until it lands on the mouth of its intended. And that's us. If you want Emma Stone to blow you a kiss, source your own gif on your own internet, smart guy.
This Emma Stone gif at the Oscars where she proves she's adorably awkward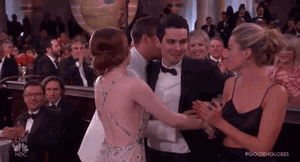 It's good to know that even in the ritziest of circumstances, Emma Stone still has the self same social anxieties that we do. Here we can see she's leaned in for a hug-'n-kiss with La La Land director Damien Chazelle without telegraphing it in advance, and Chazelle, the berk, has already committed to another hug. Emma Stone styles it out though, in that adorably gawky way that friends of mine would just love if I introduced her to them as my girlfriend.
This Emma Stone gif where it becomes clear why she split with Andrew Garfield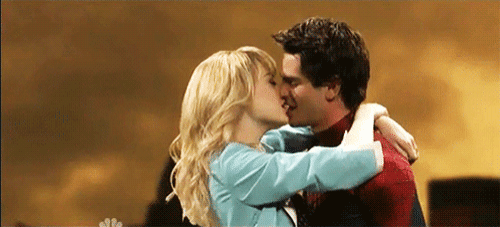 We don't know how this gif got access to the highly secure private chambers of Emma Stone, but I do know one thing: if I were Andrew Garfield, I would be mortified that this compromising tape had leaked. That's not how you make out with a human woman, Andy! You're supposed to purse your lips and lean in and keep your eyes trained on your own lips so you know exactly where they're going to land! We would never make this mistake, given the chance. Stick to making out with spiders, idiot!
This Emma Stone gif where she pets some sort of small land bear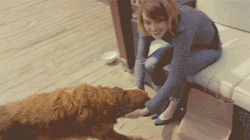 Obviously Emma Stone loves animals. That should go without saying. And animals love her too. Look at how happy she is to give this hairy thing a cuddle! I never saw her smile like that while cuddling Ryan Gosling or kissing that idiot Andrew Garfield. This gif captures Emma Stone's inner beauty, which can also be seen in addition to her outer beauty. The perfect film would be Emma Stone just, like, surrounded by one hundred furry mammals. Imagine the gifs! That's what we're going to do right now. Imagine the gifs.
Find La La Land in On Demand > Movies > Virgin Movies