Sundays, 9pm, Channel 4 (CH 104) and Channel 4 HD (CH 141). Also available for 7 days in Catch Up > Channels > All 4
It's official. One of 2017's biggest US dramas has found a home right here in the UK – and you can watch it on Virgin TV! The Handmaid's Tale starts this Sunday on Channel 4 HD, and its visceral vision of a repressive future is set to cause one heck of a stir. Intrigued? Check out the trailer below (but be warned, it's not for everyone).
Based on Margaret Atwood's bestselling and critically acclaimed novel, the ten-part series is set in the dystopian Republic of Gilead, a nightmarish totalitarian society in what used to be the USA.
We say "used to be" because America has undergone a few, ahem, changes in this sinister show. With the environment a mess and only a handful of women able to reproduce, Gilead's fundamentalist regime has decreed that its fertile females must give birth in order to boost the waning population. These are the Handmaids. If they fail to do what they are ordered, a terrible fate awaits them…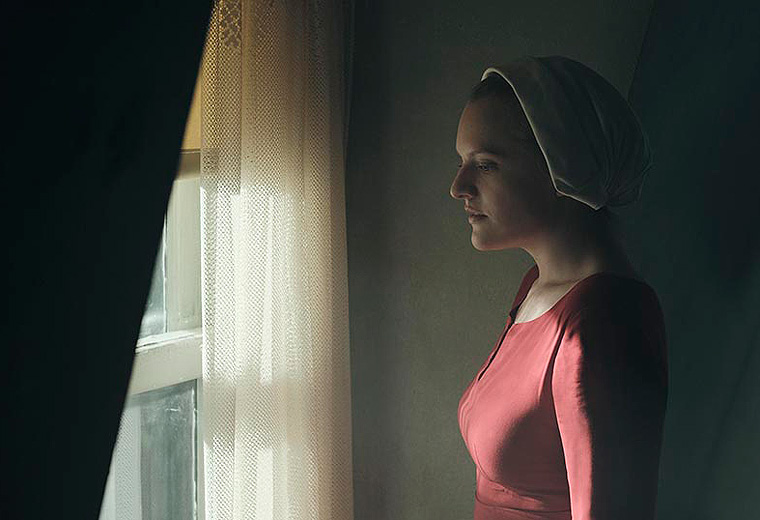 One such woman is Offred (Mad Men's Elisabeth Moss, above), Handmaid to The Commander (Joseph Fiennes, Shakespeare In Love) and his household. In this cruel and unforgiving new world, her chances of survival are constantly on a knife-edge, but Offred must play the long game if she wants to find the daughter who was snatched from her when society was turned so drastically on its head.
Featuring a stellar supporting cast that includes Samira Wiley (Orange Is The New Black) and Max Minghella (The Social Network), this brand new series is one of the year's must-watch dramas and has earned rave reviews across the pond. Get ready.
Watch The Handmaid's Tale, Sundays, 9pm, Channel 4/HD (CH 104/141). Also available for 7 days in Catch Up > Channels > All 4