We live in ridiculous times. So it's only right that they get lampooned as much as possible by some of the finest comedic talent on telly. With that in mind, praise the TV gods that satirical panel show Mock The Week is back for series 16!
No public figure or hot topic is safe on this show, as demonstrated by last week's series opener on election night. And there's plenty to discuss (and mercilessly take the mick out of) throughout the rest of its return, including the British & Irish Lions' rugby tour of New Zealand, ongoing Brexit back-and-forth and some fella across the pond called Donald Trump.
Mock The Week has helped launch many a comedy career, but let's not lose sight of the fact that it's the seasoned regulars like Dara Ó Briain, Hugh Dennis, Ed Byrne and Milton Jones who've kept us guffawing into our pre-bed cocoa with heroic levels of consistency.
Speaking of Hugh Dennis (clunky segue alert!), we sit down with the comedian and star of Outnumbered to find out just how famous he is.
Hugh, let's play The Fame Game…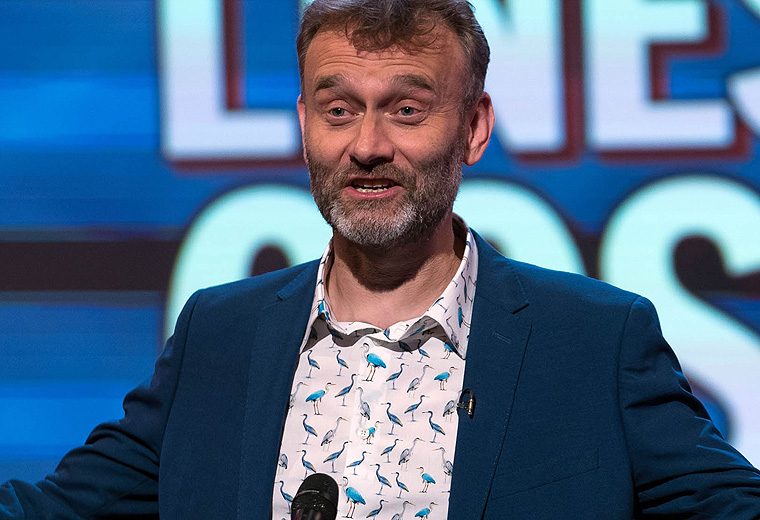 Hello, Hugh! Have you ever met the Queen?
Hugh Dennis: I have! I was head boy at my school and she came to re-open it. The embarrassing thing was nobody told me any of the protocol. I turned my back on her, which you're not supposed to do. (1)
Who's the most famous person in your phonebook?
Hugh Dennis: There are a few comics in there but no one really famous like Barack Obama. (0)
Bus, tube, taxi or chauffeur?
Hugh Dennis: I get around on a bike. I love it because it's the only way you can guarantee you'll get somewhere. You'll be really sweaty but you'll get there. (0)
When did you last Google yourself?
Hugh Dennis: I try not to do that. It was a while ago. It's all too horrid. My own children like to change my Wikipedia page. (0)
When was the last time you were stopped for a selfie?
Hugh Dennis: Yesterday. It happens all the time. No one asks for autographs anymore – and I've perfected mine. (1)
How many Twitter followers do you have?
Hugh Dennis: I don't do social media. You've got to be really witty and I just want to sit around watching the football. (0)
What's your typical coffee order?
Hugh Dennis: I have a cortado. It's effectively a cappuccino, but a third of the size. Normal cappuccinos are too big. (1)
Where's the strangest place you've been recognised?
Hugh Dennis: Urinals are quite odd. Other than that, probably Nairobi Airport. A show I did called My Hero is very popular in East Africa. (1)
Do you drive an electric car?
Hugh Dennis: No, but I'm quite tempted. (0)
What was the last film you paid to see?
Hugh Dennis: The Handmaiden. It was very arty and I laughed at bits I probably shouldn't have. It was beautifully shot, which is what you've always got to say. (0)
Craft beer or draft beer?
Hugh Dennis: Probably craft, just because I like to pay a little bit more. (1)
What was the last party you went to?
Hugh Dennis: It was probably an after-party for a West End show, where you go, "Ooh, look. It's Derek Jacobi". (1)
Do you have a life coach or a PA?
Hugh Dennis: No. It would be absurd. The one thing you have in my profession is time, so I don't need someone to fill in a diary. I work hard, but I've never found the need [for either]. (0)
Have you ever commissioned a self-portrait?
Hugh Dennis: No. Neither of myself nor any of my pets. (0)
Do you "go on holiday" or do you "holiday"?
Hugh Dennis: Neither. I just tell people I'm going away. (0)
Do you watch yourself on TV?
Hugh Dennis: I really, really try not to. In the very early days of Mock The Week I used to make my family watch it so I could question them after. (0)
Hugh Dennis scores 6 points!
He may be a big star in East Africa and he has actually met the Queen, but he's managed to remain down to earth with it all.
Watch Mock The Week, Thursdays, 10pm, BBC Two/HD (CH 102/162). Also available for 30 days in Catch Up > Channels > BBC iPlayer. Find episode 1 in Catch Up > Channels > BBC iPlayer