Will Skye choose Sean or Ben? Will Noah confess his true feelings for Kaylee? And just where will the treasure map lead?
These are the questions that fans were left with as the phenomenal success of The Lodge season 1 drew to a close… but at last the wait is over as season 2 launches on Friday 9th June at 5.30pm on Disney Channel!
With Skye still trying to honour the memory of her mother, enjoying her new life in the country after leaving city life behind, season 2 will see her, her friends and frenemy Danielle face new challenges, solve new mysteries and continue to navigate the emotional rollercoaster of their teenage years.
And this time round, there are new additions to the cast too, including EastEnders actress Mia Jenkins as tomboy Alex, and Girls Aloud pop star Kimberley Walsh as music producer Rebecca. All of which, of course, means that we can expect more fantastic songs with bigger and bolder dances!
Ahead of the new season starting, we sat down with cast members Thomas Doherty (Sean), Bethan Wright (Danielle), Jayden Revri (Noah) and Mia Jenkins (Alex) to get the scoop on all all the goings on inside The Lodge.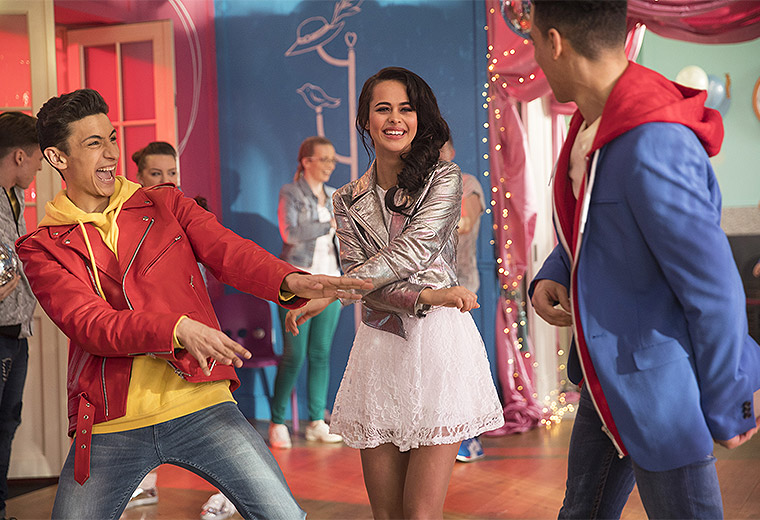 How do you feel about fans finally seeing season 2?
Jayden Revri: I'm really excited to see what everyone's reaction will be!
Thomas Doherty: This year we have more episodes too which means there's more room for the drama and the mystery.
Mia, what can you tell us about your new character, Alex?
Mia Jenkins: She is quite a mysterious character. When she comes in, you're not sure if she's there for the reasons that she says she is, but that does break down as the series goes on, I think. She doesn't really interfere with any of the relationships. She's more about the mystery side of the story so she helps to develop that.
How has it been for you joining such a hugely successful show?
Mia Jenkins: I knew how successful it was and how many views it had on YouTube and I heard about it from friends so it was quite a daunting thing to come into because you know what is expected of you. But when I came in, there's guys just made it really comfortable for me. The minute I came in I was like "Ok, I know this is going to be a good four months"!

Bethan, what can you say about Danielle in season 2? Is she starting to be more friend than foe now?
Bethan Wright: She definitely discovers a lot about herself. Of course she's still Danielle and very sassy still.
Jayden Revri: She opens up a lot more this time.
Bethan Wright: Yeah, she has so many layers. She does put on a front, but she's actually quite insecure. She's just realising who she is and what she's about.
As the mean girl in the show, do you get a different reaction from fans than the rest of the cast?
Bethan Wright: Yes and no. I do get a lot of "Why are you so mean?". And I'm just like "She's figuring it out!"
Jayden Revri: I think it's really good because each character is so relatable to different kids. There's eight of us and every character goes on a different journey and I feel like they teach kids on that journey how to deal with certain things.
Thomas Doherty: Sure, no one ever teaches you about life! It's always maths and science but there's no actual life skills so I think it's wonderful for kids to be able to identify and connect with the show.
How do you fill your downtime on set?
Bethan Wright: To be honest with you it all depends. Some days are really crazy and really full on – you get picked up at 6.10am and sometimes you don't get back until 8.30pm and then you're learning the script and you get to bed late. But because it's such a fast pace, you forget about it. And you're surrounded by incredible people, from production, hair and make-up, sound… everyone. It's just such a close environment, you never think "Oh I'm tired".
At what point do you learn the songs and dance routines?
Bethan Wright: That's all in the preparation and rehearsals. So we have three weeks of dance rehearsals and before that we're in the recording studio. And then we're listening to the songs constantly and going over our choreography.
Are there any routines that you have found tricky to learn?
Mia Jenkins: At the beginning, when we're first learning, it's like "Wow, this is insane!" but then once we're going over it and taking it step by step, then no. And if there's anything we're worried about, we can just break it down and take it step by step.
Thomas Doherty: As well as our choreographers, we also have each other and we help each other a lot during the whole rehearsal process.

Now that you have finished filming, what's next for you guys?
Bethan Wright: We're actually going on a live tour and it will be our first tour all together, which is going to be absolutely incredible.
What do you find more fun: filming the show or performing live?
Bethan Wright: They're so different but what's amazing with the tour is that we can see fans who watch the show see us live and that's is so heart-warming. Hopefully they'll know our songs!
Thomas Doherty: When we film, it's over three or four months and it's very stop start, but this will be continuous and we are so excited. And it will be our first time on a tour bus!
Do you have any favourite songs to perform?
Jayden Revri: I think we're going to be doing season 1 and season 2 songs on the tour and now that Over 'Til It's Over has been released, I can talk about that: I am very, very, very excited to be performing that.
Mia Jenkins: It's a really good, funky upbeat tune with a really good dance. Song-wise, it's a little bit more of a level up on last year, I think.
Who is most like their character on set?
Mia Jenkins: Jayden. Jayden is pretty similar to Noah.
Thomas Doherty: Because you both have that passion for music.
Mia Jenkins: And you're sweet and funny
Jayden Revri: And I'm always dancing around on set!
What have been your favourite character moments to film?
Thomas Doherty: I love that Sean is a bit clueless emotionally and isn't very empathetic. It's not malicious, he's not intentionally trying to hurt anyone, but it's really good fun to play that awkward romantic tension with Skye.
What would you like to happen for your characters in the future?
Jayden Revri: I'd really like Noah to come to terms with his feelings for Kaylee. As you can see from the whole of season 1, he does really like her. It's obvious that she feels the same way so nothing bad is going to happen.
Thomas Doherty: Obviously, I'd like Sean to finally have his biking career. Those scenes are so much fun to shoot. They're in stunning locations… It was something I had never done before but being exposed to that sport has been great.
The Lodge season 2 launches on Friday 9th June at 5.30pm on Disney Channel