Wild and windy landscapes. Brooding looks. Well-toned torsos you could bounce pennies off. Yes, pulse-raising period drama Poldark is back on the box for series 3… and once more, it's ready to grip the nation. Want to see what all the fuss is about? You can find series 1 on Netflix now.
Things are looking as stormy as ever this time around, with Ross Poldark (Being Human's Aidan Turner) fighting tooth and nail to rebuild his marriage to Demelza (Death Comes To Pemberley's Eleanor Tomlinson) following series 2's explosive finale. But with the French Revolution casting ominous shadows over Cornwall, and the sudden arrival of Demelza's religious brothers, his world is far from certain. Think Sunday nights are dull? Think again.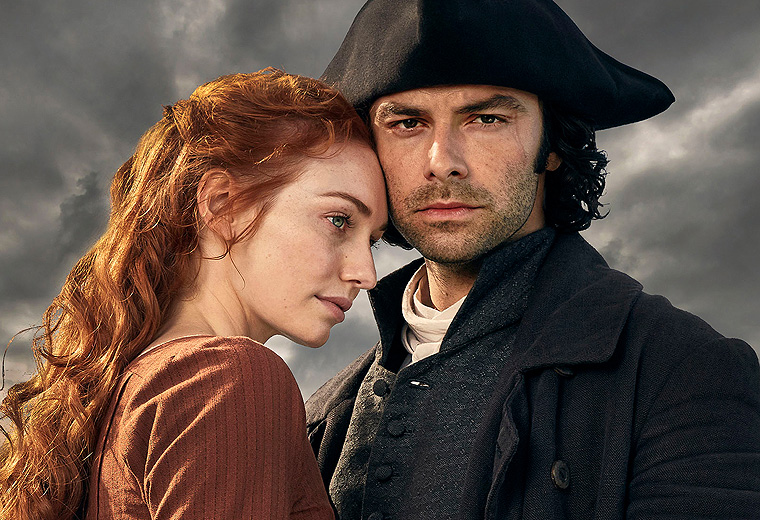 With a new series come some brand new faces, most notably Josh Whitehouse (Northern Soul) as fancy-pants aristocrat Hugh Armitage, Tom York (Olympus) and Harry Richardson (Doctor Thorne) as Ross's brothers-in-law, plus Ellise Chappell (The Last Dragonslayer) as Elizabeth's cousin Morwenna Chynoweth.
Ahead of this weekend's series opener, we sit down with Ellise Chappell (below centre) and Tom York (below right) to find out what it was like to join a show that's quickly becoming one of the most loved on British television…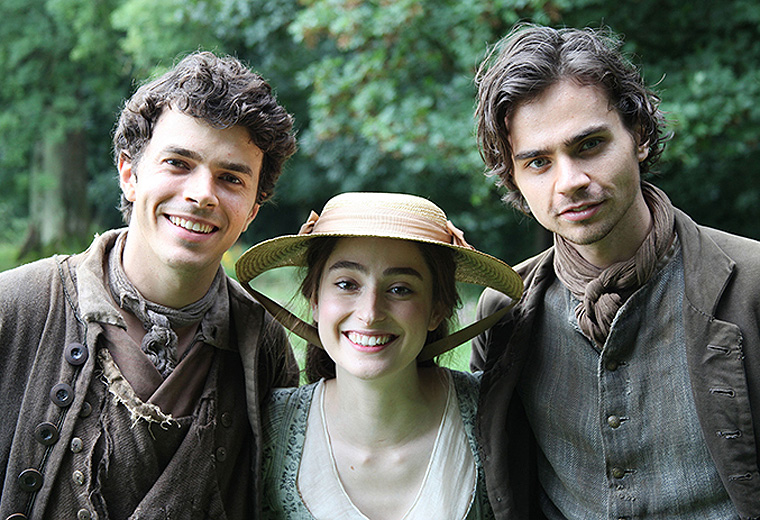 Welcome both! How did you feel when you heard you'd got the Poldark gig?
Ellise Chappell: I was over the moon. It was unbelievable and very surreal! There's been a lot of "pinch me" moments. Working with people I admire has been amazing.
Tom York: When I got the news, I felt relieved because I really wanted the part. I auditioned for both the new brothers, but I kind of ended up falling in love with Sam.
What can you tell us about your characters?
Ellise Chappell: Morwenna is very sweet, innocent and gentle. She's the eldest daughter in her family and has had a sense of duty drummed into her. When she moves to Cornwall, it's all a bit of a fantasy land for her.
Tom York: Sam is quite an intense young man. He comes from an abusive background but he's been saved by God. He's on a devout mission to save those around him – but not everyone wants to be saved!
Were you warmly welcomed into the Poldark family?
Tom York: Absolutely. We all feel incredibly lucky to be welcomed with such open arms. When you join a massive project, you're never quite sure if that's going to be the case. The cast and crew made our jobs so much easier.
Were you fans of the show before you joined?
Ellise Chappell: My parents are huge fans, but I only started watching once I was auditioning for it. Once I started, I really binged hard! I was hooked.
Tom York: My family are real fans of the show – Aidan Turner's face and body definitely help – and were very excited when I told them I had an audition. Once I got the part, I got really into it.
Sounds good! Ellise, is it true you were close to returning to your old job in a café before getting this role?
Ellise Chappell: Yes! After an audition, I was heading back to the café I used to work at, but I got the call for Poldark on my way.
From cappuccinos to Cornwall! And was there a big difference between working on this and on The Last Dragonslayer?
Ellise Chappell: Both shows are great but for different reasons. The Last Dragonslayer had a bit more action and I was working by myself quite a bit. In this show, I'm around people a lot more. And wearing a corset took some getting used to.
How was the experience of filming for you, Tom?
Tom York: We had to cram a lot into the days; it's a really hectic schedule. Everyone had to be on the ball to get things done. I don't know how we managed.
You're both relative newcomers to the world of TV. For those who don't know you, what do you like doing in your spare time?
Tom York: When I'm not working, I like to keep busy with my own little projects. I like to keep active so I'm ready when the call comes through for an audition.
Ellise Chappell: I'm looking at taking some classes at the moment – ones I've not done before like pottery, singing lessons and things like that. I'm just taking things as they come!
Finally, what have you watched recently that's grabbed your attention?
Tom York: The quality of British drama is really good right now. I loved the last series of Happy Valley. It has some of the best acting I've seen. The truth is, I don't always have that much time to watch television.
Ellise Chappell: I recently watched The Crown, which I thought was amazing. I loved it. It's great that there's so much out there. I'm also quite a big fan of cartoons. I'm really getting into Rick And Morty. I wish I watched more TV, though!
Poldark series 3 airs on Sundays at 9pm on BBC One (CH 101) and BBC One HD (CH 108). Also available for 30 days in Catch Up > Channels > BBC iPlayer