Find xXx: The Return of Xander Cage in On Demand > Movies > Virgin Movies
Way back in 2002, shortly after kick-starting the action juggernaut that is The Fast And The Furious series, Vin Diesel introduced the world to an entirely new kind of movie spy. Covered with tattoos rather than wearing a tux, and more comfortable on a snowboard than in an Aston Martin, Xander Cage was a smart-mouthed adrenalin junkie who, when it came to the stunts at least, could out-Bond Bond.
15 years later, Cage returns – older but no less ripped or nimble – to save the world once more, this time heading on a thrilling hunt for Pandora's Box, a device that gives its owner complete control of the world's satellites. And even if you've not seen the original (or indeed its 2005 sequel, in which Diesel was replaced by Ice Cube's frowny Darius Stone), you'll catch up quick and still find plenty to enjoy. In fact, if you dig the heightened antics of the Mission: Impossible movies or the speedy shenanigans of Diesel's Fast & Furious films, then xXx: Return Of Xander Cage will hit the spot. Repeatedly.
There's no shortage of crazy action here. From a sequence that sees Diesel skiing along the branches of trees (yes, trees), to an aerobatic dirt bike escape from a jungle rave and a zero-gravity battle in a nosediving transport plane, there's plenty to keep you perched on the extreme edge of your sofa.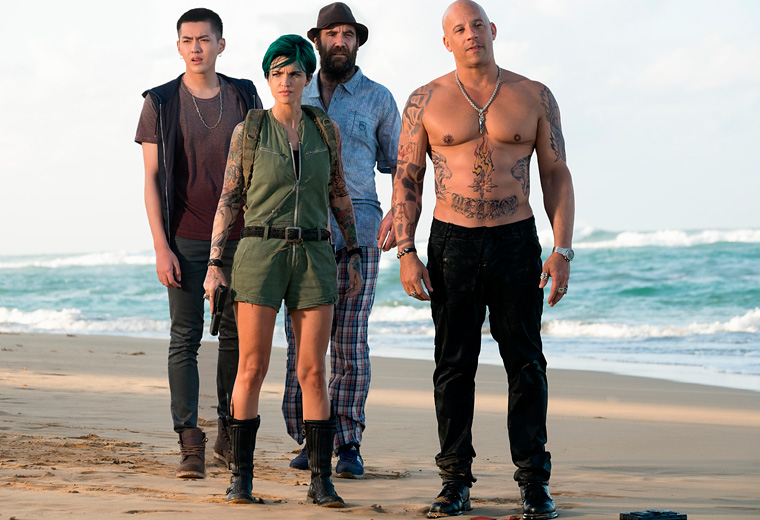 Cage isn't playing solo this time around, either – as one character quips, it's, "the good, the extreme and the completely insane". He's gathered a whole team around him, including rising Australian star Ruby Rose (Orange Is The New Black) as a punky sniper and burly Scotsman Rory McCann (Hot Fuzz) as a crash-happy stunt driver. Then there's Hong Kong superstar Donnie Yen (most recently seen in Rogue One: A Star Wars Story) as Cage's deadly rival, not to mention Samuel L Jackson's return as flamboyant boss Augustus Gibbons. And that's not even mentioning a surprise appearance by… well, that would be spoiling the surprise, wouldn't it?
Oh, and did we mention the sports star cameos? No? Well, look out for UFC middleweight champ Michael Bisping as the imposing Hawk, and Brazilian footy phenomenon Neymar Jr as… himself! If you were recruiting for the coolest gang of world-savers on earth, why wouldn't you approach him?
Rent xXx: Return Of Xander Cage on Virgin Movies now. Cert 12. Also available in HD