Has it really been a year? Yes, Discovery Shark Week is here once again for another celebration of our sharp-toothed, seal-chomping friends and, boy, is 2017 shaping up to be the best yet!
You'll find a fin-tastic feast of amazing shows from Sunday, with an ocean-full of brand new documentaries to watch. And because Discovery has 7-day catch up, you don't have to miss a moment of these magnificent sea beasts. But let's cut to the chase. This year there's one event that's caught the imagination more than most, and that's Olympic legend Michael Phelps swimming against an actual great white shark in Phelps Vs Shark – Sunday night, 2am + repeated Monday, 8pm. (Head to the bottom of the page for more Discovery Shark Week highlights.)
We know what you're thinking. Who on earth said that this was OK? Well, this headline-grabbing sporting showdown ishappening, and it's sure to be unlike anything we've ever seen before. Phelps, who will also race a hammerhead and a reef shark ahead of the main event, is the most decorated Olympian of all time, but how will the American fare in the water when his opponent is one of the animal kingdom's most feared predators?
This titanic (and, let's be honest, utterly bonkers) tussle is set to be one of the most enthralling telly moments of the year. So, ahead of this battle for the ages, we size up the two competitors with our very own tale of the tape…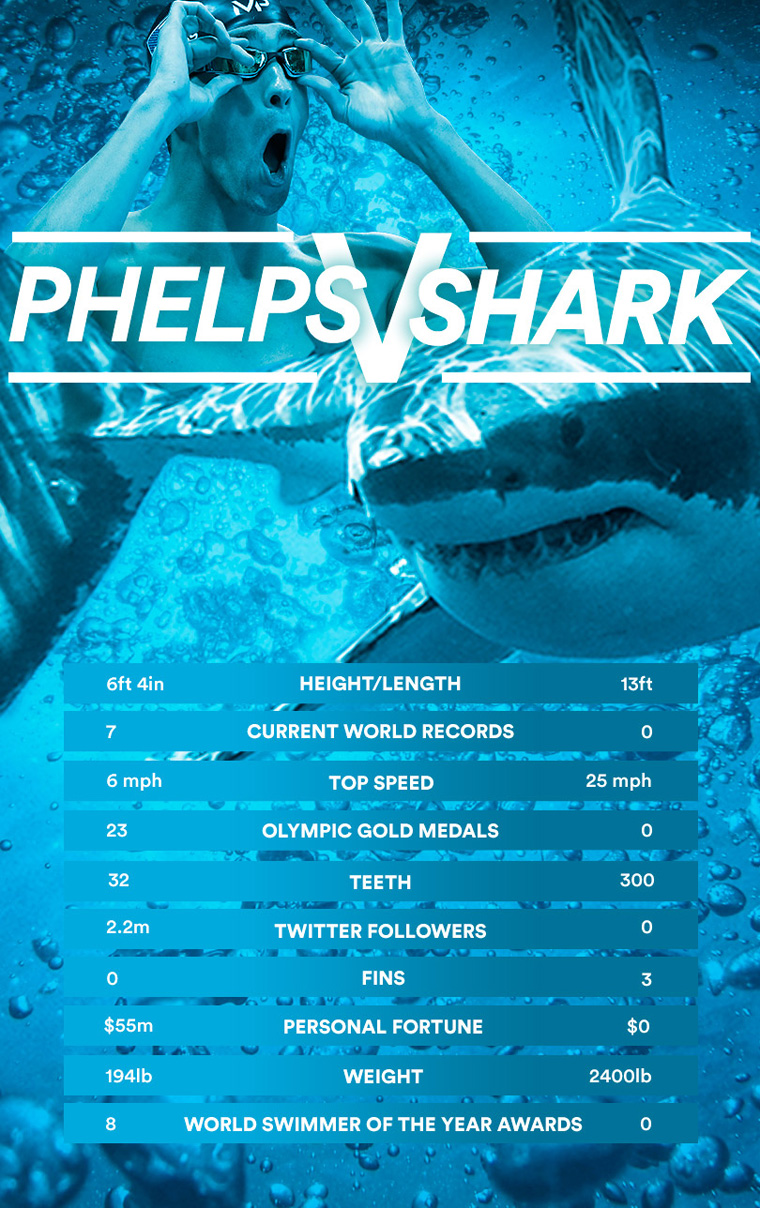 More shows to feast on…
Stop fishing around and take a look at five other highlights available to watch during Discovery Shark Week…
1. Air Jaws: Nightstalker
Sunday, 9pm, Discovery/HD (CH 250/251)
Sharks love the night-time so much that they're basically nature's party animals. This fascinating instalment in the hit factual series sees experts Chris Fallows, Dr Neil Hammerschlag and Jeff Kerr investigate the predator's nocturnal habits.
2. Blue Serengeti
Sunday, 11pm, Discovery/HD (CH 250/251)
Predators and prey cross paths in the Pacific Ocean when they try to migrate from Africa to the west coast of the USA. Get closer to their journeys than ever before with spectacular hidden camera technology.
3. Shark-Croc Showdown
Monday, 9pm, Discovery/HD (CH 250/251)
Like neighbours warring over the height of a hedge, tiger sharks and saltwater crocodiles often clash when it comes to getting a meal around Australia's northern beaches. This one-off special takes an in-depth look at this natural conflict.
4. Return To The Isle Of Jaws
Tuesday, 9pm, Discovery/HD (CH 250/251)
Last year, shark a-fish-ionados Jonathan Werry and Andy Casagrande discovered a large population of all-male sharks off the south west coast of Australia. Now they're heading back to see how the lads are getting on.
5. Alien Sharks: Stranger Fins
Tuesday, 10pm, Discovery/HD (CH 250/251)
There are thought to be over 400 different species of shark, and this documentary sets out to shine a light on the weirdest ones. From sawsharks to goblin sharks, you won't believe some of these ocean-based oddballs.
Watch Discovery Shark Week from 4pm on Sunday 23rd July on Discovery (CH 250) and Discovery HD (CH 251). Also available for 7 days in Catch Up > Channels > Discovery