The Destiny 2 Beta is almost upon us, and excited doesn't even come close to how we're feeling. To celebrate the first look at one of the hottest titles of the year, we managed to narrow down the biggest 26 things to look forward, and it wasn't easy believe us! Read on for a full look at the A to Z of Destiny 2...
A is for...Action Shooter
Are you ready? You sure? Good. Welcome to the Destiny 2 Alpha BETA. Get ready to #RaiseYourGame
B is for...Beautiful Art
Awesome next level visuals always begin with some mind blowing concept art.
C is for...Co-op
Form fireteams, connect with other players, smash up enemy strongholds. Boom.
D is for..Destruction
The world you know is gone, time to step up and reclaim what we have lost.
E is for...EDZ

European Dead Zone, twice as big as any destination so far. Say hello to your new dystopian home.
F is for...how Fired up you'll be
As a Virgin Media customer you could be playing Destiny 2 before anyone else. Perks innit.
G is for...Guardians
Guardians: what will you do to reclaim your powers, your home and your friends?
H is for...Homecoming
The very first mission to tackle on Destiny 2, in which humanity's last safe city has just fallen.
I is for...IO
Moon of Jupiter, the last place touched by the Traveler before the collapse, sacred to Warlocks.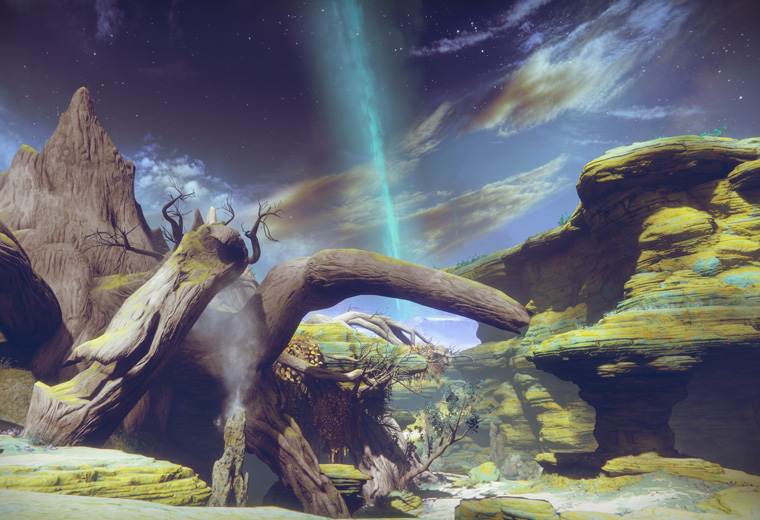 J is for...Jump Around
You won't be able to sit still with end-to-end non stop action.
Destiny 2's PC version will have 4K resolution support and an uncapped frame rate. Winning.
L is for...Loot
You and your team could earn sweet loot from simply working together.
M is for...Multiplayer
All activities in Destiny 2 will be moved to 4 v 4. Eyes up, Guardian.
N is for...Planetoid Nessus

A new location in Destiny 2 which was converted by the Vex where Cayde-6 is hiding out.
O is for..OMG
Destiny 2 is looking too hot to handle right now…
P is for...Power
The free floating mysterious traveler has been captured by the Cabal Red Legion. You must protect the light.
Q is for...Quests
Discover hidden quests, like Lost Sectors, defeat hidden bosses and pick up special loot hoards.
R is for...Raids

The new one in Destiny 2 is "…unlike anything we've done before," according to Luke Smith, Game Director at Bungie.
S is for..September 6th when it all begins
Book your holidays. Pull down the curtains and then get ready to #RaiseYourGame.
T is for...Titan
A Moon of Saturn, and a half submerged marine world. Something sinister lurks below.
U is for...the Ultimate
Become the ultimate Destiny 2 universe whizz after going through our Alpha BETA on 17 and 18 July.
V is for...the new Villain

Who you'll learn to love & hate: their name is Ghaul, and they're commander of the Red Legion.
X is for...Xcited
September still feels quite a long way away, but don't worry though, we'll help you get there!
Y is for...Why?
Why are you still reading this and not building up your fireteam?
Z is for...all the sleep you'll need
You will need to catch up on some serious Z's after playing the Destiny 2 BETA, for three days in a row…
Keep an eye out for more Destiny 2 exclusives coming this way soon!