Live boxing: Floyd Mayweather Jr v Conor McGregor on Saturday 26 August, midnight, Sky Sports Box Office. Pricing is £19.95 for SD and £20.95 for HD

How to order
Go to Home > On Demand > Live Events. To view your booking, once purchased, go to On Demand > Live Events.

You may have heard that there's a boxing match taking place in Las Vegas on Saturday 26 August. But this is no ordinary boxing match. Oh no. This is a once-in-a-lifetime sporting showdown on the most epic of scales. This is Floyd Mayweather Jr versus Conor McGregor, live on Sky Sports Box Office on Virgin TV.
Booking for this explosive encounter is now open – plus, if you have a TiVo® or Virgin TV V6 box, you can follow the action in glorious high definition! It costs £19.95 for SD and £20.95 for HD.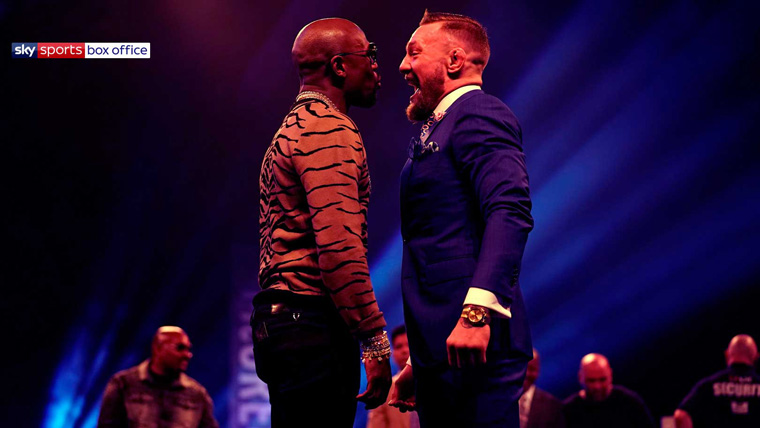 This bout for the ages is unlike anything we've seen before. Not even Michael Phelps swimming against a CGI shark comes close. Mayweather Jr – who has come out of retirement for the event – is a boxing legend, an undefeated 11-time champion who is truly one of the sport's greatest ever fighters. Meanwhile, McGregor is a legend in his own right, but not in the boxing sense. Instead, the Irishman is a champion in UFC, the mixed martial arts phenomenon that is taking the world by storm.
Intrigued? Of course you are. This is sporting theatre at its most fascinating. Want to know more about this clash of the titans? Then read on, because here's everything you need to get your head around before they step in the ring…
How's all this malarkey come about?
Murmurings about a potential superfight between these two megastars can be tracked back to 2015. Verbal sparring, social media spats, denials and even an announcement from McGregor that he had retired followed, before everything was finalised in June (much to the relief and excitement of sports fans around the world). Talk about drama before the show's even started!
And these fellas respect each other, right?
Sure – if they completely changed the definition of respect in the dictionary. Unprecedented levels of ego have been thrown about, which has led to some extremely feisty press conferences. The trash talk has been corrosive, objects have been hurled across stages and we've even had McGregor showing off his dancing skills for some reason.
Fair enough. But is McGregor allowed to use his UFC moves?
Absolutely not. This is a straight-up boxing match, which means a maximum 12 rounds of punching, ducking and maybe the odd spot of cuddling on the ropes. If McGregor tries any funny stuff, he will be disqualified and sent back to Ireland with nothing more than his tail between his legs and a reported $75m paycheck.
No kicks to the head then?
No!
So does McGregor actually have a chance of winning?
Yes. While the odds are stacked against the UFC star, he's been working hard to get his boxing skills up to scratch. That includes sparring with former pro Paulie Malignaggi (before the two fell out in spectacular fashion). Of course it's going to be difficult for him – after all, he's up against one of the greatest boxers to have ever pulled on a pair of satin trunks – but McGregor is an athlete who continues to defy expectations. He's risen from nowhere to the very top of the UFC, so who says he can't cause an upset and give Mayweather Jr the first defeat of his career? Let's get it on!
Check out the stats below!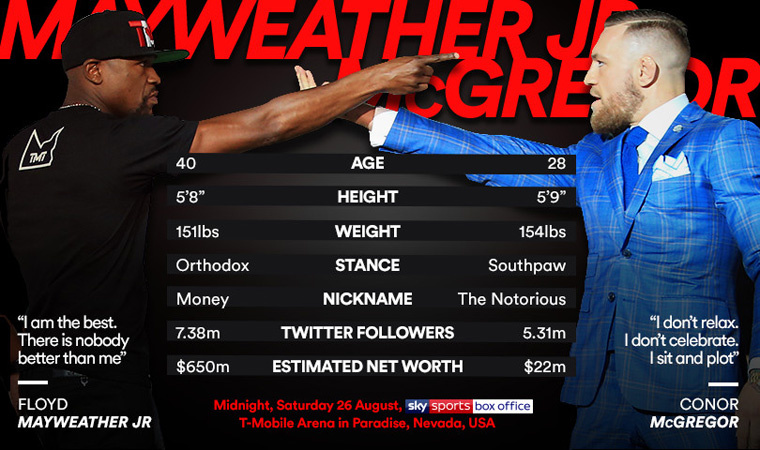 How to order
Go to Home > On Demand > Live Events. To view your booking, once purchased, go to On Demand > Live Events.
Repeats of the big fight are available on Sunday 27 August at 10am and 5pm only.