Mean Girls is the teen comedy that defies all expectations. It tells the story of a tyrannical group of young ladies known as the Plastics and their influence on an American high school. The film turned the all-too-common tale into a cultural phenomenon and once a year, there's an extra-special day on which everyone can relish this film's perfection. It's October 3rd.
This is the day that the film's leading lady – Lindsay Lohan, perfectly cast as Cady Heron, a student returning to the US after living in Africa for 12 years – first makes a real connection with her crush, Aaron Samuels. Picture the scene. A classroom in autumn. He asks her what day it is. She replies, "It's October 3rd".
Thirteen years later, this is still cause for celebration. Mark the occasion by tuning into Sky Cinema Comedy and watching the movie that mixes high drama, brilliant wit and cutting social commentary – essentially the King Lear of the teen movie genre.
So, why do we hold Mean Girls in such high regard? What is it about this film, more so than Lohan's other teen movie hits – Just My Luck, Freaky Friday, Confessions Of A Teenage Drama Queen – that has made it adored by men, women and teens around the world?
First things first – there are the catchphrases. It's easily one of the most quotable films ever. Even the Obama administration got involved with an excellent tweet in 2013. It's a proven fact that, when you utter the words "Mean Girls" in a public space, you can expect any combination of the following catchphrases to be yelled back at you: "That's so fetch!"; "Stop trying to make 'fetch' happen"; "Four for you, Glen Coco! You go Glen Coco!"; "Would you like us to assign someone to butter your muffin?"; "I'm a mouse, duh" and "She doesn't even go here". You'll want every line from the film printed on a tank top. Just don't wear it two days in a row.
But it's so much more than just a pick 'n' mix of delicious one-liners. The Tina Fey-penned script is often outrageous and sharply perceptive, not only about the high school social scene, but also the collective odyssey that is life. As Janis Ian – a former friend of the Plastics, now an arty social outcast who takes Cady under her wing – notes of the high school canteen: "You got your freshmen, ROTC guys, preps, JV jocks, Asian nerds, cool Asians, varsity jocks, unfriendly black hotties, girls who eat their feelings, girls who don't eat anything, desperate wannabes, burnouts, sexually active band geeks, the greatest people you will ever meet… and the worst: beware of the Plastics."
Most of us can relate to the social hierarchies Fey depicts, whether they're in the school dining room or the office canteen. This is partly due to the film being inspired by a non-fiction self-help book, Queen Bees And Wannabes, by Rosalind Wiseman. Mean Girls rises above its cinematic rivals by being just so darn relevant. Whether it's politics, high-level business or international diplomacy, the same principles of cliqueing apply. Duh.
Look at the film's stellar cast and, with the benefit of hindsight, it's not surprising that Mean Girls is so beloved. But back in 2004, Lohan was the only big name attached and the film had a modest budget of $17 million (it made $129 million at the box office). Rachel McAdams (The Notebook), who plays the Plastics' leader Regina, wasn't the household name she is today – and co-stars Fey (who appears in the film as Cady's teacher), Amanda Seyfried (Mamma Mia!), Amy Poehler (Parks And Recreation) and Lizzy Caplan (Masters Of Sex) were similarly unknown. But it's no coincidence that so many of the cast have gone on to tremendous things.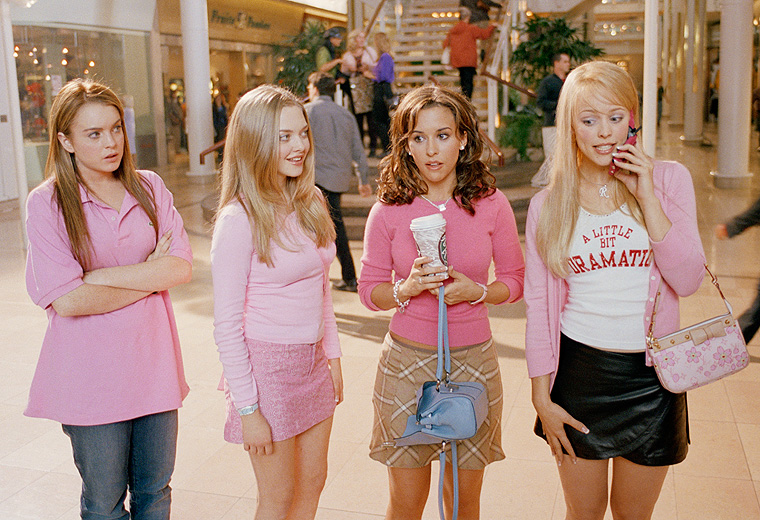 In the words of the beta Plastic Gretchen (Lacey Chabert), it also follows "just, like, the rules of feminism". The manic pixie dream girl trope – a one-dimensional ideal of a female love interest who's less a person, more a prop for the leading man to hold – gets turned on its head in the form of the pretty but forgettable Aaron Samuels.
He smiles, he flips his hair, but beyond that… does anyone remember anything about Aaron Samuels? Anything? At all? And while his co-stars moved on to blockbuster hits and stardom, Jonathan Bennett, who plays Samuels, is now hosting a Food Network cooking competition show called Cake Wars.
Like Gretchen, Mean Girls can't help being popular. It has changed the way we view teen movies (they're not just for teens anymore), altered our vernacular, taught us to only wear jeans or track pants on Fridays, and gifted us some of Hollywood's biggest talents. It's even opening soon as a Broadway musical. But, in spite of all this, it still hasn't managed to make "fetch" happen.
Celebrate Mean Girls Day on Tuesday 3rd October at 8pm on Sky Cinema Comedy/HD (CH 438/408). Also available in Sky Cinema on demand. Cert 12