Looking to escape the stress and tedium of Planet Earth? Then you're in the right place, because two out-of-this-world comedies return to Dave on Thursdays.
First up, at 9pm, is the eagerly anticipated Red Dwarf XII. After a lengthy hiatus, the boys returned in 2016 with a brilliant series that was voted Best Comedy of the Year and Best Returning TV Sitcom by readers of the British Comedy Guide. This series promises to be just as good, with Chris Barrie (Rimmer), Craig Charles (Lister), Danny John-Jules (Cat) and Robert Llewellyn (Kryten) all still marooned in deep space, and Doug Naylor overseeing the writing and directing.
"For me, the most memorable episode is the one [episode 2, Siliconia] where we are all mechanoids," reveals Robert Llewellyn. "The whole thing is just a huge sea of sweaty rubber. I remember walking onto the set and seeing Lister ironing as Kryten. It was an extraordinary, but fantastic experience."
In addition to the usual gang, this series also features a number of high-profile guest stars, including Johnny Vegas, Helen George (Call The Midwife), Ryan Gage (The Three Musketeers) and James Buckley (The Inbetweeners) who – if you can believe it – appears in episode 2 (below), which airs on Thursday 19 October.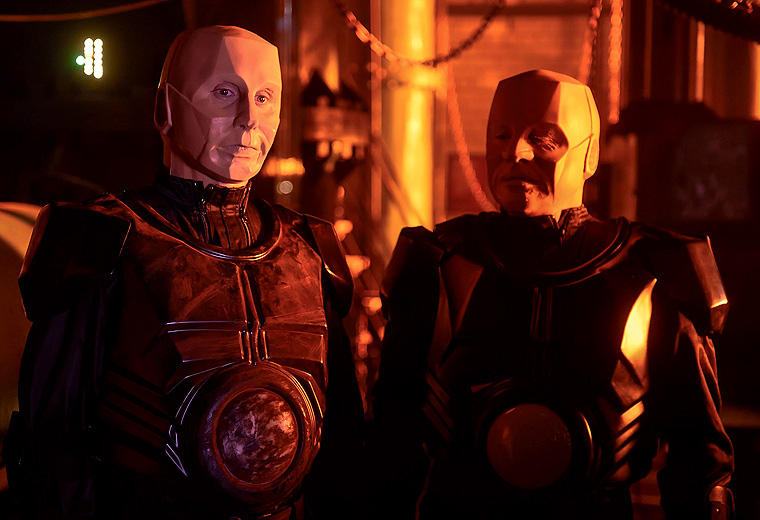 Talking of Buckley, straight after Red Dwarf XII, he, Paul Kaye (Jonathan Strange & Mr Norrell)), Sharon Rooney (My Mad Fat Diary) and the rest of the gang return to the world of Munty for the second series of fantasy comedy Zapped at 9.40pm.
"It's not solely focused on my struggle to get home," says Buckley, who plays Brian, a bored office worker who has been zapped into a parallel dimension. "This time, we also get to discover more about Munty and the interesting characters who live there."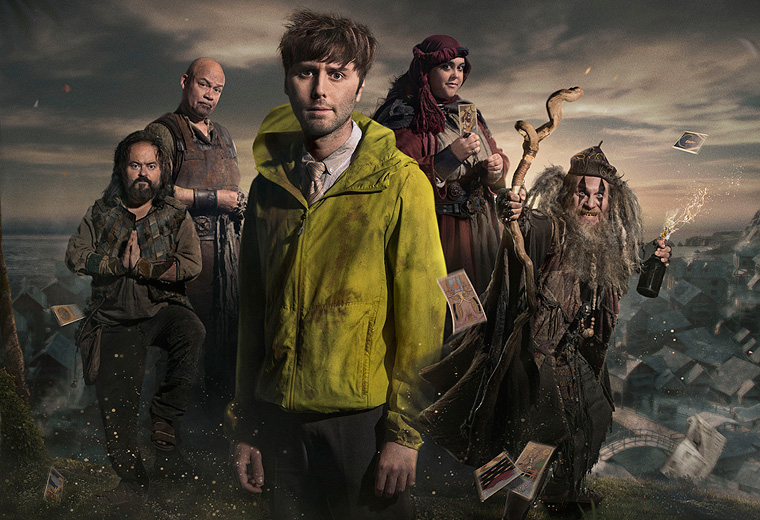 So before you settle down to enjoy Dave's epic comedy double-bill, check out how James got on when we asked him to prove just how famous he is…
Buckle up, Buckley – let's play The Fame Game!
So, James, have you ever met a royal?
There are a lot of them, so I've probably been in the same room as one of them at some point. But I can't remember ever talking to one. I don't move in those circles. 0
Who is the most famous person in your phonebook?
I don't really know many famous people to be honest… wait, I talk to James Corden quite a lot and he's incredibly famous nowadays. Oh, and I've also got Jimmy Carr, Danny Dyer and Rupert Grint. 1
When did you last Google yourself?
I don't have to; I get an alert on my phone whenever an article about James Buckley or The Inbetweeners comes up. It means I get to see whenever anyone is slagging me off. 1
What's the strangest place you've been recognised?
The Australian outback (for The Inbetweeners 2) was bizarre and it's always weird to be recognised in public toilets or the toilets at a pub or a restaurant. People go, "Oh, you're that guy." And I'm like, "Yeah, but I can't really have a conversation right now. Give me 30 seconds and we can have a chat then." 1
What was the last film you paid to see?
It was Captain Underpants. I took my kids. 0
When was the last time you were starstruck?
Red Dwarf. The boys are all heroes of mine. I have basically loved them all my life, so I jumped at the chance to be in one of this season's episodes. I felt so lucky, but when I got on set and saw them, something came over me. I got really nervous and started to forget my words. 1
Bus, tube or driver?
None of them. Like the vast majority of people who don't live in London, I like to be able to get in my car, drive to the place I want to go to, get out, go to that place, get back in the car and then drive home again. It's amazing. 0
Do you ever watch yourself on TV?
No. I hate it, hate it, hate it. I hate it so much. Occasionally, I have to watch films at premieres but if I'm not forced to watch myself, then I won't. There are loads of The Inbetweeners episodes I still haven't seen. I just don't enjoy watching myself, as I don't think I'm very good. 0
What is the most extravagant kitchen gadget you own?
I don't own anything too extravagant, but my neighbour loves a gadget and he's got this bottle opener that's a hypodermic needle. So if you've got an expensive bottle of wine and you just want to have a glass, you put this needle into the cork and draw the wine out through it. But that's not all. It also pumps argon gas into the bottle while it's taking out the wine, so no oxygen gets in and ruins the rest. That would have been a good answer, but it's void because it's not mine. 0
What's the closest you've come to "breaking the internet?"
I dropped my computer at the airport and had to get a new one. 1
James Buckley scores 5/10! He may have some superstar mates and get recognised in toilets, but James is humble, grounded and capable of getting very starstruck indeed.
Watch Red Dwarf XII and Zapped on Thursdays, from 9pm, Dave (CH 127) and Dave HD (CH 194). Also available for 7 days in Catch Up > Channels > Dave