iPhone photography's premiere competition, the iPhone Photography Awards, turned ten years old in 2017. The appeal and genius of this sort of competition is that mobile phones afford a level playing field: amateur or pro, you can create images worthy of entry with just the phone in your hand!
The following photo principles encompass all the photography tips you'll ever need. Entries to the IPPA usually close around the end of March each year, which mean you have plenty of time to ramp up those iPhotography skills!
Now, although photography tips are best discovered personally (nothing can replace being in the field, fiddling with your camera's settings), you'll want composition, lighting and focus at the forefront of your thoughts if you want to feel like your mobile photography skills are progressing. These are not quick fixes; think of them as core basics to master.
The rest is down to time, tinkering and tenacity. Nobody makes art without substantial practice and, more importantly, substantial failures. Don't be afraid to take a lot of photos – with the array of cloud services available now to upload your photos too, space on your phone shouldn't be a problem.
Don't think you need the latest iPhone either: the native photo app for iPhones all have the following features. And if you still think phone photos aren't really art, put the 2016s IPPA winners in your pipe and smoke 'em!
Composition
Be a composer. Not of sound, but of images. Wield your phone like a conductor's baton, assembling the cacophony of elements around you into the harmony of a single image. Balance the light and shadow; juxtapose patterns and angles; encompass the depth and breadth of your world.
TIP ONE: Use the Rule of Thirds.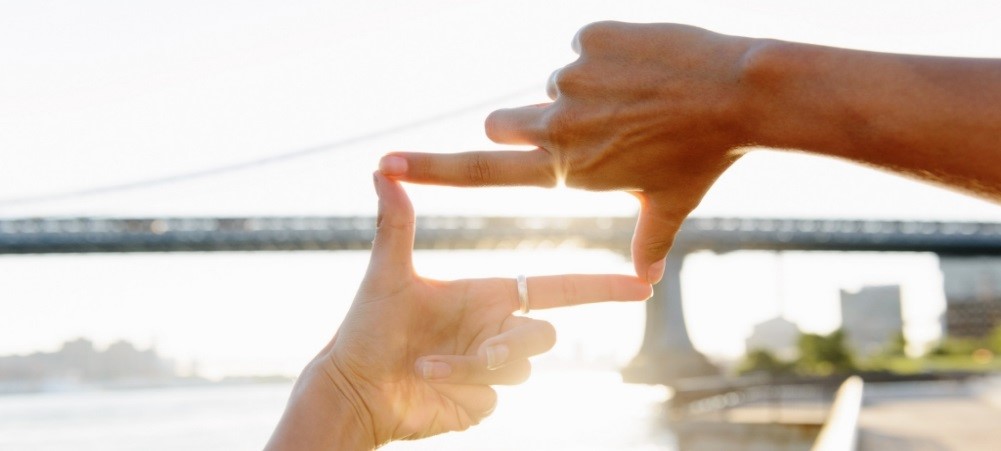 iPhone camera settings allow you to toggle on/off the horizontal (and vertical) composition lines.
This helps you to get proportions right so you can feel the mood created by the balance of your framing.
Landscape or portrait? More sky or more pavement? Less of your subject matter or less of your setting?
TIP TWO: Let the negative or 'empty' spaces tells a story.
Remember that nothing is also something.
You shouldn't cram that frame full of too much 'something' – keep it simple.
Putting the prime object in the bottom right corner, for example (with the vast horizon sprawling across most of the framed space), gives a very different effect to putting that object front and centre.
Lighting and Focus
The tricky thing, in most cases, with using a phone's camera is that you only have one aperture setting. In muggle speak this means you can't adjust the amount of light your picture is getting; there isn't a normal exposure setting that you would have on a standalone camera. This can mess up the 'true' colours of your snaps because you will not be able to reduce the light saturation of your images.
iPhone's native camera app is pretty nifty at getting around this issue and combines lighting and focus into one easy function.
You can set the focus of your image but then also adjust the light exposure before taking the snap. Tap where you'd like to focus, then use your finger to scroll up and down: up for more light exposure, down for less. Simple.
TIP THREE: Lock the focus and exposure settings to stop the iPhone resetting your exposure and focus settings. This is great for taking photos of moving images: a bird crossing the sunset, for example.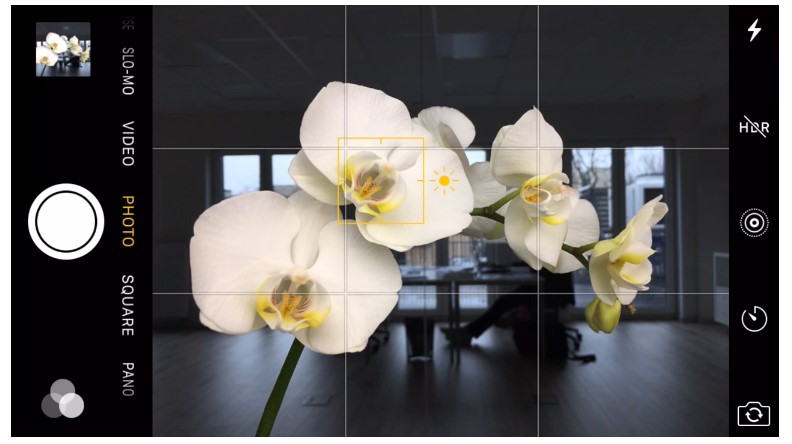 To do this simply hold your finger on the area you want to focus on until the "AE/AF Lock" tag shows. Tap once quickly to turn the autofocus back on again.
TIP FOUR: The iPhone's HDR (High Dynamic Range) function is almost vital for great landscape photography. HDR can capture the colour and lighting of objects that are not clear because you have too much light and too much shadow in a single setting. Try it out.
Better still, there is a way to take two versions of every photo with one snap – one with HDR and one without. Then you can make an artistic choice. Go to Settings > Photos & Camera > Keep Normal Photo (turn this On).
And there you have it. Four tips to turn you into an iPhotography pro in no time! If you're looking for inspiration then have a look at some Instagram accounts, such as Emil Pakarklis, who shoots and edits all his photos with his iPhone.
Share the experience
Refer Virgin Mobile to a friend and you'll both pocket a reward.