Skip to main content

Better Products
Our 2020 goal: Improve the sustainability performance of every new customer product.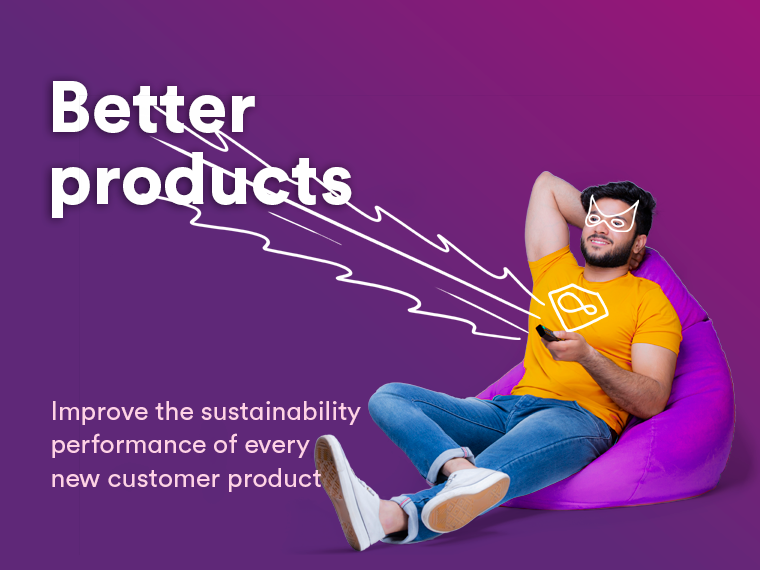 Why this is important to us
The production, use and disposal of electrical products touches on many global environmental and social issues; greenhouse gas emissions from energy consumption, resource depletion, the treatment of workers in the supply chain and the safe disposal, recycling or reuse of waste electrical products at the end of their working life. The impact of electrical products can outweigh the direct operational impacts of a business. While one product in a home may not seem to have a noticeable impact, across millions of customers this really adds up.
At Virgin Media, we want our products to have an environmental and social story we can all be proud of. Looking holistically at the sustainability performance of our products past and present means we can take a more considered approach to our product development.

How we're making it happen
Following the creation of our product scorecard, a tool we've developed to measure and improve the sustainability performance of our products, we're actively working with our product suppliers to identify opportunities to improve the environmental and social impacts of new products as they're developed. This includes energy efficiency, the amount of materials used, recycled content and recyclability, minimising packaging and making sure the product follows accessibility guidelines.

The directors responsible for our products are regularly updated on the product scorecard and how we're using it to deliver improved performance in the development of new customer products. The Sustainability team work with the Liberty Global Corporate Responsibility team to drive accountability with the Liberty Global product owners who manage the product development process on behalf of the local markets. Jeff Dodds, our Chief Operating Officer is the executive sponsor for this goal.
To drive progress on our goal, we have two areas of focus:
Making sure our products follow accessibility guidelines and consider
the experience of our disabled customers
Improving the environmental and social impacts of all new customer products

2019 performance
Commenced the roll out of our Hub 4 router, which is 39% more power efficient, when taking its increased functionality into account. It also uses 28% less electronic components and 36% less plastic components than the Hub 3. Our product scorecard methodology has been applied throughout the development of new products. This includes a focus on improving the environmental impact of product packaging and removing single-use plastic packaging. This work continues into 2020.
Took back more than 1.8 million items of customer equipment, with over 1.1 million items being refurbished and reused.
These are our performance highlights for 2019, the final year of our 2020 Better Products goal. If you are looking for information on our 2019 activity, take a look at the full report.

2020 reflections
We've launched three new customer products and created a product scorecard methodology, which lets us compare the sustainability performance of all our products. Over the last five years we've recognised the importance of embedding the scorecard methodology right the way through development, which means each product is more sustainable than the last. It's also highlighted the value our parent company applying the same methods – this way there are efficiencies at all levels.
Over the past five years we've taken back more than 9.5 million items of customer kit with 5.3 million being reused and the remainder broken down for recycling. This saves a huge amount of materials being used to create new products as we seek to keep our products in use multiple times between customers.

What's next?
We'll carry on using the product scorecard methodology to improve how we design and engineer new products. This includes stipulating the amount of recycled content in each unit. We're also setting more ambitious circularity targets a part of our new strategy, and renewing our focus on removing single-use plastics from our packaging.

Stats on new customer products launched since 2015

Set top boxes

Launched Virgin TV V6 box which:

uses less than half the power of the previous Compass TiVo® box – saving enough electricity to power over 23,000 UK homes since it launched in 2017
is made from 21% less material – saving 341 tonnes of plastic, metal and electronics since the V6 box launched

Routers

Launched Hub 3, which:

is 15% more energy efficient than the Super Hub 2ac, saving enough energy to power over 18,000 UK homes
saved 740 tonnes in packaging


Started rolling out Hub 4, which:

uses over 90% of recyclable, easily segregated materials
compared to the Hub 3 and adjusting for functionality, uses

- 36% less plastics

- 28% less electronics

- 39% less power in use and 26% less power in idle