Skip to main content

Lower Impact
Our 2020 goal: Grow our business without increasing our carbon footprint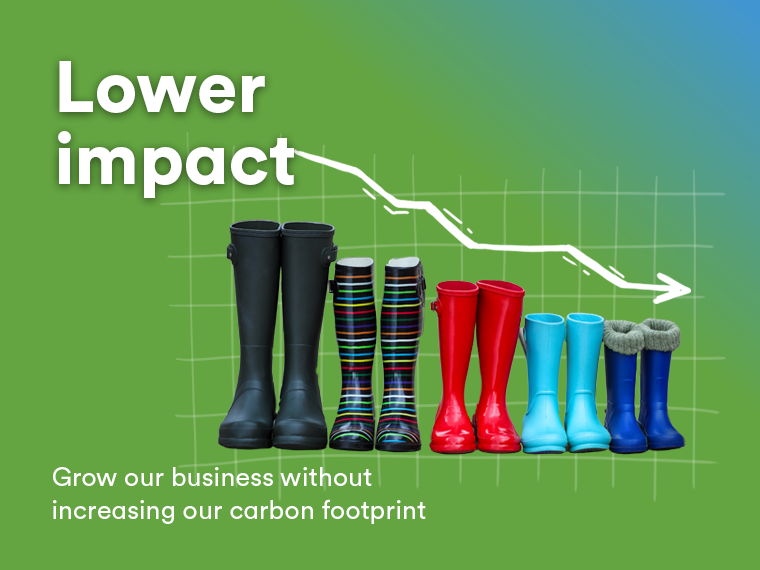 Why this is important to us
Business will play a vital role in the delivery of the UK's climate change commitments under the Climate Change Act 2008 and the UK Government's recently launched 25 year environmental plan, as well as the recent announcement that the UK will seek to achieve net zero emissions by 2050. In addition to the global challenge of climate change, there's increasing focus on how society can best move to a more circular economy, with the impact of plastic waste on our natural environment continuing to make headlines.
In 2015, we launched the biggest investment in new broadband infrastructure for more than a decade. We plan to increase the number of homes and businesses to which Virgin Media can offer it's ultrafast broadband services by millions of premises. For every kilowatt hour we use in our technical sites, litres of fuel we consumer in our fleet and every tonne of waste we send to landfill, we're contribution to the UK's greenhouse emissions and waste challenges.
The more we can grow our business while minimising energy, fuel and waste, the more cost efficient we can be while also positively contributing to the UK's carbon and waste targets.

How we're making it happen
Jeanie York, Chief Technology and Information Officer is the executive sponsor for our lower impact goal. The delivery of this goal is overseen by our Sustainable Operations sub-committee, chaired by the Vice President of Planning and Engineering and attended by functional leads for Property, Facilities and Sustainability. Our plan is focused on four key areas:
Reducing energy demand in our technical estate, which accounts for over 75% of our carbon footprint (fuel and energy use), through investment in our OREO (Overall Room Energy Optimisation) programme and using newer, more efficient equipment
Reducing vehicle fuel consumption through driver monitoring software and more efficient vans
Working towards zero office waste to landfill and cutting out single-use plastic waste
Instilling good environmental management principles across our estate through the continued rollout of our ISO14001 certified Environmental Management System

2019 performance
Achieved a 42% absolute reduction of our carbon footprint (scope 1 and 2) against our 2014 baseline. Worked towards zero waste to landfill, now only 3% to landfill down from 9% in 2018. Virgin Media also signed up to RE100 initiative in 2019, committing to purchase 100% of contracted energy from renewable sources.
These are our performance highlights for 2019, the final year of our 2020 Lower Impact goal. If you are looking for information on our 2019 activity, take a look at the full report.

2020 reflections
We've steadily reduced our carbon footprint against the 2014 baseline while significantly growing our network and our business over this period:
Year

2015

2016

2017

2018

2019

Carbon Reduction

-4%

-11%

-21%

-33%

-42%

Year

Metric

2014

2019

Change

Total carbon footprint (scope 1 and 2)

Tonnes

291,101

165,056

-42%

Carbon per Terabyte of data reduction

t/TB

0.06

0.01

-85%

Carbon per RGU

Kg/RGU

0.021

0.011

- 46%

Carbon per £m revenue

t/£m

65

32

-50%

We've achieved this significant carbon reduction through a focus on two key areas: power and vehicle fuel.
- Power: Electricity forms 83% of our scope 1 and 2 footprint with the majority of usage in our technical estate and access network. A reduction in usage has been achieved through our continued investment in energy efficiency and reduction – delivered in large part through Project OREO (overall room energy optimisation) – at our technical sites; investment in more, new more efficient equipment across all sites; and the replacement of old equipment in street cabinets.
- Vehicle fuel: The majority of fuel is used by our 3,200 service and install vans. We've significantly reduced fuel consumption in this section of our fleet and delivered a 16% reduction in fleet emissions since 2014. We also achieved our target for our car fleet, to be below 100gC02 per KM. Our fleet fuel reductions have been achieved through a series of initiatives:

| | |
| --- | --- |
| Route planning | Implementation of new route planning tools |
| Equipment delivery | Shifting delivery of new equipment allowing customers to install their own devices (where possible) |
| Vehicle leases | Maintain short leasing periods on all vehicles to make sure we regularly bring in new, more efficient vehicles |
| Driver monitoring software | Introduced Lightfoot, driver monitoring software which has resulted in an 11% increase in MPG since 2017 |

A word on waste
- In 2014, 25% of our office waste went to landfill. At the end of 2019 this was down to 3%.
- We've achieved this by:
- working closely with our waste contractor to identify sites where waste was going to landfill and establish alternative destinations.
- communications campaigns introducing new bin signage across our core people sites.
- tackling single-use plastics
- We've removed all plastic cups across 27 sites, reducing usage by 900,000 plastic cups a year
- We've given all of our people a reusable bottle
- We've started to roll out big changes across our catering services, starting with our new head office in Reading, where we've introduced a tax on takeaway boxes, removed plastic cutlery, provided more crockery, removed reusable cups and given everyone a reusable coffee cup. With these changes we're aiming to reduce by 3 million disposable items a year.
- Maintained a zero waste to landfill logistics supply chain
- Reduced paper use by 78% across the business since 2014, a reduction of over 10,045 tonnes and the equivalent of 240,000 trees.

What's next?
We're working with experts on a carbon mapping and reduction exercise to understand our full carbon impact across scope 1, 2 and 3. With this insight we'll establish a carbon reduction strategy underpinned by science-based targets, placing us on a robust path to net zero. We're also looking at introducing electric vehicles into our fleet in line with improved infrastructure and technology to enable their widespread use. Stay tuned for more on that…