Skip to main content

Transforming Lives
Our 2020 goal: Support 1 million disabled people with the skills and confidence to get into and stay in work by the end of 2020.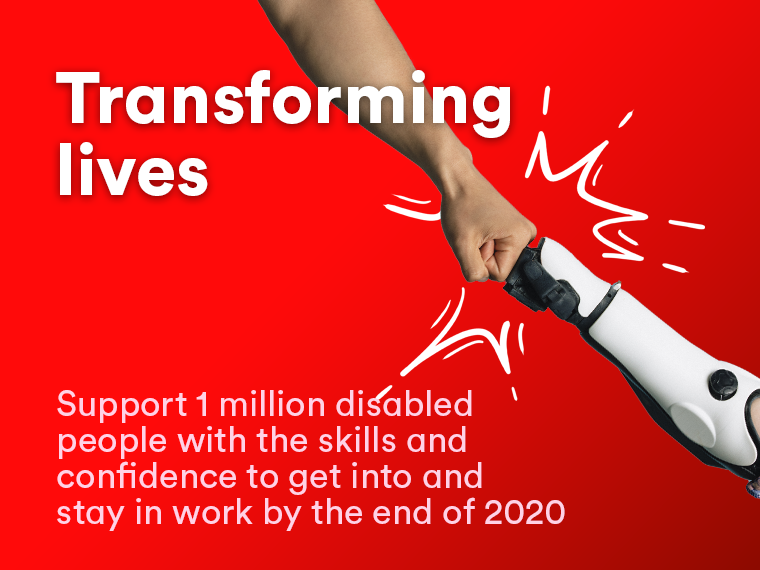 Why this is important to us
Disabled people are some of the most disadvantaged in Britain – they're roughly twice as likely to live in poverty as non-disabled adults. The internet and digital technology can be truly liberating for the most disadvantaged people in the UK. But, 20% of disabled adults have never used the internet compared to 8.4% of non-disabled adults. [2]
Of the 14 million disabled people in the UK, 7.5 million are of working age and 3.6 million of them are of out of work. [3] The disability employment gap has been stuck at 30% for 10 years. [4] Disabled people face a number of barriers that prevent them from getting into and staying in work, including employers' attitudes, inflexible working hours and outdated HR policies.

For the 14 million disabled people in the UK, digital technology and access to the internet can be transformational – providing a voice, enabling people to live independently and unlocking access to education and work. That's why we want to use digital technology and connectivity to help take away the barriers that prevent disabled people having the same opportunities as everyone else.

How we're making it happen
We've evolved our partnership with Scope, which started in 2015, from a traditional national charity partnership to something more substantial and strategic that can ultimately drive a bigger social impact.
To make sure we drive real progress towards our goal, we have a steering committee in place for our partnership with Scope, with an independent chair, which meets twice a year. Jeff Dodds, our Chief Operating Officer is the executive sponsor for disability at Virgin Media.

To drive progress on our goal, we have three areas of focus:
Supporting 1 million disabled people with the skills and confidence to get into and stay in work by the end of 2020.Together with Scope we've launched a new digital employment service delivered through Scope's channels
Bringing businesses together to make employers more inclusive for disabled people Together with Scope, we set up #WorkWithMe, a business-to-business community supporting its members with access to events, resources on becoming a disability inclusive organisation
Celebrating and normalising disability. We're proud to be gold-tier sponsors of the British Paralympic Association and are using various brand activations to help shift attitudes towards disability in the run up to the Tokyo 2021 Games


2019 performance
We supported 420,024 disabled people with the skills and confidence to get into and stay in work through Support to Work, the digital employment service we set up with Scope, surpassing our 2019 partnership target of 400,000.
65 businesses signed up to #WorkWithMe, an active community of businesses committed to thinking and acting differently about disability.
From 2015 to the beginning of 2019, our people raised £660,000, so in April we challenged them to come together and go after the remaining £340.000 by the end of 2020, a goal of raising £1 million across the lifetime of our partnership. In 2019 our people raised £125,000 for Scope of which £108,000 was raised after the challenge was set in April. All of the money raised by our people goes towards growing and enhancing the Support to Work service, making sure that everything Virgin Media contributes (not just corporate donations) will have a tangible impact on the disability employment crisis that we're tackling through our partnership with Scope.
We've also celebrated disability in the public sphere. Our COO Jeff Dodds took to the stage at One Young World alongside the founder of The Valuable 500 Caroline Casey to talk to future leaders about Virgin Media's decision to back the Valuable 500 and to focus on disability inclusion. We also sponsored the touring purple taxi on #PurpleLightUp day carrying Caroline Casey and Kate Nash, CEO of Purple Space, around London to interview business leaders on the UN's International Day of Persons with Disabilities.
Supplier outreach saw us go one step further this year and engage our supply chain with our ambitions to tackle disability unemployment – we ran a campaign on why it's time to Make disability your business, to support executives and practitioners respectively to drive change on disability inclusion in their own organisations.
These are our performance highlights for 2019, the final year of our 2020 Transforming Lives goal. If you are looking for information on our 2019 activity, take a look at the full report.

2020 reflections
When we first partnered with Scope, our focus was on providing digital technology to give disabled people more independence. Two years in we shifted our focus to disability employment. The disability employment gap of 30% had not changed in a decade and the barriers disabled people faced getting into and staying in work was a critical factor inhibiting independence for so many.**** We couldn't ignore the issue and we were right to change our focus.
We set out to prove that a new model for the delivery of employment support specifically targeted towards disabled jobseekers can provide much better employment outcomes. Since the launch of the Support to Work Service in 2018, we've supported 541,549 disabled people with the skills and confidence to get into and stay in work.
The use of digital technology to deliver the service has achieved the direct cut through needed, quickly and effectively reaching disabled jobseekers, a group of people who've been chronically overlooked. The immediate and growing demand for this service highlights the significant hole in public provision, not to mention the importance of the continued growth and enhancement of this service. We've now committed to support this beyond the remit of our 2020 strategy*****.
Similarly, the growth of the #WorkWithMe community in 2019, in both size and member engagement, has surpassed our expectations. This proves there's real need for support, advice and resources to support change-makers in businesses as they become more inclusive for disabled people.
We're supporting disabled people directly through the Support to Work service, helping businesses become more inclusive for disabled people through the #WorkWithMe community. We've also used our brand and our platforms to change the way disability is viewed in the public. We became a gold tier sponsor of the British Paralympic Association (BPA) in 2018 and a founding partner of The Valuable 500, which launched at the World Economic Forum in 2019. We've used our channels and our people to promote both partnerships. Our experience with all of these partners has taught us the importance of working with others who share the same values and level of ambition.
Notably, we donated our shirt sponsorship of Southampton Football Club to Scope, giving them a platform to launch their new brand identity and Disability Gamechangers Campaign. This simultaneously placed disability on the agenda of football fans, commentators and the media alike.
Our experience over the last 5 years has taught us that a strategic approach to collaboration with a charity partner over a longer period of time can deliver a more profound social impact.
We know that disability inclusion is an issue that some businesses still feel awkward engaging with, often for fear of saying or doing the wrong thing. That's why we've worked together to build credibility as a partnership in this area over time, using Scope's expertise and Virgin Media's brand and platforms to shine a light on the challenges facing disabled people, particularly in employment.

What's next
In 2020 we've taken the #WorkWithMe community online, running webinars to maintain the conversation, learning and reflection on disability inclusion between members during UK's Covid-19's social distancing measures. We're investing in a brand new website and defining a new community impact measurement structure so we can better understand the impact of #WorkWithMe. The Support to Work service has gone from strength to strength as a digital service, in part thanks to a well-trained and equipped team who can provide a unique service to disabled jobseekers who want support with their specific employment ambitions online – something that's especially important while other face-to-face services are unavailable. By the end of the year we'll have supported 1 million disabled people with the skills and confidence they need to get into and stay in work through the service.
[1] In order to deliver a transformational employment service we committed to an additional target for one year beyond the 5 in 5 strategy period. This goal is for the end of 2020, all of the other goals come to an end at the end of 2019.[2] Office of National Statistics, Internet users UK: 2018 Report
[3] DWP Family Resources Survey, 2016/17
[4] Identified from Scope analysis of the Labour Force Survey 2017