Skip to main content
Updating Virgin Media Mail in Mozilla Thunderbird
Please make sure the server settings in Thunderbird match the settings at Email Settings for all Virgin Media domains. This applies for POP, IMAP and SMTP server settings.
If you need some help with changing your settings, we've put together some help.
To find out if you're using POP or IMAP:
Select your Virgin Media Mail address

Select View Settings this account
Select Server Settings
The Server Type will either show as POP Mail Server or IMAP Mail Server. Select the appropriate instructions below.
To update your POP Server settings:
Select your Virgin Media Mail address

Select View Settings this account
Select Server Settings

4. Update Server Settings to:
Server Name: pop3.virginmedia.com
User Name: Your full email address e.g. Richard.Branson@ntlworld.com
Connection Security: SSL/TLS
Authentication: Normal password
Port: 995

5. Select Outgoing Server (SMTP)
6. Select the Virgin Media Mail SMTP server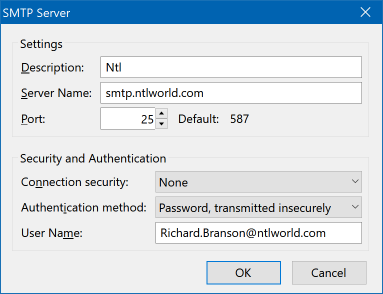 7. Update Settings to:
Server Name: smtp.virginmedia.com
Connection security: SSL/TLS
Authentication method: Normal password
User Name: Your full email address e.g. Richard.Branson@ntlworld.com
Port: 465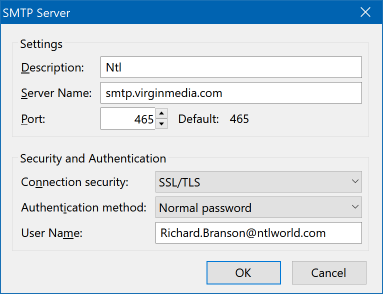 8. Click OK
9. Click OK again to save your settings
To update your IMAP Server settings:
Select your Virgin Media Mail address

Select View Settings this account
Select Server Settings

4. Update Server Settings to:
Server Name: imap.virginmedia.com
User Name: Your full email address e.g. Richard.Branson@ntlworld.com
Connection Security: SSL/TLS
Authentication method: Normal password
Port: 993

5. Select Outgoing Server (SMTP)
6. Select the Virgin Media Mail SMTP server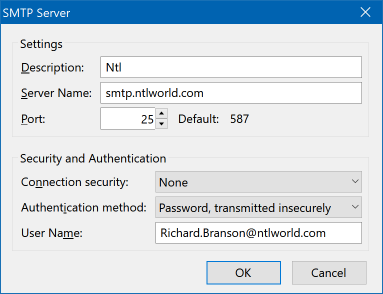 7. Update Settings to:
Server Name: smtp.virginmedia.com
Connection security: SSL/TLS
Authentication method: Normal password
User Name: Your full email address e.g. Richard.Branson@ntlworld.com
Port: 465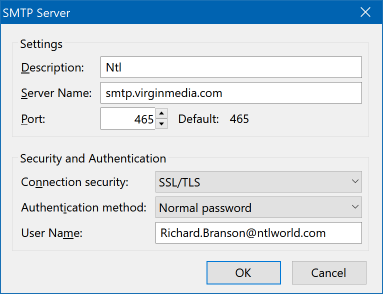 8. Click OK
9. Click OK again to save your settings