Skip to main content
If you don't know anything about Fortnite, other than that your kids don't talk about anything else, read on…
The multiplayer online action game, Fortnite, in which up to 100 players battle it out in a bid to be the last one standing, has completely changed the world of video gaming. But as brilliant as it is, it's also attracted a lot of attention from parents as it becomes more popular with their children…
With its compelling gameplay, cartoon-like design and extensive character creation tools, there is growing concern among parents about the game's addictive nature and its potential as a platform for cyberbullying.
As a Virgin Media customer, you can get F-Secure SAFE internet security for free for the first year, which comes with a nifty Family Rules feature to help put your mind at rest.
But before we explore how F-Secure SAFE can help you and your family to be safer online, here's some helpful information on the Fortnite features you need to be aware of in relation to your child's security and gaming behaviour, the game's age ratings, as well as advice on how to encourage and ensure safe browsing and gaming for your little ones.

Noteworthy Fortnite features
Fortnite has an in-game chat feature that enables players to communicate with each other through speech or text. If you're concerned about the kind of messages your child may be receiving you can disable this feature by accessing the menu button in the top-right of the screen (signified by three horizontal bars), selecting the settings icon, navigating to the "Audio" tab at the top of the screen and turning the "Voice Chat" option to "Off"
As with certain games and apps, Fortnite offers in-app purchases, giving players the option to pay for in-game items such as costumes using real money
If you or your child observes players behaving inappropriately – perhaps through their in-game actions or use of offensive/inappropriate language – you can report the offending player to the Player Support team. For full details, click here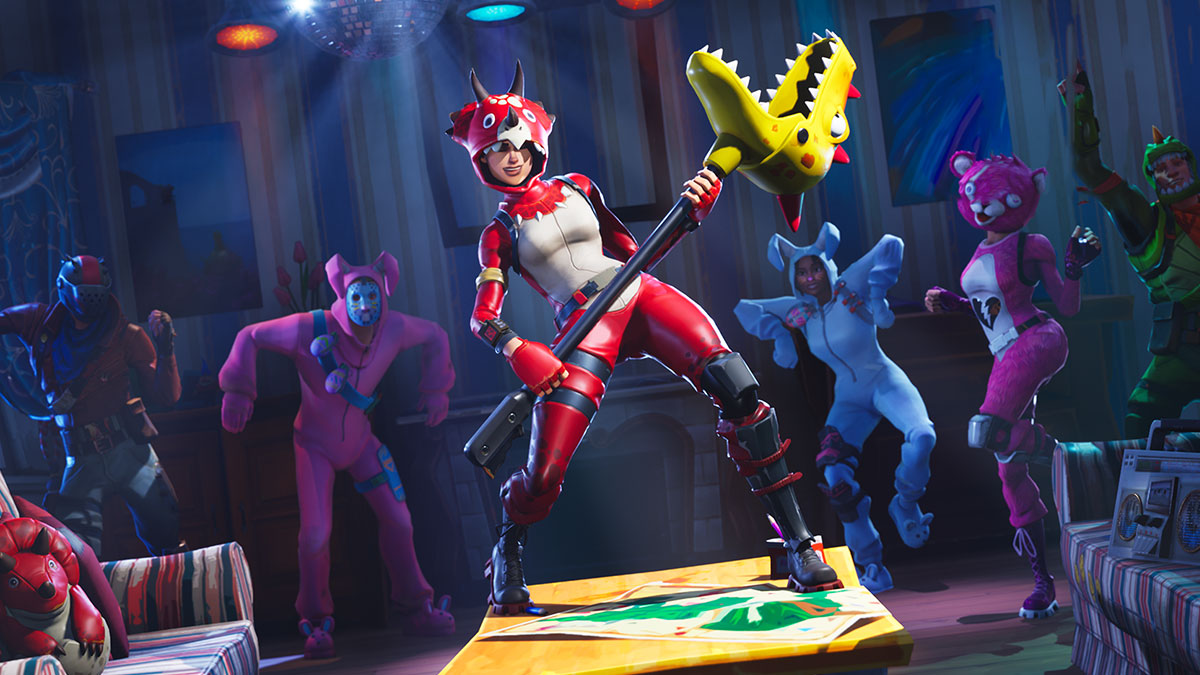 Fortnite age ratings
Epic Games: The Fortnite developer does not direct the game to children under the age of 13 in the UK
According to the PEGI video game content rating for Fortnite, the game is not suitable for persons under 12. However, PEGI does not take chat features into consideration when rating games
The game carries a 12+ rating on the Apple App Store
How parents can help ensure safe gaming online
Speak to your child regularly about what they are doing online and advise them on how to stay safe. Let them know that they can come to you or another trusted adult if they feel worried or upset by anything they have seen
Research the websites and games your child uses online. Understanding how and why your child uses them ensures you can better advise them on how to stay safe
Agree your own rules as a family when using websites, apps and games
Proactively manage your technology and devices to make them more child friendly

How F-Secure can help your whole family
F-Secure SAFE's Family Rules feature is an effective tool to help you set boundaries for your kids online, in the same way you do in the real world.
F-Secure's Family Rules features:
Set Time Limits for how much screen time you allow your kids to have to maintain a healthy balance of online and offline activity
App Control on Android devices gives parents the confidence of knowing that their kids are only using the apps they are allowed to use
Content Filter allows your children to explore the internet safely. Access to harmful content is automatically blocked
The Finder feature enables you to locate your child's mobile device remotely and see its location on a map using your My F-Secure account
You can also remotely manage your child's device, allowing you to easily change the Family Rules settings
Find out more about F-Secure SAFE
All Virgin Media customers can get F-Secure SAFE and protect up to five of the family's smartphones, tablets or computers. It's FREE for the first 12 months (normal RRP is £79.99). There's no upfront commitment as credit card details are taken at the end of the free period. After that, it's just £25 per year. To get protected, simply register here, then install F-Secure SAFE onto all your devices.
To learn even more about F-Secure SAFE's features, click here.
F-Secure: New F-Secure customers only. Registration required. One subscription per Virgin Media customer. Not available on BlackBerry. Current retail price £79.99, see https://onlineshop.f-secure.com. Up to 5 devices.