Skip to main content
Don't get lost when you're trying to find the stuff you love with our handy guide to the Virgin TV 360 home screen
By Virgin Media
Nobody wants to fish the cutlery out of the aquarium. And it would be quite unusual if you kept your summer duvet in the oven for safe keeping. So, if you wouldn't live in a home where all your belongings were in random places, why should navigating around your telly be any different?
With Virgin TV 360, finding what you want to watch is an absolute doddle. So you can spend less time looking and more time watching. Plus, it works exactly the same way whether you're on your main TV, or if you're watching on the go with your phone or tablet. Here's where to find what…
Guide
The fastest way to find out what's on. Here, you can find all your channels. If a show has already started, you can use Startover to watch from the beginning. To get to the Guide fast, press the Guide button on your Virgin TV 360 remote, or hold the microphone button and say, "Guide".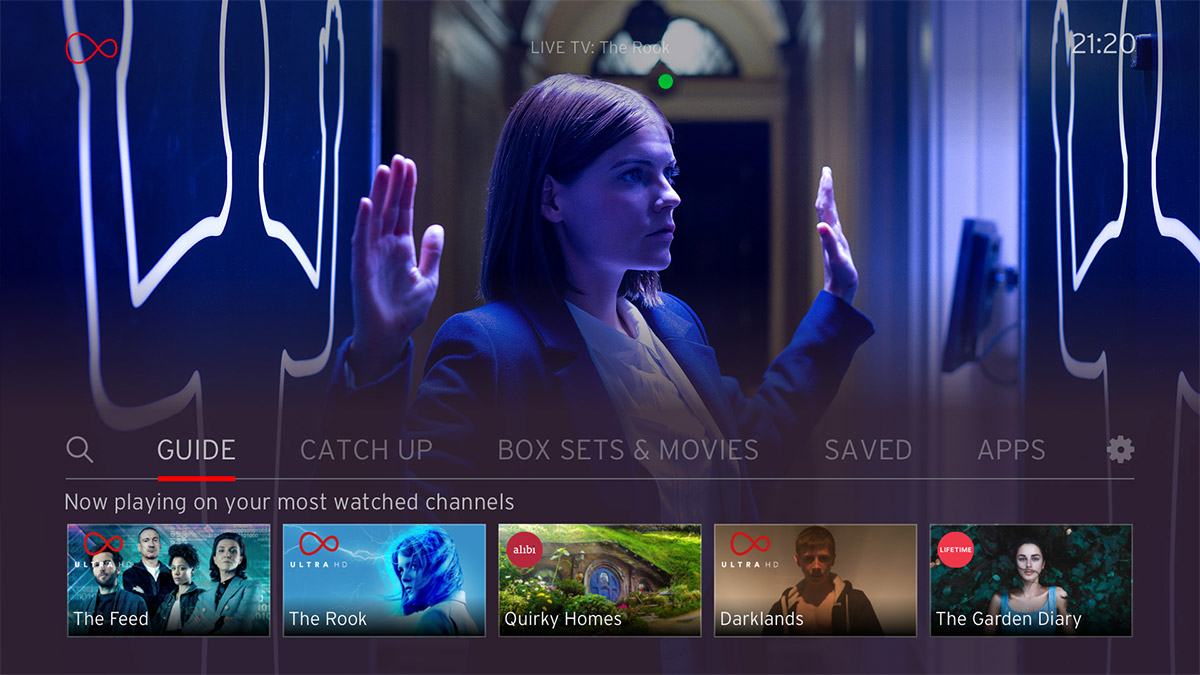 We always provide our customers with the best possible viewing experience. That's why we've replaced SD channels with the HD channels included in your TV package, so you'll always be watching the highest quality shows. Check out your Virgin TV 360 channel guide for the latest updates on what you can watch.
Catch Up
Find all the stuff you missed, right here, plus our pick of the shows from up to 30 days ago, handily sorted so you get to the best stuff quickly.
Press the Home button on your Virgin TV 360 remote and highlight or move right to Catch Up. You'll see some initial recommendations in the bar below – navigate down if you want to watch one of these – but for more, press OK to see all the Catch Up content. You can also use your voice to get here by pressing the microphone button and saying, "Catch Up".
Box Sets & Movies
Find tons of bingeworthy Box Sets to watch on demand, and rent and buy the latest films through Store. Here, you can also get personalised recommendations based on your Profile. Want more? Highlight Box Sets & Movies in the Home menu and press OK to see everything you can watch sorted into handy categories. Alternatively, press the microphone button and say, "Box Sets".
Saved
Go to Saved to find your most recent recordings and press OK for the full list. Plus, find Watchlists and pick up any programmes or rented films you've started watching.
Apps
Got Netflix or Amazon Prime Video? Hit the Home button and highlight Apps in the Home screen to watch them here. You'll also find other apps like BBC iPlayer and YouTube. Did you know you can get to any app instantly by pressing the microphone button on your Virgin TV remote and saying its name. Try it.
And don't forget, Virgin TV 360 moves with you with our Virgin TV Go app. Plus, with our Maxit TV package and above, you can even download some programmes to watch offline later – perfect for the train, plane or anywhere with no signal.
If you want to return to live TV, simply press the TV button. You'll instantly go back to your last-watched channel or live TV, no matter what you're doing.
Want even more Virgin TV 360 tips?
Want to discover the secrets of your new remote control, check out your channel guide or find out the best things you can ask your telly to do? Find all this and more here.
TV channels: Channels, content and features available depend on your chosen package. Channel line-ups and content are subject to change at any time and to regional variations.
HD: HD TV required to view HD channels. Number of inclusive HD channels depends on package.
Virgin TV 360 Box: Minimum of M50 Fibre Broadband required for operation. Boxes require a HDMI cable to connect to your TV.
Amazon Prime Video: Amazon Prime subscription required at extra cost. 18+. Click here for T&Cs.
Netflix: Netflix subscription required at extra cost.