Skip to main content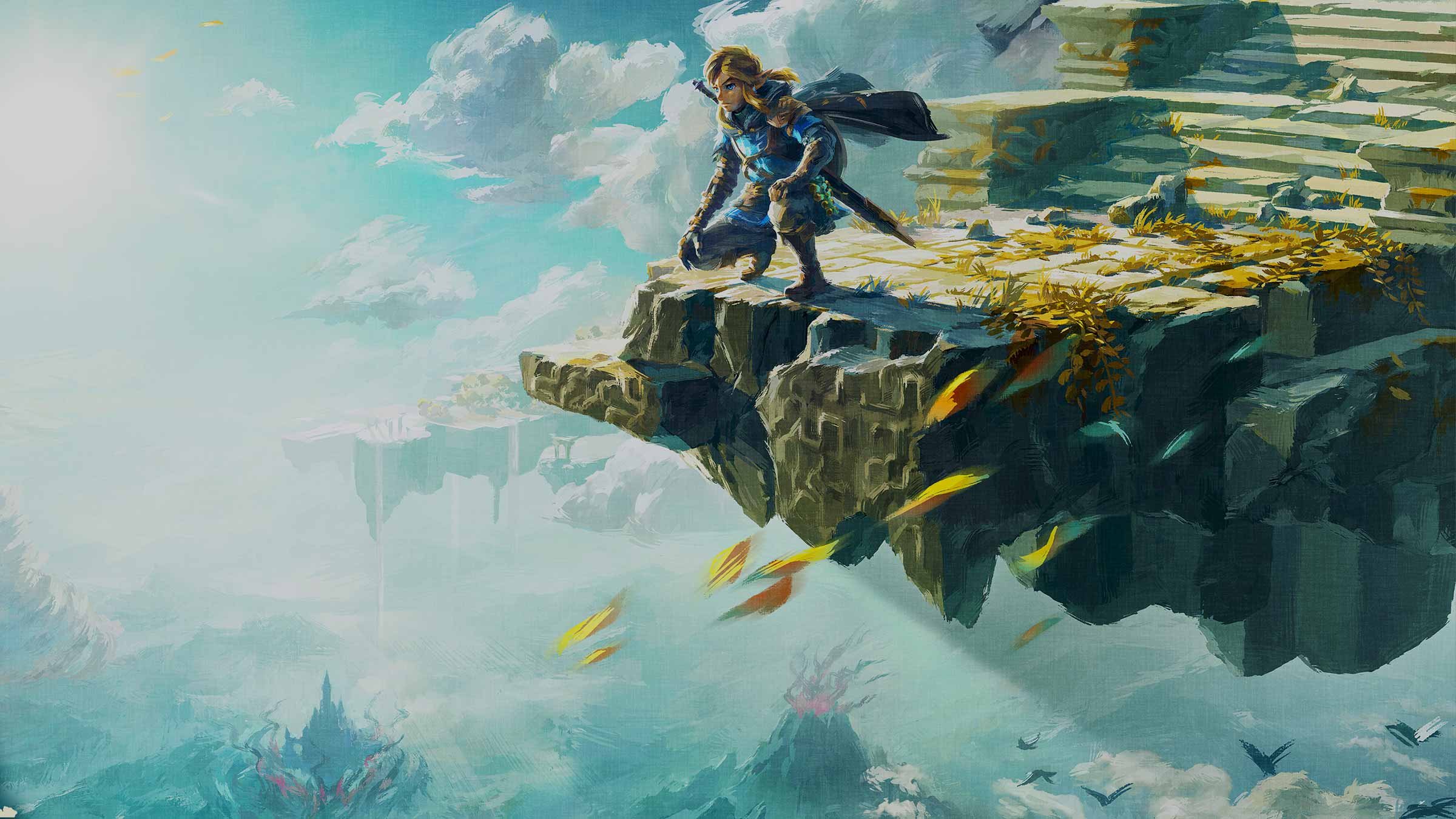 Find out whether The Legend Of Zelda: Tears Of The Kingdom surpasses the critically acclaimed Breath Of The Wild with all the big questions answered
By Simon Ward, Content Editor
It's staggering to believe The Legend Of Zelda: Breath Of The Wild was released in 2017. So groundbreaking was the open world action-adventure game, it feels far more recent than that. Possibly because the critically acclaimed title has never been far from conversation, and its influence in the past six years on gaming has been overwhelming and vast.
It was also the launch title for the Nintendo Switch (and the swansong for the underrated but never loved Nintendo Wii U), and helped the Switch become the company's biggest selling home console ever. More than half a decade later, the job for its sequel The Legend Of Zelda: Tears Of The Kingdom is different, but by no means easier: surpass what many people believe to be the finest video game of all time.


Whether it has succeeded in that task, that's the question the gaming community will need to answer when the game is released exclusively on Nintendo Switch on Friday 12 May. But with so many other key questions on people's lips, we've answered the most pressing ones.
1. What is The Legend Of Zelda: Tears Of The Kingdom about?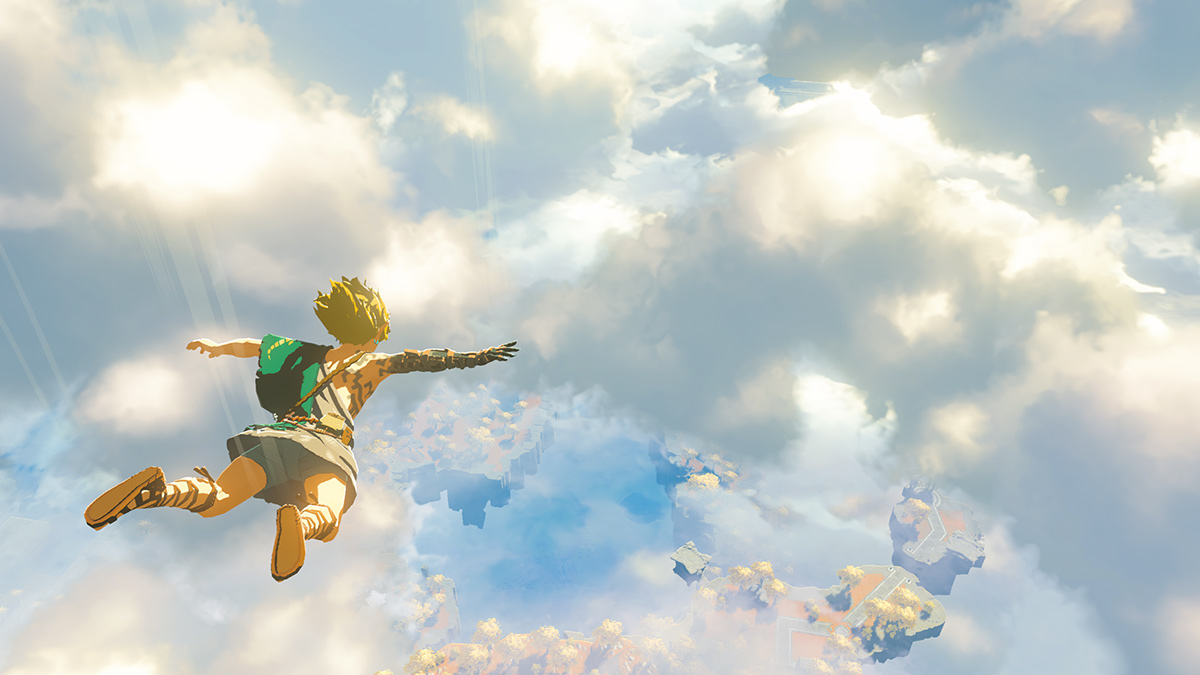 Nintendo are not known for being forthcoming on the plot for Zelda games. The official synopsis describes reads: "In this sequel to The Legend Of Zelda: Breath Of The Wild game, you'll decide your own path through the sprawling landscapes of Hyrule and the mysterious islands floating in the vast skies above. Can you harness the power of Link's new abilities to fight back against the malevolent forces that threaten the kingdom?"
So, it will once again follow Link's journey around Hyrule, discovering shrines and chasing off evil, but we're assuming the map will have changed from its predecessor, not least because the trailers show Link exploring the sky. Similarly, the trailers show Link's arm is damaged, which is sure to be a key plot point (and ability). In general, the tone appears to be darker than Breath Of The Wild, albeit set against moments when you can soar into the clouds.
We know also it will be a bigger game than Breath of the Wild. The game's download size is 16GB, making it one of the biggest games that Nintendo itself has released for the Switch (Breath Of The Wild was 14.4GB, excluding DLC).
2. What new gameplay is introduced in The Legend Of Zelda: Tears Of The Kingdom?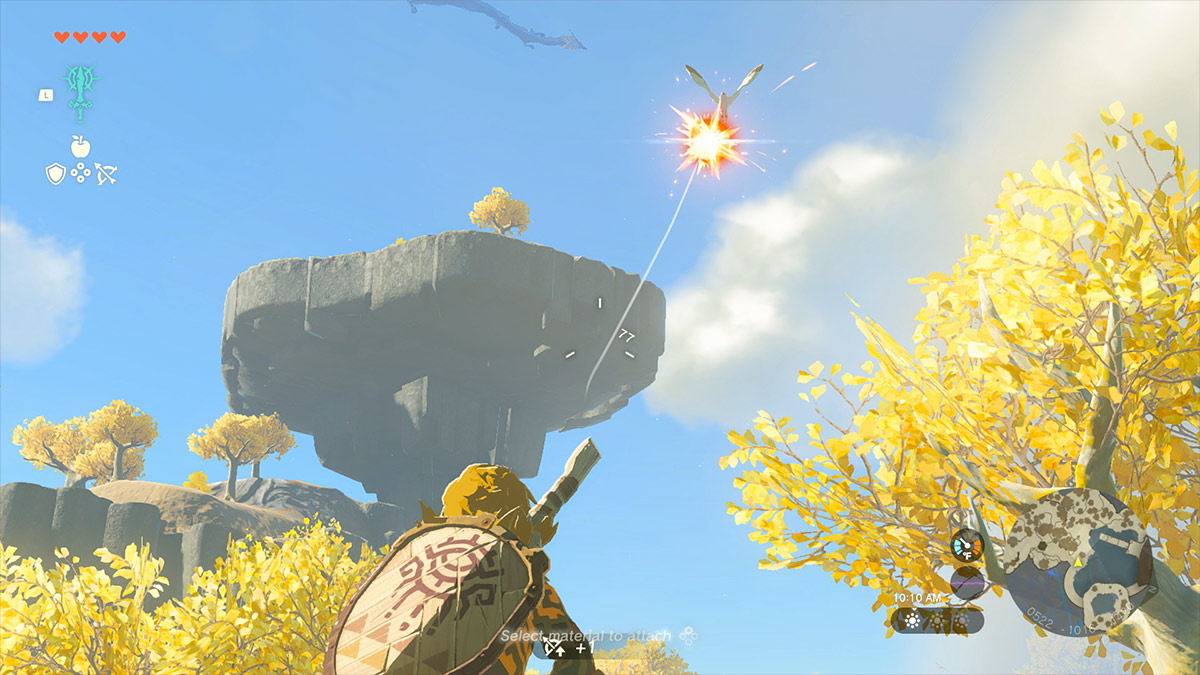 Tears Of The Kingdom builds on what we all loved from Breath Of The Wild, while adding new powers and abilities. Think of the game as an evolution rather than a total reinvention – which is understandable when you consider its processor's popularity.
But there is new gameplay being introduced, including more open traversal using vehicles, meaning you'll be able to explore Hyrule and its skies at speed. And that will be crucial when you consider how much more there will be to see and do.
There is also a variety of additional and improved combat options, with Fuse (one of four new abilities) allowing you to create, combine and wield new weapon variants, offering unique ways to face off against enemies.
The other three new abilities are Recall (literally rewinding time), Ultrahand (to combine objects to create structures, useful for vehicles) and Ascend (a teleport ability). Each will give you the tools to play the game however you want.
One thing that is remaining from Breath Of The Wild is the love-it-or-loath-it weapon durability system, meaning weapons can (and will) break after a certain amount of time. But the Fuse ability should offer a whole new dimension to that headscratcher.
3. Is The Legend Of Zelda: Tears Of The Kingdom a sequel to Breath Of The Wild?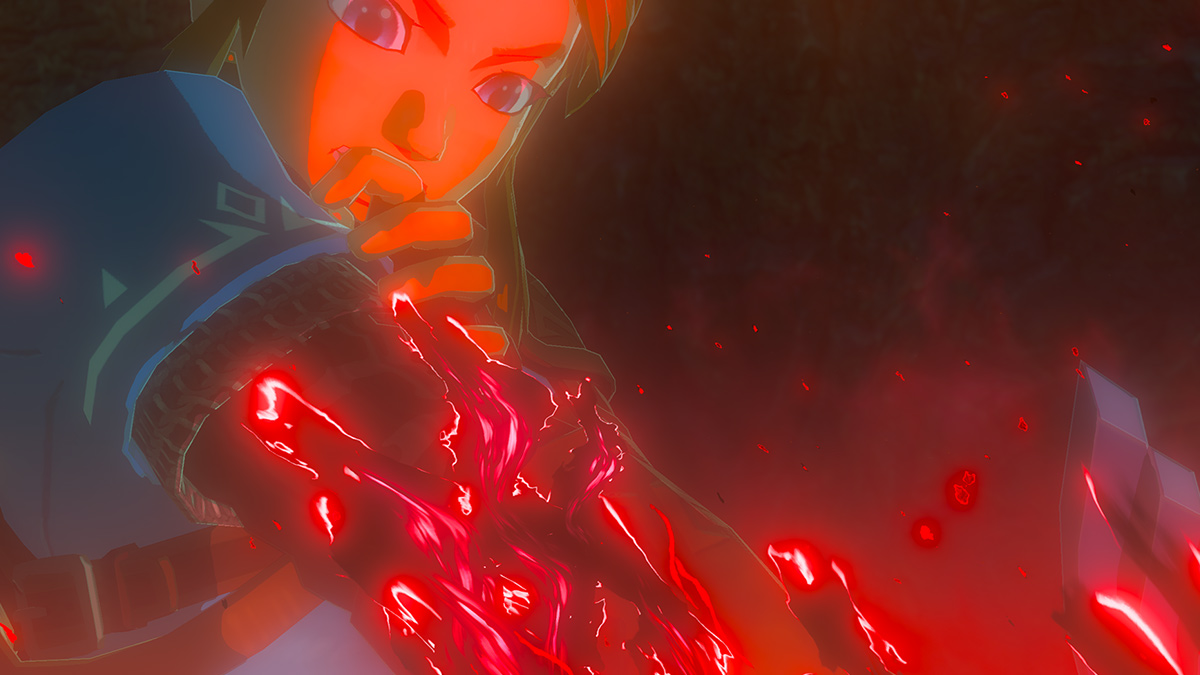 When Nintendo first talked about Tears Of The Kingdom, it was dubbed Breath Of The Wild 2. This in itself didn't necessarily confirm or deny it was taking place directly after the events of that game. In fact, many fans had theorised (based on nothing, we should add) that this title could be a prequel, showing off Hyrule at an earlier time in its history.
However, all signs point to the fact that Tears Of The Kingdom follows on sequentially from Breath Of The Wild. We see in the trailer, what looks like the corpse of the vanquished Ganon from the 2017 title ascend from the ground alongside Hyrule Castle and into the skies. The trailers have also referenced events from the first game. Fun fact: this is one of the few times two new Zelda games have been released during the lifespan of a single Nintendo console.
4. Do you need to play Breath Of The Wild before Tears Of The Kingdom?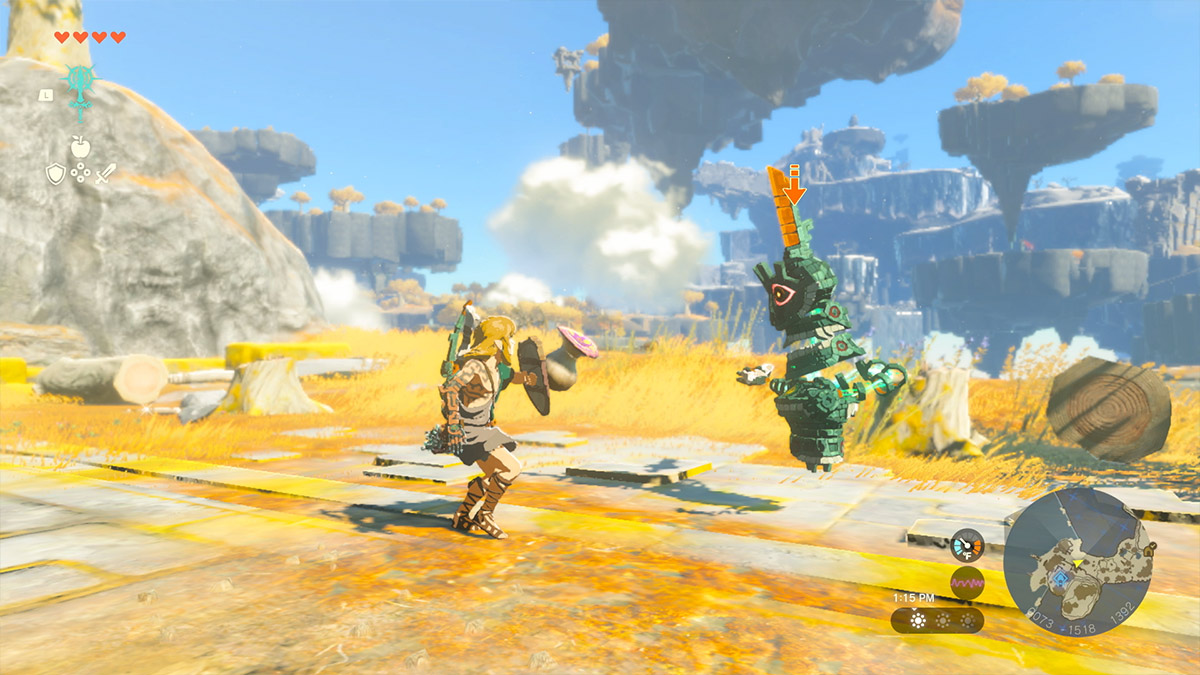 While Zelda games feature a lot of consistent lore and returning characters, they are relatively standalone experiences. But it certainly wouldn't hurt playing Breath Of The Wild before Tears Of The Kingdom. Not just because it's clear there will be a huge overlap in terms of gameplay and storyline, but because Breath Of The Wild is one of the greatest video games of all time. So why wouldn't you want to play it?
Put it this way, Zelda games are a lot like Marvel movies. There's plenty in there for diehard fans, but there's always a jumping on point for total newbies.
5. Will The Legend Of Zelda: Tears Of The Kingdom be multiplayer?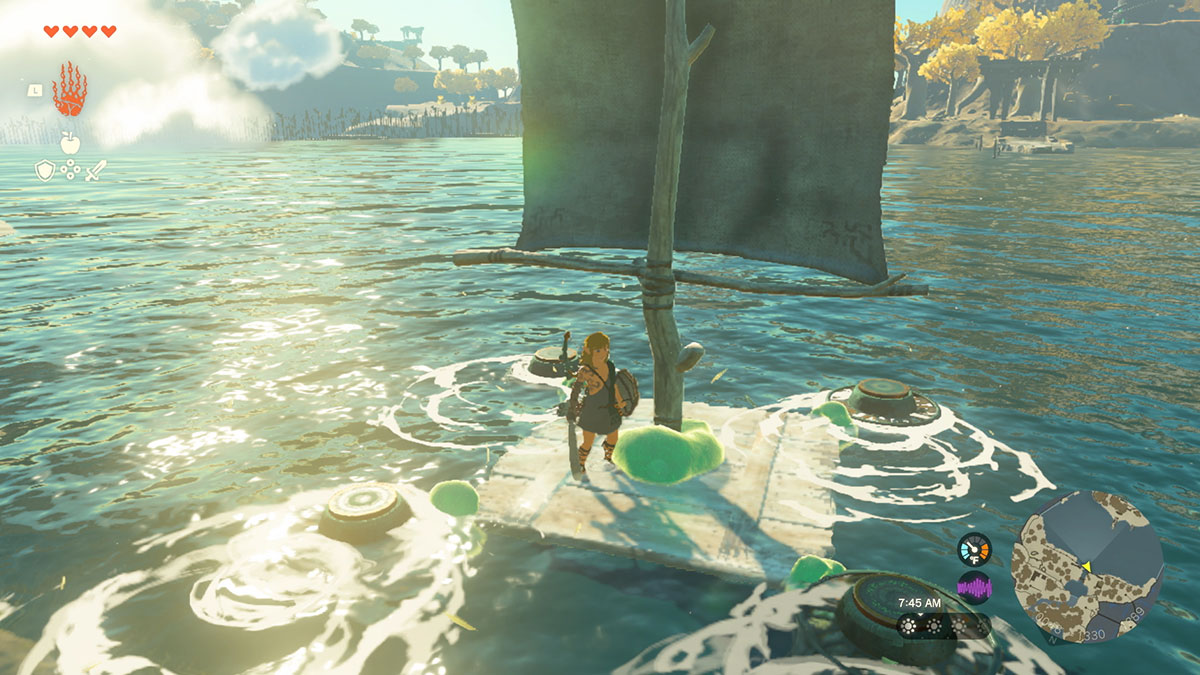 Like Breath Of The Wild, this latest game is a single-player experience only with no local or online functionality, meaning there is no multiplayer or co-op gameplay. However, if you're looking some multiplayer Zelda action, Four Swords (Nintendo Game Boy Advance), Four Swords Adventures (Nintendo GameCube) and Tri Force Heroes (Nintendo 3DS) are some historic titles where you can team up to play, if you still own those retro consoles.
Plus, with more and more classic titles coming to Nintendo Switch via its online store, you'd have to hope it is only a matter of time before these arrive.
6. When is The Legend Of Zelda: Tears Of The Kingdom released?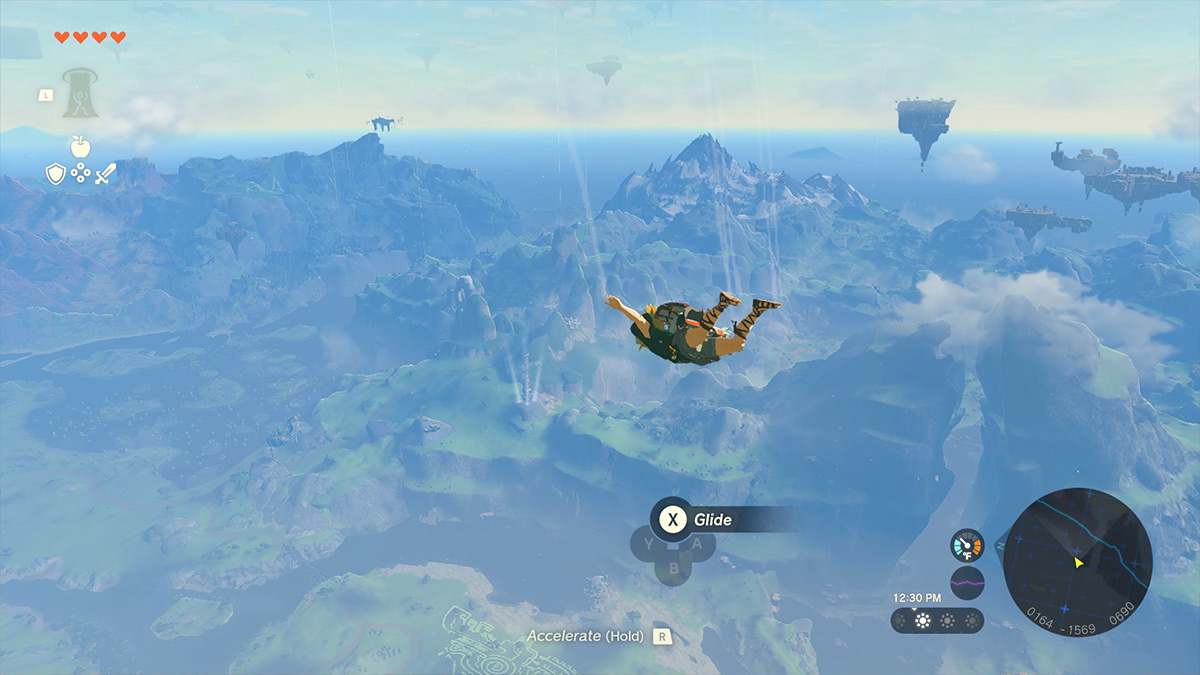 The Legend Of Zelda: Tears Of The Kingdom is released exclusively on Nintendo Switch on Friday 12 May. In addition to the standard version, a collector's edition of the game is released on the same day. It includes an artbook, SteelBook, steel poster and pin set. However, unlike other games with pre-order or collector's edition bonuses, there is no added gameplay or in-game cosmetic items included.
7. How long will it take to download The Legend Of Zelda: Tears Of The Kingdom?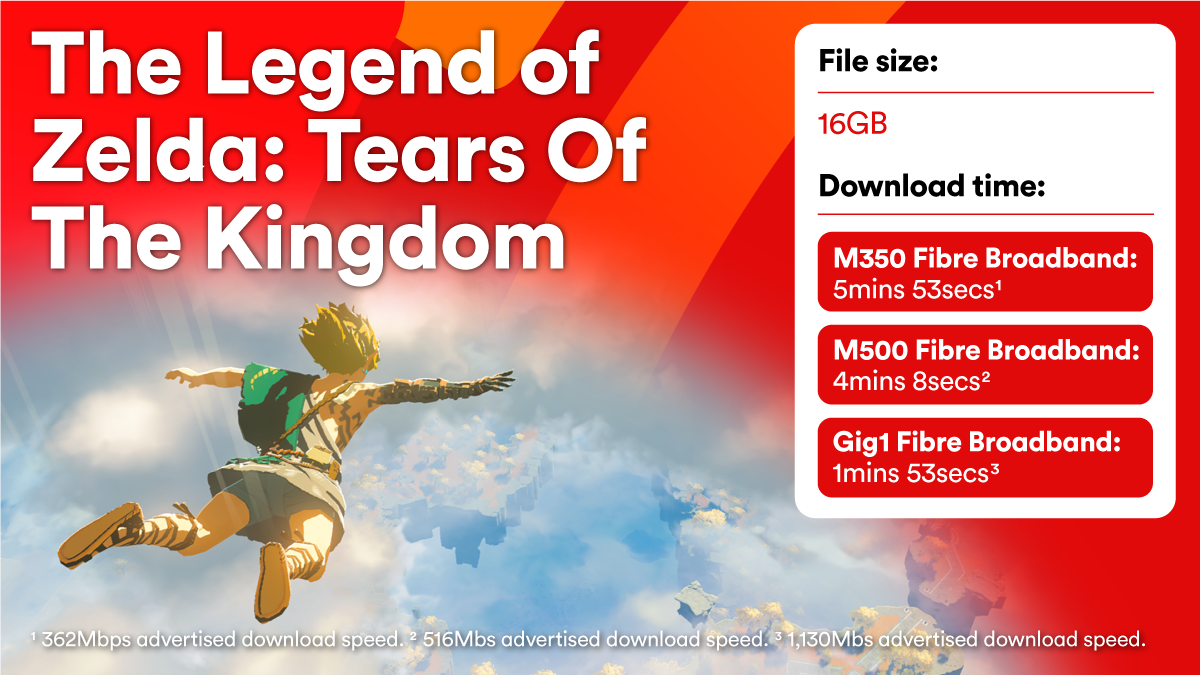 UK's Fastest Major Broadband Provider: based on Gig1 Fibre avg download speed 1,130Mbps vs avg download speeds of major UK ISPs. To verify see virginmedia.com/speed-comparison. Virgin Fibre areas only. Availability of services from other major UK ISPs will differ from Virgin Media's services. Correct at date of publication.
Services only available in Virgin Media network areas. Subject to survey, network capacity and credit check.
Advertised speeds in excess of 1Gbps are delivered to the home. To utilise the full speed capability multiple device connections operating at optimum speed and capacity are required. Device limitations apply. External factors may impact speed.
Compatible TV required for HD and Ultra HD.
The claim
52Mbps average upload speed – 5x faster than the UK's average upload speeds
Virgin Media Gig1 Fibre Broadband (avg upload speed 52Mbps) vs UK 24-hour average upload speed (9.8Mbps), based on Ofcom UK Home Broadband Performance report (here – pg 4), measurement period March 2021.
The claim
When we test our network to connected homes, we're 99.93% reliable.
Legal
99.93% network uptime (based on measurements from customers' Hubs across the Virgin Media network, March 2020–March 2021). For more details, see virginmedia.com/broadband/speeds