Skip to main content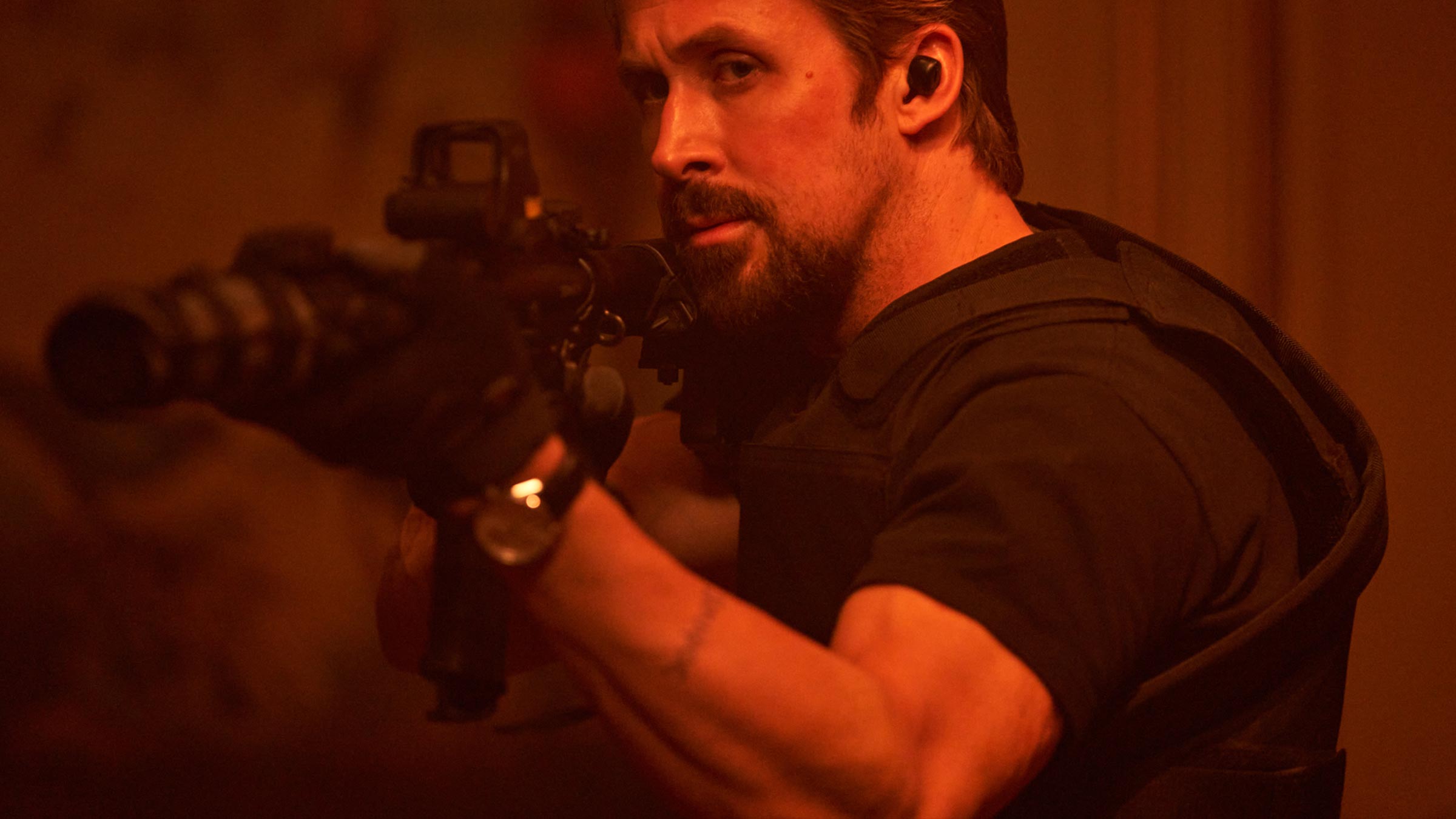 As usual, we're looking forward to some fresh telly and films on Netflix in July. This is what you can expect in the coming month…
By Virgin TV Edit
The jury's still out on whether July will be a washout or a scorcher as far as the weather's concerned. But whatever's happening outside, we'll be making some time to catch up on the best new TV series and films dropping on Netflix.
Highlights include a controversially sassy adaptation of Jane Austen's Persuasion, Sex And The City creator Darren Star's latest romantic sitcom, and Ryan Gosling playing a renegade CIA operative (you know the sort) in The Gray Man – AKA the most expensive Netflix film ever made. Then, of course, there are the mammoth final episodes of Stranger Things season 4. Settle in.
Don't forget, if you're streaming the latest on Netflix this month, Virgin Media is the leading major broadband provider for streaming content (according to the Netflix ISP Speed Index). Good to go? Let's jump into this month of goodness…
To see what you can stream on BBC iPlayer, All 4, Prime Video and in On Demand, click here for our monthly round-up of the best TV and movies.
Find Season 4: Volume 2 in Apps & Games > Netflix from Friday 1 July. Seasons 1-4 available now
The long-anticipated fourth season of the incomparable sci-fi horror series has been divided into two volumes – the second of which drops at the start of July. There are only two episodes, but they're seriously hefty bits of telly: the penultimate episode is 85 minutes long, while the finale will clock in at two-and-a-half hours. Bed down to see the Hellfire Club, Eleven, Hopper and Joyce come together to stop the terrifying entity Vecna tearing Hawkins apart.
Up In The Air
Find it in Apps & Games > Netflix from Friday 1 July
Starring George Clooney as a charismatic HR consultant who flies around the US making people redundant, this Oscar-nominated dramatic comedy from 2009 is well worth a watch.
Ryan (Clooney) is a frequent flyer with few emotional connections on the ground, but he's forced to interrogate his sentimental-slash-cynical value system when he starts working with Natalie (Anna Kendrick), a bundle of contradictions who believes in love but thinks he should fire people remotely. Vera Farmiga co-stars as a businesswoman who seems like the female version of Ryan – but is she really? Moving, funny and thought-provoking.
King Of Stonks
Find it in Apps & Games > Netflix from Wednesday 6 July
Cross The Wolf Of Wall Street with The Dropout and you've got something like King Of Stonks, a new German thriller mini-series following entrepreneur Felix Armand as he builds a big-name fintech start-up. Felix isn't averse to dirty tricks, and the narrative is propelled forward by scandals involving money laundering, investor deceptions and internet porn.
Chaotic, comic and populated by individuals with black holes where their souls should be, King Of Stonks is probably a more accurate depiction of the financial start-up world than we'd like to think.
Dangerous Liaisons
Find it in Apps & Games > Netflix from Friday 8 July
This modern reworking of Pierre Choderlos de Laclos' 1782 novel is set in a modern high school in Biarritz, a chichi beach town on France's Basque coast. In the original book, it was members of the aristocracy playing sexually-charged mind games with one another. Now, we get to see the same dynamic play out between a hot teenage surfer and his Instagram influencer ex – with poor Parisian transplant Célène stuck in the middle.
The Longest Night
Find it in Apps & Games > Netflix from Friday 8 July
Every episode of this six-part Spanish crime thriller series is set over the same night at a psychiatric prison. A group of people are stuck inside, entirely cut off from outside communication – and meanwhile, a group of armed men are prowling the perimeter, attempting to bust out an incarcerated serial killer. Not the most relaxing evening, then.

The Sea Beast
Find it in Apps & Games > Netflix from Friday 8 July
Academy Award-winning filmmaker Chris Williams' CV features some of the sharpest, warmest and funniest animated movies of the last 25 years: think Mulan, Lilo & Stitch, The Emperor's New Groove, Frozen and Moana.
In 2018, he left a two-decade-long career at Disney to work with Netflix, and The Sea Beast is the result. It tells the story of a young girl who stows away on the ship of a legendary but curmudgeonly monster hunter – cue comfortingly predictable peril, bickering and heart-warming moments.
How To Build A Sex Room
Find it in Apps & Games > Netflix from Friday 8 July
Hey, no one can accuse this new interior design series of being coy about its purpose. It's hosted by London-born, LA-based designer Melanie Rose, who specialises in "sacred spaces" – AKA "rooms, suites and areas dedicated to the sensual and erotic". Essentially, whether couples want a sex dungeon or a sex spa in their house, Melanie can (and does) make it happen. Brilliantly silly reality TV.
Boo, Bitch
Find it in Apps & Games > Netflix from Friday 8 July
Lana Condor found fame in Netflix's smash hit To All The Boys I Loved Before film series, and her return to the streamer sees her playing another nerdy girl at an American high school. This time, though, her character dies – then becomes a ghost, then reinvents herself as a catty queen bee. Booksmart + Mean Girls x Jacqueline Wilson's Vicky Angel = a whole lot of fun.
Resident Evil
Find it in Apps & Games > Netflix from Thursday 14 July
Horror fans will lap up this big-budget live-action series, the first TV spin-off of the iconic video game franchise. The plot is entirely new, but there are familiar through-lines from the game – including the setting of Raccoon City and the heavy presence of zombies.
At the heart of the new narrative is Jade (Ella Balinska, last seen in Charlie's Angels), the down-but-not-out heroine determined to take on corporate corruption and the zombie-creating T-virus. Expect sinister tension, splashy gore and some surprisingly good jokes.
Farzar
Find it in Apps & Games > Netflix from Friday 15 July
"Hold on! Is this going to be more like Futurama or Rick And Morty?" Someone asks this question within the first ten seconds of the trailer for Farzar, Netflix's latest adult animated comedy, and the honest answer is, it's like both of those shows – but even filthier. A dim prince leaves his domed city to fight evil aliens and realises that he's been living a lie; hilarity ensues. If you like very sweary, very funny sci-fi, you'll be into it.
Persuasion
Find it in Apps & Games > Netflix from Friday 15 July
The trailer for Persuasion went viral on Twitter when it dropped in June, with many complaining that Jane Austen's quiet, world-weary heroine Anne Elliot had been incongruously "Fleabag-ified". Dakota Johnson does indeed play Anne as someone arch and sassy – quite different to how she's depicted in the novel – and the modern language in this adaptation alone would be enough to horrify Austen purists.
But if you love a zippy, quippy period drama and don't mind lots of side-eyes to camera, there's lots to enjoy here, not least Henry Golding and Richard E Grant doing brilliant supporting work.
Remarriage & Desires
Find it in Apps & Games > Netflix from Friday 15 July
Glamorous and deliciously OTT, this new K-drama series revolves around Rex, a fictional matchmaking agency that helps ambitious women marry or remarry into Korea's ultrarich elite. When Seo Hye-seung realises that one of her fellow Rex clients is the woman who had an affair with her late husband, she sets out for revenge.
Virgin River
Find Season 4 in Apps & Games > Netflix from Wednesday 20 July. Seasons 1-3 available now
Since its first season dropped in 2019, this romantic drama series has been one of Netflix's sleeper hits – to the extent that it was renewed for a fifth season before the fourth had even aired. It's set in a remote, tight-knit Northern California town where the men are as pleasingly rugged as the mountain scenery, and the local folk are constantly dispensing hot gossip, cruel jibes or life-altering wisdom.
The last season saw nurse and midwife Mel Monroe (Alexandra Breckenridge) and her PTSD-suffering ex-Marine love interest Jack (Martin Henderson) clash over whether to have a baby; tune into series 4 to find out what happened.
The Gray Man
Find it in Apps & Games > Netflix from Friday 22 July
With a production budget of $200 million, The Gray Man is the most expensive film ever made by Netflix (it's having a limited cinema release before dropping on the streaming service). It's also directed by the Russo Brothers, inspired by witty 70s thrillers and stars Ryan Gosling, Chris Evans and Ana de Armas – so we have high hopes.
R-Goz plays Court Gentry, a former convict and shadowy CIA operative forced to go on the run after a sociopathic rogue agent (Evans) puts a price on his head. Popcorn at the ready.

Purple Hearts
Find it in Apps & Games > Netflix from Friday 29 July
"Two people fake a relationship for cynical/logistical reasons, only to fall in love" is a tried-and-true romantic storyline (see also: How To Lose A Guy In 10 Days, Pretty Woman, Bridgerton). It's deployed again in this new film, in which an aspiring singer-songwriter agrees to a marriage of convenience with a Marine who's about to ship out. Of course, their fake relationship soon becomes all too real.
Uncoupled
Find it in Apps & Games > Netflix from Friday 29 July
There are still too few mainstream TV shows that centre older LGBTQ+ characters, rather than relegating them to lightweight supporting roles. This new romantic comedy series will go some way to correcting that, and it has serious sitcom pedigree: it's helmed by Sex And The City creator Darren Star, with How I Met Your Mother's Neil Patrick Harris in the lead role.
Harris plays Michael, a New York real estate broker whose husband of 17 years unexpectedly leaves him – forcing Michael to re-enter the gay dating scene in his 40s. Expect poignancy, snark and hilarity in equal measure.

How to watch Netflix with Virgin TV
If you have a TiVo® box or Virgin TV V6 box, powered by TiVo®:
Press home on your remote
Select Apps & Games
Select All Apps
Select Netflix
If you're already a Netflix subscriber, you can also access the app through Search & Discover or by pressing Red on channel 204. Just sign in with your existing login and start watching. And you'll only have to log in the first time you use it.
If you're new to Netflix, then you'll need to subscribe to use the app. The easiest way to do this is by going to netflix.com/virginmedia. You can also subscribe using the Netflix app in Apps & Games.
TV channels: Channels, content and features available depend on your chosen package. Channel line-ups and content are subject to change at any time and to regional variations.
HD: HD TV set, V HD Box, TiVo box or Virgin TV V6 connected with HDMI cables required for HD channels. Number of inclusive HD channels depends on package.
Netflix: Netflix subscription required at extra cost.