Skip to main content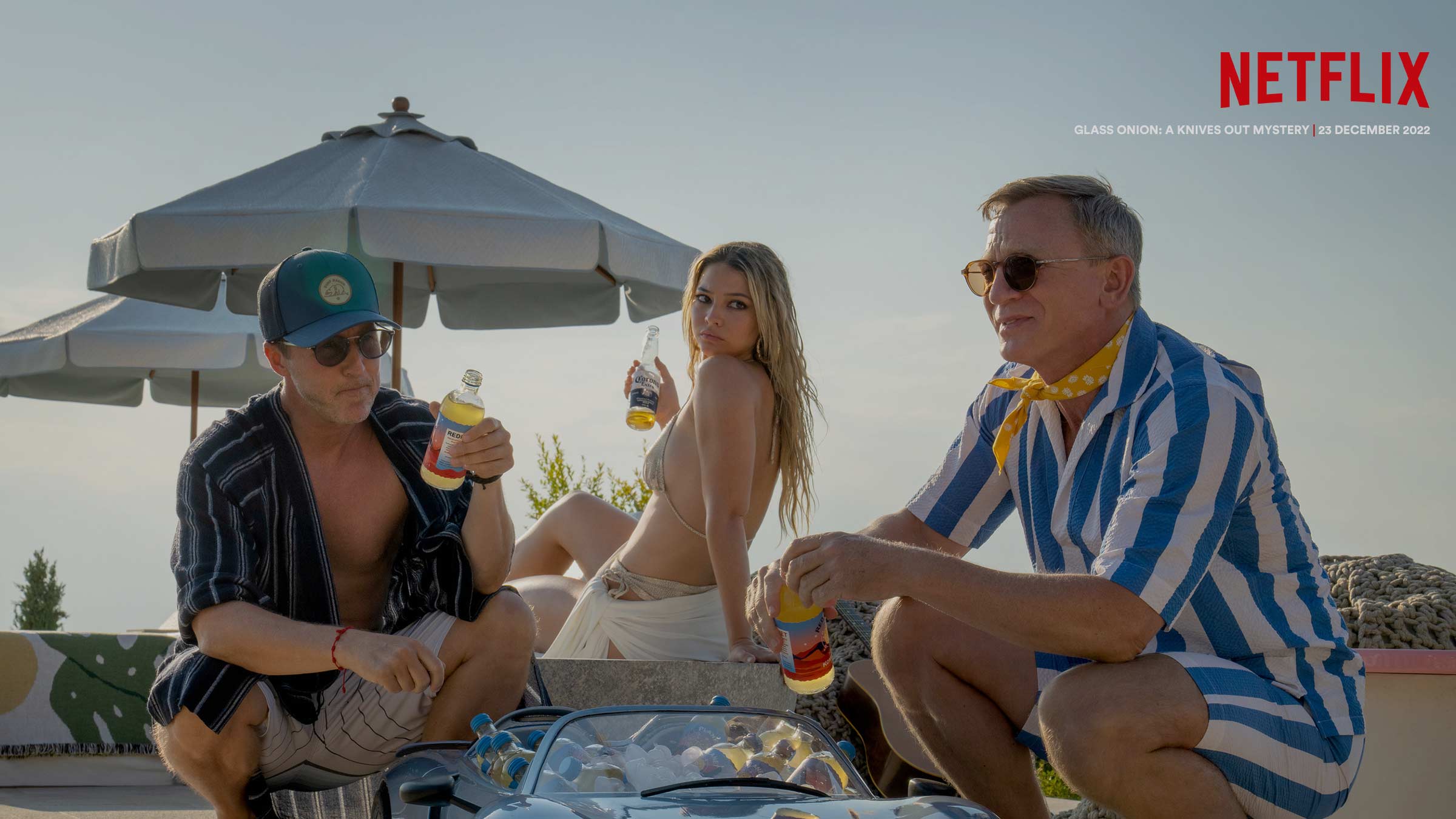 All the best new TV shows and movies to watch on Netflix this month, with plenty of romance in store from steamy adaptations of literary classics to modern-day dating drama and Parisian love triangles
By Kat Romero and Charlotte Briggs, Writers
Forget the Christmas party season. These cold winter nights are for sitting on your sofa and getting stuck into some top-quality entertainment. This month Netflix is bringing you a whole heap of bingeable TV and films – of which the biggest is Glass Onion, the sequel to the hit mystery thriller Knives Out, starring Daniel Craig and a whole new cast of shady suspects.
Love Island may be a distant summer memory but luckily Netflix's Too Hot To Handle is returning for a fourth season to give us our winter fix of singletons looking for love. Prefer your romance a little more old-school? The Crown's Emma Corrin stars as Lady Chatterley alongside Jack O'Connell in Lady Chatterley's Lover. Since the novel became notorious immediately after its British publication in 1960, we're not surprised to find the trailer alone is enough to make you blush… Meanwhile, the highly anticipated return of Emily In Paris means that fans can finally find out if Emily (Lily Collins) returns to the States or stays in Paris to follow her heart.
If rom-coms aren't your cup of tea, there's plenty of fantasy releases this month including the Norwegian monster thriller TROLL, prequel special The Witcher: Blood Origin and the third season from the Dragon Age universe ­– Dragon Age: Absolution. Plus, don't miss the critically acclaimed documentary "Sr." which portrays the incredible life of maverick film-maker Robert Downey Sr as seen through the eyes of his movie star son.
There's entertainment for everyone on Netflix with Virgin Media, now with the fastest WiFi guarantee of any major provider. Read on to find out what you can watch on Netflix this December.

Romesh Ranganathan: The Cynic
Find it in Apps & Games > Netflix from Tuesday 29 November
One of our favourite British comedians, Romesh Ranganathan (Rob And Romesh Vs…), makes his Netflix stand-up special debut. As the title suggests, he's bringing his unique brand of dry and derisive comedy to a packed audience. The show, compiled from the three final performances of his The Cynic's Mixtape tour, was filmed at his hometown gig at the Hawth Theatre in Crawley. Ranganathan vents about everything from veganism (he's a vegan, if you didn't know) to his own children and includes exclusive behind-the-scenes footage of how the special was made.

TROLL
Find in Apps & Games > Netflix from Thursday 1 December
This Norwegian fantasy-action should be on the watchlist for anyone who is a fan of Nordic folklore. The film begins with an explosion in the Dovre mountains that awakens an ancient troll, who wreaks deadly destruction after a thousand years in captivity. As it heads towards the capital city Oslo, it's up to our heroes Nora Tidemann (Ine Maria Wilmann) and Andreas Isaksen (Kim Falck) to put a stop to these catastrophic events before it's too late. Directed by Roar Uthaug (Tomb Raider), it's bound to be a rip-roaring and magical watch.
Find it in Apps & Games > Netflix from Friday 2 December
This documentary sees Iron Man star Robert Downey Jr pay tribute to his late father, Robert Downey Sr. Celebrating the life of the pioneering film-maker and his illustrious Hollywood career, the film also deep dives into the two Roberts' relationship, giving viewers a unique opportunity to see family dynamics at play behind closed doors. Directed by Chris Smith (American Movie, Fyre), it's an intimate and touching homage to the eclectic life of Downey Sr and all who loved him. Pass the tissues.
Lady Chatterley's Lover
Find in Apps & Games > Netflix from Friday 2 December
Prepare to clutch your pearls – there's a new Lady Chatterley's Lover adaptation coming to Netflix. The steamy DH Lawrence tale stars Emma Corrin (The Crown) as Lady Constance Chatterley and Jack O'Connell (Skins) as Oliver Mellors. After Connie weds Sir Clifford Chatterley (Matthew Duckett), she settles into a life of wealth and privilege – but things are shaken when Sir Clifford returns from the First World War with life-changing injuries. Connie meets gamekeeper Mellors on their estate and the pair begin a sizzling affair, leaving Connie with a dilemma: should she follow her head or her heart?
Firefly Lane
Find season 2 part 1 in Apps & Games > Netflix from Friday 2 December. Season 2 streaming now
This feel-good series returns with the first half of its second and final season. Viewers can look forward to finally discovering what ended the 30-year friendship between formerly inseparable friends Tully (Katherine Heigl, Grey's Anatomy) and Kate (Sarah Chalke, Scrubs) – but there's plenty of drama to come before that! Kate grapples with the painful aftermath of Johnny's (Ben Lawson, Designated Survivor) ill-fated trip to Iraq as a war correspondent; Tully is facing a lawsuit and rebuilding her career, while trying to find the father she has never met. You can catch the second half of the season in early 2023.
Scrooge – A Christmas Carol
Find in Apps & Games > Netflix from Friday 2 December
Don't miss this 2022 adaptation of Charles Dickens' classic festive tale A Christmas Carol to get into the spirit of things. An animated musical remake, it follows the story of Ebenezer Scrooge (voiced by Welsh actor Luke Evans, Beauty And The Beast) as he travels through time with the ghosts of Christmas Past, Present and Future to mend his humbug ways before it's too late. There's an all-star ensemble including The Crown's Olivia Colman and Jonathan Pryce.
Emily The Criminal
Find it in Apps & Games > Netflix from Wednesday 7 December
Fans of Aubrey Plaza (Parks And Recreation) may be used to seeing the quirky star in more comedic roles, but she takes the lead role in this crime thriller. College graduate Emily becomes involved in a credit card scam after falling into debt. It starts off small, but soon things escalate as she heads further down the rabbit hole and into trouble. Plaza gives a brilliant performance, making Emily truly relatable and painting a bleak picture of how desperate life can be for many young people saddled with ever-rising debt. Prepare to be on the edge of your seat throughout.
Too Hot To Handle
Find season 4 in Apps & Games > Netflix from Wednesday 7 December. Seasons 1-3 streaming now
Too Hot To Handle returns to our screens for a fourth series, featuring a whole new cast of sexy singletons as well as new host Mario Lopez (Saved By The Bell). The twist is that they must keep their hands off each other or risk losing the prize money. Seems easy, right? Wrong. Maybe the thought of losing thousands from just a kiss alone will keep them steadfast… but don't count on it.
Guillermo Del Toro's Pinocchio
Find in Apps & Games > Netflix from Friday 9 December
From the mind of Oscar-winning film-maker Guillermo del Toro (The Shape Of Water) comes a dark reimagining of the classic story Pinocchio that has been ten years in the making. Del Toro uses stop-motion animation to tell the tale of the wooden marionette who is magically brought to life and gets caught up in troublesome adventures much to the dismay of the gentle-natured woodcarver Geppetto. It's visually stunning storytelling at its finest and features Hollywood royalty including Ewan McGregor (Trainspotting), David Bradley (Harry Potter), Cate Blanchett (Carol), Tilda Swinton (The Grand Budapest Hotel), Christoph Waltz (Django Unchained) and Greggory Mann (Cats).
Dragon Age: Absolution
Find season 1 in Apps & Games > Netflix from Friday 9 December
Fantasy fans rejoice – Netflix has adapted BioWare's game franchise Dragon Age, with the first six episodes released this month. In the fictional human nation of Tevinter Imperium, a group of rebel mages and thieves are forced to battle a sinister force possessing a very dangerous artefact, while elven Miriam (Kimberley Brooks, He-Man And The Masters Of The Universe) can leave her traumatic past behind to complete her mission once and for all. Writer and director Mairghread Scott previously worked on the animated Guardians Of The Galaxy series.
Sonic Prime
Find season 1 in Apps & Games > Netflix from Thursday 15 December
In this new series from the creators of Ben 10, Sonic the Hedgehog (voiced by Deven Christian Mack) is back saving the world after a universe-shattering battle with longtime nemesis Dr Eggman and his army of badnik robots. The fleet-footed blue hedgehog must race through the parallel worlds to reunite with his friends and there's bound to be plenty of adventures on the way. If you snooze you lose.
The Recruit
Find it in Apps & Games > Netflix from Friday 16 December
The stakes are high for Owen Hendricks (Noah Centineo, To All The Boys I've Loved Before) in this thrilling new spy series. He's a young lawyer working for the CIA and struggling with his first week at work as things get off to a rocky start. Soon he's entangled in a web of power politics, after discovering a letter from former asset Max Meladze (Laura Haddock, Transformers: The Last Knight) who is threatening to expose the agency unless it exonerates her of a serious crime. All the while, Owen must complete his first assignment to keep his job.
The Volcano: Rescue From Whakaari
Find in Apps & Games > Netflix from Friday 16 December
Following her Netflix debut earlier this year (Downfall: The Case Against Boeing), critically acclaimed documentary-maker Rory Kennedy returns with her next project. The Volcano: Rescue From Whakaari examines the 2019 Whakaari/White Island volcanic eruption off the shore of New Zealand, which caused 22 deaths and changed the lives of many more. Survivors and emergency workers recount the events of that day, as the film follows their stories of nature, resilience, and shared humanity.
Paradise PD
Find season 4 in Apps & Games > Netflix from Friday 16 December. Seasons 1-3 streaming now
The final season of Paradise PD premieres in December as fans take one last wild ride with the rag-tag small-town police force. The series follows this incompetent squad (including Firefly Lane's Sarah Chalke as Gina) as they bumble their way through solving crimes and cringeworthy antics. The start of season 4 finds Paradise in a shambles, and it's not yet clear which characters will return as most of the Paradise PD team were either eaten by Giant Dobby or left town in season 3… Tune in to see how the much-loved animated series ends.
Emily In Paris
Find season 3 in Apps & Games > Netflix from Wednesday 21 December. Seasons 1 & 2 streaming now
Lily Collins (Love, Rosie) returns as Emily, an American graduate who's relocated to Paris for work and is juggling career, friendships and romance in a new country. The end of season 2 saw Emily left with a tough choice: return to her marketing job in Chicago as planned or accept Sylvie's (Philippine Leroy-Beaulieu) offer to start a new marketing firm together in France.
She's also battling relationship drama as her love interest Gabriel (Lucas Bravo) is back together with Camille (Camille Razat), and her new love Alfie (Lucien Laviscount) has moved back to London. The preview trailer shows us that her complicated life decisions have left her frazzled, leading her to do what anyone would do in a time of transition… cut in a fringe.
Glass Onion: A Knives Out Mystery
Find it in Apps & Games > Netflix from Friday 23 December
He may have tired of playing James Bond, but Daniel Craig clearly relishes the opportunity to revisit the role of Benoit Blanc, the eccentric, rich-voiced Southern detective he played in smart 2019 hit Knives Out. In this sequel, again written and directed by Rian Johnson (Star Wars Episode VIII: The Last Jedi), he's invited to a "murder mystery party" getaway on a private island owned by tech billionaire Miles Bron (Edward Norton, The Grand Budapest Hotel).
To no one's great surprise, someone soon turns up murdered for realsies, and Blanc is drawn into the investigation… The starry cast includes Kathryn Hahn (Transparent), Dave Bautista (Guardians Of The Galaxy), Kate Hudson (Bride Wars), Janelle Monáe (Hidden Figures) and Leslie Odom Jr (Murder On The Orient Express).
The Witcher: Blood Origin
Find in Apps & Games > Netflix from Christmas Day
This four-part prequel series is set 1,200 years before the time of Witcher favourites Geralt, Yennefer and Ciri, and reveals the origin of the first-ever Witcher. The story follows the lives of seven elven outcasts as they join forces in a quest to go up against an all-powerful empire. There's plenty of battle action for fans to get stuck into in this special starring Michelle Yeoh (Everything Everywhere All At Once) as Scian, Lenny Henry (Lord Of The Rings: The Rings Of Power) as Balor, Sophia Brown (Giri/Haji) as Éile and Dylan Moran (Shaun Of The Dead) as Uthrok.
You can win tickets to an exclusive screening of The Witcher: Blood Origins ahead of its Netflix premiere in our competition – enter here!
They Cloned Tyrone
Find in Apps & Games > Netflix from Friday 30 December
Three lifelong friends find themselves at the centre of a mind-bending government conspiracy after some eerie events lead them to its trail in this sci-fi comedy film. Fontaine (John Boyega, Pacific Rim: Uprising), Slick Charles (Jamie Foxx, Django Unchained) and Yo-Yo (Teyonah Parris, Candyman) become unlikely detectives as they make it their mission to solve the mystery that's occurring directly below their neighbourhood.
White Noise
Find it in Apps & Games > Netflix from Friday 30 December
Based on Don DeLillo's award-winning of the same name, this is a satirical take on the conflicts between family life and academia. The story follows the life of a family including patriarch Jack Gladney (Adam Driver), his fourth wife Babette (Greta Gerwig) and their many children, as their world begins to falls apart after an industrial accident. The book was thought of as unfilmable for many years but this was described as "tremendously elegant and assured" by The Guardian and it's the third acclaimed movie on Netflix from award-winning director Noah Baumbach, following The Meyerowitz Stories and Marriage Story.
How to watch Netflix with Virgin TV
If you have a Virgin TV 360 box or Stream from Virgin Media, there are four ways to navigate to the Netflix app:
1. Use your voice
A. Just press and hold the voice button and say "Netflix" to open the app.
2. Via the app section
A. Press Home.
B. Go to the right and select Apps.
C. Select Netflix in the Apps screen.
3. Via channel 204 if you're a Virgin TV 360 customer
A. Tuning to this channel automatically launches Netflix.
4. Navigating down to the Netflix icon in the homepage if you are a Stream customer
To search for Netflix content on your Virgin TV 360 and Stream from Virgin Media, select the Search icon from any full screen menu. Enter your Search term using the on-screen keyboard. Press back and then right to highlight the "All" filter. Press OK and select Netflix. You can now view and select from the Netflix results for your search term.
To access Netflix if you have a TiVo® box or Virgin TV V6 box, powered by TiVo®:
Press home on your remote
Select Apps & Games
Select All Apps
Select Netflix
Our Biggest TV, Biggest TV Volt and Ultimate Volt bundles already include Netflix in Full HD. You can also add Netflix to any other bundle that includes broadband and TV – just hit Customise your package to add it.
Already have a Netflix subscription? You can transfer your billing over to Virgin Media to keep everything together in one bill without changing your Netflix account! Learn more here.

TV channels: Channels, content and features available depend on your chosen package. Channel line-ups and content are subject to change at any time and to regional variations.
HD: HD TV set, V HD Box, TiVo box or Virgin TV V6 connected with HDMI cables required for HD channels. Number of inclusive HD channels depends on package.
Netflix: Netflix subscription required at extra cost.
The fastest WiFi guarantee of any major provider, at no extra cost with Gig1 Fibre Broadband and our Volt packages only.
WiFi Guarantee with WiFi Max: Available to Virgin Media residential broadband customers on M50 broadband or faster provided you are not taking services in any of our 2022/2023 network expansion areas. Excludes Essential broadband customers. Existing Intelligent WiFi Plus customers will be individually informed when they are moved to WiFi Max. £8 a month add-on or at no extra cost for Ultimate Oomph, Gig1 and Volt customers. WiFi Max is only available to order once your Virgin Media broadband service has been activated. If you don't get download speeds of at least 20Mbps in every room, if needed we'll provide up to 3 WiFi Pods. If that still doesn't do the trick we'll give you a one-off credit of £100 off your next bill. Guarantee and eligibility for pods does not cover broadband faults or network outages. Pods subject to stock availability, require self-installation via QuickStart and can be delivered via Click & Collect or optional home delivery (£5 delivery charge may apply). Improved WiFi performance compared to use without pods. Home environment, device limitations, number of users and time of day may affect WiFi performance. User speed varies and depends on Pod/Hub location, as well as broadband package choice. Equipment remains property of Virgin Media. Exclusions and further terms apply. Fastest WiFi guarantee of any major provider:Compared to major UK ISPs. Terms of guarantee vary by provider. To verify, see www.virginmedia.com/legal/wifi