Skip to main content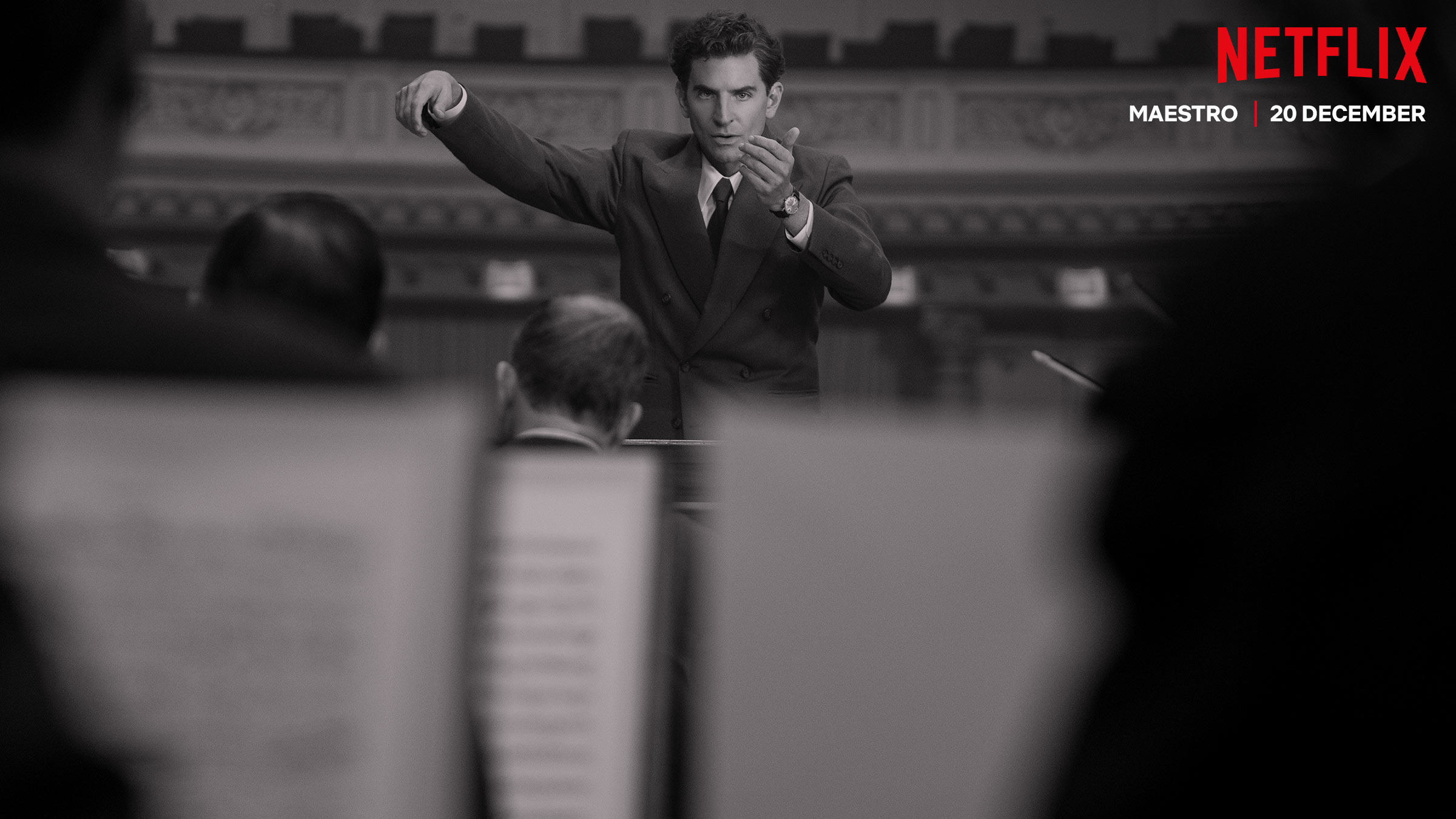 There's a brilliant crop of new TV shows and movies coming to Netflix this month, including a spectacular biopic, a nail-biting thriller and cute animations to keep the whole family happy over the festive season…

By Rebecca Tanqueray, Feature Writer
Meet Netflix's exciting new TV series, gripping documentaries, nail-biting thrillers and fun family fare that will get you looking forward to your next night in.
There's something for everyone this month. Top of our must-watch list is Bradley Cooper's spectacular biopic Maestro about composer-conductor Leonard Bernstein hits our screens this month. With input from a gamut of movie masters, from Martin Scorsese to Steven Spielberg, it's epic, heartfelt and sure to be a future classic.
Don't miss the terrifying Leave The World Behind – an edge-of-your-seat thriller starring Julia Roberts and Ethan Hawke. If you're after less apocalyptic thrills, there's also more from the Money Heist team with an action-packed prequel spin-off Berlin.
For light relief and family fun, we can't wait for two new animations. First, our plucky feathery friends return in Chicken Run: Dawn of the Nugget (see what they did there?). There's also the super-cute, stop-motion series Pokémon Concierge with lovable characters and emotional storylines aplenty.
If you're a documentary fan, you'll be spoilt for choice with behind-the-scenes exposés on sportswomen (Under Pressure: The US Women's World Cup team), stand-ups (Kevin Hart & Chris Rock: Headliners Only) and Spanish separatists (Face To Face With ETA: Conversations With A Terrorist).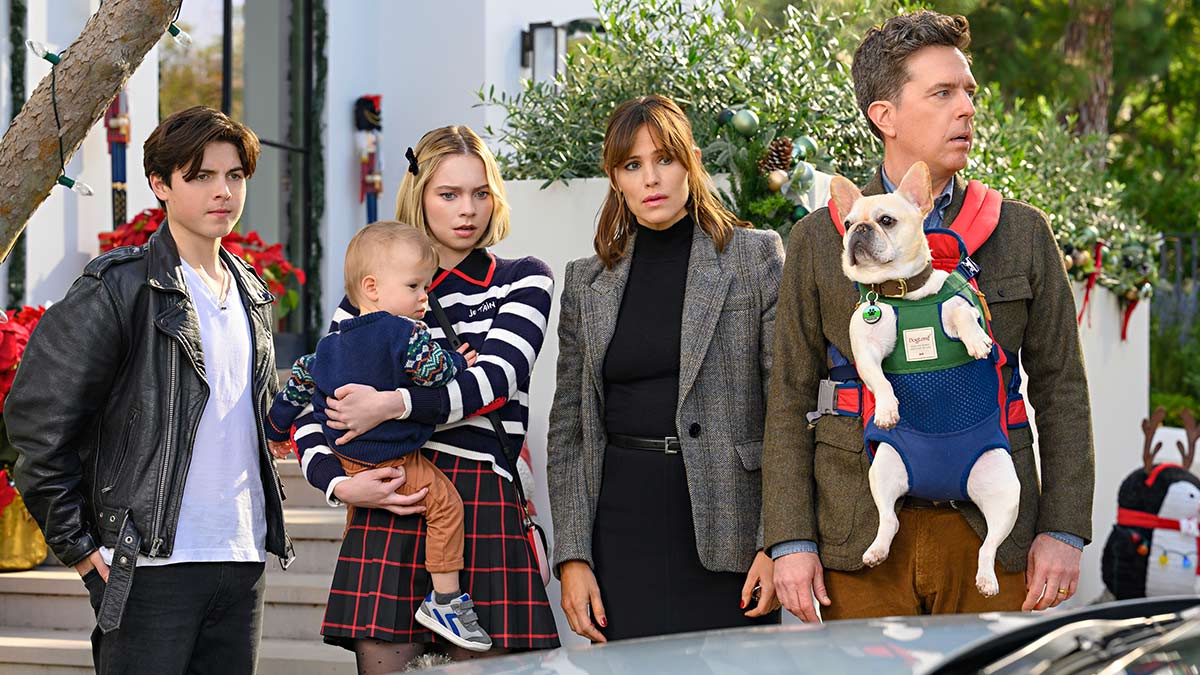 Find it in Apps & Games > Netflix from Thursday 30 November
Film such as 17 Again, Freaky Friday and its horror update Freaky are proof that body-swap movies are just bursting with comic potential. And Family Switch makes the most of it, with a plot about a four-body switcheroo between mum Jennifer Garner, who mastered the genre in 13 Going On 30, dad (Ed Helms, the US version of The Office) and their two teenage children. There's lots of riotous fun to be had as they clumsily attempt to close a deal, get a promotion, nail a college interview and make the soccer team on behalf of another family member.
Obliterated
Find it in Apps & Games > Netflix from Thursday 30 November
An elite team of special forces assembled from the CIA, the Navy SEALs and the US Air Force are called upon to protect Las Vegas from a deadly terrorist explosion. But there's a catch: they are all very, very drunk. From the creators of Cobra Kai, this new comedy drama series stars Nick Zano (What I Like About You) and American soap star Shelley Hannig along with a very funny ensemble cast who have to battle past their inebriation to save the day.
Virgin River
Find season 5 part 2 in Apps & Games > Netflix from Thursday 30 November. Seasons 1-4 and season 5 part 1 available now
One of Netflix's most enduringly popular dramas is back to wrap up its fifth season with two Christmas episodes. Small-town midwife Mel (Alexandra Breckenridge, This Is Us) has dealt with a lot in this season, from the wildfires that threatened to overcome Virgin River to the heartbreaking loss of her pregnancy. But with a new house under construction, perhaps she and Jack (Martin Henderson, Grey's Anatomy) might be able to enjoy the festive season. What could go wrong?…
My Life With The Walter Boys
Find season 1 in Apps & Games > Netflix from Thursday 7 December
After losing her family in a tragic accident, 15-year-old Jackie Howard (Nikki Rodriguez, On My Block) moves from Manhattan to rural Colorado to live with the Walters and their menagerie of outdoorsy boys. Based on the best-selling book by Ali Novak, this sweet coming-of-age tale follows straight-A-student Jackie as she tries to navigate her new life and her growing feelings for two, very different Walter brothers. Sarah Rafferty (Suits) also stars.
Leave The World Behind
Find it in Apps & Games > Netflix from Friday 8 December
If a couple of strangers turned up at your idyllic holiday rental seeking refuge from a mysterious cyberattack, would you let them in? This star-studded apocalyptic thriller from award-winning writer and director Sam Esmail (Mr. Robot) follows Amanda (Julia Roberts, Notting Hill) and Clay (Ethan Hawke, The Northman) as they grapple with truth, cyber meltdown and looming global collapse. A terrifying, edge-of-your-seat watch.
Under Pressure: The US Women's World Cup Team
Find it in Apps & Games > Netflix from Tuesday 12 December
This all-access, four-episode sports series offers a behind-the-scenes peek at the players and coaches of the US Women's National Team as they prepare for the 2023 FIFA World Cup. Excitement, expectation and battles on and off the field – follow the highs and lows of these world-class athletes as they try for their third consecutive World Cup victory. Knowing the outcome only makes the story more intriguing.
Kevin Hart & Chris Rock: Headliners Only
Find it in Apps & Games > Netflix from Tuesday 12 December
A must-watch for fans of these two comedy titans, this double documentary follows Hart and Rock on their recent sell-out tour. Offering a rare insight into their journeys to the top, the pair open up about their early lives, struggles and triumphs, as well as talking about the importance of their two-decade-long friendship.
The Crown
Find season 6 part 2 in Apps & Games > Netflix from Thursday 14 December. Seasons 1-5 and season 6 part 1 available now
With Diana's tragic death and its immediate aftermath covered in the first four episodes of the season, the focus this time is on what happened next – and it's a story we know well. William and Kate meet. Charles and Camilla marry. The Queen celebrates her Golden Jubilee. This instalment of the Royal Family saga might be recent history but it's gripping all the same – and made all the more so by a super-strong cast: Imelda Staunton (Nanny McPhee) as Queen Elizabeth II, Dominic West (The Wire) as Charles and Olivia Williams (Victoria & Abdul) as Camilla.
Chicken Run: Dawn Of The Nugget
Find it in Apps & Games > Netflix from Friday 15 December
This long-awaited sequel to the 2000 hit movie has all the charm, cheek and showstopper gags we've come to expect from Aardman Animations. This time, star of the show, Ginger (voiced by Thandiwe Newton, Westworld) and her flock put their hard won freedom at risk, as they try to save chicken-kind from a new and deadly threat.
Face To Face With ETA: Conversations With A Terrorist
Find it in Apps & Games > Netflix from Friday 15 December
Latest in the list of Netflix's groundbreaking documentaries comes this exclusive interview with Josu Urrutikoetxea (aka Josu Ternera) – a key figure in Basque separatist group, ETA. Having formally disbanded in 2018, the Spanish terrorist organisation was responsible for more than 820 deaths while active. As well as providing a profile of the group, this no-holds-barred conversation attempts to give answers to one of its victims.
Carol & The End Of The World
Find it in Apps & Games > Netflix from Friday 15 December
What would you do if the end of the world were just around the corner? Indulge in all your wildest dreams while you still had the chance? This is what most of the characters decide to do in this new animated miniseries from Rick & Morty writer Dan Guterman. Carol is the exception. A quiet, unassuming woman (voiced by Martha Kelly, Euphoria), she stands alone among the hedonistic masses as she searches for the real meaning of life in her last months on earth.
Maestro
Find it in Apps & Games > Netflix from Wednesday 20 December
Written, produced and directed by Bradley Cooper (with a little help from film maestros Martin Scorsese, Steven Spielberg and others), this ode to the late, great Leonard Bernstein chronicles the troubled relationship between the conductor-composer and his wife, Felicia. Moving from moody black and white to saturated colour, this epic tale is carried by strong performances from – you guessed it – Bradley Cooper (A Star Is Born) as Bernstein and Carey Mulligan (Promising Young Woman) as Felicia.
Rebel Moon Part One: A Child Of Fire
Find it in Apps & Games > Netflix from Friday 22 December
From Zack Snyder, filmmaker behind Man Of Steel and Army Of The Dead, comes this spectacular sci-fi adventure movie set in the furthest reaches of the universe. When a peaceful colony on the edge of a galaxy finds itself threatened by a merciless ruling force, mysterious stranger Kora (Sofia Boutella, SAS: Rogue Heroes) becomes their best hope for survival. It's epic stuff, and there's more to come: Part Two will be released next April.
Thank You, I'm Sorry
Find it in Apps & Games > Netflix from Boxing Day
Not to be confused with the American emo band of the same name, this heart-warming Swedish comedy drama is perfect Boxing Day fodder. When Sara's ideal life is suddenly turned upside down, help comes in the form of her estranged and inept older sister Linda and her big erratic dog. Family, forgiveness, sisterhood – this movie has it all.
Pokémon Concierge
Find season 1 in Apps & Games > Netflix from Thursday 28 December
The Pokémon Company has teamed up with critically acclaimed Dwarf Studios to produce this super-cute, stop-motion, animated Netflix original series. We follow the adventures of Haru (voiced by Karen Fukuhara, The Boy and the Heron), a concierge at the Pokémon resort, as she embarks on a journey of self-discovery while attending to a panoply of Pokémon guests. A treat for Pokémon fans old and new!
Berlin
Find it in Apps & Games > Netflix from Friday 29 December
Devised by Money Heist creator Álex Pina and Esther Martínez Lobato, this spin-off takes everyone's favourite character Berlin (Pedro Alonso) back to his golden age – a time before the events of the original series took place. This time, the action is in Paris where Berlin and his gang of savvy criminals are planning one of the most ambitious robberies ever. Tension, travel, romance and a good dose of humour, this is sure to become our holiday must-watch.
What else is new on Netflix: December 2023
May December – Friday 1 December

Sweet Home (season 2) – Friday 1 December
Welcome To Samdal-ri – Saturday 2 December
Dew Drop Diaries (season 2) – Monday 4 December
Blood Coast (season 1) – Wednesday 6 December
Christmas As Usual – Wednesday 6 December
Analog Squad (season 1) – Thursday 7 December
I Hate Christmas (season 2) – Thursday 7 December
Hilda (season 3) – Thursday 7 December
The Archies – Thursday 7 December
Singles Inferno (season 3) – Tuesday 12 December
1670 (season 1) – Wednesday 13 December
Yu Yu Hakusho (season 1) – Thursday 14 December
Yoh! Christmas (season 1) – Friday 15 December
Trevor Noah: Where Was I – Tuesday 19 December
Cindy La Regia: The High School Years (season 1) – Wednesday 20 December

Gyeongseong Creature (season 1) – Friday 22 December
Ricky Gervais: Armageddon – Christmas Day
Hell Camp: Teen Nightmare – Boxing Day

How to watch Netflix with Virgin TV
If you have a Virgin TV 360 box or Stream from Virgin Media, there are four ways to navigate to the Netflix app:
1. Use your voice
A. Just press and hold the voice button and say "Netflix" to open the app.
2. Via the app section
A. Press Home.
B. Go to the right and select Apps.
C. Select Netflix in the Apps screen.
3. Via channel 204 if you're a Virgin TV 360 customer
A. Tuning to this channel automatically launches Netflix.
4. Navigating down to the Netflix icon in the homepage if you are a Stream customer
To search for Netflix content on your Virgin TV 360 and Stream from Virgin Media, select the Search icon from any full screen menu. Enter your Search term using the on-screen keyboard. Press back and then right to highlight the "All" filter. Press OK and select Netflix. You can now view and select from the Netflix results for your search term.
To access Netflix if you have a TiVo® box or Virgin TV V6 box, powered by TiVo®:
Press home on your remote
Select Apps & Games
Select All Apps
Select Netflix
Our Biggest TV, Biggest TV Volt and Ultimate Volt bundles already include Netflix in Full HD. You can also add Netflix to any other bundle that includes broadband and TV – just hit Customise your package to add it.
Already have a Netflix subscription? You can transfer your billing over to Virgin Media to keep everything together in one bill without changing your Netflix account! Learn more here.

TV channels: Channels, content and features available depend on your chosen package. Channel line-ups and content are subject to change at any time and to regional variations.
HD: HD TV set, V HD Box, TiVo box or Virgin TV V6 connected with HDMI cables required for HD channels. Number of inclusive HD channels depends on package.
Netflix: Netflix subscription required at extra cost.