Skip to main content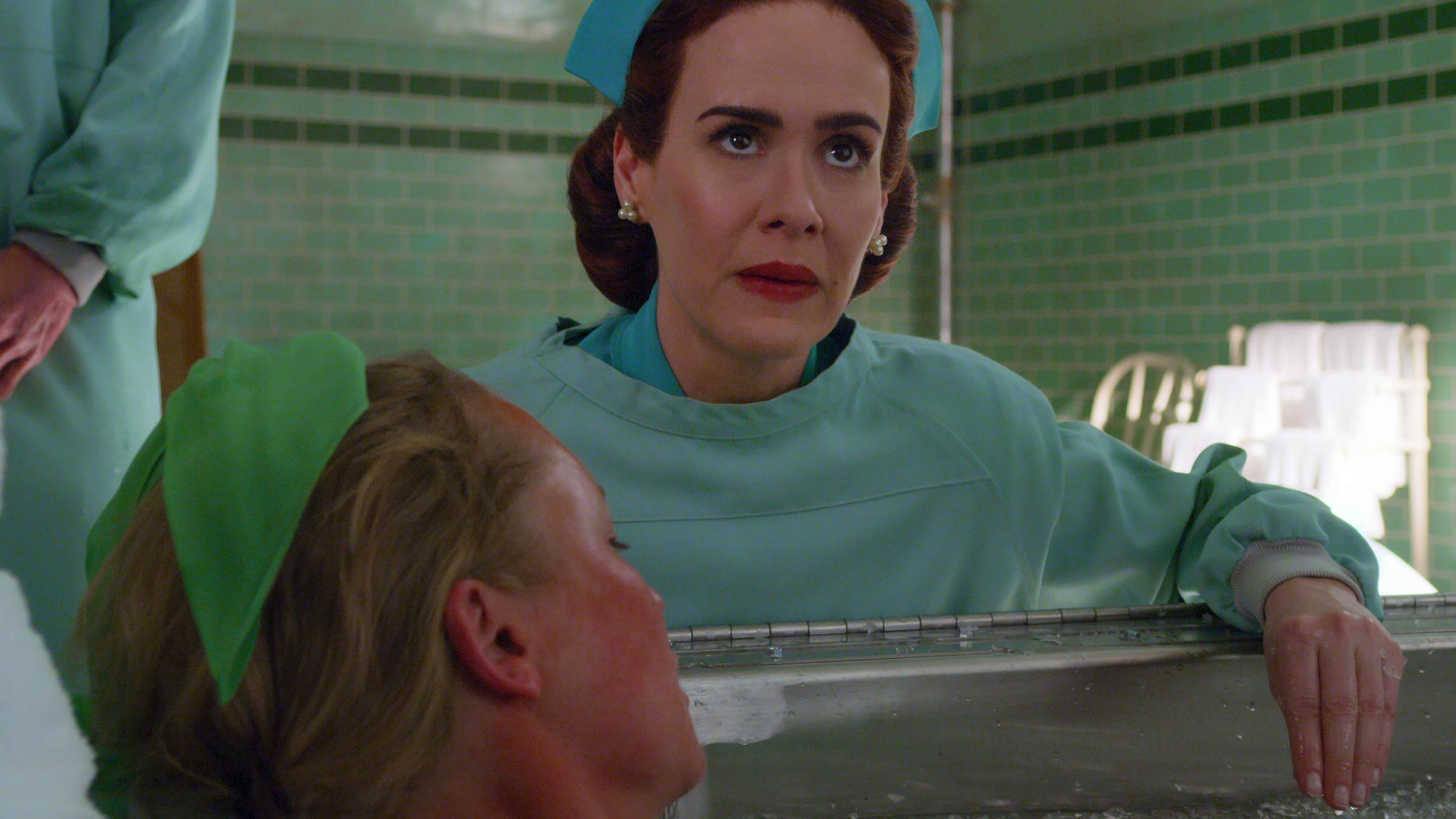 See what's being added to Netflix this September…
By Laura Rutkowski, Staff Writer
The September issue of fashion magazines is the most anticipated, most sold and most hefty edition. Well, this month, Netflix has said "hold my remote", as it's busting out some absolutely incredible TV series and films (quite a few of them book adaptations) for a packed September of its own. It's chock-a-block with new releases that everyone is going to be talking about, including the magazines.
Seriously, Netflix just keeps on providing the goods! Stream right this way, with Ratched, an origin story for one of the most evil nurses in film history; Enola Holmes, starring Millie Bobby Brown, with her British accent; and The Devil All The Time, a psychological thriller with some big names – plus a whole lot more!
We're updating this page regularly, so make sure you check back here to find out all the best movies and shows that should be on your watch radar.

Chef's Table: BBQ
Find season 1 in Apps & Games > Netflix from Wednesday 2 September
The Emmy-award winning foodie franchise receives a new spin-off – and it's finger lickin' good! This show just goes to prove that barbecuing is an artform, reserved for the most skilled pitmasters. Pros from the US, Australia and Mexico flaunt their fiery skills as mouth-watering footage shows off their smokin' creations. Just don't watch it on an empty stomach.

Freaks – You're One of Us
Find it in Apps & Games > Netflix from Wednesday 2 September
Are you tired of your typical superhero movies? Well, why not try one in German? Single mother and fast food worker Wendy (Cornelia Gröschel) discovers she has super strength and invulnerability, powers that have been suppressed by medication she's been taking. In this fun action comedy romp, Wendy's co-worker Elmar (Tim Oliver Schultz) is also special and has electrical powers, but there are more people just like them – and they're all in danger.

Young Wallander
Find season 1 in Apps & Games > Netflix from Thursday 3 September
Swedish novelist Henning Mankell's Kurt Wallander novels have received British and Swedish television adaptations, but now we're receiving a prequel. Everyone loves an origin story, especially when it comes to troubled detectives. How exactly did they become so troubled? Swedish actor Adam Pålsson (Avenue 5) plays a wet-behind-the-ears Wallander as he graduates from the police academy and dives into his first case.

Love, Guaranteed
Find it in Apps & Games > Netflix from Thursday 3 September
Lawyer Susan (Rachael Leigh Cook, She's All That) takes on a case from Nick (Damon Wayans Jr, New Girl), who wants to sue a dating website that guarantees love. He's been on 986 (!) dates from the app, but none of them have blossomed into something more. You can probably tell where this story is going… but as predictable as it is, it's still super cute, and Netflix shows once again it knows how to nail the romcom genre.

Away
Find season 1 in Apps & Games > Netflix from Friday 4 September
If the trailer is anything to go by, this is going to be an emotional ride. Emma Green (Hilary Swank, Million Dollar Baby) heads up an international crew on the first mission to Mars, which is planned to last three years. This doesn't come without its sacrifices, as Emma leaves her husband and daughter on Earth, and the mission itself isn't exactly plain sailing (plain spacing?).

I'm Thinking Of Ending Things
Find it in Apps & Games > Netflix from Friday 4 September
Screenwriter Charlie Kaufman, who's behind quirky greats Eternal Sunshine Of The Spotless Mind and Being John Malkovich, adapted and directed this psychological horror. It's based on Iain Reid's 2016 novel of the same name, a phrase that Cindy (Jessie Buckley, Chernobyl) repeats in the trailer in reference to her boyfriend Jake (Jesse Plemons, Breaking Bad). You wish she would end it with him, because you know something bad is coming as they drive to his family's farm. Toni Collette (Hereditary) and David Thewlis (Fargo) play Jake's parents, proving that they have absolutely perfected creeeeeepy as an acting style.
My Octopus Teacher
Find it in Apps & Games > Netflix from Monday 7 September
South African filmmaker Craig Foster spent a year documenting and getting to know a wild octopus for most of its life, but the project has been eight years in the making. When he was told he had adrenal fatigue, Craig started free diving and that's when he formed an unlikely bond with the octopus. Their resulting friendship is nothing short of miraculous and hypnotising to watch on screen.
The Social Dilemma
Find it in Apps & Games > Netflix from Wednesday 9 September
We all have a social network in this day and age, but that leaves us with a social dilemma. With young people more anxious than ever before, our every move being tracked online and algorithms that learn our preferences for practically everything, this documentary unpicks the dark side of social media. The trailer is already pretty shocking, so we can only imagine what other insights the experts are going to reveal. Silicon Valley insiders, including the guy who created Facebook's "Like" button, lift the lid on what goes on behind your laptop.

Get Organised With The Home Edit
Find season 1 in Apps & Games > Netflix from Wednesday 9 September
The Home Edit's website promises: "We'll organise literally anything (and we'll do it with impeccable style)." We already know the series will be very pleasing on the eye as home organisers (great job title) Clea Shearer and Joanna Teplin help celebrities, including Eva Longoria, Neil Patrick Harris, Reese Witherspoon and Khloé Kardashian, as well as everyday clients, sort out their spaces. Plus, who doesn't love a good old snoop around someone else's home and the chance to shed some happy tears?

The Duchess
Find season 1 in Apps & Games > Netflix from Friday 11 September
Comedian Katherine Ryan turns her hand to writing a sitcom for The Duchess. She plays an enhanced version of herself as a single mother, raising her daughter Olive (Kate Byrne). When she decides she wants to have another child, she doesn't know whether Olive's deadbeat dad (Rory Keenan, Peaky Blinders), her boyfriend (Steen Raskopoulos, Feel Good) or a sperm donor should be the father.


Criminal: United Kingdom
Find series 2 in Apps & Games > Netflix from Wednesday 16 September, series 1 available now
The first series also had three international versions (which are all available on Netflix) – Criminal: France, Criminal: Spain and Criminal: Germany. At the moment, there are only plans to bring back the UK version, but series creator Jim Field Smith tweeted, "We'd love to do more of the others for sure." Taking notes from the Line Of Duty interrogation scenes, the show takes place almost entirely inside a police interrogation room. Four new cases and four new suspects are introduced for series 2 of Criminal: United Kingdom, which was shot in January before lockdown. We hope to see the return of Liar's Katherine Kelly and Line Of Duty's Lee Ingleby and Rochenda Sandall.
The Devil All The Time
Find it in Apps & Games > Netflix from Wedneday 16 September
If you never thought you needed to hear some of our great British actors with Southern American accents, you do, you absolutely do. The outstanding ensemble cast of this psychological thriller includes Tom Holland, Robert Pattinson, Bill Skarsgård, Sebastian Stan, Eliza Scanlen, Riley Keough, Mia Wasikowska, Haley Bennett and Jason Clarke. Based on Donald Ray Pollock's novel, the story is set in Knockemstiff, Ohio (a real place), as Arvin Russell (Holland) and his family are surrounded by unsavoury, even evil, characters.

Jurassic World: Camp Cretaceous
Find season 1 in Apps & Games > Netflix from Friday 18 September
This is the first series in the Jurassic Park franchise so a whole new generation can be introduced to the excitement and terror of dinosaurs! In this animated adventure, set during the events of Jurassic World, six teenagers are stranded on the fictional island of Isla Nublar when dinosaurs escape and wreak havoc.

Ratched
Find season 1 in Apps & Games > Netflix from Friday 18 September
The highly anticipated new series from Ryan Murphy (American Horror Story) finds him partnering once again with the inimitable Sarah Paulson. She plays Nurse Mildred Ratched, who crept into notoriety as played by Louise Fletcher in the 1975 film One Flew Over The Cuckoo's Nest (which was adapted from Ken Kesey's novel). Ratched is a prequel series that attempts to explain why asylum nurse Ratched is so wretched. It takes place in 1947, where Ratched is working at a psychiatric hospital in California, and it's only a matter of time before her true self is revealed.

Jack Whitehall: Travels with My Father
Find series 4 in Apps & Games > Netflix from Tuesday 22 September, series 1-3 available now
Charming duo Jack Whitehall and his father Michael go on their travels once again. In previous series, they've visited Thailand, Cambodia, Vietnam, Eastern Europe, California and Arizona. This time, they've set their sights on Australia, where they visit an emu farm and go to a nudist beach on Byron Bay. They even perform in drag together, with Michael as… the Queen!

Enola Holmes
Find it in Apps & Games > Netflix from Wednesday 23 September
It's easy to forget that Millie Bobby Brown is actually British, especially because her American accent was so brilliant as she rose to fame in Stranger Things. In this film based on Nancy Springer's book series, she plays Enola Holmes, the younger sister of Sherlock (Henry Cavill) and Mycroft (Sam Claflin). Helena Bonham Carter, Fiona Shaw, Susan Wokoma and Frances de la Tour round off the star-studded cast. We can't wait to see all sorts of mind trickery, wicked wit and sibling rivalry!


Welcome To Sudden Death
Find it in Apps & Games > Netflix from Tuesday 29 September
Michael Jai White (Spawn) stars in this sequel/reboot to Jean-Claude Van Damme's 1995 film Sudden Death. Dallas Jackson, who wrote the screeplay and also directed, described it as "the martial arts version of Die Hard". Since it's still three months until Christmas (yes, Die Hard is a Christmas film), this will see us through until then!


The Boys In The Band
Find it in Apps & Games > Netflix from Wednesday 30 September
Based on Mart Crowley's ground-breaking play from 1968, The Boys In The Band takes place in the same year in New York City, where a group of gay men meet up to celebrate one of their birthdays. To commemorate the play's 50th anniversary, a Broadway production opened in 2018, starring Jim Parsons (as party planner Michael), Zachary Quinto (who plays birthday boy Harold), Matt Bomer, Andrew Rannells, Charlie Carver, Brian Hutchison, Michael Benjamin Washington, Robin de Jesús and Tuc Watkins. All of the cast are reunited for this 2020 film adaptation produced by Ryan Murphy.
How to watch Netflix with Virgin TV
If you have a TiVo® box or Virgin TV V6 box, powered by TiVo®:
Press home on your remote
Select Apps & Games
Select All Apps
Select Netflix
If you're already a Netflix subscriber, you can also access the app through Search & Discover or by pressing Red on channel 204. Just sign in with your existing login and start watching. And you'll only have to log in the first time you use it.
If you're new to Netflix, then you'll need to subscribe to use the app. The easiest way to do this is by going to netflix.com/virginmedia. You can also subscribe using the Netflix app in Apps & Games.
TV channels: Channels, content and features available depend on your chosen package. Channel line-ups and content are subject to change at any time and to regional variations.
HD: HD TV set, V HD Box, TiVo box or Virgin TV V6 connected with HDMI cables required for HD channels. Number of inclusive HD channels depends on package.
Netflix: Netflix subscription required at extra cost.