Skip to main content

Our meaningful connections plan
We're here to build connections that really matter. Through our products and services, we help people stay connected to the people and things they love, every day. But we can do so much more.
Our purpose drives our decision making every day. We want to use the power of our brand, our people and our connectivity to create positive change in society.

That's where our Meaningful Connections Plan comes in. It's our bold new sustainability plan with three big promises to go even further over the next five years and beyond. It's about building connections that really matter for people, communities and the environment.

And here's how…
• Better for people: It all starts with us - our people and our customers. We want to build a business where all our people and customers feel they belong, and no one is left behind. That's why we're creating hundreds of new opportunities for people from underrepresented communities to access skills and employment.
• Better for communities: As a society, we're more digitally connected than ever before, and yet loneliness and isolation continue to rise. We're going to bring people and communities closer together, harnessing the power of our network and brand to help 1.5 million people feel more meaningfully connected to their communities and each other by the end of 2025. And by 'Meaningful Connections' we mean "a connection, human or digital, that reduces loneliness and builds community belonging." We're starting by supporting unpaid carers whose experiences of loneliness often goes unseen. We'll also empower our people to connect to their communities through volunteering, connect people in local neighbourhood digitally and in person, and support brilliant organisations helping put an end to loneliness and boost belonging in their towns.
• Better for the planet: Entertainment and digital services are at their best when they're truly limitless – but our planet is not. So we're going to shrink our impact on the planet by using the unlimited potential of connectivity to accelerate a zero waste, zero carbon future, faster.We set a big goal to reach net zero carbon and zero waste across our operations by the end of 2025.
And our plan is underpinned by;
• Better business: We're committed to running our business in a truly responsible way, just as our people and customers would expect. That means looking beyond our proactive environmental and social impact programmes and focusing on how we do business, every day.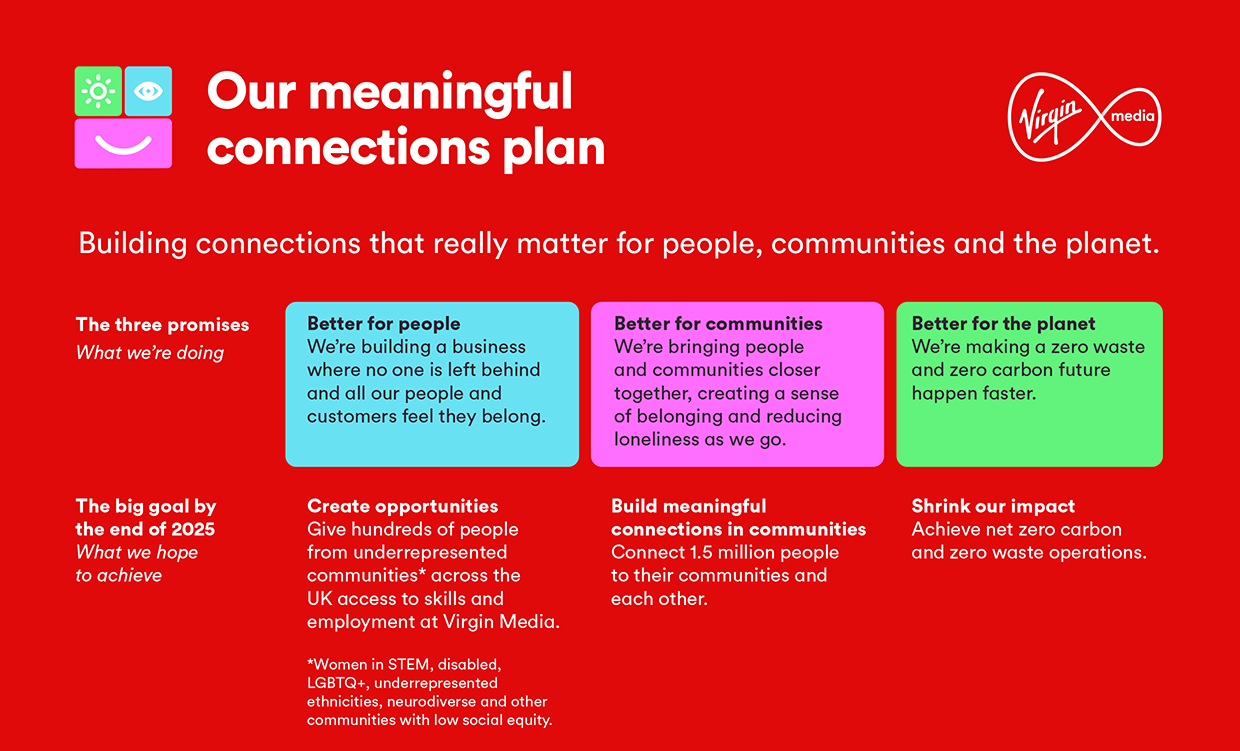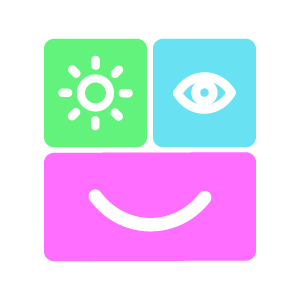 Goals and performance
Here's our performance in 2019, the final year of our 2020 strategy. Find out where we've hit our targets and – hands up – where we're not quite hit the mark. Click here for more
On the go? Download our performance pdf
Resources
Here you'll find some helpful links and downloadable documents that support our sustainability work. If you can't find what you're looking for, please get in touch with us: sustainability@virginmedia.co.uk