Skip to main content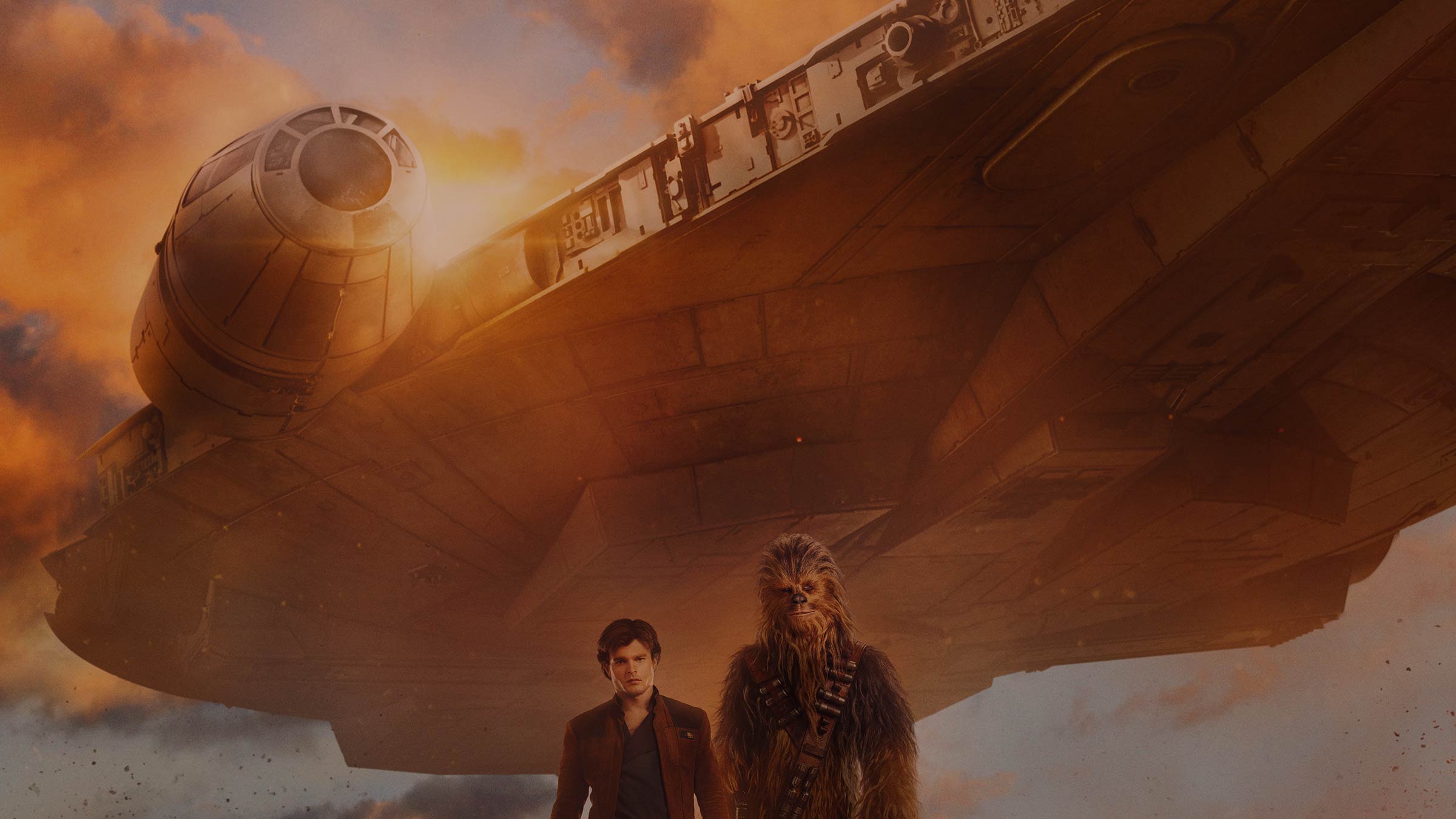 As we endure the long wait for the next Star Wars movie, thank goodness for Han Solo and this prequel about the parsec-speeding rogue's early life
Solo: A Star Wars Story, available from Friday 18 January in Sky Cinema on demand. Cert 12
Thanks to director Ron Howard, Star Wars fans can get a hit of incredible action and some of the memorable characters from that galaxy far, far away – even with the next Star Wars episode looking even further away by the second!
Solo: A Star Wars Story reveals the untold tale of a young Han Solo, before we meet him in that bar in Mos Eisley. How did he become the scruffy-looking nerf herder we all know and love? How did he meet Chewbacca? And how can someone look that cool with bouffant hair? Read on for our ten reasons to check out this epic movie...

1. You get to find out where it all began for Han
Fans knew that Han came from Corellia, but what did that really mean? Well, it turns out that he grew up on the streets of that tough, ship-building world, part of a gang of child criminals straight out of Oliver Twist. Our man Han, of course, was the Artful Dodger of the lot, learning to drive stolen cars with his bosom buddy Qi'ra (Game Of Thrones' Emilia Clarke). As Han, Alden Ehrenreich almost immediately does the impossible and convinces us that he's nearly as cool as Harrison Ford. Nice work, kid.
2. You'll fall in love with Qi'ra
Clarke's Qi'ra is the only girl in the gang who can keep up with Han's schemes. In fact, she can more than keep up: she is even smarter than Han himself, and a lot warier. But they share a determination to work together and escape Corellia to forge a new life together literally anywhere else. She is one of the more mysterious female characters in Star Wars history: she's smart, driven and has hidden depths that even Han doesn't fully understand.
3. You get to see what it looks like when the Empire goes to war
Things go wrong during Han and Qi'ra's escape from Corellia and, through a long series of events we won't spoil, Han finds himself in the middle of a war fought between the young Empire and a rebellious planet. It's a smoky, muddy environment unlike any battle scene we've seen in Star Wars before, and it gives you an impressive sense of the Empire's military might on the ground. You wouldn't want to face these guys without a fully-armed Rebellion behind you.
4. You're introduced to the blaster master
It's on that planet that Han meets Woody Harrelson's Tobias Beckett, a smuggler and scoundrel who becomes something of a role model to the impressionable youngster. Beckett is the kind of guy who always has a good blaster by his side, and another in his boot, but he's also a man who inspires fierce loyalty in his crew, including his wife Val (Thandie Newton) and Rio Durant (voiced by Jon Favreau). It's great to see Han find a father figure, even if he is, objectively, a terrible one.
5. The film is a treat for cape fans
For reasons we won't get into, Han finds himself in need of a fast ship, which leads to him making the acquaintance of a flamboyant space gambler called Lando Calrissian. Played by Donald Glover with all the charm and flair of Billy Dee Williams in his prime (and an even more flamboyant wardrobe, full of half-cloaks and capes, aboard his ship – the Millenium Falcon), he's the film's secret weapon and easily its best-dressed character. Well, you need someone to shake up Han's swagger.
6. The cast boasts the series' most formidable droid yet
Her from Fleabag? In Star Wars? It may seem like odd casting, but in fact Phoebe Waller-Bridge's L3-37 is an absolute delight. A feisty droid who campaigns for her people's rights and against droid enslavement, she's mouthy, irrepressible and convinced than Lando, her companion, is in love with her. What's more, she might be right.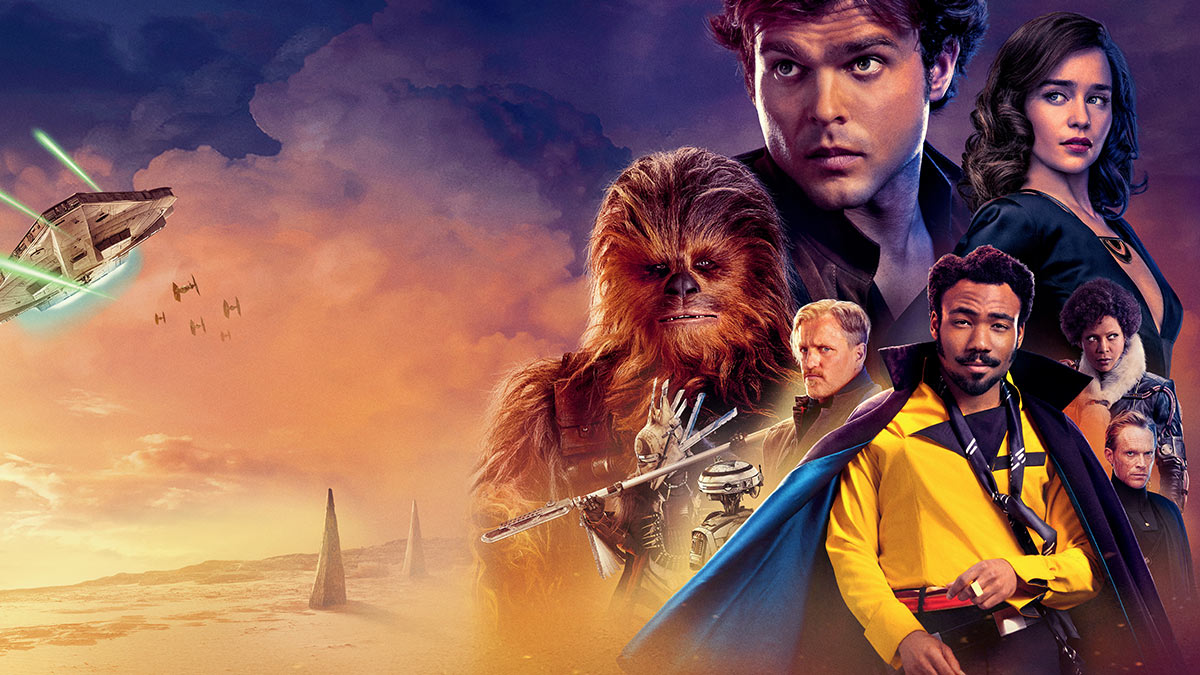 7. Because you always need more scoundrels in your life
This is a film that's enormously rich in supporting scoundrels, which are so often the best part of any Star Wars film. Since this prequel is set almost entirely in the underworld of that galaxy far, far away, virtually everyone we meet is a thief, a gangster, a cheat, or all three – and that makes for enormously exciting storytelling. Look out, in particular, for Paul Bettany's ruthless gang boss Dryden, and for the mysterious raider Enfys Nest, who is Beckett's nemesis.
8. Chewbacca. Obviously
There are two kinds of Star Wars films: those where the mighty Chewbacca plays a major role, and those that would be improved if he did. Happily, this is one of the first kind, because we get to see – for the first time – how Han met his life partner Chewbacca and why they became bosom buddies. But Chewbacca has his own mission in this film, one that's a good deal more important than his partner's, and it's great to see him get the screen time he deserves.
9. You finally find out exactly what a parsec is…
If you are a serious fan of Star Wars, you'll remember that Han boasted that the Millenium Falcon was the ship that "did the Kessel Run in 12 parsecs". If you're a serious physicist, you'll have been confused by that because you'll know that a "parsec" is a measure of distance, not time, so it doesn't prove that the Falcon is fast. Well, the whole mystery will be addressed by the end of this film, and chances are that physicists and fans will all walk away happy.
10. It's still a proper Star Wars movie
Han's there, albeit looking younger, and Chewie is by his side. There's the Empire, and the Falcon, and a deeply capable brunette, and droids and aliens and ill-advised gambling stakes. Ron Howard and his team really leaned in to George Lucas's original concept for Star Wars and delved deep into the series' history, and it shows in every carefully assembled frame of the film. For fans, this makes it even more of a must-see.
Find out what's on Sky Cinema
Get even more lights, cameras and action with our movie homepage, featuring all the daily premieres and more of the thousands of films available on demand on Sky Cinema.
Watch on the go
If you subscribe to Sky Cinema on Virgin TV, you can watch on the go with the Sky Cinema app on your mobile, laptop or tablet anywhere in the UK (or while temporarily in the EU) with a WiFi or broadband connection. Just download from the Apple app store, Google Play or the Amazon appstore and log into the app to start watching.
Upgrade to Sky Cinema now
Don't have Sky Cinema? You can find out about our Sky Cinema package and upgrade here.
TV channels: Channels, content and features available depend on your chosen package. Channel line-ups and content are subject to change at any time and to regional variations.
HD: HD TV required to view HD channels. Number of inclusive HD channels depends on package.
Premium channels (add-ons): 30 days' notice required to remove premium channels/packs. Sky Sports SD subscription required to take Sky Sports channels in HD.
Sky Cinema app: Only available via the Sky Cinema app (selected iOS and Android devices only) or website to customers who subscribe to these channels. Only available on iOS 8 and above, and Android 4.x. UK only (or while temporarily in the EU). Maximum 2 devices. Selected content may not be available to view. Separate End User Licence Agreements and terms and conditions apply to the Sky Cinema app and website.