Skip to main content
It's a film built on a very simple idea: Dwayne Johnson versus The Towering Inferno. And it's as mind-blowing as it sounds…
Skyscraper, available to buy now on the Virgin Media Store. Cert 12. Part of the We Love Dwayne Johnson collection
Skyscraper sees Dwayne Johnson flex his acting muscles – as well as his more obvious physical ones – as Will Sawyer, a former SWAT officer turned security consultant who has a prosthetic leg thanks to a hostage rescue mission that went wrong.
He and his adorable family are living in Hong Kong while Sawyer takes on the biggest job of his career: assessing the security of The Pearl, a new skyscraper that is the world's tallest building. But when a team of terrorists take control of the building and – you guessed it – set it on fire, Sawyer must save his family and, time permitting, the day as well.

Cue lots of mathematically improbable leaps 100 storeys above the ground and death-defying climbs through a raging inferno. No easy feat for anyone, let alone a guy who's already been through a nightmare and lost one leg. Fortunately Will has some help from his immensely capable wife Sarah (Scream's Neve Campbell) plus that SWAT background to see him through.
As this massive hit and its equally massive leading man arrive on the Virgin Media Store for you to buy and keep, we take a look at the career of megastar Dwayne Johnson – from crummy CGI villain in The Mummy to action hero and animated musical star! Here are some of the best movies in his back catalogue so far…
Fast & Furious 7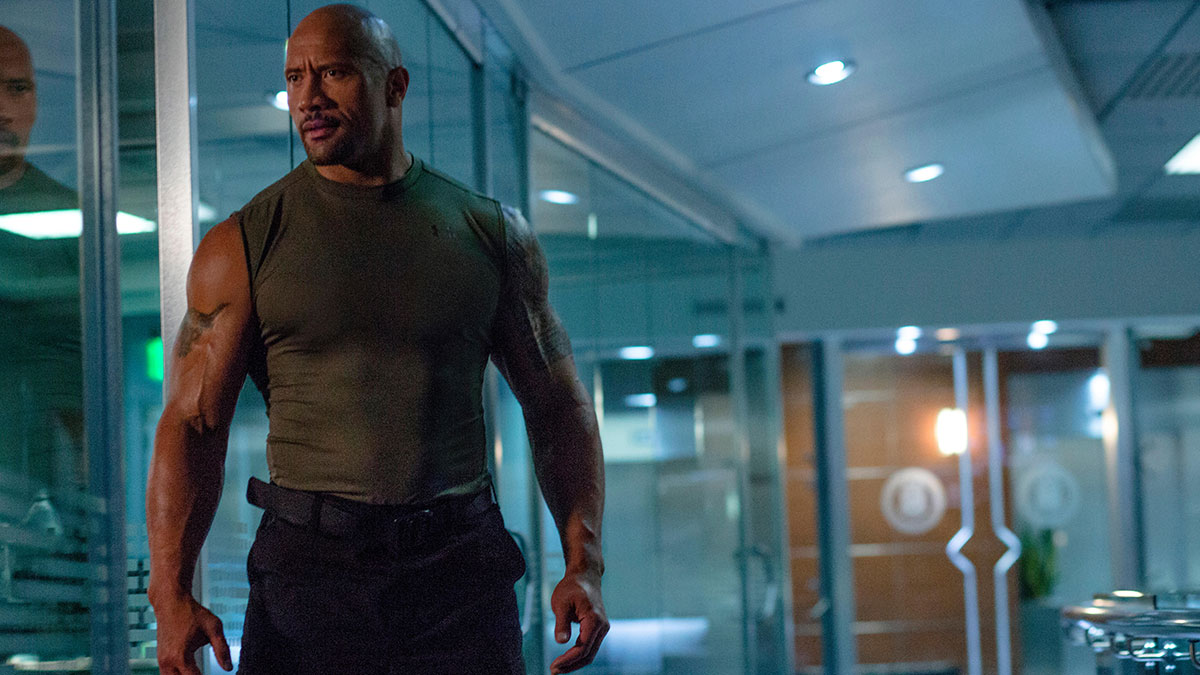 Buy it now on the Virgin Media Store. Cert 12
Fans argue over which is the best movie in this hugely successful series, but F&F7 may just edge it, thanks to several scenes where cars basically fly, and also a bit where Johnson's Agent Hobbs removes a cast from his arm just by flexing and then goes off to play with a rocket launcher. He injected a shot of humour, heft and concentrated charisma into three instalments of the Fast And Furious franchise (so far) – with another one in the works, as well as his own spin-off Hobbs And Shaw.

Buy it now on the Virgin Media Store. Cert PG
Disney's Pacific island adventure sees Johnson take on a serious challenge: playing a mere demi-god instead of the full deity we all know him to be. Still, his mischievous Maui is a brilliant addition to this film, a tricksy, surprisingly musical ally (mostly) to the heroic Moana as she tries to save the world and reclaim the oceans for her people. Johnson displays real heart and soul in this delightful animation – as well as a sound pair of lungs!
Jumanji: Welcome To The Jungle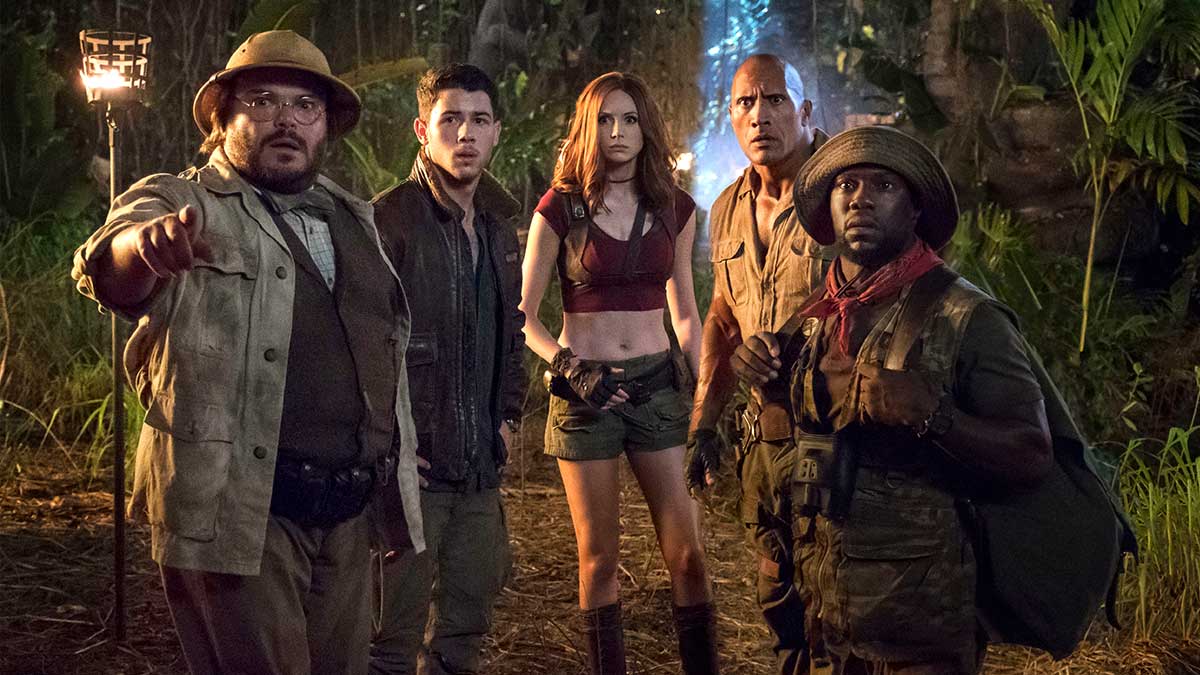 Buy it now on the Virgin Media Store. Cert 12
A Jumanji sequel/reboot didn't get many people excited initially, but once we realised the premise – a group of regular teens get sucked into an enchanted video game and transformed into its characters, including one that's Johnson-shaped and is magnificently named Dr Smolder Bravestone – then we all got on board. And we were right to, because this is a hilarious, thrilling adventure that's far wittier than we could have expected.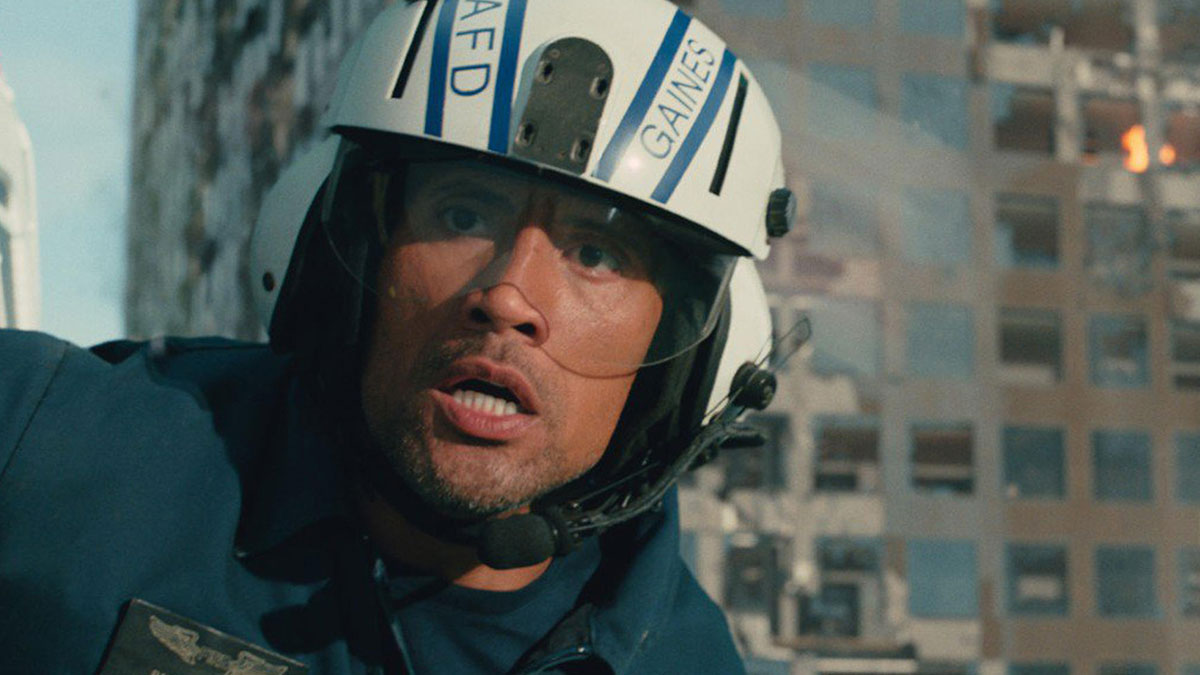 Buy it now on the Virgin Media Store. Cert 12
It's Johnson against nature itself! This awesome action survival epic pits him against an actual earthquake and it is as much fun as it sounds. Taking inspiration from classic disaster movies of the seventies, this updates the formula, mainly with incredible CGI. It's not a subtle film but Johnson manages to play the larger-than-life hero of the piece with noble dignity, making unbelievable action pretty believable through his forceful presence and unwavering conviction.
Looking for more movie magic on the Virgin Media Store?
Then you should know that the smash hit Disney Pixar sequel Incredibles 2 is available to buy now on the Virgin Media Store! So you can join Elasti-Girl, Jack-Jack and the whole family as they do battle with the bad guys once again. Just remember – no capes!
Not heard about the Virgin Media Store?
It's the place where you can buy the latest and greatest movies and TV Box Sets, yours to watch again and again, at home or on the go. Sign up now at virginmediastore.com, choose from hundreds of films and TV Box Sets and start watching instantly.
Enjoy your purchases on your Virgin TV Box (TiVo®/V6), online, or on your registered iOS and Android devices with the Virgin Media Store app.
Show me the latest releases on the Virgin Media Store.
Virgin Media Store: Separate terms and conditions apply to the Virgin Media Store service. DVD included for movie purchases only. Purchases must be made on the website or set top box. Virgin TV subscription and our latest Virgin TV V6 box required to buy and watch via set top box – Store is not available on other boxes. Compatible device & browser required. Max 5 registered devices. Max 2 devices can stream content simultaneously. Stream and download in UK only (or while temporarily in the EU).