Skip to main content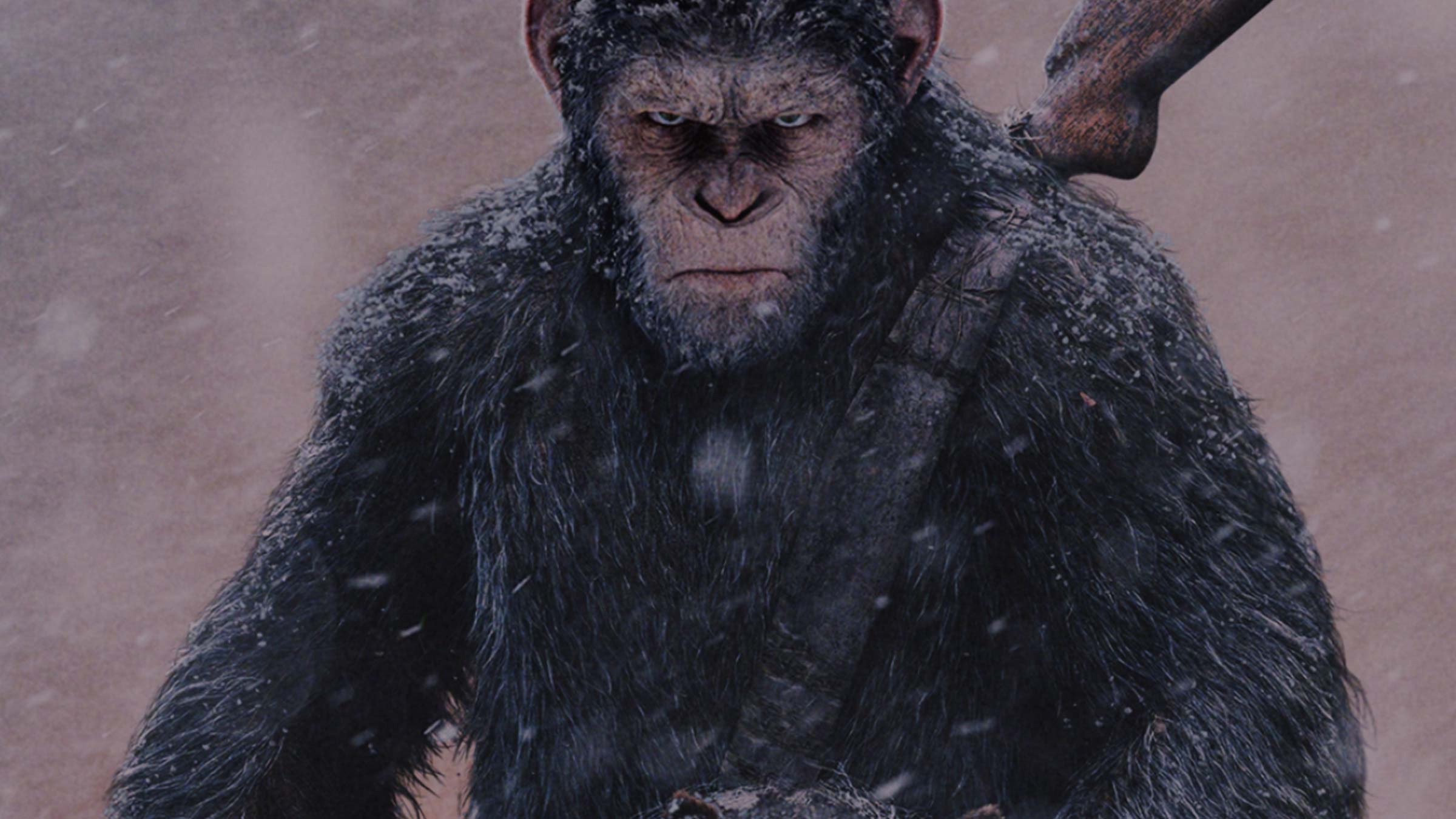 Go absolutely ape for the Oscar-nominated third film in the critically acclaimed series starring Andy Serkis
War For The Planet Of The Apes, available from Friday 25 May in Sky Cinema On Demand. Cert 12. Also available in HD
While superheroes, space adventures and dinosaurs have been dominating the big screen, there's another epic-scale, visual-effects-driven action saga that has been gradually and impressively building strength during the past few years. And now it's reached an astonishing climax with War For The Planet Of The Apes.
This exciting odyssey is set hundreds of years before the original science-fiction classic Planet Of The Apes, in a near-future devastated by a global pandemic, where the desperate remnants of humanity battle a tribe of superintelligent apes.

Its heroes, however, aren't the humans. They are the chimpanzees, gorillas and orang-utans led by alpha-chimp Caesar, who we first met as an infant in 2011's Rise Of The Planet Of The Apes, and then saw coming of age as a leader in its 2014 sequel Dawn Of The Planet Of The Apes. He's played by Andy Serkis, perhaps best known for his astonishing performance as Lord Of The Rings' Gollum. Here, after being struck by tragedy, Caesar sets out into the vast wilderness on a quest for revenge against a deranged army colonel (Woody Harrelson, Three Billboards Outside Ebbing, Missouri).
This is a film that's as beautifully shot as it is boldly grown-up, blending elements of old-school westerns, Biblical epics and war movies like Apocalypse Now and The Great Escape. Director Matt Reeves (who is making the next Batman movie) gives the film a substance and a firm dramatic footing that are absent from too many modern blockbusters.
It also boasts some of the greatest visual effects yet seen on the screen. Courtesy of Weta Digital, the magicians behind the Lord Of The Rings trilogy and Avatar, the apes portrayed by Serkis and his fellow actors via state-of-the-art motion-capture techniques (by which their every move and facial expression is translated into a CG-ape performance) couldn't look and feel more real. So much so that, come the film's gobsmacking finale, there's every chance these digital simians will leave you with tears in your eyes.
Watch on the go
If you subscribe to Sky Cinema on Virgin TV, you can watch on the go with the Sky Cinema app on your mobile, laptop or tablet anywhere in the UK with a WiFi or broadband connection. Just download from the Apple app store, Google Play or the Amazon appstore and log into the app to start watching.
Upgrade to Sky Cinema now
Don't have Sky Cinema? You can find out about our Sky Cinema package and upgrade here.
HD: HD TV required to view HD channels. Number of inclusive HD channels depends on package.
Sky Cinema HD: Sky Cinema Premiere +1 not available in HD.
Sky Cinema app: Only available via the Sky Cinema app (selected iOS and Android devices only) or website to customers who subscribe to these channels. UK only. Maximum 2 devices. Selected content may not be available to view. Separate End User Licence Agreements and terms and conditions apply to the Sky Cinema app and website. Live streaming and On Demand available in UK with broadband, WiFi or 3G/4G only. Minimum 800 kbps recommended per device accessing the service.