Skip to main content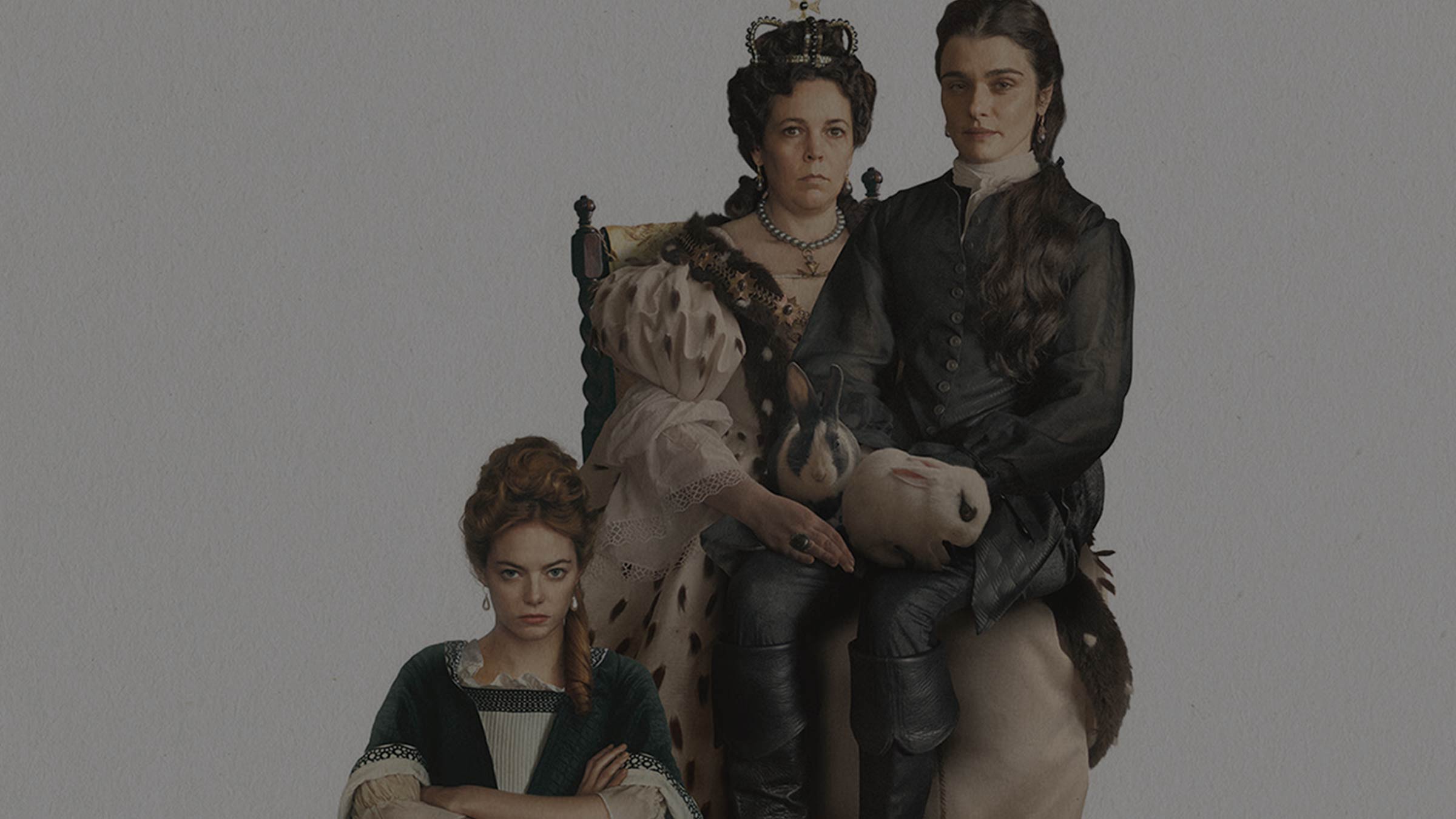 She's a National Treasure. Actually, scratch that – she's the National Treasure. You might even say (wait for it) that Olivia Colman is (here it comes)… The Favourite!
The Favourite, available to buy on the Virgin Media Store. Cert 15
Having recently bagged the role of Queen Elizabeth II in The Crown, Olivia Colman may as well be known as the Queen of Queens, after winning the Best Actress Oscar for a different regal role. The performance in question is frail 18th-century monarch Queen Anne, in the multiple award-winning The Favourite, a black comedy that boasts a stellar cast, including fellow Academy Award winners Emma Stone and Rachel Weisz.
The plot is (loosely!) based on the true story of the constant competition between Sarah, Duchess of Marlborough (Rachel Weisz) and her cousin Abigail, Baroness Masham (Emma Stone) to earn the queen's affections. The role represents a welcome return to Olivia's comedic past, with her character preferring to race ducks and look after her 17 rabbits than rule over her kingdom – as one does.

But Olivia doesn't just play queens! In fact, her career history is almost as rich as it is long. The rise to prominence of the woman who was initially training to be a teacher before she found her true calling in life is quite remarkable. And this role (and its subsequent awards) surely represents a career high.
If you'd asked anyone in Norfolk what the name Colman meant to them just a few years ago, chances are you'd find yourself in a conversation about mustard. Not so these days, after fellow East Anglian (but no relation) Olivia's transition from jobbing actress to fully fledged National Treasure.
With The Favourite now available to buy on the Virgin Media Store, here's a selection of some of the more memorable roles she's taken on in the past…
Fleabag
Fleabag, series 1 & 2 available to buy on the Virgin Media Store. Cert 15
In stark contrast to the butter-wouldn't-melt characters she has often portrayed, Olivia's take on the role of evil Godmother in Fleabag was a revelation. The part was a long time coming, after Colman met the show's star and creator Phoebe Waller-Bridge on the set of 2011 film The Iron Lady. Olivia apparently told Phoebe if she ever wrote something, she wanted to be in it. Olivia is also believed to have told Phoebe she wanted to play "a real b***h" – and the 33-year-old was more than happy to oblige, by writing Olivia in as an artist who gets engaged to her widowed father. One of her more memorable lines in series 2 was after announcing her intention to paint a picture of her new stepdaughters was, "The lighting's not good enough, and if you're not photogenic it does you no favours." Miaow!
The Night Manager, available to buy on the Virgin Media Store. Cert 15
In the show that became almost as synonymous for Hugh Laurie's unlikely portrayal of villainous arms dealer Richard Roper as it did for Tom Hiddleston's bare backside, Olivia played pregnant spy Angela Burr. Filming was far from easy for her, as she was herself five months pregnant at the time with her third child with writer husband Ed Sinclair. Her baby bump had to be incorporated into the storyline because there was no way viewers wouldn't notice. It also led to more chairs being worked into scenes, so she wouldn't be on her feet for too long – but that wasn't the only challenge Olivia faced. "I just can't retain my lines like I normally would," she said of filming. "I've got a bit of a nappy brain going on."
Tyrannosaur, available to buy on the Virgin Media Store. Cert 18
In Paddy Considine's 2011 film, Olivia plays an abused wife who forms an unlikely bond with a bitter stranger (Peter Mullen) in a part she once described by saying, "I don't think I will ever be prouder of any job." Researching the role of good Samaritan and charity shop worker Hannah, Olivia visited a number of victims of domestic abuse. Such was the impact their stories had on her, she became a patron for charity Tender as a direct result. This role probably also showed off her versatility for the first time as she'd been far better known for playing lighter, more comedic parts in the past.
Not heard about the Virgin Media Store?
It's the place where you can buy the latest and greatest movies and TV Box Sets, yours to watch again and again, at home or on the go. Sign up now at virginmediastore.com, choose from hundreds of films and TV Box Sets and start watching instantly.
Enjoy your purchases on your Virgin TV Box (TiVo®/V6), online, or on your registered iOS and Android devices with the Virgin Media Store app.
Show me the latest releases on the Virgin Media Store.
Virgin Media Store: Separate terms and conditions apply to the Virgin Media Store service. DVD included for movie purchases only. Purchases must be made on the website or set top box. Virgin TV subscription and our latest Virgin TV V6 box required to buy and watch via set top box – Store is not available on other boxes. Compatible device & browser required. Max 5 registered devices. Max 2 devices can stream content simultaneously. Stream and download in UK only (or while temporarily in the EU).