Skip to main content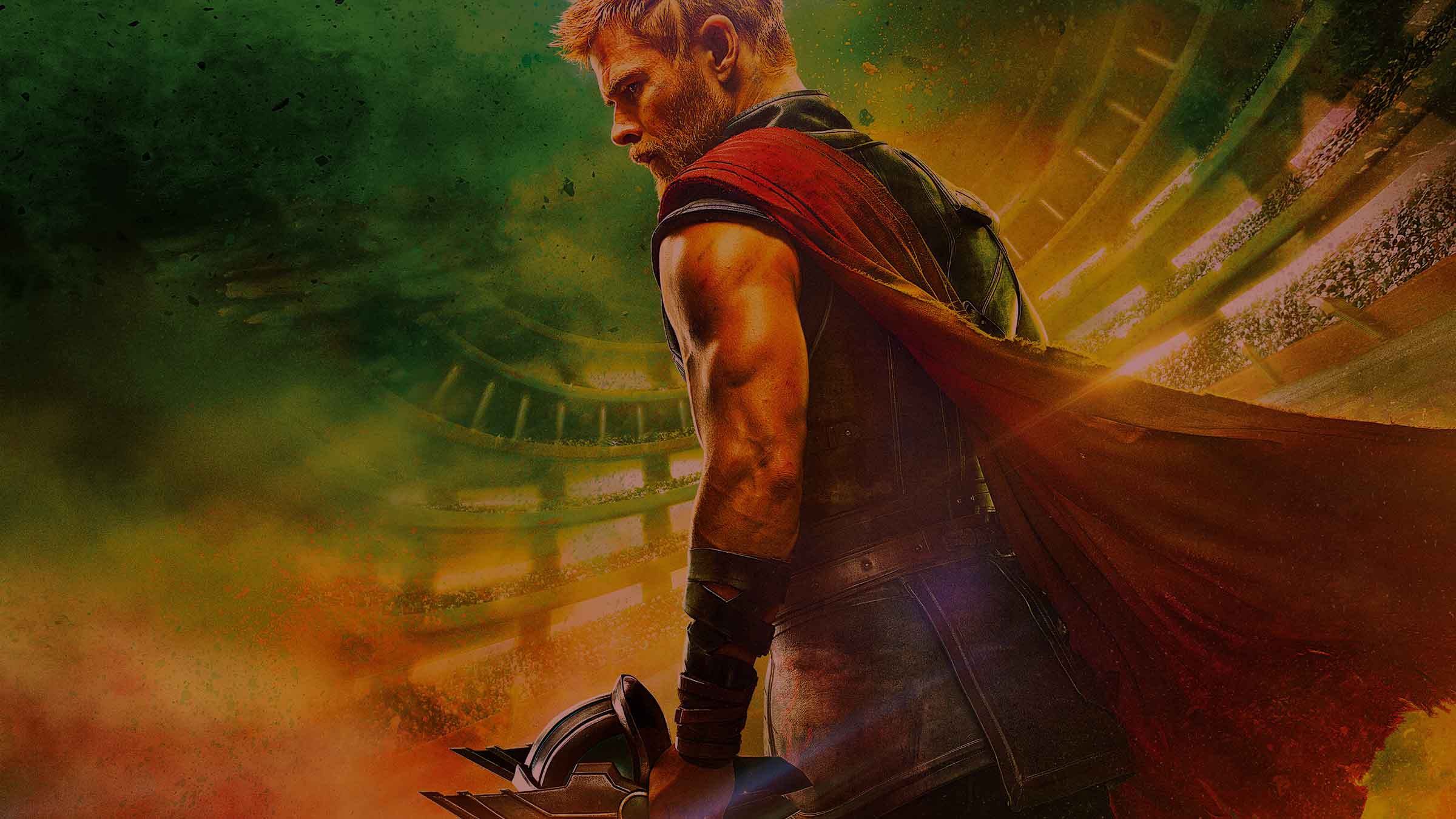 Did you know Thor: Ragnarok is the 17th film to come out of the Marvel Cinematic Universe? If you did, you'll probably do well in our challenge...
Buy Thor: Ragnarok on the Virgin Media Store from Monday 19 February and rent on Virgin Movies from Monday 26 February. Also available in HD. Cert 12
Since the X-Men movie started the superhero resurgence in 2000, the last decade has belonged to Marvel. In the last ten years they have brought us two Hulks, a talking space raccoon, a time-bending Benedict Cumberbatch, a school-aged Peter Parker (finally!) and more Samuel L Jackson cameos than you can shake a stick at – not to mention the marvellous feat of making Thor fun.
Back for his third solo outing in Thor: Ragnarok – courtesy of dreamy director Taika Waititi (Hunt For The Wilderpeople) – Chris Hemsworth's God of Thunder faces his mightiest challenge yet, battling for control of Asgard against Cate Blanchett's terrifying Hela. Oh, and he's also imprisoned on the other side of the universe without his mighty hammer. Let's just say he's got more than a sibling rivalry with Loki (Tom Hiddleston) to deal with this time around...

This near-perfect superhero movie has even got Jeff Goldblum in it, our own personal alter ego. Speaking of alter egos, we thought we'd celebrate the Marvel-lous occasion of Thor: Ragnarok's arrival on the Virgin Media Store with a challenge sent from the heavens. How well do you know your superhero alter egos?
Play our quiz

But wait, there's even more where that came from! In celebration of all things superheroic, the Virgin Media Store also brings you a magnificent Marvel Collection, featuring every single film in the MCU (apart from Black Panther of course). You can also buy all the X-Men films and all the Spider-Man movies. Even Black Panther, out in cinemas right now, is available to pre-order. Visit the Virgin Media Store today to sign up, download and enjoy!
Not heard about the Virgin Media Store? It's the place where you can buy hundreds of ace films and TV Box Sets. Want to know more about how to order these top movies and series? Then read our full story here.
How to use the Virgin Media Store
First, set up your account quickly and easily at virginmediastore.com. Once that's done, if you have a Virgin TV V6 box or TiVo® box you can buy and watch hundreds of films and TV Box Sets via the Virgin Media Store app on your box. Alternatively, if you're not a V6 customer you can buy and watch via the Virgin Media Store website and do everything through that. Simple!
Movies On Demand: Virgin Movies On Demand movies are pay by title. Once purchased, all chargeable On Demand content must be viewed within 48 hours.
Virgin Media Store: Separate terms and conditions apply to the Virgin Media Store service. DVD included for movie purchases only. Purchases must be made on the website or set top box. Compatible device & browser required. Virgin TV V6 box required to buy and watch via set top box – Store is not available on older boxes. Max 5 registered devices. Max 2 devices can stream content simultaneously. Stream and download in UK only.
Image credits: Thor: Ragnarok © 2018 Marvel Studios