Skip to main content
Unleash your game at the UK's ultimate gaming destination, plus find out how you can unlock exclusive gaming offers, treats and experiences with Priority from O2
By Virgin TV Edit
The ultimate gaming experience has landed at The O2, the UK's top entertainment venue – and it's free and open to all, powered by our lightning-fast broadband.
Introducing Virgin Media Gamepad. At Gamepad, you can raid, race, battle and play like a boss with the most powerful consoles from Xbox. And if you have the Priority app, you can unlock special treats and bag a slot in our exclusive gaming lounge just for you and your squad.
It's open to all gamers. Whether you're a pro player or a couch contender, head down to The O2 from 12pm-8pm every Monday to Saturday, and every Sunday 11am-7pm.
Gamepad is also fully step-free and wheelchair friendly. Plus, once a month there will be Purple Tuesdays for those with sensory sensitivities. If you have an adaptive controller and would like to bring it to use at Gamepad, email info@virginmediagamepad.co.uk so they can prep things for you (on-site adaptive controllers and hearing aid loops will be available soon).
Featuring an exclusive gaming lounge, a dedicated streaming stage and reams of gaming pods, Gamepad features state-of-the-art gaming spaces like never before.
Here's a rundown of everything you can see on your visit.
Only the best tech in the house
We've teamed up with Digital Foundry to kit out the space with the very best from the gaming world, including the most powerful consoles from Xbox. All powered by our lightning-fast broadband.
It's always playtime in The Playground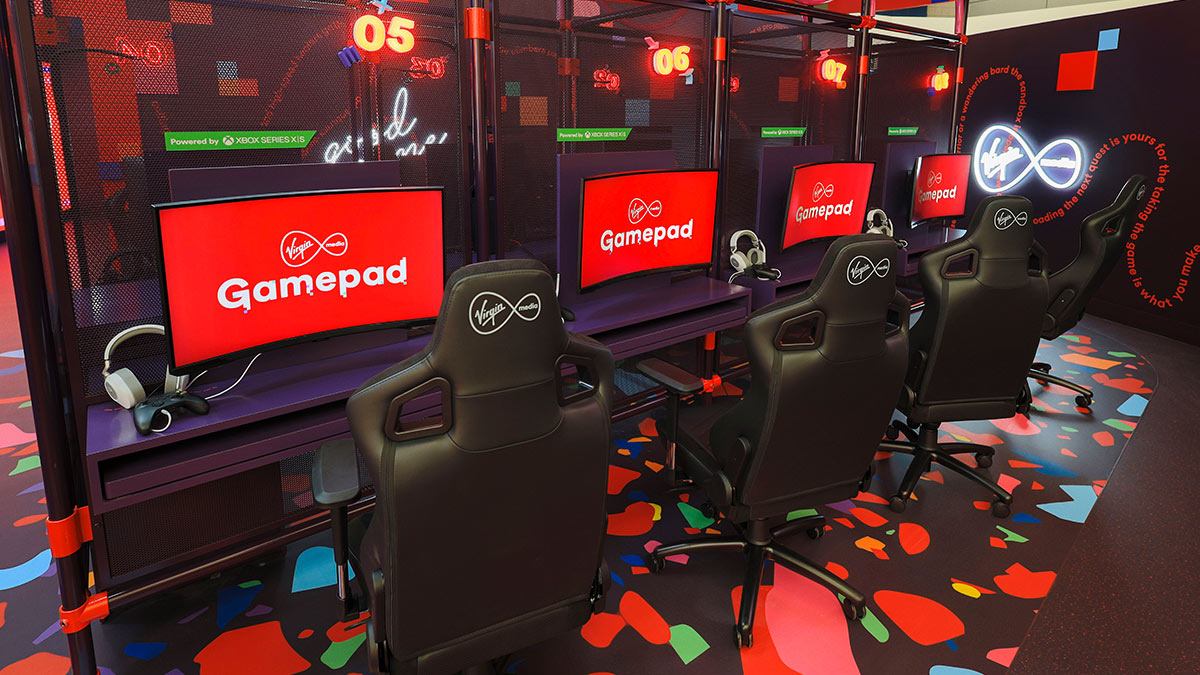 We've packed our entire top floor with 16 gaming pods and Xbox Series X consoles, so everyone can raid, race, battle and play like a boss. Just rock up, grab a seat and enjoy.
Escape into The Cave with Priority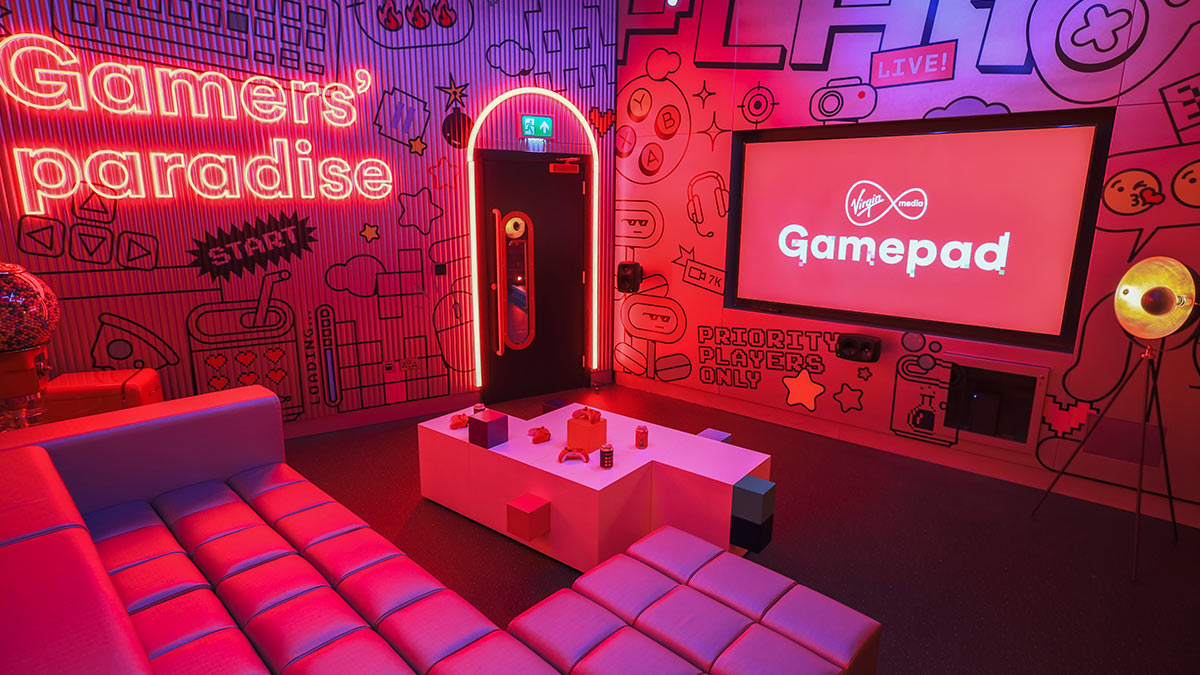 Got Virgin Media broadband? Get VIP access to our exclusive gaming lounge for you and your squad to game your digits off. Because you get more when you're part of the O2 and Virgin Media family. There's only space for one crew at a time, so you might want to secure your spot in advance on the Priority app.
Download Priority from the App Store
Download Priority from the Google Play store
Catch all the action, live from The Stage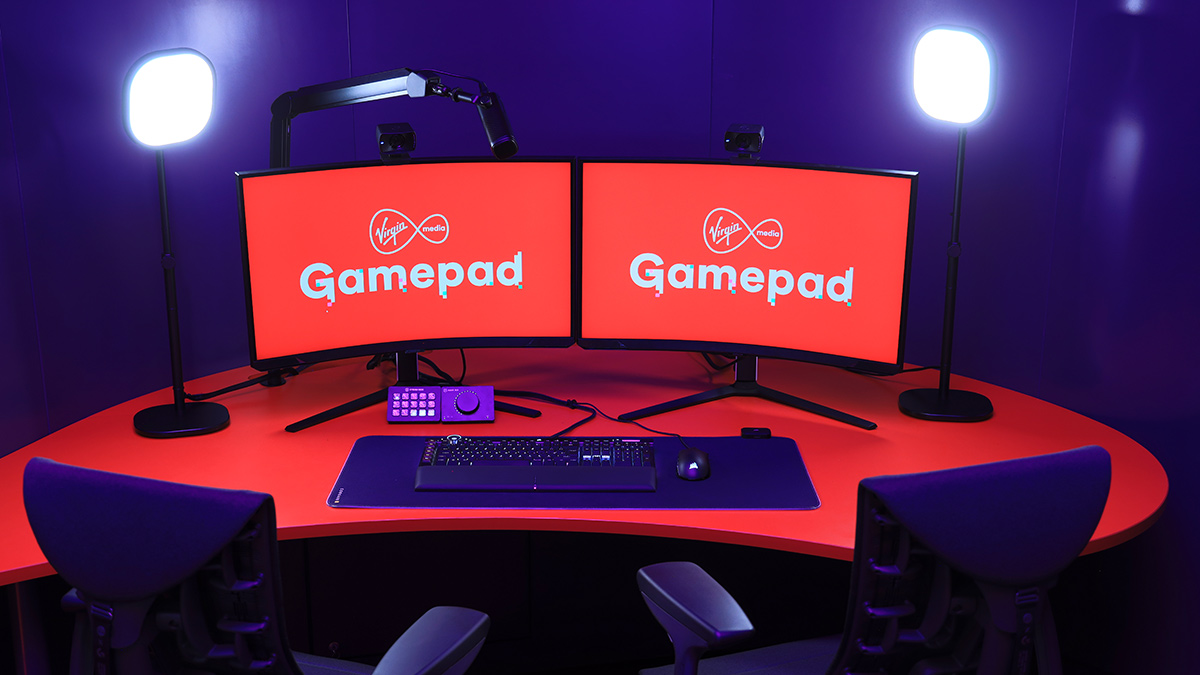 Every month, the very best gaming talent will be live streaming from our dedicated streaming studio packed full of top-industry tech, in partnership with Outside Xbox. Hop on their YouTube channel to watch live.
Game for extra perks?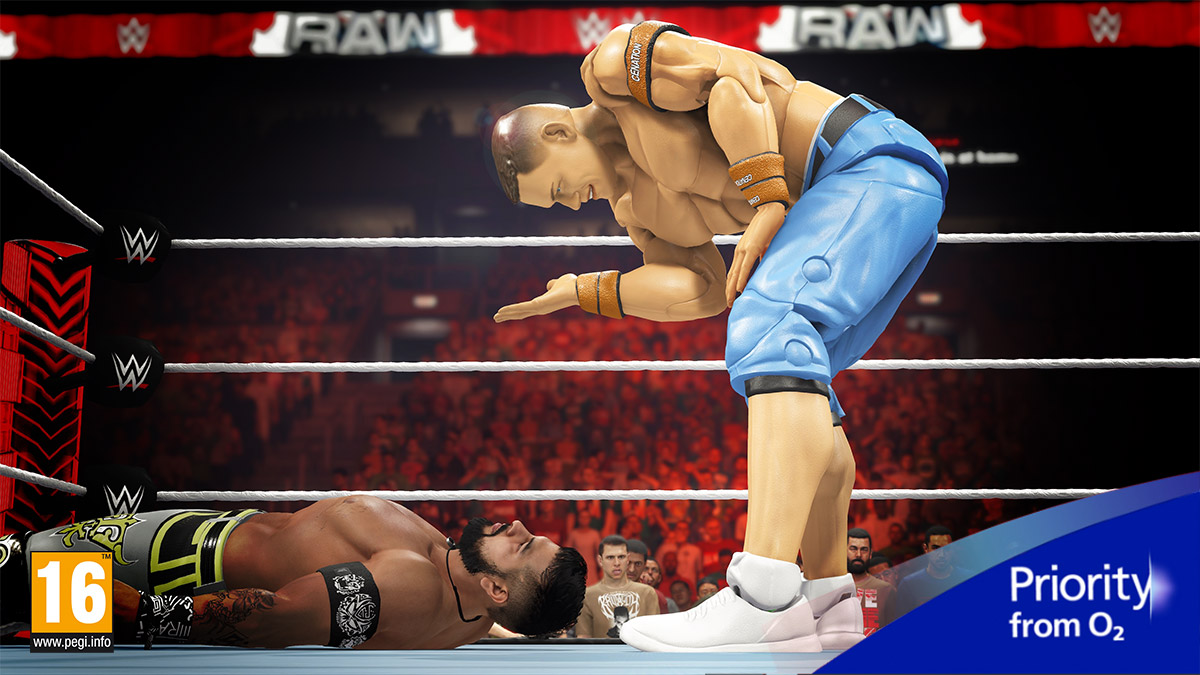 If you can't get to Gamepad, you won't miss out on the fun. Check the Priority app for gaming offers, exclusive access, beta codes, in-game treats and loads more experiences, curated just for you. This month on the Priority app, you could get a very special John Cena Mattel Action Figure in-game MyFACTION Character, themed from the historic Ruthless Aggression Era, to play with in WWE 2K23's MyFACTION mode.
MyFACTION has tons of way to play! Whether you want to put your skills to the test and complete challenges on your quest to build your dream faction or if you want to compete against other MyFACTION owners around the world in Online Quick Play, you can play MyFACTION your way in WWE 2K23.
Download Priority from the App Store
Download Priority from the Google Play store
Unleash your gameplay
Play to the max with Gig1 Fibre Broadband – our gigabit speeds made for gaming. And with the fastest WiFi guarantee of any major provider included as standard, you can focus on climbing the ranks or taking that win, knowing our broadband has got your back. Find out more.
Virgin Media and gaming
Calling all gamers, livestreamers, Twitchers, couch contenders and pro players. This is the home for Virgin Media and gaming, including news and offers on Virgin Media Gamepad and Priority from O2. Click the banner below.
Priority from O2: O2 customers and Virgin Media broadband customers only. 18+. Internet access and registration required. Offers subject to eligibility criteria and availability. Terms apply, see the Priority from O2 app or go to o2.co.uk/terms. To claim/enter, download the Priority app, register or sign in with your My Virgin Media details. For full terms see o2.co.uk/terms.
WWE 2K23: It is understood and agreed by both parties, that the only skin supplied by Partner to O2 in relation to this Offer is the John Cena Mattel WWE 2K23 Skin for the Commencement period set out in the Partner Promotions Agreement.
For the avoidance of doubt, this shall always exclude any other in-game Mattel Skin or any other Skin that is available to earn or purchase in WWE 2K23 (and any content created in related to or in connection with WWE 2K23) and (i) any and all versions, iterations, editions, expansion packs, trailers, demos, pre-releases and companion applications of or for any of the foregoing; (ii) any add-on, episodic or downloadable content based on any of the foregoing, now known or hereafter created.
Gig1 Fibre Broadband: 18 month minimum term applies to your broadband service. Gig1 Fibre Broadband (average download speed 1130Mbps). £62 a month for 24 months. Broadband only. If you cancel your service during your minimum term an early disconnection fee will apply. If you upgrade any aspect of the service, standard pricing will apply to that upgrade. Virgin Media reserves the right to withdraw or amend the pricing if you change any part of your package. Virgin Media reserves the right to withdraw this offer at any time. Offer may not be used in conjunction with any other offer unless stated by Virgin Media.
UK's Fastest Major Broadband Provider: based on Gig1 Fibre avg download speed 1,130Mbps vs avg download speeds of major UK ISPs. To verify see virginmedia.com/speed-comparison. Virgin Fibre areas only. Availability of services from other major UK ISPs will differ from Virgin Media's services. Correct at date of publication.
Services only available in Virgin Media network areas. Subject to survey, network capacity and credit check.
Advertised speeds in excess of 1Gbps are delivered to the home. To utilise the full speed capability multiple device connections operating at optimum speed and capacity are required. Device limitations apply. External factors may impact speed.
Compatible TV required for HD and Ultra HD.
The claim
104Mbps average upload speed – 6x faster than the UK's average upload speeds
Virgin Media Gig1 Fibre Broadband (avg upload speed 104Mbps) vs UK 24-hour average upload speed (15.5Mbps), based on Ofcom UK Home Broadband Performance report (here – pg 4), measurement period September 2022.
The claim
When we test our network to connected homes, we're 99.86% reliable.
Legal
99.86% network uptime (based on measurements from customers' Hubs across the Virgin Media network, between January 2022 and June 2022). For more details, see virginmedia.com/broadband/our-speeds-explained
WiFi Guarantee with WiFi Max: Available to Virgin Media residential broadband customers on M50 broadband or faster provided you are not taking services in any of our 2022/2023 network expansion areas. Existing Intelligent WiFi Plus customers will be individually informed when they are moved to WiFi Max. £8 a month add-on or at no extra cost for Ultimate Oomph, Gig1 and Volt customers. If you don't get download speeds of at least 30Mbps in every room, if needed we'll provide up to 3 WiFi Pods. If that still doesn't do the trick we'll give you a one-off credit of £100 off your next bill. Guarantee and eligibility for pods does not cover broadband faults or network outages. Pods subject to stock availability, require self-installation via QuickStart and can be delivered via Click & Collect or optional home delivery (£5 delivery charge may apply). Equipment remains property of Virgin Media. Exclusions and further terms apply. Fastest WiFi guarantee of any major provider: Compared to major UK ISPs. Terms of guarantee vary by provider. To verify, see virginmedia.com/legal/wifi
The fastest WiFi guarantee of any major provider, at no extra cost with Gig1 Fibre Broadband and our Volt packages only.