Skip to main content
Our WiFi guarantee with WiFi Max means you can enjoy download speeds of at least 30Mbps in every room or get £100 bill credit. Here's how fast, reliable speeds can make your online experience better

By Virgin TV Edit
The last few years have shown that a fast, stable home WiFi connection can be the difference between a frustrating life and a smooth one. Millions of us now routinely work from our spare rooms or kitchen tables, we stream our favourite TV shows and films and get our game on with people from around the globe. To get all this done, we need home WiFi that's reliable in every room – even if multiple people are on it at the same time.
The key is to always look for "Mbps" or "megabits per second", which shows the speed of a network or internet connection. A single-digit number can make getting stuff done online feel like walking slowly uphill, while a high number is like riding a motorbike down a road with no traffic. Virgin Media's WiFi guarantee with WiFi Max is our promise you'll enjoy download speeds of at least 30Mbps in every room or get £100 bill credit – the fastest WiFi guarantee of any major provider.


It's backed up by our signal-boosting mesh WiFi Pods (if needed) and Intelligent WiFi (self optimising technology to automatically sort any WiFi issue) – at no extra cost with Gig1 Fibre Broadband and our Volt packages. You can also add our WiFi guarantee with WiFi Max to our M50 to M500 Fibre Broadband packs (without Volt) for £8 a month, with your first WiFi Pod provided automatically.
Read on to discover what you can do at certain speeds, because why walk when you can ride…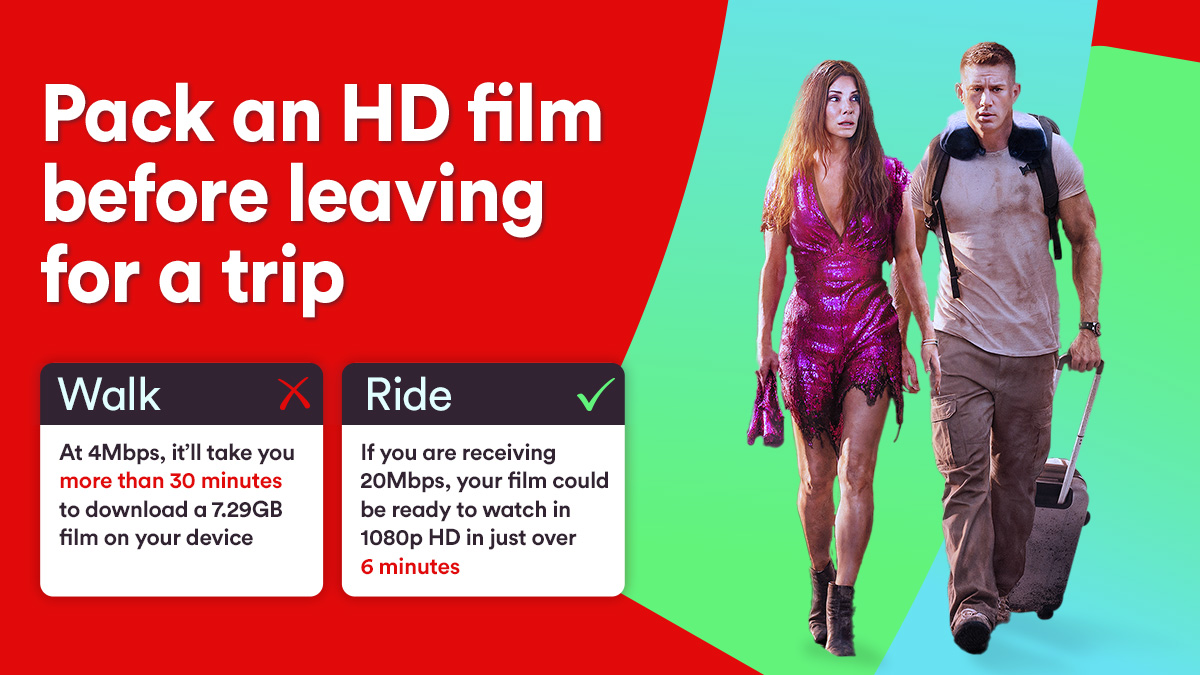 You know the score. The last thing you remember when leaving for a holiday or a work trip is to pack your device with something to watch while you're travelling. And if you're anything like us, you're already running late. What you don't need is another half an hour while you wait for something to download. If you are receiving 30Mbps, you could download a three-hour movie in just over 6 minutes.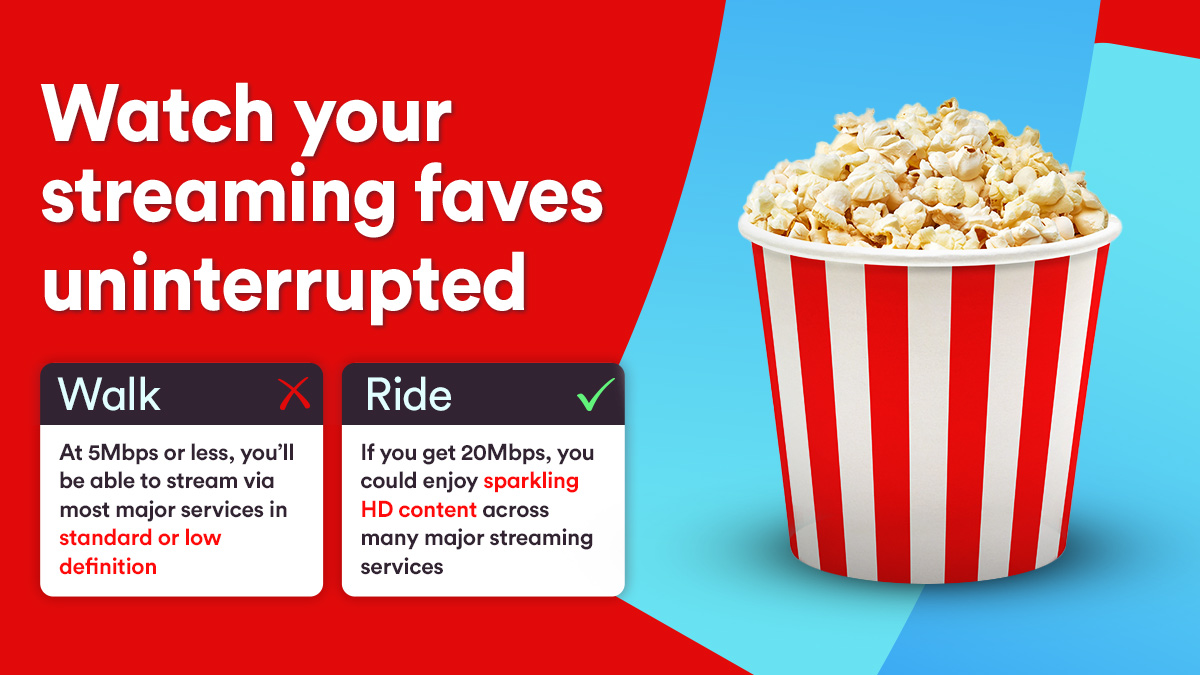 There's nothing worse than starting a movie or the next episode of your favourite drama only to find the action is ruined by WiFi connection issues. However, if you are getting at least 30Mbps, then you can handle standard definition with the ease of a champion hurdler, but you can also even stream in super-clear HD from most streamers.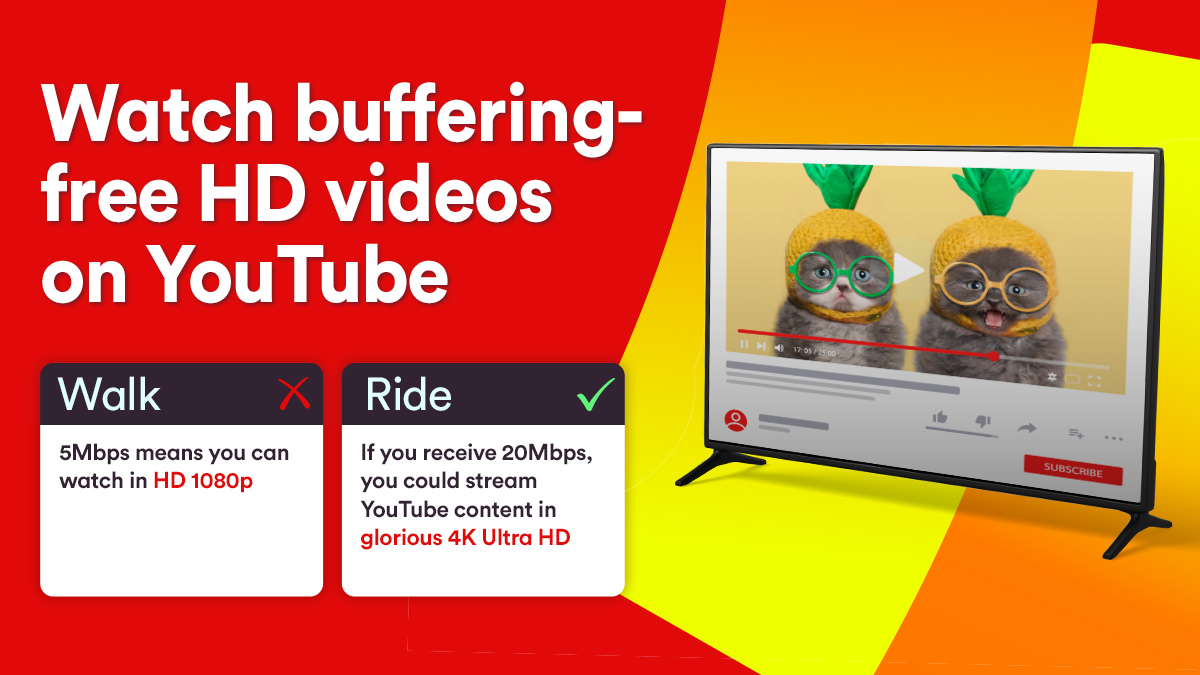 We now watch as much YouTube content in our spare time as we do from premium streaming platforms and TV networks. We'd like to say it was all #WorkLife TED Talks and yoga videos, but our suggested videos are mostly cats and gameplay walkthroughs, which means our algorithm knows us better than we know ourselves. If you are receiving 30Mbps, you could stream YouTube videos in glorious 4K Ultra HD. And frankly, you can't beat a 4K cat video…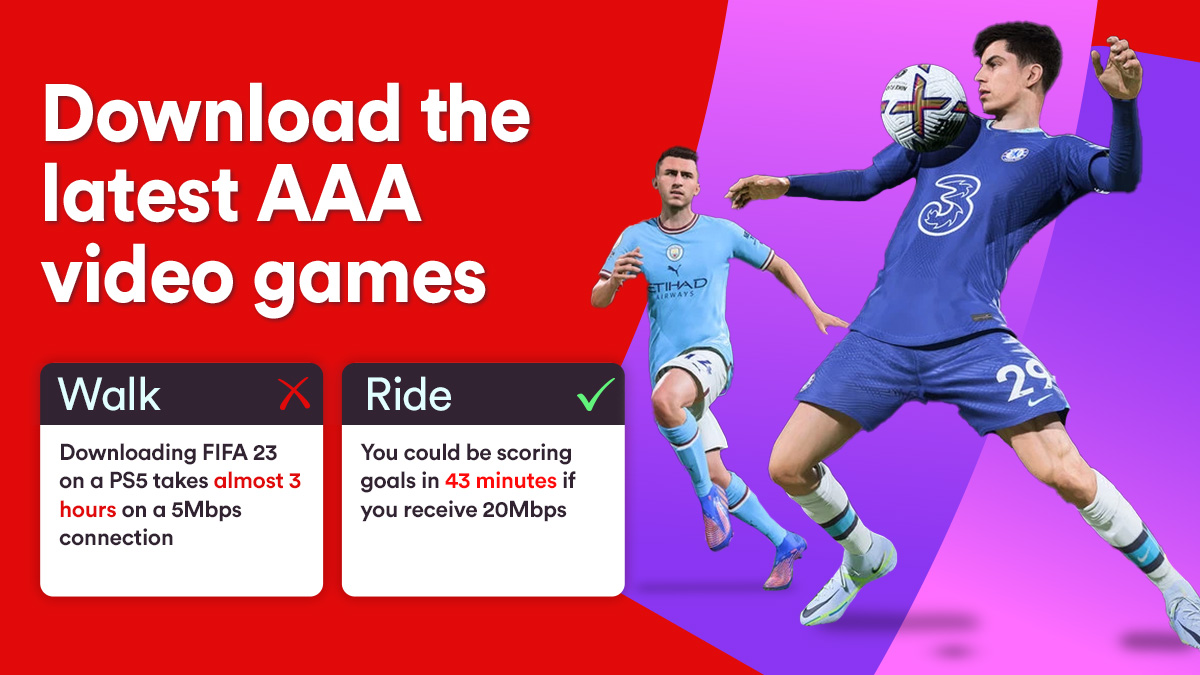 Physical copies of video games are vanishing, to the point that PlayStation and Xbox now have versions of their latest consoles that don't include optical disc drives. So, to maximise those consoles, you need an internet connection that is as close to plug-and-play as you get. At more than 51GB, the latest FIFA game would take almost 3 hours to download on a 5Mbs connection. But if you receive download speeds of at least 30Mbps, you could be netting goals like Messi in under 43 minutes.
Want to learn more?
To find out more about our fast WiFi guarantee, click here.
The fastest WiFi guarantee of any major provider, at no extra cost with Gig1 Fibre Broadband and our Volt packages only.
WiFi Guarantee with WiFi Max: Available to Virgin Media residential broadband customers on M50 broadband or faster provided you are not taking services in any of our 2022/2023 network expansion areas. Existing Intelligent WiFi Plus customers will be individually informed when they are moved to WiFi Max. £8 a month add-on or at no extra cost for Ultimate Oomph, Gig1 and Volt customers. If you don't get download speeds of at least 30Mbps in every room, if needed we'll provide up to 3 WiFi Pods. If that still doesn't do the trick we'll give you a one-off credit of £100 off your next bill. Guarantee and eligibility for pods does not cover broadband faults or network outages. Pods subject to stock availability, require self-installation via QuickStart and can be delivered via Click & Collect or optional home delivery (£5 delivery charge may apply). Equipment remains property of Virgin Media. Exclusions and further terms apply. Fastest WiFi guarantee of any major provider: Compared to major UK ISPs. Terms of guarantee vary by provider. To verify, see virginmedia.com/legal/wifi
My Virgin Media app: Requires compatible Android 6.0 or iOS 11 or later mobile or tablet.
Virgin Mobile customers: The app will work on a device (iPhone, cellular-enabled iPad, Android phone or cellular-enabled tablet) where a Virgin Mobile SIM is present and the App has verified your SIM (whilst you on the Virgin Mobile data network). If you have got a Pay As You Go plan, remember to register for a My Virgin Media account first).
Broadband, TV and home phone customers: The app will work on a device (iPhone, iPad, Android phone or tablet) where sign in has been completed using My Virgin Media account details. It's not always possible to guarantee that we'll be able to offer this app on every device, platform and operating system version or variant. Terms and conditions apply. Further Legal Stuff applies – see virginmedia.com/legalstuff