Skip to main content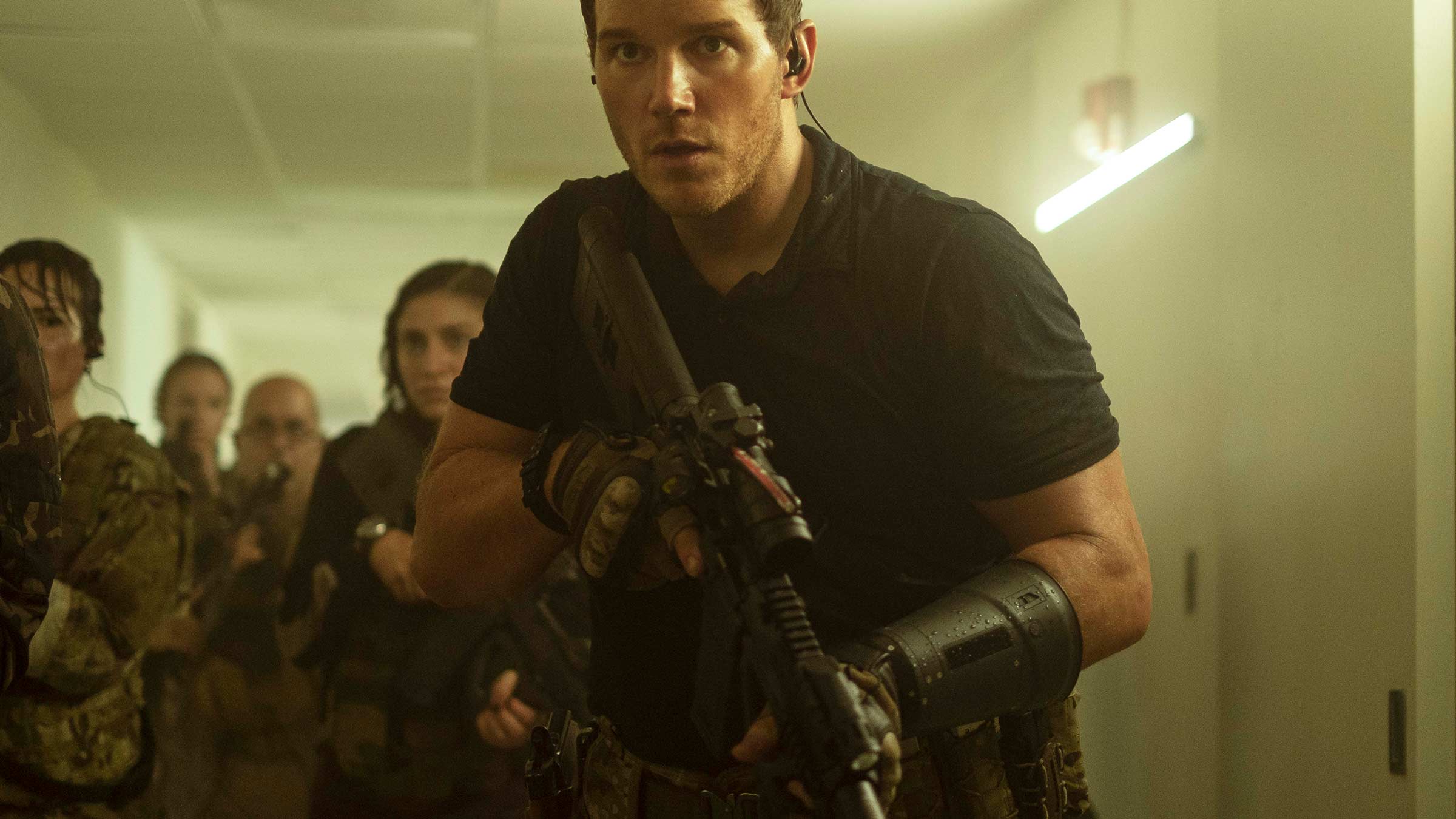 We've got all the top picks on BBC iPlayer, All 4, Amazon Prime Video and in On Demand to keep you entertained this July
By Laura Rutkowski, Staff Writer + Jack Prescott, Senior Staff Writer
With so much awesome telly going on at the minute, it's easy to overlook the best bits. That's why we've rounded up all our faves right here, so you don't miss out.
Whether it's an action-packed flick about a future war, or a candid documentary told in a former drug mule's own words, there's something for everyone. For more details on how to access services on Virgin TV, simply scroll to the end of the page.

Find it in Apps & Games > Prime Video
Time travellers from 2051 arrive to alert everyone on Earth that 30 years in the future, humans are fighting a losing a war against an alien species. They enlist people to travel to the future to help them, including ex-military man Dan Forester (Chris Pratt, Guardians Of The Galaxy).

La La Land
Find it in Apps & Games > Prime Video
A musical for people who don't like musicals (although anyone who does is likely to find it even more enchanting), La La Land's giddy blend of nostalgia, humour and heart won it five Academy Awards in 2017. The pairing of Ryan Gosling (Drive) and Emma Stone (Easy A) is clearly a match made in heaven after their collaborations in Crazy, Stupid, Love and Gangster Squad.
The Weight Of Gold
Find it in Apps & Games > Prime Video from Wednesday 7 July
This powerful documentary features commentary from Olympic athletes who share their mental health struggles, which often result after they have competed. Michael Phelps mentions "post-Olympic depression", while we also hear from Apolo Ohno, Shaun White, Lolo Jones, Sasha Cohen and more.

Lux Listings Sydney
Find it in Apps & Games > Prime Video from Wednesday 7 July
If you loved Selling Sunset, get ready to go Down Under and become obsessed with Sydney's real estate market. Top agents Gavin Rubinstein, D'Leanne Lewis, and Simon Cohen give a drama-filled glimpse at the buying and selling of high-end properties in the coveted location.

Horizon Line
Find it in Apps & Games > Prime Video from Wednesday 14 July
Former couple Sara (Allison Williams, Get Out) and Jackson (Alexander Dreymon, The Last Kingdom) board a single-engine plane for a 99-minute flight to their friend's island wedding. When their pilot suffers a heart attack, they must weather the storm, in more ways than one.
Making The Cut
Find series 2 in Apps & Games > Prime Video from Friday 16 July. Series 1 available now
Heidi Klum and Tim Gunn's series returns for a second season, where ten fashion designers from all over the world attempt to impress the judges (Klum and new additions supermodel Winnie Harlow and fashion designer Jeremy Scott). The winner will receive a whopping $1 million (about £723,000), a mentorship with Amazon Fashion and the chance to create an exclusive line for Amazon. After the pandemic, loungewear is definitely on the cards…

Annabelle Comes Home
Find it in Apps & Games > Prime Video from Saturday 17 July
Paranormal investigators Ed (Patrick Wilson, Fargo) and Lorraine (Vera Farmiga, Bates Motel) take the demonic doll Annabelle from nurses Debbie and Camilla, who have been terrorised by her. When they return home, they add her to their artefact room, where they store and lock away haunted paraphernalia from previous cases. In this film set in The Conjuring universe, Annabelle's set her sights on Ed and Lorraine's ten-year-old daughter Judy (Mckenna Grace, The Haunting Of Hill House) and her friends.


Jolt
Find it in Apps & Games > Prime Video from Friday 23 July
Kate Beckinsale is back and is to be known as Kick-Butt Beckinsale from now on. As Lindy, a lady with serious anger issues, she tries to tame the beast within using an electrode-lined vest. She activates it whenever she wants to calm down, but the vest is coming off when her former lover is murdered, and she has to resort to some different shock tactics. Bobby Cannavale, Laverne Cox, Susan Sarandon and Stanley Tucci also star in this electrifying film.


High: Confessions Of An Ibiza Drug Mule
Find it in Apps & Games > BBC iPlayer
Michaella McCollum, one half of the Peru Two, tells her side of the story of how she was recruited as a cartel drugs mule and was arrested, tried, jailed, and ultimately, set free. McCollum and Melissa Reid, both 20 at the time, were arrested in August 2013 at Jorge Chávez International Airport, Lima, Peru, when 11kg of cocaine was found in their luggage.
Beck
Find series 7 in Apps & Games > BBC iPlayer
Beck is back with Peter Haber in the title role as the newly promoted police detective. Based on the characters featured in the novels by Maj Sjöwall and Per Wahlöö, the series is Scandi noir at its finest, whether you're looking to dip a toe in for the first time or have the subtitles set up already.

Find it in Apps & Games > BBC iPlayer
James McAvoy (X-Men) and Sharon Horgan (Catastrophe) join forces in the hilarious yet heartbreaking story of a husband and wife who find themselves questioning their marriage under the stress and strain of lockdown.
Bad Influencer: The Great Insta Con
Find it in Apps & Games > BBC iPlayer
This documentary examines the ripple effects of Australian wellness guru Belle Gibson's ultimate deception: claiming she overcame terminal cancer with a plant-based diet and natural therapies… when she never had cancer to begin with.
Time
Find it in Apps & Games > BBC iPlayer
Who's up for a gritty British prison drama? Everyone then, yeah? Join Sean Bean and Stephen Graham in this tense three-part BBC series, which sees the former struggling to adapt to his new life in the big house. Graham plays a diligent prison officer, whose principles are put to the test when it comes to choosing between what's right and his family's wellbeing.
Yesterday
Find it in Apps & Games > BBC iPlayer
After an accident, struggling musician Jack (Himesh Patel, Tenet) wakes up and realises he's the only one who can remember The Beatles. He starts singing their songs, which skyrockets him to superstardom. Lily James, Sanjeev Bhaskar and Ed Sheeran (as himself) also star.

Fargo
Find series 1-4 in Apps & Games > All 4
Chris Rock leads the cast in season 4 of the anthology series inspired by the Coen brothers' 1996 film. In 1950, Loy Cannon (Rock) is at loggerheads with the Fadda family, led by Josto Fadda (Jason Schwartzman, The Grand Budapest Hotel). Set in Kansas City, Missouri, it's more of the slow-burning, visually gorgeous fare the series is famed for.

We Are Lady Parts
Find it in Apps & Games > All 4
Muslim punk band Lady Parts have big dreams of stardom, but they need a lead guitarist. Enter Amina, who has the skills to shred, but is afflicted with vomit-inducing stage fright. With big laughs, pure performances and heart-warming camaraderie, it's a must-see from us.
Before We Die
Find it in Apps & Games > All 4
Look no further for your new favourite detective drama, which is based on the Swedish series of the same name. Lesley Sharp (Scott & Bailey) stars as Bristol-based DI Hannah Laing, whose son Christian (Patrick Gibson, The OA) becomes implicated in the murder of one of her colleagues. He works for the Mimica crime family, but where does that leave Sharp's loyalties?

Find it in Apps & Games > All 4
Inspired by the real-life case of Edward Paisnel, or the "Beast of Jersey", a serial killer active in the 1960s, Beast is a BAFTA-winning psychological thriller. Tour guide Moll Huntingdon (Jessie Buckley, Wild Rose) falls for a mysterious man called Pascal (Johnny Flynn, Emma.), who saves her from a sexual assault. But the question remains: how much does Pascal know about all the women who have been murdered on the island over the past few years?

The Handmaid's Tale
Find series 1-4 in Apps & Games > All 4
Series four of the Emmy-winning drama based on Margaret Atwood's dystopian novel receives its first showing on Channel 4. This series finds June (Elisabeth Moss) making a run for it as she takes a stand against the oppressive Gilead.

Bake Off: The Professionals
Find series 1-4 in Apps & Games > All 4
Pastry chefs from hotels, restaurants and small businesses compete to be crowned the best patisserie team in Britain. Patisserie experts Benoit Blin and Cherish Finden return to judge, while Tom Allen and former Great British Bake Off contestant Liam Charles co-present.


Find series 1 & 2 in On Demand > Box Sets
Retired MI6 spy Max Easton (Mark Strong, Kingsman: The Golden Circle) returns for one last job, but becomes entangled with the Deep State. This group of people, made up of members of government agencies and the military, conspire to manipulate and control aspects of government policy. Will his efforts to avenge the death of his son Harry (Joe Dempsie, Game Of Thrones) all be in vain?

APB
Find series 1 in On Demand > Box Sets
The title stands for "all-points bulletin", an alert sent to law enforcement officials to be on the lookout for someone or something associated with a crime. Tech billionaire Gideon Reeves (Justin Kirk, Angels In America) purchases a Chicago Police district, turning it into a private police force, with the intention of closing the case on a friend's murder.
Emergence
Find series 1 in On Demand > Box Sets
The actors' talents really shine in Emergence's well-written characters, led by Fargo's Allison Tolman. She stars as police chief Jo Evans, who takes in a young girl she finds near a plane crash who has no idea who she is or where she's from.

The Fix
Find series 1 in On Demand > Box Sets
Marcia Clark, who was the lead prosecutor in the OJ Simpson murder case, co-wrote and executive produced this legal drama. It follows Maya Travis (Robin Tunney), a Los Angeles district attorney who is defeated while prosecuting an actor for double murder. She leaves law behind, but is tempted back when the same star is suspected of committing another murder eight years later.

Manifest
Find series 3 in On Demand > Box Sets from Tuesday 13 July
Planes experience turbulence all the time, but after Montego Air Flight 828 experiences some and then lands, its passengers and crew learn that over five and a half years have passed while they've been in the air. Their friends and families assumed they were dead, but as they try to readjust, they're welcomed back to a world they don't remember. Expect another time jump of about three months following on from the series 2 finale and try not to confuse the timelines!
How to watch Amazon Prime Video with Virgin TV
Prime Video is available to all Virgin TV customers with a V6 box, powered by TiVo®, and a subscription to the service. Simply sign up to Amazon Prime Video via their website, and you can log in on the box. And because Prime Video is fully integrated into TiVo®, you can search without even going into the app. Just select Search & Discover from the Home menu and type in the name of the show or movie you're after.
TV channels: Channels, content and features available depend on your chosen package. Channel line-ups and content are subject to change at any time and to regional variations.
HD: HD TV set, V HD Box, TiVo box or Virgin TV V6 connected with HDMI cables required for HD channels. Number of inclusive HD channels depends on package.
Catch Up TV: Catch Up TV content available for up to 7 days or up to 30 days after broadcast, depending on content.
On Demand: Content available to view depends on TV package. Time limits apply for viewing chargeable On Demand content – see virginmedia.com. Once purchased, all chargeable On Demand content must be viewed within 48 hours. Premium channels and upgrades must be kept for at least 30 days.
Amazon Prime Video: Amazon Prime subscription required at extra cost. 18+. Click here for T&Cs.