Skip to main content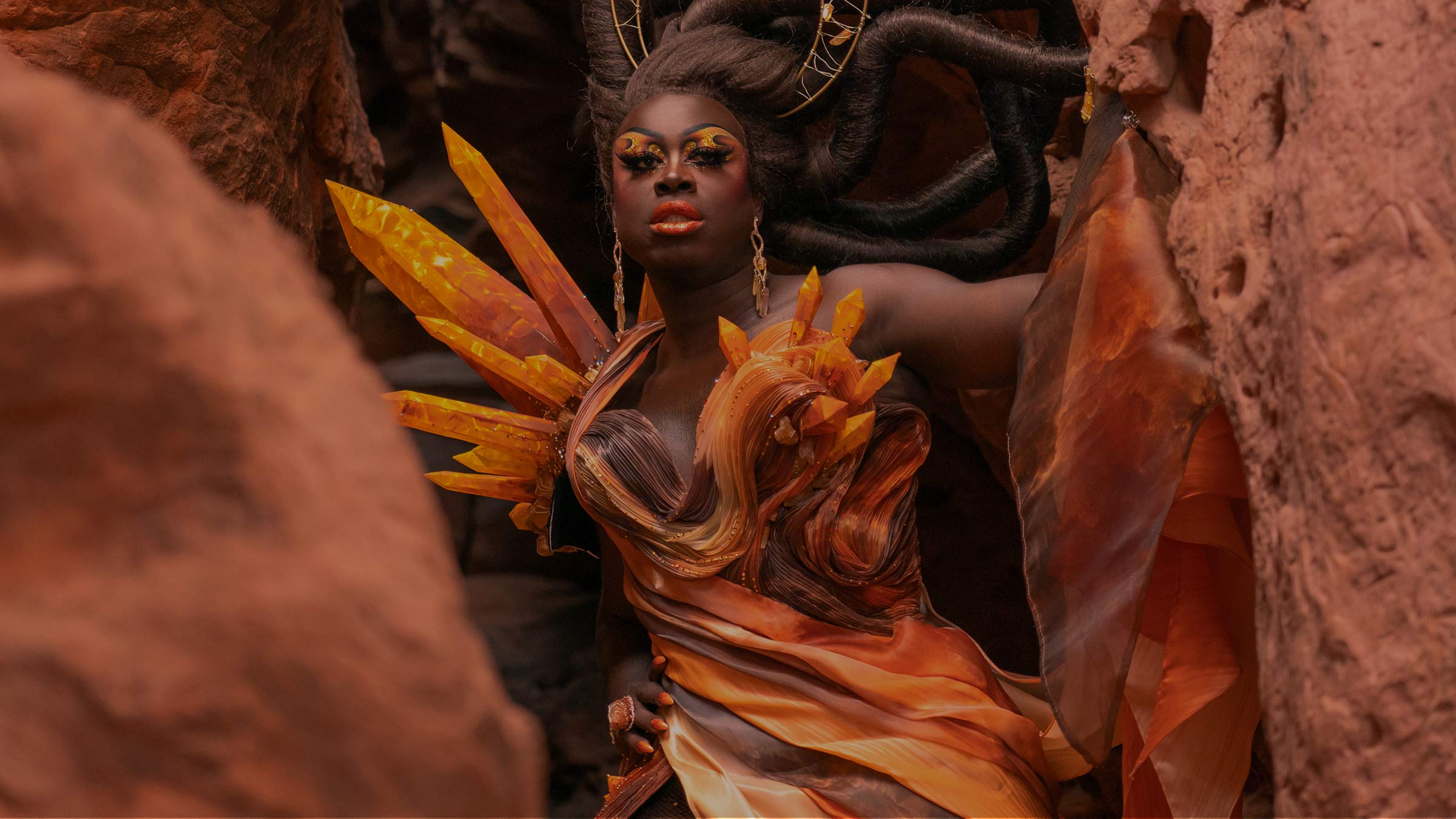 We've got all the top picks on BBC iPlayer, All 4, Prime Video and LIONSGATE+ and in On Demand to keep you entertained
By Charlotte Briggs, Staff Writer
With the January blues officially over, it's time to celebrate the start of a new month with the latest series, returning favourites and brilliant original movies. And in this bumper edition of top telly picks, there's something to keep everyone entertained.
Get used to being on the edge of your seat thanks to the new thrillers landing this month, including Prime Video's On The Line, Those Who Wish Me Dead and Bandit, featuring big stars like Angelina Jolie and Shotgun Wedding's Josh Duhamel.
Meanwhile on BBC iPlayer the highly anticipated drama series The Gold, a dramatisation of the infamous Brink's-Mat robbery in 1983, is streaming at the end of the month. If you want to see the adventures of another close-knit gang with something rather less nefarious on their minds, then season 3 of Sky Max's uplifting drag saga We're Here arrives in On Demand.
And fans of the cult classic Party Down will be rejoicing worldwide, as the comedy series makes a return to screens after a 13-year wait. Will any of the caterers have left their pink bow-ties behind and made it big? Guess there's only one way to find out…
Below, we've picked out the best to watch on All 4, Prime Video, BBC iPlayer and LIONSGATE+ and in On Demand. And if you want to know what's new on Netflix, take a look at our monthly round-up of the best TV and movies on the service.

Find season 2 in Apps & Games > Prime Video from Friday 3 February. Season 1 available now
Camille (Meagan Good) and her three best friends Quinn (Grace Byers), Tye (Jerrie Johnson) and Angie (Shoniqua Shandai) are living their best lives chasing their careers, relationships and big city dreams. With impressive Hollywood credentials including appearances from Whoopi Goldberg and producers Pharrell Williams and Amy Poehler, this latest series is fabulous from start to finish.
On The Line
Find it in Apps & Games > Prime Video from Wednesday 8 February
This original movie will leave you on the edge of your seat – just as it does to our protagonist, radio host Elvis Cooney (Mel Gibson). Things take a sinister turn on his daily radio show when a mysterious caller threatens to kill Cooney's entire family on air. Cooney and his team must work together to play the criminal's survival game before it's too late. Totally creepy!
Somebody I Used To Know
Find it in Apps & Games > Prime Video from Friday 10 February
In this romantic comedy penned by Bad Neighbours actor Dave Franco, we follow workaholic Ally (Alison Brie, Community) on a trip to her home town where she runs into her ex-boyfriend Sean (Sam Ellis, Top Gun: Maverick), a man she's understandably still obsessed with. The catch? He's getting married to Cassidy (Kiersey Clemmons, Bad Neighbours 2). It's a tried and tested rom-com recipe, so tune in for a feel-good watch.
The Conjuring 3: The Devil Made Me Do It
Find it in Apps & Games > Prime Video from Saturday 11 February
For spooky thrills and chills don't miss the third instalment of this American horror franchise. Patrick Wilson (Aquaman) and Vera Farminga (Bates Motel) reprise their roles as paranormal investigators Ed and Lorraine Wilson in one of their most terrifying and sensational cases, marking the first time in US history that a murder suspect claims demonic possession as self-defence.
Carnival Row
Find season 2 in Apps & Games > Prime Video from Friday 17 February. Season 1 available now
Star-crossed lovers Rycroft (Orlando Bloom, Pirates Of The Caribbean) and Vignette (Cara Delavingne, Suicide Squad) star alongside Jamie Harries (West Side Story) in this bingeworthy fantasy series. In the Victorian city of Carnival Row, humans and mythological creatures struggle to live alongside each other, triggering a series of murders that leads to the collapse of peace and an unimaginable monster.
Star Trek: Picard
Find season 3 in Apps & Games > Prime Video from Friday 17 February. Seasons 1+2 available now
Patrick Stewart reprises his much-loved role of Captain Jean-Luc Picard in a series that is set 20 years on from its predecessor Star Trek: Nemesis. In the next stage of his life the former Starfleet captain is drawn on to new adventures, and the third and final season reunites him with the former USS Enterprise crew who are being hunted by a mysterious new enemy.
Bandit
Find it in Apps & Games > Prime Video from Wednesday 22 February
Viewers are in for a wild ride in this crime thriller based on the true story of The Flying Bandit, aka Gilbert Galvan Jr who robbed the most banks in Canadian history. After escaping prison, charming criminal Robert (Josh Duhamel, Transformers) assumes a new identity and robs a record 59 banks and jewellery stores while being hunted by the police. Also starring Elisha Cuthbert (24) and Mel Gibson (Father Stu).
Those Who Wish Me Dead
Find it in Apps & Games > Prime Video from Thursday 23 February
Angelina Jolie (Maleficent) stars as Hannah, a firefighter living in Park County, Montana. When she stumbles across a teenage murder witness, she vows to protect him from two assassins (Nicholas Hoult, X-Men, and Aiden Gillen, Bohemian Rhapsody) who are tracking his every move. But when a forest fire erupts, it threatens to consume them all.
The Consultant
Find it in Apps & Games > Prime Video from Friday 24 February
This new dark comedy series is bound to give you the creeps. When new consultant Regus Patoff (Christoph Waltz, Django Unchained) arrives in the workplace of app-based company CompWare, employees start experiencing new demands that test just how far they're willing to go get ahead and survive. Sounds terrifying…
Die Hart
Find it in Apps & Games > Prime Video from Friday 24 February
Get ready to belly-laugh as comedian Kevin Hart (Fatherhood) plays a fictionalised version of himself in a show he also executive-produced. Tired of always playing the wacky sidekick role, Hart enrols in a specialist "action hero school" run by tough guy Ron Wilcox (John Travolta, Pulp Fiction). What ensues are some slapstick stunts and laugh-out-loud moments, as Hart learns the ropes to try and become the hottest action star in town.

Putin Vs The West
Stream it in Apps & Games > BBC iPlayer now
In this three-part series, award-winning film-maker Norma Percy (Inside Obama's White House) takes a close look at Russian President Vladmir Putin's 25-year rule. Former leaders including David Cameron, Francois Hollande, and ex-Ukrainian president Petro Poroshenko uncover how governments have struggled to deal with Russia for decades.
Emily Atack: Asking For It?
Stream it in Apps & Games > BBC iPlayer now
Comedian and actor Emily Atack (The Inbetweeners) shares her experiences of social media attacks and trolling to raise awareness about sexual harassment online, which later inspired her to take her cause to Parliament to make cyber-flashing illegal. A hard-hitting watch that will no doubt start important conversations across the nation.
Charlotte In Sunderland
Stream it in Apps & Games > BBC iPlayer now
Get ready to meet a whole new Charlotte Crosby as the Geordie Shore star is back on screens in her new spin-off series Charlotte In Sunderland. We follow the highs and lows of Charlotte's life as she navigates pregnancy, expanding her business empire and some heartbreaks at home. Plus, eagle-eyed viewers might just catch a glimpse of some former co-stars…
Modern Wheels Or Classic Steals
Stream it in Apps & Games > BBC iPlayer from Thursday 2 February
Join car dealer and racing driver Rebecca Jackson as she teams up with Elo, the former owner of The London Motor Museum, to advise the public on which set of wheels they should take a chance on. Elo's collection once included some of the original Batmobiles and Del Boy's yellow Reliant Regal – so does that mean buyers are in good hands?
Hiplife Rewind
Stream it in Apps & Games > BBC iPlayer from Monday 6 February
Find out all about the story of Ghana's influential music genre, hiplife, from its origins and roots to its modern-day influence, told through the words key artists who were on the scene during its past, present, and future. You can stream this show exclusively on iPlayer before its hits TV screens on Thursday 9 February.
24/7 Pet Hospital
Stream it in Apps & Games > BBC iPlayer from Monday 6 February
Expect drama and plenty of "Aw!" moments as we follow the work of a close-knit pet hospital team, who devote their lives to saving animals 24 hours a day, seven days a week. First up, there's Labrador Bilko who needs urgent treatment, while a Belgian Malinois named Hope has a mystery lump that needs treating and Dachshund Roxy is being treated in the neurology department. That sounds like lots of good boys and girls.
The Shamima Begum Story
Stream it in Apps & Games > BBC iPlayer from Tuesday 7 February
Investigative journalist Josh Baker sits down with Shamima Begum in her first account of her experiences with the terrorist group known as Islamic State (ISIS). In 2015 Begum made headlines around the world when she travelled to Syria from the UK to join aged 15. Now, she tells her story of what happened after she joined ISIS and her life in a refugee camp, including her first full account of her flight to Syria.
Tonight With Target
Stream series 2 in Apps & Games > BBC iPlayer from Thursday 9 February. Series 1 available now
This critically acclaimed series is back for its second series hosted by BBC Radio 1Xtra DJ Target, celebrating the very best in cutting-edge and up-and-coming musical talent from around the world. The first episode kicks off with live performances from Headie One and K-Trap, while internet star Harry Pinero chats with Target about the latest headlines.
The Gold
Stream it in Apps & Games > BBC iPlayer from Monday 20 February
Inspired by the true story of the Brink's-Mat robbery, this series is a dramatisation of one of the most extraordinary stories in history. The "crime of the century" begins with a group of six men who broke into a security depot and found a stash of gold bullion worth £26 million. What followed was the biggest theft in world history at the time, whose repercussions are still being felt decades later.
Building Britain's Super Homes
Find it in Apps & Games > All 4 from Wednesday 1 February
A window into the world of multi-million-pound homes and opulent interior designs, this two-part series follows the hustle of luxury property developer Guy Phoenix, who has a goal of one day building the world's most expensive home. We take a behind-the-scenes look to find out just what is takes to build some of Phoenix's astonishing creations including the entire construction process on one of his most challenging builds so far.
Guy's Great British Power Trip
Find it in Apps & Games > All 4 from Sunday 12 February
With the UK beginning its journey to reach net-zero emissions by 2050, TV presenter Guy Patrick investigates how the country's power is produced, the costs and the future of energy consumption. His journey leads him across the nation, starting in his own workshop testing equipment, then to Drax biomass power station in Yorkshire which produces energy from wood pellets, and finally to demolishing Britain's oldest coal-burning power station.
The Piano
Find it in Apps & Games > All 4 from Wednesday 15 February
Claudia Winkleman hosts this new musical series with a twist, celebrating the "street piano phenomenon" that has taken social media by storm. After secretly scouting the nation's best amateur pianists at four UK train stations, the programme has recruited a group of 20 incredible talents. But little do they know they are about to compete for a place in the show's finale in front of the judges, pop star Mika and classical player Lang Lang.
Katie Price's Mucky Mansion
Find series 2 in Apps & Games > All 4 from Tuesday 21 February. Series 1 available now
Tune in to the second series of Katie Price's Mucky Mansion to see how the star and her team of builders have been getting on with renovating her 10-acre property. Despite the effects of vandalism and a fire, the former glamour model is determined to make the 19-room property the perfect family home, getting her hands dirty with some DIY crafting, decorating and upcycling.
Design Your Dream
Find it in Apps & Games > All 4 from Tuesday 28 February
In need of some innovative interior design inspiration? Well grab a paintbrush because brand new series Design Your Dream sees the very best creative contestants from across the nation compete in various interior and exterior design challenges. With the grand prize of an apartment at stake, they'll each be assigned an empty apartment where they'll use their flair, and skills to wow judges in a series of showdown style challenges.

Find seasons 1+2 in On Demand now
John Goodman (10 Cloverfield Lane) is widowed patriarch Eli Gemstone and the leader of world-famous televangelist family the Gemstones. Eli and his children Jesse (Danny McBride, Pineapple Express), Judy (Edi Patterson, Knives Out) and Kelvin (Adam DeVine, Workaholics), have somewhat questionable religious values though as they all lead opulent lives funded by church donations. Binge this laugh-out-loud series now just in time for the release of season 3 later this year.
Barry
Find seasons 1-3 in On Demand this month
Bill Hader (IT: Chapter 2) and Stephen Root (Get Out) take centre stage in this gripping comedy crime series. Barry Berkman (Hader) is a hit man who is sent to Los Angeles on a mission but instead finds himself caught up in the city's theatre scene. The more time he spends performing, the more he begins to doubt his lifestyle choices, especially as he deals with his criminal associates Monroe Fuches (Root) and NoHo Hank (Anthony Carrigan, Gotham).
Brookside
Find the first 10 episodes in Catch Up > Channels > STV from Wednesday 1 February
Phil Redmond's award-winning British soap is making a return to screens for the first time in 20 years. Brookside fans will be ecstatic to return to the Liverpool housing estate with dramatic storylines, larger-than-life characters and over-the-top drama – annd to learn that another ten episodes will launch on Wednesday 8 February, with five new episodes dropping every Wednesday thereafter. We've missed ya Brookie!
Blood & Treasure
Find season 2 in On Demand from Thursday 2 February. Season 1 available now
Matt Barr (Sleepy Hollow) and Sofia Pernas (Jane The Virgin) star as unlikely duo Danny McNamara and Lexi Vaziri, who team up to stop ruthless terrorist Karim Farouk (Oded Fehr, Star Trek: Discovery). Farouk funds his mission using stolen artifacts, while McNamara is a former FBI agent turned lawyer specialising in stolen art and Vaziri is a skilled art thief and con woman. But what does the future hold for the globetrotting pair this season?
Getaway Driver
Find it in On Demand from Friday 3 February
Michelle Rodriguez of Fast & Furious fame hosts this high-speed series that sees elite drivers from all walks of life race their cars. From exotic care salesmen to stunt drivers and drift instructors, each contestant must prove that they have the skills behind the wheel to emerge victorious in a series of modified arena settings, while being pursued in real-life car chases.
We're Here
Find season 3 in On Demand from Friday 3 February. Seasons 1+2 available now
Love more. Fear less. This award-winning reality series stars drag queens Bob the Drag Queen, Eureka O'Hara and Shangela Laquifa Wadley as they travel across the US to find their very own drag daughters to nurture, teaching their acolytes everything they know about the world of drag, as well as how to step outside of their comfort zones and live their best life. Heartfelt, funny and life-affirming, this series will leave you feeling all warm and fuzzy inside.
The Blacklist
Find season 9 in On Demand from Saturday 4 February. Seasons 1, 2 and 6-8 available now
In its ninth season, Jon Bokenkamp's crime thriller series shows no sign of running out of steam. The series follows Raymond "Red" Reddington (James Spader, Avengers: Age Of Ultron), a former high-profile criminal who surrended to the FBI after eluding capture for decades – on the condition that he could assist criminal profiler Elizabeth Keen (Megan Boone, The Underground Railroad) in capturing the world's most dangerous criminals using his "Blacklist". But everything changed with the explosive events of the season 8 finale. What now for Red?
John Wayne Gacy: Devil In Disguise
Find it in On Demand from Wednesday 8 February
This landmark six-part docuseries tells the infamous story of serial killer John Wayne Gacy. Also known as "The Killer Clown", Gacy was one of the most prolific murderers in history, responsible for the deaths of at least 33 young men. This investigation into his life and unspeakable crimes is told by those whose lives were changed forever by his crimes and those who believe that the true extent of his crimes remains concealed to this day.
NCIS: Los Angeles
Find season 13 in On Demand from Wednesday 8 February. Seasons 11-12 available now
The ever-exciting NCIS: Los Angeles heads into its 13th series following the highs and lows of a fictional specialist crime unit that solves criminal cases involving the Marines and Navy. Chris O'Donnell (Grey's Anatomy) stars as team leader Grisha "G" Callen, with Daniela Ruah (Red Tails) as specialist agent Kensi Blye and LL Cool J (Deep Blue Sea) as senior field agent Sam Hanna.
S.W.A.T
Find season 5 in On Demand from Wednesday 8 February. Seasons 1-4 available now
The Los Angeles police department's Special Weapons And Tactics team is back on our screens. Led by the intuitive and protective Sergeant Daniel "Hondo" Harrelson (Shemar Moore, Criminal Minds), the brave men and women that make up the 20-David squad protect the city's citizens while putting their lives on the line every day.
Law & Order: Organized Crime
Find season 2 in On Demand from Friday 10 February. Season 1 available now
Christopher Meloni (Law & Order) reprises his role as Detective Elliot Stabler, returning to the NYPD to fight the city's most powerful organised crime after suffering a personal loss. Times have changed for Stabler, as he's no longer partnered with Captain Olivia Benson (Mariska Hargitay, who returns as a guest star) but instead finds himself working alongside Sergeant Ayanna Bell (Danielle Moné Truitt, Deputy) and many new faces.
A League Of Their Own
Find series 17 in On Demand from Sunday 19 February. Series 1, 2 and 13-16 available now
Entering its landmark 17th series, this award-winning sports-based panel show sees two teams of comedians, celebrities and sport stars compete for gold by testing their sporting knowledge. Hosting the festivities is comedian Romesh Ranganathan, as team captains Jamie Redknapp and Micah Richards go toe-to-toe for the victory in each episode. But who will emerge victorious in this series?
Mountain Monsters
Find season 17 in On Demand from Friday 24 February
You've never seen a reality tv show like this before. The series follows the Appalachian Investigators of Mysterious Sightings (AIMS) team, who are passionate about tracking the weird and wonderful sightings they find in the Appalachian Mountains. The hardcore hunting team are on a mission to solve unexplained mysteries and prove the existence of legendary creatures such as Bigfoot, Werewolf, Lizard Man and Mothman. Spooky!
Brassic
Find series 4 in On Demand from Saturday 25 February. Series 1-3 available now
This British comedy series follows inseparable besties Vinnie (Joe Gilgun, This Is England '90) and Dylan (Damien Molony, The Split), who have grown up together and are now navigating the big bad world of adult life. Well, that is until Dylan's girlfriend Erin (Michelle Keegan, Our Girl) and her son want to move on in search of a better life, meaning Dylan has to make the hardest decision of his life.

Find season 1-2 in Box Sets > LIONSGATE+. The complete season 3 will be available from Friday 17 March
In this sequel series to Power, Tariq St Patrick (Michael Rainy Jr, 211) is navigating a new life, trying to escape his father's legacy while keeping the rest of his family safe. Throughout the seasons he crosses paths with the ruthless Tejada family, adding complications as he tries to balance his drug operations with a normal life.
BMF
Find season 1-2 in Box Sets > LIONSGATE+. The complete season 2 will be available from Friday 17 March
Based on true events, BMF follows the life of the Black Mafia Family, a drug trafficking and money laundering organisation. It centres around two brothers who rose from the streets of Detroit in the late 80s and went on to create one of the most powerful crime families in the US. Their family loyalty helped make them successful but also led to their eventual estrangement. The series is produced by Curtis "50 Cent" Jackson and features Russell Hornsby (Grimm) as Charles Flenory, while Demetrius Flenory Jr plays his own father, Charles' brother, known as Meech.
Party Down
Find seasons 1+2 in Box Sets > LIONSGATE+. Season 3 will be available from Friday 24 February
This cult comedy is returning with a brand new season after a 13-year hiatus. The catering crew led by Ron Donald (Ken Marino, Burning Love) seemed to be going their separate ways back in 2010… so who made it out, and who is still slinging hors d'oeuvres at the weirdest parties in town? And will Henry (Adam Scott, Parks And Recreation) ever escape the line "Are we having fun yet?" As well as Scott and Marino, returning cast members include Jane Lynch (Glee) and Martin Starr (Spider-Man: Far From Home), while Zoë Chao (Love Life) and Tyrel Jackson Williams (Brockmire) are new faces.
How to watch Amazon Prime Video with Virgin TV
Prime Video is available to all Virgin TV customers with a V6 box, powered by TiVo®, and a subscription to the service. Simply sign up to Amazon Prime Video via their website, and you can log in on the box. And because Prime Video is fully integrated into TiVo®, you can search without even going into the app. Just select Search & Discover from the Home menu and type in the name of the show or movie you're after. Virgin TV 360 customers can also find Prime Video shows and launch the app with voice search.
TV channels: Channels, content and features available depend on your chosen package. Channel line-ups and content are subject to change at any time and to regional variations.
HD: HD TV set, V HD Box, TiVo box or Virgin TV V6 connected with HDMI cables required for HD channels. Number of inclusive HD channels depends on package.
Catch Up TV: Catch Up TV content available for up to 7 days or up to 30 days after broadcast, depending on content.
On Demand: Content available to view depends on TV package. Time limits apply for viewing chargeable On Demand content – see virginmedia.com. Once purchased, all chargeable On Demand content must be viewed within 48 hours. Premium channels and upgrades must be kept for at least 30 days.
Amazon Prime Video: Amazon Prime subscription required at extra cost. 18+. Click here for T&Cs.
LIONSGATE+: LIONSGATE+ subscription required at extra cost.