Skip to main content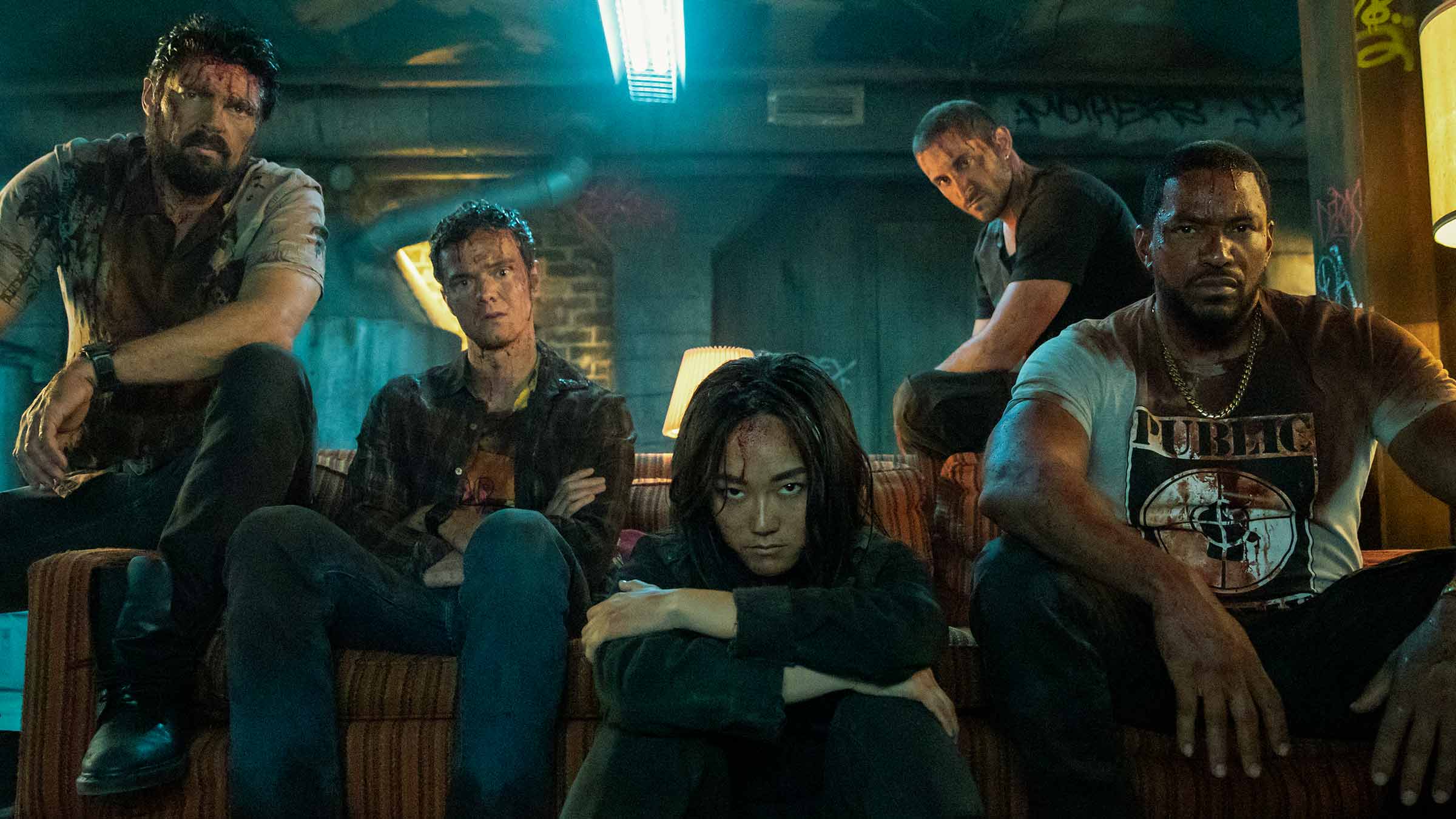 Get ready to hit play with all the shows and films across Amazon Prime Video, On Demand, My5 and All 4 that you NEED to watch this month
By Laura Rutkowski, Staff Writer
Want to know what's hot on the box? Well, all of it is FIRE. With multiple platforms to choose from, all of them delivering brilliant content, choosing what to watch can be difficult. So let us help you decide, so you can burn, baby, burn through the best films and series at just the click of a button!
Whether you want to get stuck into a brilliant Box Set or see what's available on All 4, My5 or Amazon Prime Video, you can do it all from the comfort of your sofa. You need a subscription for the latter platform and then you're good to go. For more detailed information on how to access this service on Virgin TV, simply scroll to the end of the page.
Here, we break down the best films and series across Amazon Prime Video, My5, All 4 and On Demand this month.


The Boys
Find season 2 in Apps & Games > Prime Video, with new episodes every Friday, series 1 available now
Based on the comic book series, the show asks the question, "What if our caped compatriots used their powers for bad rather than good?" The Boys are vigilantes, led by Billy Butcher (Karl Urban, Star Trek), and have the job of stopping the Seven, a group of superheroes who use their abilities for fame and glory. It's bloody, it's brilliant, and it's bloody brilliant!

Prime Rewind: Inside The Boys
Find it in Apps & Games > Prime Video, with new episodes every Friday
Can't get enough of The Boys? Watch a new episode of the series every Friday and then catch the aftershow, where host Aisha Taylor is joined by cast, crew and special guests as she unpicks each episode. It's a must-watch for all superfans.

Bombshell
Find it in Apps & Games > Prime Video from Friday 11 September
Bombshell is based on the real-life stories of the women who worked at Fox News and took on Fox News CEO Roger Ailes (John Lithgow), who they accused of sexual harassment. Charlize Theron portrays Megyn Kelly, while Nicole Kidman plays Gretchen Carlson, who were the real women involved. Margot Robbie stars as Kayla Pospisil, who is a fictional character, but is based on several women the filmmakers spoke to about Ailes.

The Nun
Find it in Apps & Games > Prime Video from Monday 14 September
The Nun tells the origin story of the demonic nun Valak, who appeared in The Conjuring 2 and Annabelle: Creation. Sister Irene (Taissa Farmiga, American Horror Story) visits a monastery in Romania, where nuns have committed suicide, under the influence of Valak. If you enjoy The Conjuring films, add this to your list. It will help you to start piecing together all the parts in the wider horror universe.

The Hitman's Bodyguard
Find it in Apps & Games > Prime Video from Monday 14 September
Private bodyguard Michael Bryce (Ryan Reynolds, Deadpool) is tasked with protecting notorious hitman Darius Kincaid (Samuel L Jackson, Pulp Fiction). The two have been sworn enemies for years but are stuck together for a whole day as they travel from England to the Hague. Many dangerous hurdles stand in their way, and they're never far away from getting killed – if they don't kill each other first, that is.

The Hobbit trilogy
Find them in Apps & Games > Prime Video from Tuesday 15 September
The Hobbit: An Unexpected Journey, The Hobbit: The Desolation Of Smaug and The Hobbit: The Battle Of The Five Armies have got your movie day covered. Based on JRR Tolkien's 1937 novel The Hobbit, the three films are directed by Peter Jackson, who also directed The Lord Of The Rings trilogy, and take place 60 years before the beginning of The Lord Of The Rings.
The hobbit in question is Bilbo Baggins (Martin Freeman, A Confession), who embarks on a quest to the Lonely Mountain, where the dragon Smaug (voiced by Benedict Cumberbatch) lives.

The Gentlemen
Find it in Apps & Games > Prime Video from Friday 18 September
Charlie Hunnam, Matthew McConaughey, Colin Farrell, Hugh Grant and Henry Golding are just a few of the big names in this film directed by Guy Ritchie. Michael "Mickey" Pearson (McConaughey) is an American in London running a very successful marijuana operation. As he looks towards potential retirement, a whole slew of unsavoury characters come out of the woodwork wanting a piece of the empire.

All In: The Fight For Democracy
Find it in Apps & Games > Prime Video from Friday 18 September
Ahead of the 2020 presidential election, this documentary examines the issue of voter suppression in the United States. People might be allowed to vote, but that doesn't mean their vote is counted. Stacey Abrams, the former Minority Leader of the Georgia House of Representatives, sheds light on the shocking laws about voting that you probably didn't even know existed.

Utopia
Find it in Apps & Games > Prime Video from Friday 25 September
This eight-part conspiracy thriller, based on the British series of the same name, comes from Gillian Flynn, the writer behind Gone Girl and Sharp Objects. A group of comic fans who have a shared love of the comic Utopia meet online. Becky (Ashleigh LaThrop), Ian (Dan Byrd), Samantha (Jessica Rothe), Wilson (Desmin Borges) and Grant (Javon "Wanna" Walton) start to read between the lines and realise that the comic is predicting tragic real-life events, like virus outbreaks. Then they meet the comic's star – Jessica Hyde (Sasha Lane). John Cusack (High Fidelity) and Rainn Wilson (The Office US) also star.
Queen & Slim
Find it in Apps & Games > Prime Video from Monday 28 September
Queen (newcomer Jodie Turner-Smith) and Slim (Daniel Kaluuya, Get Out) go on a first date, but as Slim drives her home that night, they get pulled over by a policeman for a minor traffic violation. Things quickly escalate and Slim shoots the officer in self-defence. Word soon reaches the media and Queen and Slim are called cop killers and are forced to go on the run. Melina Matsoukas makes her feature directorial debut with this film, which you'll wish didn't hit so close to home.


All Creatures Great And Small
Find it in Apps & Games > My5
The reboot of the beloved classic series about Yorkshire vets has had rave reviews from critics, with millions flocking (not an animal pun!) to the show each week. Starring Samuel West, Nicolas Ralph, Rachel Shenton, Diana Rigg and Matthew Lewis, if it runs for anything like the original did (90 episodes!), then we're in for a treat.

The Deceived
Find it in Apps & Games > My5
Blimey, this was good. A psychological thriller from Lisa McGee (Derry Girls) and Tobias Beer, this miniseries of four episodes had fans on the edge of their seats. If you've somehow avoided spoilers (the entire world was seemingly talking about it in July and August), get involved. It stars Emmett J Scanlan and Normal People's Paul Mescal, minus his chain.
Read our interview with The Deceived's Emmett J Scanlan here.

Scrubs
Find it in Apps & Games > All 4
At times, Scrubs was very, very silly (never forget the musical episode!). But many doctors still point to the trials and tribulations of the doctors at Sacred Heart as being some of the most accurate put to screen. JD (Zach Braff) and Turk (Donald Faison) also gave us #CoupleGoals before it was even a thing. All nine series are available on All 4.

The Great British Bake Off
Find it in Apps & Games > All 4
We are so close to the new series, we can almost taste the frosting. Relive the past three series, along with The Great Celebrity Bake Off For SU2C and all the festive specials. If you only have an hour to spare, watch The Great Festive Bake Off 2020. The cast of Derry Girls hit the tent, it's utter chaos, and it might be the best 60 minutes of telly all year.

Me And My Penis
Find it in Apps & Games > All 4
Don't you hate it when TV shows hide what they're all about behind a clever title? The chances are pretty high that you'll have heard A LOT about this show already. But ignore the bombastic headlines, and delve into this sensitive film about how it feels – and what it feels – like to be a man. The spiritual successor to 100 Vaginas, also available on All 4.

Crime And Punishment
Find it in Apps & Games > All 4
This series deals with the harsh realities of some devastating crimes, and what it takes to get convictions. We're used to series like these, normally from across the pond, but nothing has gone behind the lines in this country in such a way. If you think you know how modern-day policing works in Britain, time to give this a watch for the brutal truth.

Stath Lets Flats
Find it in Apps & Games > All 4
"Are you nice?" It seems strange to say out loud, but there are still people in this country who haven't seen Stath Lets Flats. If that demographic includes you, cancel your plans and crack into two series of the BAFTA-winning comedy. Seriously, go now. This page will be waiting for you when you come back…

Five Guys A Week
Find it in Apps & Games > All 4
Filmed before being locked up in a house was compulsory, the dating series where five single lads live with a woman looking for love IN HER ACTUAL HOUSE is back on Channel 4 in September. If you missed series 1, it's worth a watch. There's one episode where it absolutely kicks off – we won't spoil which one, but trust us, it's good!


Find series 1 in On Demand > Box Sets
Dark comedy Two Weeks To Live follows Kim (Maisie Williams, Game Of Thrones), whose father was murdered when she was younger. Her mother Tina (Sian Clifford, Fleabag) has shielded her from society because of this and trained her for combat. Kim attempts to make it alone, but when a prank goes horribly wrong, her survival mindset and her unusual skillset come in handy.

Friday Night Dinner
Find series 1-6 in On Demand > Box Sets
Brothers Adam (Simon Bird, The Inbetweeners) and Jonny (Tom Rosenthal, Plebs) Goodman visit their parents (Tamsin Greig and Paul Ritter) every week for Shabbat dinner. It all sounds very civilised and wholesome, but what family gathering have you ever been to that you could describe as normal?

Love Island: Australia
Find season 1 in On Demand > Box Sets
If you thought the British version of Love Island was raunchy and raucous, you haven't seen anything yet! Give Love Island: Australia a spin, which is the best thing to couple up with when we don't have a new series of the hit show this summer. Join ten single Aussies as they look for love in a luxury villa in Mallorca. It's hosted by Australian TV personality Sophie Monk and narrated by Irish radio presenter Eoghan McDermott.

The Walking Dead
Find seasons 1-10 in On Demand > Box Sets
All ten series of the zombie franchise are now available for your viewing pleasure (or horror, rather)! If you're unfamiliar with the concept, it's based on the comic series of the same name by Robert Kirkman, Tony Moore and Charlie Adlard. Andrew Lincoln plays Rick Grimes, a police officer who's shot on the job. He wakes up from a coma to discover that the world has been taken over by zombies, or walkers. On his quest to find his family, he meets other survivors, not all of them friendly.

Apollo 11
Find it in On Demand > Box Sets
Can you believe 2019 marked the 50th year anniversary of humans landing on the Moon? This documentary revisits the Apollo 11 mission, completed by Americans Neil Armstrong, Buzz Aldrin and Michael Collins, and includes stunning never-before-seen footage and audio recordings.

Corporate
Find seasons 1 & 2 in On Demand > Box Sets
The word "corporate" tends to have certain negative connotations, which is exactly what this series wants to stir up for viewers. Set in multinational corporation Hampton DeVille, the show, in a very Office Space kind of way, follows junior executives-in-training Matt and Jake, who are burnt out from their workplace's toxic culture. Matt Ingebretson and Jake Weisman play the respective characters and also wrote and executive produced the dark and funny satire.

The Hills: New Beginnings
Find season 1 in On Demand > Box Sets
The Hills, which aired from 2006 to 2010, is one of the very first reality TV shows that started our obsession with the genre. If you want to find out what the original cast are up to now, tune in for New Beginnings for one hell of a trip down memory lane. Unfortunately, Lauren Conrad, Kristin Cavallari and Lo Bosworth don't appear, but most of the other stars do, with the addition of Mischa Barton and Brandon Thomas Lee (Pamela Anderson and Tommy Lee's son).

Station 19
Find season 3 in On Demand > Box Sets from Saturday 12 September
The Grey's Anatomy spin-off focuses on the firefighters at Seattle Fire Station 19, which is located near the Grey Sloan Memorial Hospital. One of those firefighters is Andy Herrera (Jaina Lee Ortiz), the daughter of the head of the firehouse, Captain Pruitt Herrera (Miguel Sandoval). As with any Shondaland production, personal and professional lives are intertwined, which makes for some very fiery storylines, especially in this case.

High Maintenance
Find season 4 in On Demand > Box Sets from Friday 18 September
Ben Sinclair is The Guy, a nameless weed dealer in Brooklyn who delivers via bicycle. As he drops off the goods, we're shown snapshots of his clients' lives, which is usually what they want to escape from – by getting high. Sinclair also created the show with then-wife Katja Blichfeld, who stars in the series as Becky. It might sound like a stone(r)-cold silly premise, but it's actually got a lot of heart.

Celebs Go Virtual Dating
Find series 1 in On Demand > Box Sets from Thursday 24 September
Virtual dates have become the new norm and now celebrities are getting in on the action. Love Island's Shaughna Phillips, The Only Way Is Essex's Pete Wicks, Geordie Shore's Chloe Ferry and rugby player Levi Davis are set up on video dates or socially-distanced meet-ups in the hopes of finding someone they click with.
Dating experts Paul C Brunson and Anna Williamson return to the celebrity dating agency and are joined by the ever-lovely junior client coordinator Tom Read Wilson.
How to watch Amazon Prime Video with Virgin TV
Prime Video is available to all Virgin TV customers with a V6 box, powered by TiVo®. Simply sign up to Amazon Prime Video via their website, and you can log in on the box. And because Prime Video is fully integrated into TiVo®, you can search without even going into the app. Just select Search & Discover from the Home menu and type in the name of the show or movie you're after.
TV channels: Channels, content and features available depend on your chosen package. Channel line-ups and content are subject to change at any time and to regional variations.
HD: HD TV set, V HD Box, TiVo box or Virgin TV V6 connected with HDMI cables required for HD channels. Number of inclusive HD channels depends on package.
On Demand: Content available to view depends on TV package. Time limits apply for viewing chargeable On Demand content – see virginmedia.com. Once purchased, all chargeable On Demand content must be viewed within 48 hours. Premium channels and upgrades must be kept for at least 30 days.
Amazon Prime Video: Amazon Prime subscription required at extra cost. 18+. Click here for T&Cs.