Skip to main content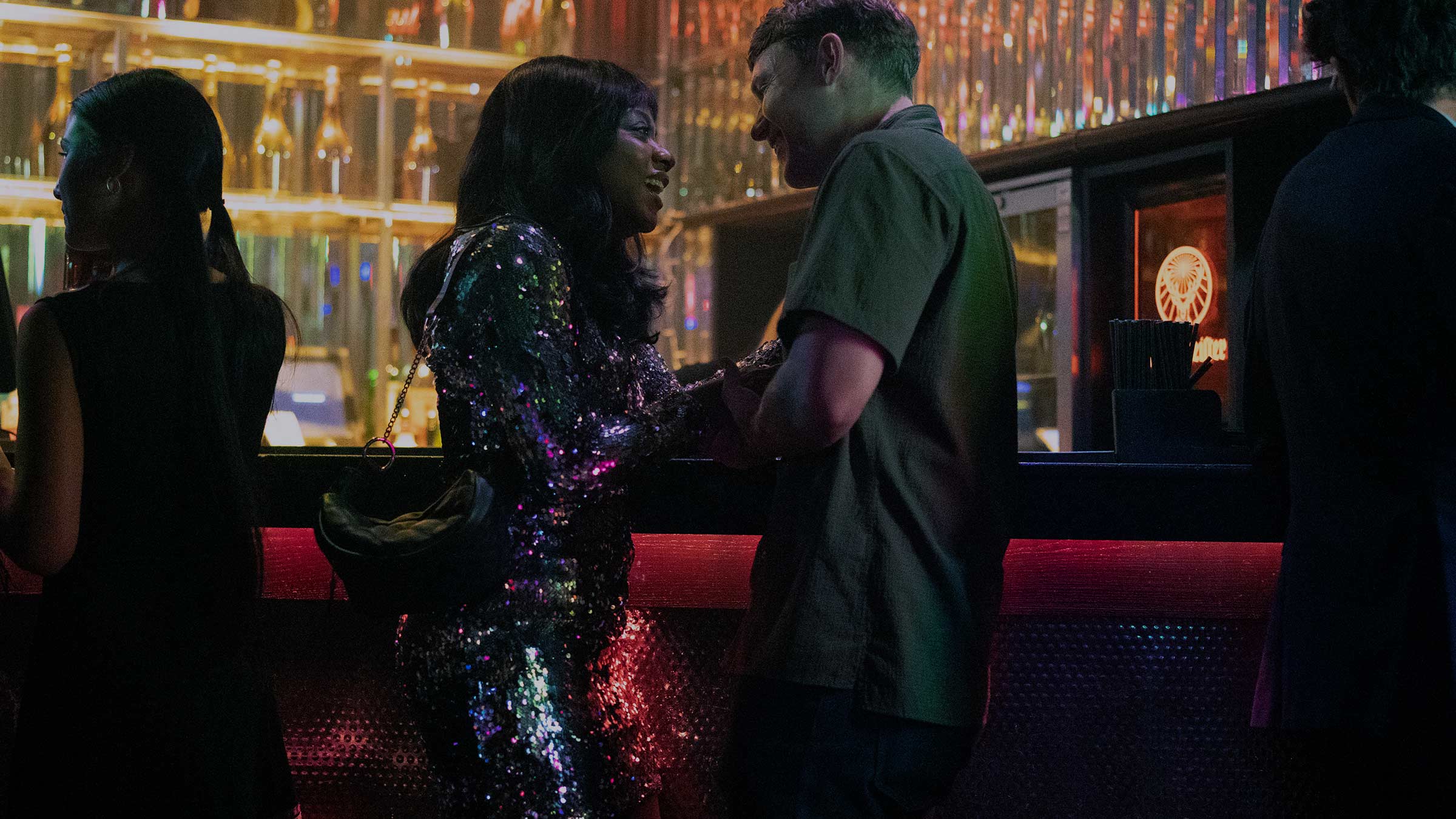 We've got all the top picks on BBC iPlayer, Channel 4, Prime Video, LIONSGATE+ and Paramount+ and in On Demand to keep you entertained
By Virgin TV Edit
As the run up to Christmas begins, there's plenty of telly to get you into the spirit of the season. And nothing warms our hearts more than a cosy yet not-so-typical romcom series like Sky Comedy's Smothered, which sees romance blossom despite the pitfalls of modern dating.

Meanwhile, Prime Video are kicking off the festive celebrations with not one but two festive flicks in the form of Candy Cane Lane and the sequel to last year's smash hit Your Christmas Or Mine 2.
Over on BBC iPlayer there's a soon-to-be family favourite with the modern adaption of The Famous Five, as well as the return of some TV gems with a twist including Bad Education: A Christmas Carol and all three Doctor Who 60th anniversary specials.
Plus, there's some crafty inspiration for all ages with The Festive Pottery Throw Down as well as Christmas staple Kirstie's Handmade Christmas on Channel 4. And for more festive fare don't miss Jamie's Christmas Shortcuts and The Last Leg Christmas Special.
If you're craving telly that packs a punch then head on over to Paramount+ where Sheridan Smith is fighting for survival in The Castaways and Optimus Prime embarks on a globetrotting adventure in Transformers: Rise Of The Beasts.
There's all this and more to discover across BBC iPlayer, Channel 4, Prime Video, LIONSGATE+ and Paramount+ and in On Demand – keep scrolling to see all our highlights on Virgin TV this month. Or check out what's new on Netflix this month for our pick of the best TV and movies on the service.
Need some tips on how to access some of these services on Virgin TV? You'll find them at the end of this article.

Find it in Apps & Games > Prime Video from Friday 1 December
In this crowd-pleasing family comedy, a puckish elf (Jillian Bell, 22 Jump Street) creates mayhem for the residents of a neighbourhood gearing up for their annual Christmas street decorating contest. It's all because of ultra-competitive dad Chris (Eddie Murphy, The Haunted Mansion), who has inadvertently brought the 12 Days of Christmas to life. There's an abundance of hilarious chaos to enjoy before he and his family, including wife Carol (Tracee Ellis Ross, Black-ish), hunt for a way to break the spell and save Christmas for everyone.
Your Christmas Or Mine 2
Find it in Apps & Games > Prime Video from Friday 8 December
Don't miss this charming festive sequel to Jim O'Hanlon's rom-com debut Your Christmas Or Mine?. Asa Butterfield (Sex Education) and Cora Kirk (After Everything) reprise their roles as Hubert Hughes and Hayley Taylor respectively, and this year the young couple are determined to have the perfect Christmas together at a ski resort. However, trouble is never too far behind and another merry mix-up means that their families are staying in each other's accommodation. Chaos ensues, obv.
Reacher
Find season 2 in Apps & Games > Prime Video from Friday 15 December. Season 1 available now
After that epic prison brawl put this action-packed drama on the map in 2022, fans can get excited about the return of TV's favourite drifter to our screens. When Reacher (Alan Ritchson) is called upon once more after a member of the 110th – an elite group of Army Special Investigators – has been murdered, he must use all his brain and brawn to get to the bottom of the case.
Saltburn
Find it in Apps & Games > Prime Video from Friday 22 December
There's debauchery aplenty in Emerald Fennell's psychological thriller that captures the mysterious world of high society. When Oliver Quick (Barry Keoghan, The Banshees Of Inisherin) attends Oxford University, he captures the attention of charming and wealthy student Felix Catton (Jacob Elordi, Euphoria). The pair journey to Catton's lavish family estate Saltburn for the Christmas holidays, where Oliver soon overstays his welcome and descends into a disturbing state of mind.
Weird: The Al Yankovic Story
Find it in Apps & Games > Prime Video from Friday 29 December
This star-studded satirical portrait of musician Al Yankovic will have you in stitches. Daniel Radcliffe (Harry Potter) takes on the titular role, with a performance that earned him an Emmy nomination. The flick is loosely inspired by events from Yankovic's life, including his rise to fame with music parodies of popular songs and, less truthfully, his "relationship" with Madonna and shoot out with drug lord Pablo Escobar. Evan Rachel Wood (Westworld) and Rainn Wilson (The Office) also star.

Stream all episodes now in Apps & Games > BBC iPlayer
The second series of Jimmy McGovern's uncompromising drama shifts the setting to a women's prison, focusing on the experiences of three convicts who arrive on the same day: single mother Orla (Jodie Whittaker, Broadchurch), addict Kelsey (Bella Ramsey, The Last Of Us) and hardened criminal Abi (Tamara Lawrance, The Long Song). In a harsh and unforgiving place, can the three overcome their hostility and mistrust and find a sense of community that helps them survive?
Scrublands
Stream all episodes now in Apps & Games > BBC iPlayer
This Aussie crime drama will have you guessing at every twisty turn. Inspired by Chris Hammer's novel of the same name, the series is set in the drought-stricken town of Riversend where well-liked priest Byron Swift (It: Chapter Two) shoots five of his parishioners. One year after the violent tragedy, journalist Martin Scarsden (Luke Arnold, Home And Away) arrives to the Australian Outback to investigate the events of that day and consequently the impact on the town. However, he soon finds himself unravelling a story that no one could've predicted.
Hidden Assets
Stream series 1 and 2 now in Apps & Games > BBC iPlayer
What do a diamond haul in Limerick, a body in Antwerp and a terrorist bombing campaign have in common? No one knows but detective Emer Berry (Angeline Ball, Shameless) is determined to find out in this tense sequel series to Acceptable Risk. And in the second instalment that's set one year later from the show's previous events, there's a new boss in charge and old enemies lurking around every corner.
The Responder
Stream all episodes now in Apps & Games > BBC iPlayer
Martin Freeman (Breeders) steals the show in this critically acclaimed thriller about a British police officer pushed to the edge. Set in Liverpool, Freeman takes on the role of urgent response officer Chris who is constantly under pressure and on the verge of a mental health crisis. But will Chris' new partner in the form of idealistic rookie Rachel Hargreaves (Adelayo Adedayo, Timewasters) save or destroy him? Tune in to find out.
Doctor Who 60th Anniversary Specials
Stream all three episodes in Apps & Games > BBC iPlayer from Saturday 9 December
They're back. While the storyline of the upcoming Doctor Who specials from Russell T Davies have remained tightly under wraps, we can confirm that a flurry of faces old and new will be embarking on a series of adventures that are out of this world. Joining TV's most famous Time Lord (David Tennant, Good Omens) are fan favourite companion Donna Nobles (Catherine Tate, Queen Of Oz), newcomer Rose Nobles (Yasmin Finney, Heartstopper) mysterious alien Beep the Meep (Miriam Margolyes, Harry Potter) and sinister classic villain The Toymaker (Neil Patrick Harris, How I Met Your Mother).
The Famous Five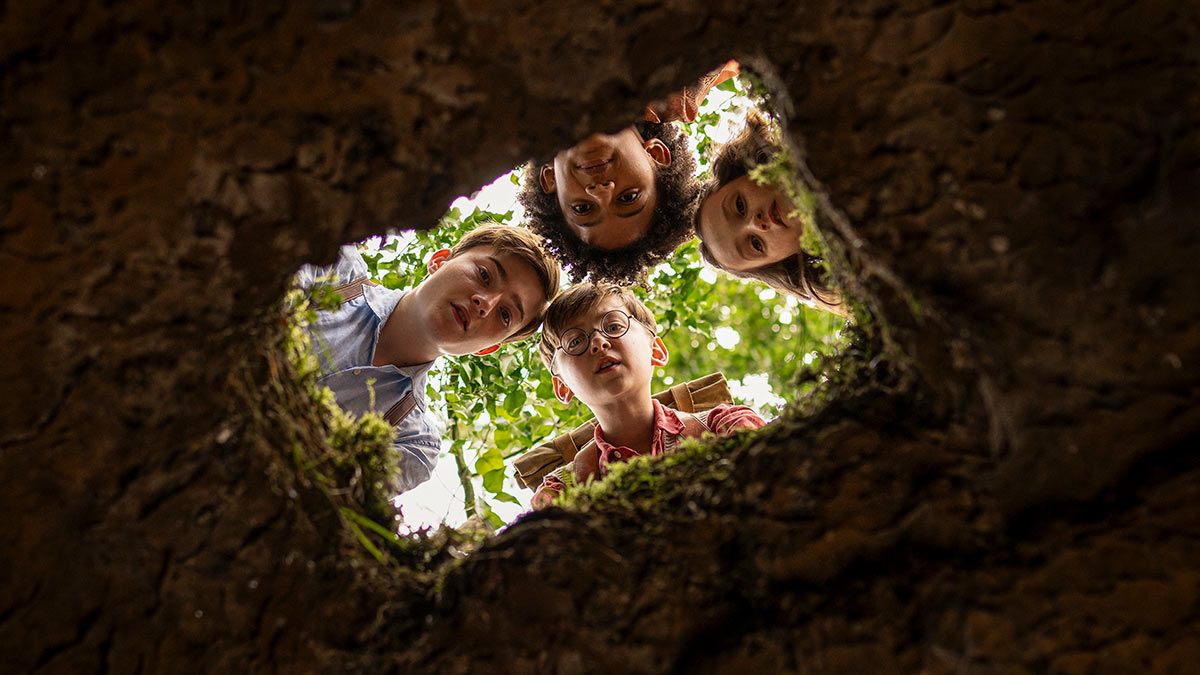 Stream it in Apps & Games > BBC iPlayer from Saturday 9 December
Enid Blyton's classic children's novels of the same name are getting a modern makeover in this brand new three-part adaptation. Nicolas Winding Refn's (Drive, Only God Forgives) reimagining follows the action-packed adventures of five daring friends, played by newcomers Diaana Babnicova (George), Elliott Rose (Julian), Kit Rakusen (Dick), Flora Jacoby Richardson (Anne) and bearded-collie cross Kip (Timmy). Plus, Jack Gleeson (Game Of Thrones), James Lance (Ted Lasso), Ann Akinjirin (I May Destroy You) and Diana Quick (Forever Young) bring their acting chops to this beloved story.
Killing Sherlock: Lucy Worsley On The Case Of Conan Doyle
Stream it in Apps & Games > BBC iPlayer from Sunday 10 December
Historian extraordinaire Lucy Worsley is investigating her most exciting case yet. The lifelong Sherlock Holmes fan is uncovering the hidden world of literature's most famous detective, unravelling the complicated relationship shared between Holmes and the man who created him – author and real-life detective Sir Arthur Conan Doyle.
Vigil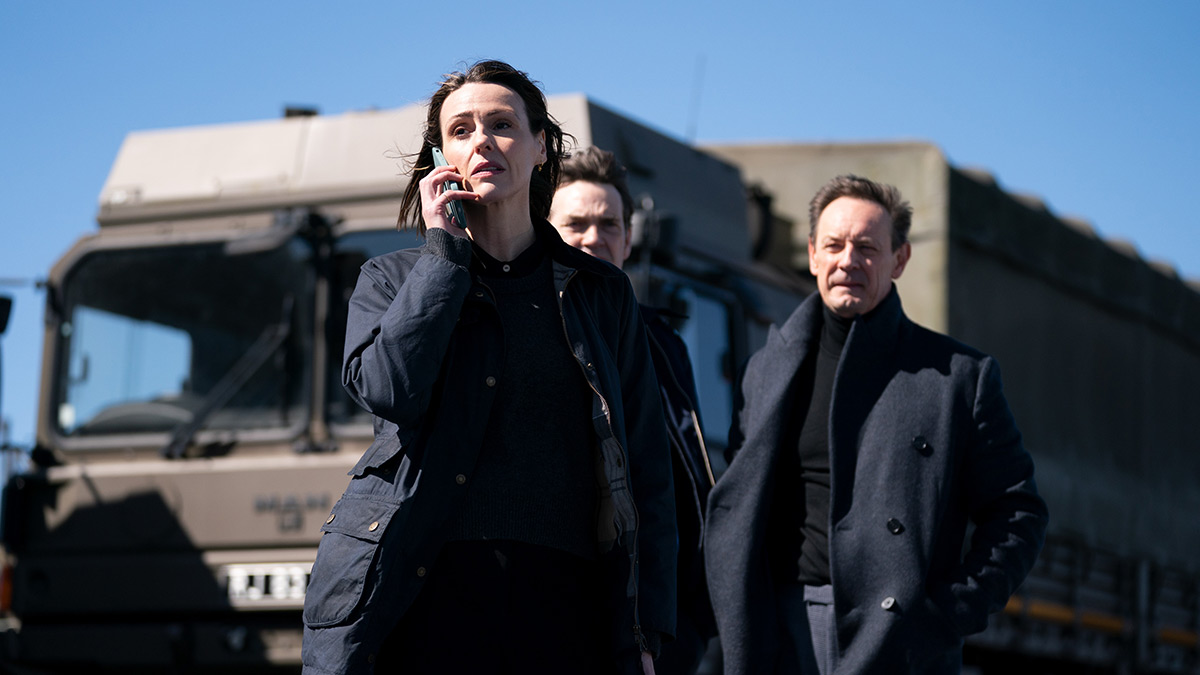 Stream series 2 in Apps & Games > BBC iPlayer from Sunday 10 December. Series 1 available now
Suranne Jones (Maryland) and Rose Leslie (Game Of Thrones) return to screens for a brand new investigation in this Emmy-award winning police procedural. And this time round Amy (Jones) and Kirsten (Leslie) are tasked with finding the killer responsible for multiple deaths at a Scottish weapons test. As the pair enter the secret world of the Scottish and Middle Eastern air force, the police officers are forced to acknowledge their own uncertain futures in the face of deadly warfare.
Bad Education: A Christmas Carol
Stream it in Apps & Games > BBC iPlayer from Wednesday 13 December
Layton Williams is taking centre stage in Bad Education's festive musical special this year. The Strictly star reprises his role as former student and drama teacher Stephen who, with the help of ghostly pals past, present and future, makes an important decision about his career at Abbey Grove. Meanwhile, PE teacher Mitchell (Charlie Wernham, EastEnders) takes his obsession with Die Hard to the next level. Plus, Jack Whitehall makes a guest appearance as the one and only Alfie Wickers.
Mary Berry's Highland Christmas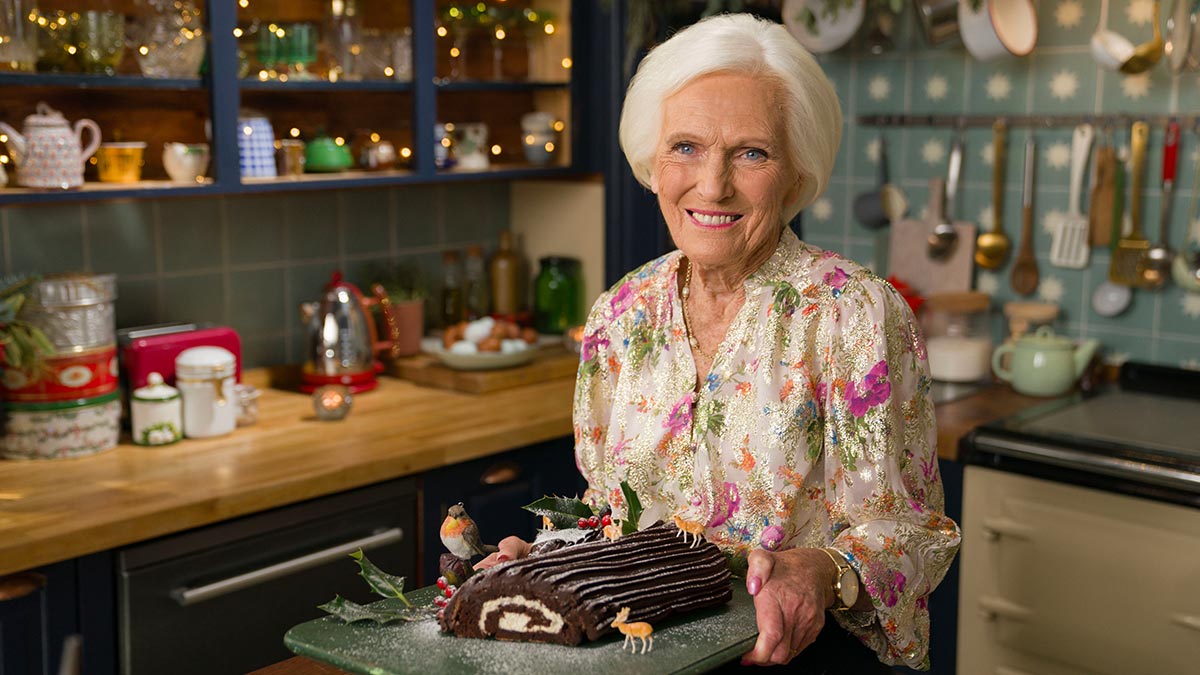 Stream it in Apps & Games > BBC iPlayer from Wednesday 13 December
Hostess with the mostess Mary Berry is making a trip to her mother's homeland for a magical winter adventure and you're invited too! Inspired by her own memories of Christmas, Berry whips up a festive feast of sumptuous and seasonal dishes that she shares with Scottish stars including former world number one tennis player Andy Murray, award-winning comedian Iain Stirling and musician Emeli Sandé.

Kirstie's Handmade Christmas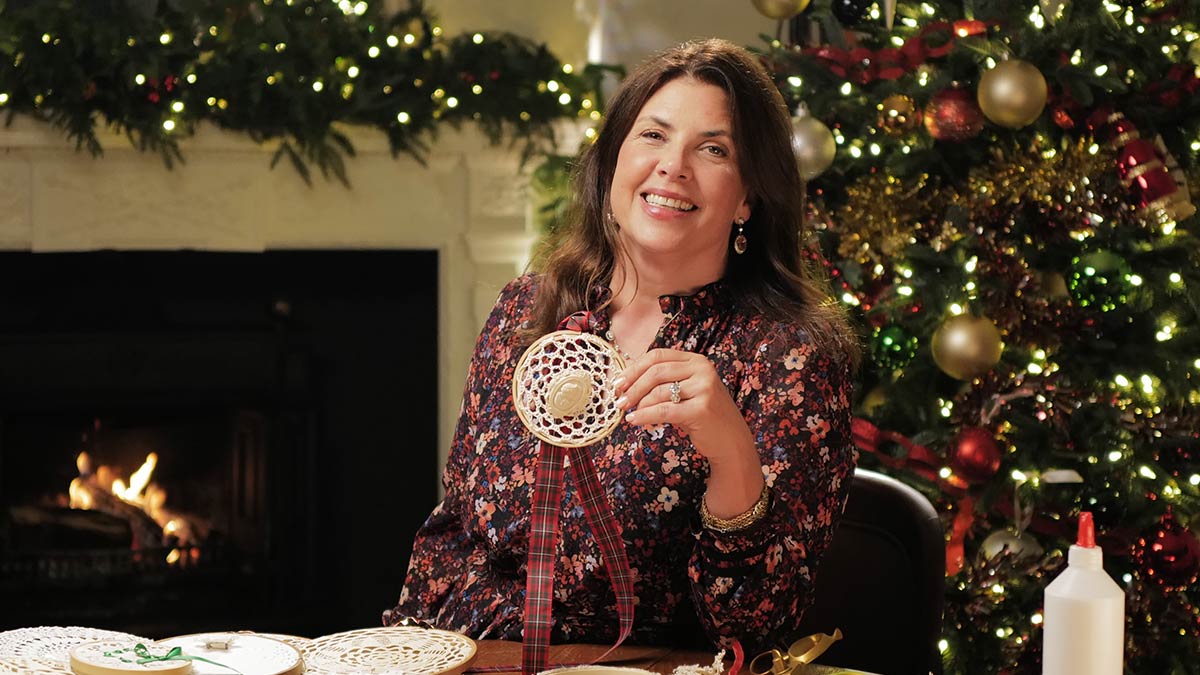 Find it in Apps & Games > Channel 4 from Sunday 10 December
Always wanted to be someone who could weave a willow garland? Or create a must-have hamper? Or illustrate your own hand-made card? Look no further. Kirstie Allsopp, queen of DIY decoration is back… and she's full of contagious Christmas enthusiasm. This time it's a one-off festive edition instead of a series, but it's sure to be jam-packed with easy-to-do festive projects that will impress the neighbours no end.
Matt Baker Christmas Travels With Mum and Dad
Find it in Apps & Games > Channel 4 from Monday 11 December
We don't know about you but our travels with Mum and Dad consisted of trips to the supermarket and the local dump. Not so for the Bakers. In this popular sightseeing series, Baker takes his parents – Janice and Mike – on excursions around the North East of England to discover architectural gems and chat to the locals. It's lovely, gentle stuff and a reminder of what this time of year is all about: spending quality time with the family. Where they'll be going for this festive special is still under wraps but you can be sure there'll be Christmas preparations aplenty.
Jamie's Christmas Shortcuts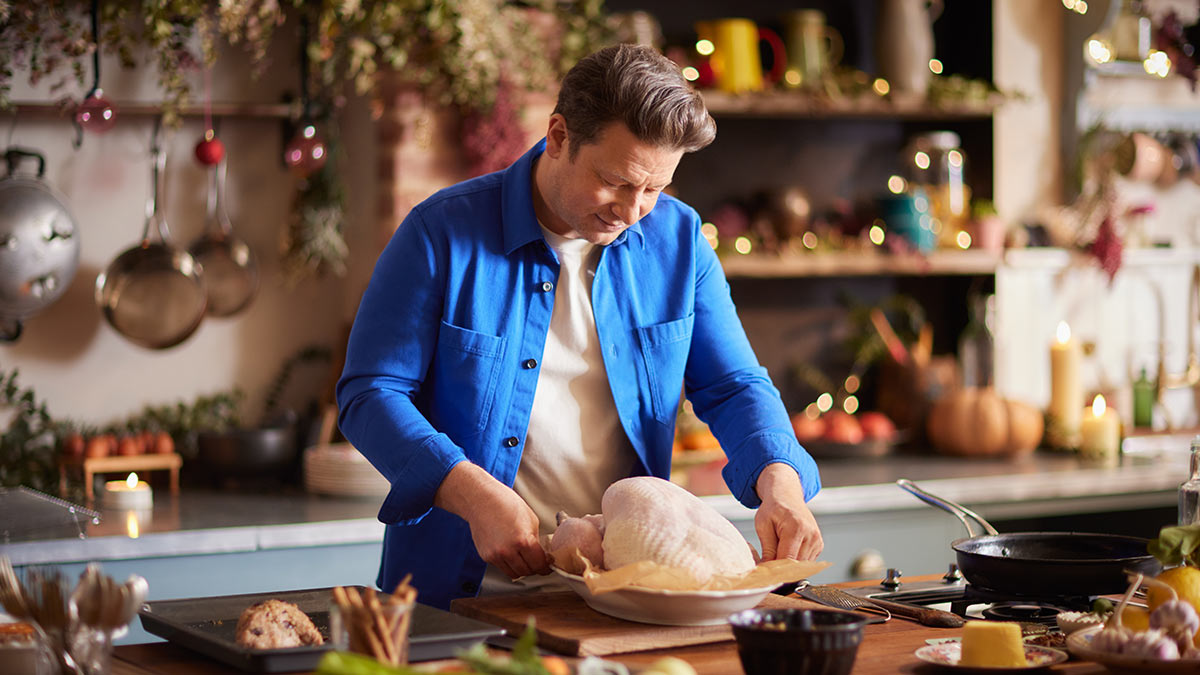 Find it in Apps & Games > Channel 4 from Monday 11 December
It just wouldn't be Christmas without a cooking special from culinary treasure Jamie Oliver, and 'Christmas Shortcuts' sounds like the kind of thing we definitely need to be watching. In this two-part series the Naked Chef will be sharing his simple seasonal recipes that pack a festive punch, including the ultimate roast turkey, a showstopping veggie centrepiece and his two-way stuffing. Delicious!

Find it in Apps & Games > Channel 4 from Friday 15 December
Sometimes known as "The Godfather" of modern British stand-up, Ben Elton's career in comedy can be traced back to nearly 40 years ago when he exploded onto screens as a host on Channel 4's groundbreaking Saturday Live show. Now after a 15-year hiatus from the scene, Elton returns to the stage for the performance of a lifetime in this one-off special.
The Last Leg Christmas Special
Find it in Apps & Games > Channel 4 from Friday 22 December
This funny festive round-up is an annual must-watch. Adam Hills, Josh Widdicome and Alex Brooker have been amusing our socks off with their Christmas special since 2012, and this year's bound to be as entertainingly irreverent as always. Bring it on!
The Festive Pottery Throw Down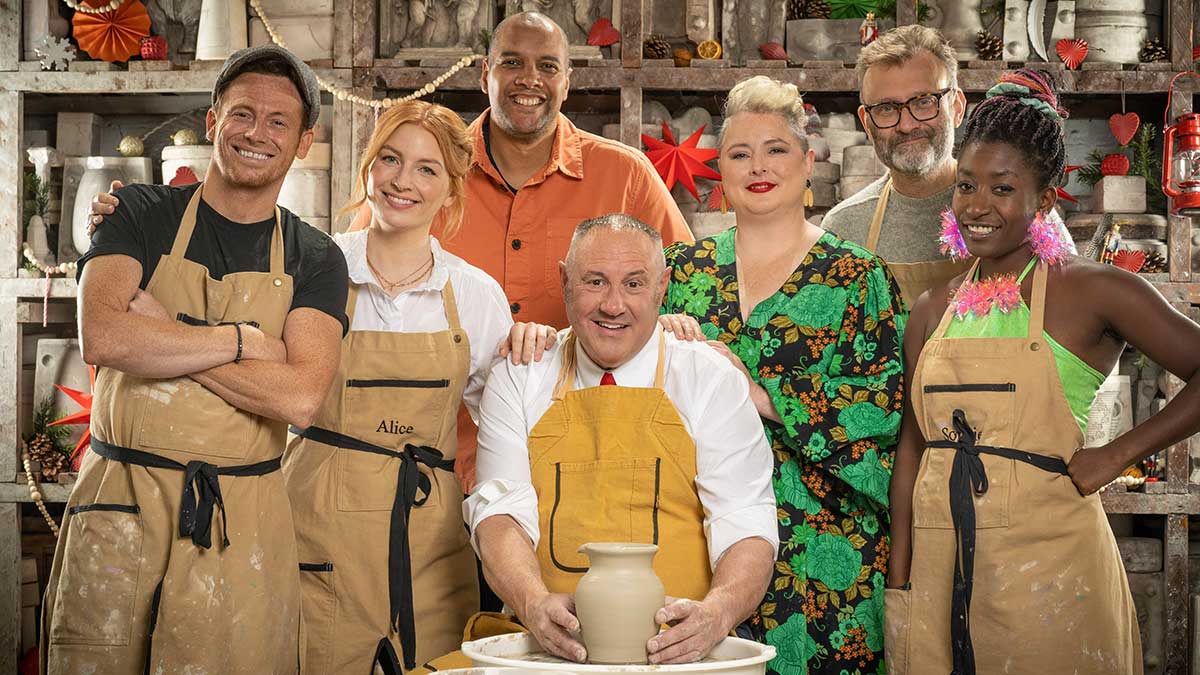 Find it in Apps & Games > Channel 4 from Christmas Day
Need a break from Christmas bickering? Ate too many roasties? Trying to avoid another game of charades? Here's the perfect panacea. Soothing and restorative, this craft show is a warm and kindly watch, with expert potters Rich Miller and Keith Brymer Jones offering nothing but support for the contestants. For this special festive edition, we're expecting a few celebrities to join the mix. What will they be asked to throw? Our money's on a clay bauble or a range of Christmas candlesticks.
Big Fat Quiz of the Year
Find it in Apps & Games > Channel 4 from Boxing Day
Now in its 20th year, this riotous comedy extravaganza has become synonymous with the post-Christmas season. A brilliant blend of celebrity panellists, topical gags and light-hearted nonsense, it's the perfect antidote to all that festive stress. As always, Jimmy Carr will be hosting alongside a bunch of special guests, including our favourite star turn – the very debonair Charles Dance. Expect anarchy, hilarity and, possibly, a spot of actual quizzing.

Find series 1 in On Demand now
We always have room for just one more nature documentary, and this thoughtful series captures the clever, beautiful and surprising ways that the earth and its wildlife have adapted to different environments, from the chill of Canada's Baffin Island to the tropics of K'gari in Australia. Each episode focuses on a different island, bringing its uniquely stunning landscape and animals to life through pioneering filming techniques and brilliant graphics.
The Great Rhino Robbery
Find it in On Demand from Friday 1 December
In 2011, a series of thefts from museums and auction houses in Europe and beyond caused world-wide alarm. The object that inspired all this criminal activity? Not crown jewels or priceless paintings, but rhinoceros horn. This documentary explores the desperate measures taken by poachers and traffickers to secure an ingredient that's more valuable than diamonds or cocaine, as well as the heroes racing to catch them before this precious creature is rendered extinct.
Whale With Steve Backshall
Find it in On Demand from Sunday 3 December
Magnificent and complex, whales are one of the ocean's greatest marvels. In this series, naturalist Steve Bagshall free dives among them and reveals some of their secrets, from hunting techniques to family dynamics. Bagshaw is a knowledgeable, earnest host as well as an impassioned advocate for their conservation in the face of overfishing and pollution.
All Star Shore
Find the series 2 finale in On Demand from Monday 4 December
Twelve reality stars, a trip to Colombia and party games come together in season 2 of All Star Shore. Expect sparks to fly, housemates to kick off and lots of bonkers challenges, from ridiculous worm costumes to "Dirty Dice" and an eventful Bondage party. Veteran Geordie Shore star Snooki narrates this fantastically unhinged competition with a huge cash prize up for grabs.
Smothered
Find it in On Demand from Wednesday 6 December
After Sammy (Danielle Vitalis, Famalam) and Tom (Jon Pointing, Big Boys) hook up on a night out, they come to an amiable agreement: a three-week, no-strings-attached affair. Yet the course of true rom coms never did run smooth and the pair's real feelings get in the way – as does the revelation that Tom is father to a six year old girl. Also starring Aisling Bea (This Way Up), the series bounces with chemistry and charm while it skewers the complexities and frustrations of modern dating.
Agatha And The Truth Of Murder
Find it in On Demand from Saturday 9 December
There has been almost a century of speculation about mystery writer Agatha Christie's mysterious, 11-day disappearance back in 1926. This witty series re-imagines that she withdrew from society in order to – what else? - solve a mystery. Humans actor Ruth Bradley plays the famous writer, donning a disguise to sleuth her way to the bottom of a real-life murder. It's great fun, and Christie aficionados will delight in the sly plot references to her future novels.
Winter On The Farm
Find series 3 in On Demand from Tuesday 12 December
The rolling, snowy landscape of Yorkshire makes the perfect – if chilly – backdrop for the third series of this wholesome peek inside a working farm. Host Helen Skelton (Strictly Come Dancing) follows the fortunes of Cannon Hall Farm, as brothers Rob and Dave Nicholson take on the challenges, responsibility and quiet pleasures that come with owning hundreds of animals, including alpacas, Highland cows and a hair-tossing Shetland called Jon Bon Pony.
Dynamo Is Dead
Find it in On Demand from Thursday 14 December
This compelling TV special features audacious magician Dynamo as well as legendary figures from the world of film, sport and music, revealing the personal and mental challenges that have shaped them. The magic Dynamo performs is inspired by their combined struggles, including a showstopping finale where he will dig his own six-foot grave before being buried alive. And you thought he'd peaked at levitating above The Shard!
Blood Actually: A Murder, They Hope Mystery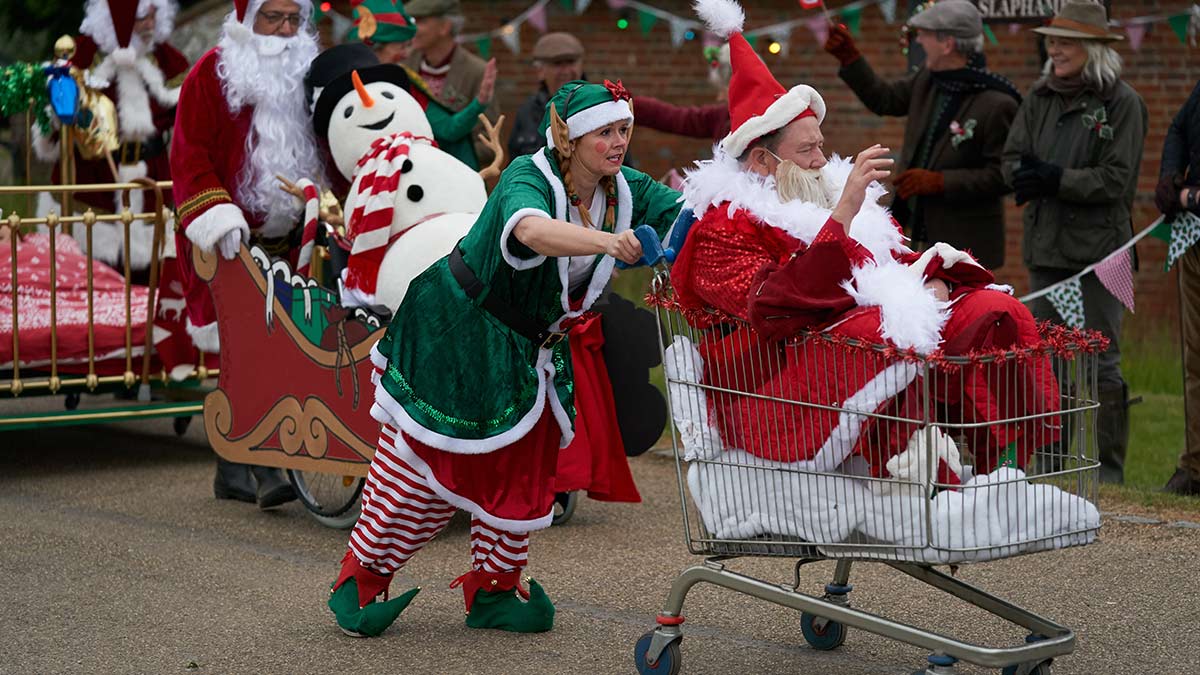 Find it in On Demand from Saturday 16 December
Sian Gibson and Johnny Vegas reunite as the world's worse detectives in this hilarious Christmas special. The episode kicks off with the pair planning for the perfect Christmas break – Gemma (Gibson) has hired a quaint countryside cottage and Terry (Vegas) has been learning to cook the perfect festive feast. However, things are never quiet for these two and soon they find themselves at the centre of another murder-mystery, as a local Santa competition sparks a spate of festive-themed killings.
Sister Boniface Christmas Special
Find it in On Demand from Tuesday 19 December
There's no rest for the wicked or the holy it would appear, as Sister Boniface (Lorna Watson) returns in a brand new feature length Christmas special. Inspired loosely by Agatha Christie's Murder On The Orient Express, the show follows Sister Boniface as she travels by train to visit family. When her carriage becomes stranded in the snow, she's confronted by the theft of a cursed jewel and an impossible murder. How will she solve this one?!
The Heist Before Christmas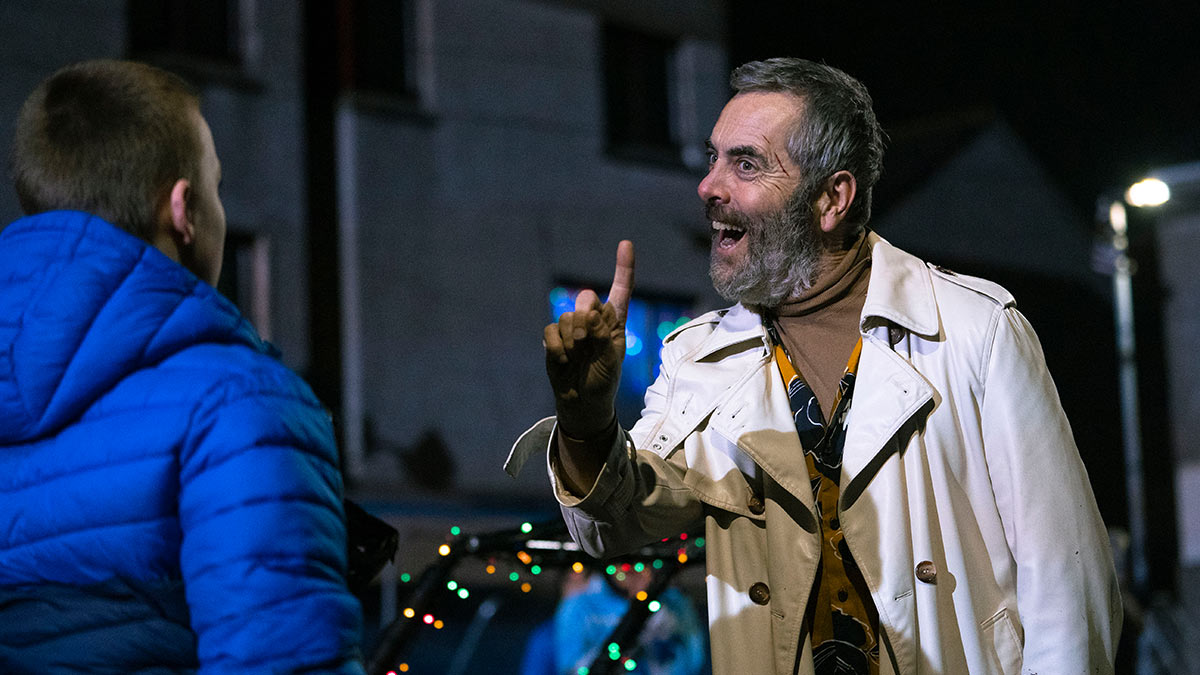 Find it in On Demand from Christmas Eve
Get into the festive mood with Sky Max's brand new star-studded comedy drama. The one-off episode introduces viewers to 12-year-old Mikey Collins who hates Christmas. When he encounters two Father Christmas characters in the woods – a bank robber (James Nesbitt, Suspect) on the run and an old man (Timothy Spall, Harry Potter) who has lost his sleigh – he becomes determined to get his hands on the stolen cash to give his family the Christmas they deserve. However, as he risks everything for the loot, Mikey begins to realise that the spirit of Christmas is very much alive after all.

Season 1 ends on Paramount+ on Friday 8 December
This long-awaited reboot of a classic series has followed the next chapter in Frasier's (reprised by Kelsey Grammer) life as he finally returns to Boston with new challenges, new relationships and maybe an old dream or two to fulfil. And in this festive-themed finale Freddy (Jack Cutmore-Scott, Oppenheimer) finds himself torn between supporting his will they/won't they friend Eve (Jess Salgueiro, Workin' Moms), and Frasier who's coping with the loss of his father by throwing a lavish Christmas Eve party.
Transformers: Rise Of The Beasts
Find it on Paramount+ from Friday 8 December
The latest sci-fi spectacle to join the Transformers universe sees all-powerful hero Optimus Prime dominate the screen once more. When a new threat that's capable of destroying the world emerges, Optimus Prime (voiced by Peter Cullen) and the Autobot rebels are faced with their biggest and most dangerous challenge yet. The only way to save the day? To seek out the powerful faction of Transformers known as the Maximals, with the two groups soon learning that they share more in common than first thought.
The Serial Killer's Wife
Find all 4 episodes on Paramount+ from Friday 15 December
Alice Hunter's twisty tale of secrets and lies will have you on the edge of your seat. In its screen debut, the gruesome thriller opens with doting wife Beth (Annabel Scholey, The Split) who has thrown a surprise birthday party for her beloved husband Tom (Jack Farthing, Rain Dogs). However, disaster strikes when the police crash the festivities and arrest Tom for murder in front of the entire village. Yikes! Initially believing that he's been falsely accused, Beth's investigations lead her down an unexpectedly dark road of deception.
Lawmen: Bass Reeves
Season 1 ends on Paramount+ on Monday 17 December
Bass Reeves was a real-life lawman in the late 19th century, a legendary frontier hero and one of the first black US Marshals west of the Mississippi. David Oyelowo (Selma) takes on the role in this eight-part drama series as Reeves fights both crime and prejudice while trying to stay true to his moral code. Also starring Donald Sutherland, Dennis Quaid and Lauren E Banks as Reeves's wife Jennie, this is another gripping and eye-opening take on the American West to sit alongside Yellowstone (whose creator Taylor Sheridan is the show's executive producer).
The Castaways
Find all 5 episodes on Paramount+ from Boxing Day
Sheridan Smith stars alongside Celine Buckens (Showtrial), Brendan Cowell (Avatar: The Way Of Water), Dominic Tigh (Hotel Portofino) and Lasarus Ratuere (The Tourist) in Paramount Plus' latest mystery thriller. Inspired by Lucy Clarke's best-selling novel of the same name, the series follows sisters Lori (Smith) and Emma Holme (Buckens) whose dream holiday turns into a living nightmare. When Lori boards a plane that never arrives to its destination, Emma is compelled to uncover the truth behind her sister's mysterious disappearance as she desperately fights for survival.

Find seasons 1-4 in Box Sets > LIONSGATE+ now
The Tudors meets The O.C. in this teen-drama twist on a period piece that centres on the 15-year-old Mary Stuart (Adelaide Kane, aka Neighbours' Lolly), who's about to marry Crown Prince Francis (Toby Regbo, The Last Kingdom) despite her burgeoning feelings for his half-brother Sebastian (Torrance Coombs, who was actually in The Tudors too). The tumultuous 16th century is the backdrop for this classic love triangle, and Francis and Mary are forced to deal with international conflict, religious reform and troublesome relatives as well as their own emotions.
Power Book IV: Force
Season 1-2 available in Box Sets > LIONSGATE+ now
Now that the long-awaited finale of this explosive strand of the Power universe has landed, there's never been a better time to tune in. Tommy Egan (Joseph Sikora, Ozark) is hoping to see the fruits of his long-term hustle, as he attempts to take over the entire Chicago drug scene. After tying up the loose ends, it seems like everything's falling into place – but there are sacrifices to be made. Can Tommy do what's necessary? Can he achieve ultimate power through force? And is it worth the price?
How to watch Paramount+ with Virgin TV
If you're a Virgin TV 360 box or Stream from Virgin Media customer, you can get Paramount+ direct on your telly once you've got a subscription to the service. Simply sign up online, then log in on the box. And because Paramount+ is fully integrated into Virgin TV 360 and Stream, you can search without even going into the app. Just select Search & Discover from the Home menu and type in the name of the show or movie you're after. You can also voice search Paramount+ shows with your remote, or say "Paramount Plus" to get to the app even faster.

How to watch Prime Video with Virgin TV
Prime Video is available to all Virgin TV customers with a V6 box, powered by TiVo®, and a subscription to the service. Simply sign up to Amazon Prime via the website, and you can log in on the box. And because Prime Video is fully integrated into TiVo®, you can search without even going into the app. Just select Search & Discover from the Home menu and type in the name of the show or movie you're after. Virgin TV 360 customers can also find Prime Video shows and launch the app with voice search.
TV channels: Channels, content and features available depend on your chosen package. Channel line-ups and content are subject to change at any time and to regional variations.
HD: HD TV set, V HD Box, TiVo box or Virgin TV V6 connected with HDMI cables required for HD channels. Number of inclusive HD channels depends on package.
Catch Up TV: Catch Up TV content available for up to 7 days or up to 30 days after broadcast, depending on content.
On Demand: Content available to view depends on TV package. Time limits apply for viewing chargeable On Demand content – see virginmedia.com. Once purchased, all chargeable On Demand content must be viewed within 48 hours. Premium channels and upgrades must be kept for at least 30 days.
Amazon Prime Video: Amazon Prime subscription required at extra cost. 18+. Click here for T&Cs.
LIONSGATE+: LIONSGATE+ subscription required at extra cost.
Paramount+: Paramount+ subscription required at extra cost. TV 360 and Stream customers only.
Image credit: Roman Kemp: The Fight For Young Lives © BBC / TwoFour