QuickStart
Quick, easy and hassle-free self-installation Install your services when it works for you with QuickStart
Did you know that if your home's Virgin Media-ready, you could get your services up and running yourself? It's all thanks to a little thing we call QuickStart, and you could get going in as little as four working days. Nice!
Before you can choose QuickStart, you need to check existing sockets and cables inside and outside your home, and be happy with the location of the sockets. If you're getting our Virgin TV V6 box, you should also bear in mind that your Virgin Media Hub will need to be set up next to the telly box.
Watch a vid about the QuickStart pack
Watch a vid about the QuickStart pack
A quick look at QuickStart
Self-installing is super simple. You get your broadband, Virgin TV box and phone all in one pack which arrives in the post, along with full step-by-step instructions. That means you can get your services set up when it suits you, with us on hand to help should you need it.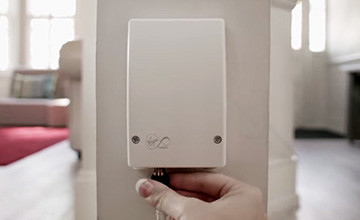 1. Find your Virgin Media wall socket
It will look something like the picture, but don't worry if it's not identical. Once you've found it:
Check that it's undamaged, securely fixed and that the silver connector is visible.
Look for any labels. It might have a Virgin Media, NTL or Telewest logo, which is fine; it's only an issue if it's BT or Sky, as our cables are different to theirs.
Can't find the socket in your house? It probably means you're not eligible to QuickStart – though you may still be able to get Virgin Media.
---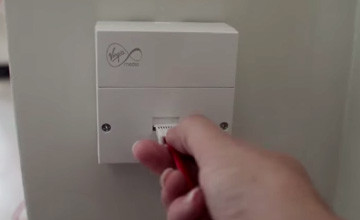 2. Find your Virgin Media phone socket
If you're taking phone services, you'll need a phone socket, but if you're not, then you can skip this step. If you are:
Check that any wires going into your phone socket are in good condition.
---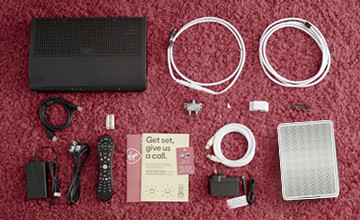 3. Follow the self-install instructions
Kick back and wait for your pack to arrive in the post. When it does:
Follow the instructions included in your QuickStart pack, or check out our step-by-step video tutorial.
It will contain all the devices, cables and tools you need, depending on which services you choose.
Got our new Virgin TV V6 box in your bundle? Your Virgin Media Hub needs to be set up first, and close to where your Virgin TV V6 box is going to be – no more than three metres apart.
---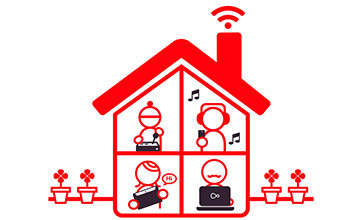 4. You're done!
And now for the most important bit:
Pat yourself on the back.
Pop the kettle on.
Settle down to some great Virgin Media entertainment.
---
Moving house?
If you're moving, the good news is that you can take us with you! If you have Virgin TV, everything you've recorded moves with you too, and QuickStart is so simple, it's perfect for movers. Find out how you can take your Virgin Media services to your new home.
Our engineers to the rescue
QuickStart is only available for addresses that have had Virgin Media services installed before, so it might not be available at your address. In this case, you won't be able to choose QuickStart at the checkout, but you'll still be able to choose a date and time for one of our engineers to come and get you set up.
If any of your cables or sockets are damaged, or you want your sockets moved, you'll need one of our engineers to come to your house and install your services, so choose that option when you get to checkout.
Likewise, if you're getting a Virgin TV V6 box in your bundle and you won't be able to set up your Virgin Media Hub in the same room as the telly box, opt for the engineer installation option.
The legal stuff
Prices may change at any time during the contract.
New customers only. SERVICES ONLY AVAILABLE IN VIRGIN MEDIA NETWORK AREAS. Subject to survey, network capacity and credit check. A minimum period applies to the services, please check basket for details.
What is a minimum period? When you take a service from us you will be agreeing to commit to taking that service for a minimum amount of time (e.g. 12 or 18 months). We call this a minimum period, minimum term or minimum commitment period but they mean the same thing. Please check your basket for details of the minimum period that applies to the services you have chosen.
What if I cancel or move home? If you cancel during the minimum period you may need to pay an Early Disconnection Fee, including where you move to a property outside of the Virgin Media Network area – this is because you will be asking to cancel your services early. The Virgin Media network does not cover all of the UK – please use our post code checker by clicking here to check availability. You can find out more details on the Early Disconnection Fee and process by visiting the Legal Stuff section of the website here. For the full terms and conditions please click here.