How do I change my Virgin Media email account's password?
To change your password, sign in to My Virgin Media. Click My Profile at the top of the page. Next click the change link that relates to Password and enter your new password.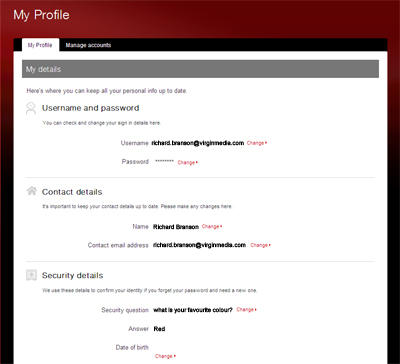 If you can't remember your My Virgin Media username or password, see What to do if you've forgotten your My Virgin Media username or password
Make sure you create a unique password to help keep someone from breaking in to your account. Here are a few tips for creating your password, and keeping it safe:
Never tell anyone your password.
Never write down your password. Even though your password will look random to others, think of a way to remember it so that you don't have to write it down.
Change your password periodically.
Don't choose a dictionary word as your password. Be creative.
Mix capital and lowercase letters. Use numbers. A variety of characters makes it harder to guess a password.
For help choosing a strong and secure password, see How to choose a strong and secure password
Remember, when you change your password, you may need to update your password in a few other places. If you use email software like Outlook to access your Virgin Media Mail then you'll need to update your new password when you next open the software.
Do you think your email account has been accessed by someone else?
If so, check out our article What to do if you think your email account has been accessed by someone else