Skip to main content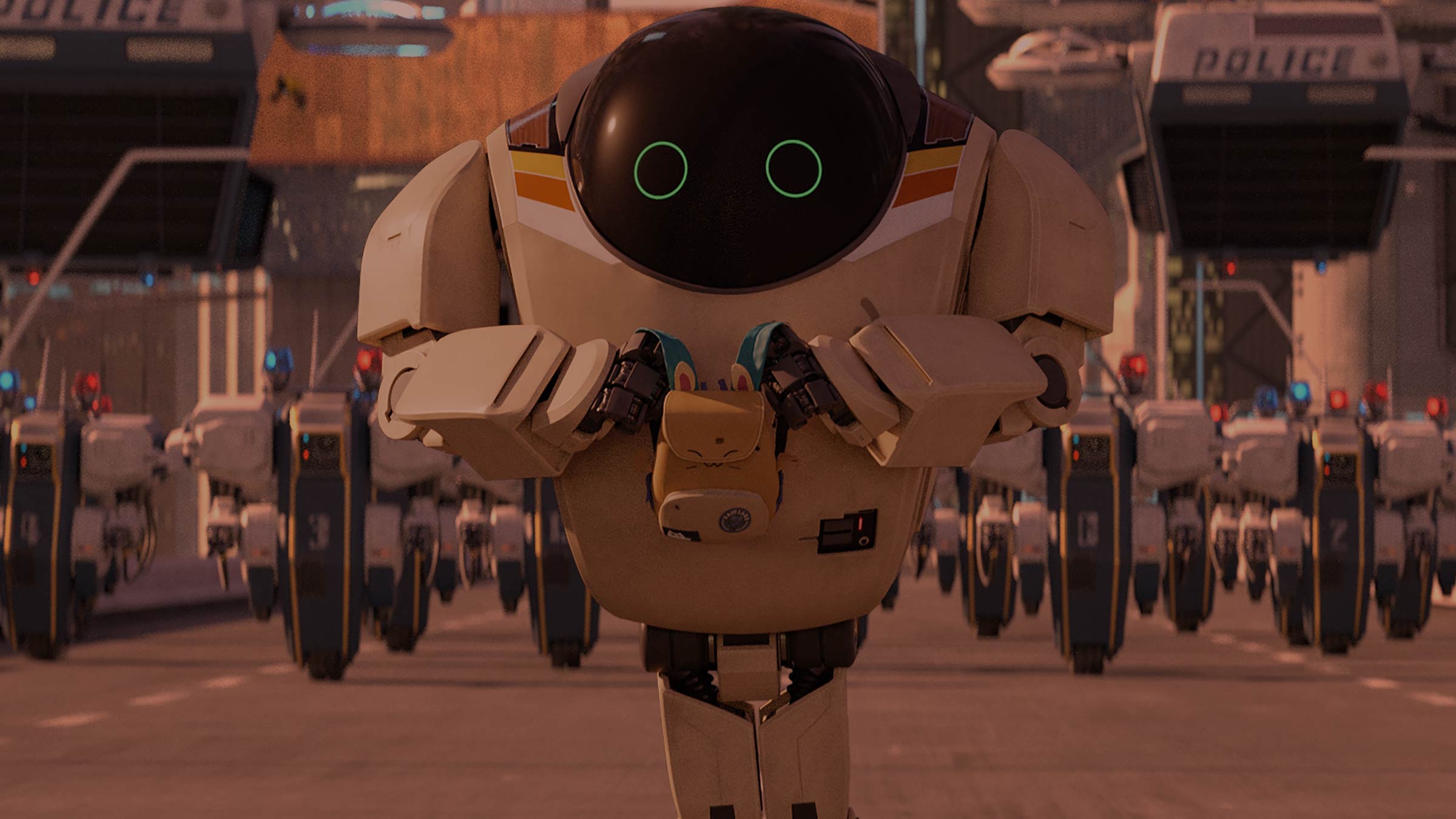 Cuteness disclaimer: This list contains many, many, MANY adorable animal films.
By Virgin TV Edit
Suddenly the kids are going to be at home again. But despite what the Alice Cooper lyrics suggest, school's not out forever (although it might seem like that at the moment). So, use your precious free time to rattle through the Netflix films you and your children have been saving for a rainy day (or a sunny day, or any other type of day).
We've rounded up 15 of the best kids and family films on Netflix. Adult and child satisfaction guaranteed.

Find it in Apps & Games > Netflix
We all know storks are supposed to deliver babies, but what if they started delivering packages for an online retailer? It's still pretty cool, but one day, Junior the stork (Andy Samberg, Brooklyn Nine-Nine) finds a baby girl in front of him and he, with his human friend Tulip (Katie Crown, Bob's Burgers), need to find a way to deliver her safely. This film is full of laughs – you won't be able to contain yourself during the wolf scenes.

2. Matilda
Find it in Apps & Games > Netflix
As delicious as a big slab of chocolate cake, Matilda is a classic feel-good film, forever associated with Rusted Root's song, "Send Me on My Way." This adaptation of Roald Dahl's book takes you on a magical journey with the young and incredibly bright Matilda Wormwood (Mara Wilson), who discovers her telekinetic powers.

3. Dr Seuss' The Lorax
Find it in Apps & Games > Netflix
What's not to love about an orange furball voiced by Danny DeVito? The Lorax is not best pleased when 12-year-old Ted (Zac Efron, The Greatest Showman) comes to chop down one of the trees in his home. A fun, fantastical adventure!

4. Wonder

Find it in Apps & Games > Netflix
August "Auggie" Pullman (Jacob Tremblay, Room) is a ten-year-old boy making the move from home schooling to private school. His facial deformities make him an easy target for bullies, but this heart-warming tale, based on the award-winning book, is a lesson in how our differences are what make us unique. Julia Roberts and Owen Wilson star as Auggie's parents.

5. Benji
Find it in Apps & Games > Netflix
The classic 1974 film gets a new home in this Netflix remake, driven by original creator and director Joe Camp's son Brandon. When two kids find an orphaned dog, who they name Benji because "Benjamin Franklin had a dog," it's love at first sight. When the children are kidnapped by robbers, Benji uses his doggy street-smarts to come to their rescue.

6. Bee Movie
Find it in Apps & Games > Netflix
Barry the Bee (Jerry Seinfeld) is not buzzing about his inevitable career path: working with honey. He flies outside of the hive for the first time and breaks a key bee rule: don't talk to humans. Barry is horrified to learn that people have been stealing and eating honey for centuries – and then it's no more mister nice bee. The stinger is out!

7. How To Train Your Dragon
Find it in Apps & Games > Netflix
On the island of Berk, fighting dragons is the norm. But when Norse teenager Hiccup (Jay Baruchel) starts school to learn the skill, he becomes friends with an injured dragon called Toothless. He's super-sweet, playful and catlike and makes Hiccup rethink the whole Viking way of life.

8. The Little Prince

Find it in Apps & Games > Netflix
Based on the 1943 novella by Antoine de Saint-Exupéry, The Little Prince is sprinkled with a star voice cast, including Jeff Bridges, Rachel McAdams, Paul Rudd, Ricky Gervais and Marion Cotillard. Through stop-motion and computer animation, the story weaves a charming tale about a young girl who meets an elderly aviator who tells her about an encounter with the Little Prince in the Sahara Desert.

9. Next Gen

Find it in Apps & Games > Netflix
The cutest robot film since Big Hero 6, Next Gen takes place in a world where sentient robots are an accepted reality. The movie is based on Chinese comic 7723 by Wang Nima and centres around the top-secret weaponised robot 7723 (John Krasinski, A Quiet Place). Young Mai Su (Charlyne Yi) accidentally stumbles across the robot and the two become unlikely friends, as well as the only ones who can prevent an impending disaster.

10. Megamind
Find it in Apps & Games > Netflix
When supervillain Megamind (Will Ferrell) destroys his long-standing nemesis Metro Man (Brad Pitt), he finds himself a new enemy who wants to obliterate the world. With a mega voice cast behind it, including hilarious improvisation between Ferrell and Tina Fey (30 Rock), this movie elegantly frames the story from the villain's point of view.

11. Monster House
Find it in Apps & Games > Netflix
When it was released in 2006, Monster House was lauded for its unique animation style and plot that incorporated horror for kids. Three children believe their neighbour's house is a living thing, a monster, that plans to devour trick-or-treaters come Halloween night. The only way to stop it? Unfortunately, by going inside the belly of the beast.

12. Ballerina

Find it in Apps & Games > Netflix
In France in the 1880s, Félicie (Elle Fanning, Maleficent) wants to become a ballerina. She runs away from her orphanage to Paris with her best friend Victor (Dane DeHaan, The Amazing Spider-Man 2), a budding inventor. Félicie gets her shot to be accepted into the prestigious school of the Paris Opera Ballet, but it's through very… creative means.


13. Shark Tale
Find it in Apps & Games > Netflix
Oscar (Will Smith), a small fish in a big ocean, tells a great white lie about killing a great white shark called Frankie to earn him sea cred. The newly-crowned "Sharkslayer" makes himself a target and Frankie's father, the terrifying mob boss Don Lino (Robert De Niro), sticks his guys on him. It's part Jaws, part The Godfather – what a combination!

14. Jumanji
Find it in Apps & Games > Netflix
Before watching the new ones, let the original recapture your imagination. When siblings Peter (Bradley Pierce) and Judy Shepherd (Kirsten Dunst) find a board game called Jumanji, they learn the stakes involved are very real. They free Alan Parrish (Robin Williams), who's been stuck in the game for decades. Only winning Jumanji will set him free once and for all, but they have to face some unusual obstacles. The giant spiders still get us everytime.

15. Hotel Transylvania

Find it in Apps & Games > Netflix
It turns out Count Dracula (Adam Sandler), the Invisible Man and the Mummy are actually regular people (maybe "people" is the wrong word), just like us. They want to go on holiday as much as the next guy or girl (especially now), and Hotel Transylvania is where they go to kick back and relax, without the annoying presence of humans to hinder them. But, they've got a gate crasher…
How to watch Netflix with Virgin TV
If you have a TiVo® box or Virgin TV V6 box, powered by TiVo®:
Press home on your remote
Select Apps & Games
Select All Apps
Select Netflix
If you're already a Netflix subscriber, you can also access the app through Search & Discover or by pressing Red on channel 204. Just sign in with your existing login and start watching. And you'll only have to log in the first time you use it.
If you're new to Netflix, then you'll need to subscribe to use the app. The easiest way to do this is by going to netflix.com/virginmedia. You can also subscribe using the Netflix app in Apps & Games.
Ready to watch?
Find out how to access Netflix from your telly here – a whole world of dreamy streaming awaits!
TV channels: Channels, content and features available depend on your chosen package. Channel line-ups and content are subject to change at any time and to regional variations.
HD: HD TV set, V HD Box, TiVo box or Virgin TV V6 connected with HDMI cables required for HD channels. Number of inclusive HD channels depends on package.
Netflix: Netflix subscription required at extra cost.