Skip to main content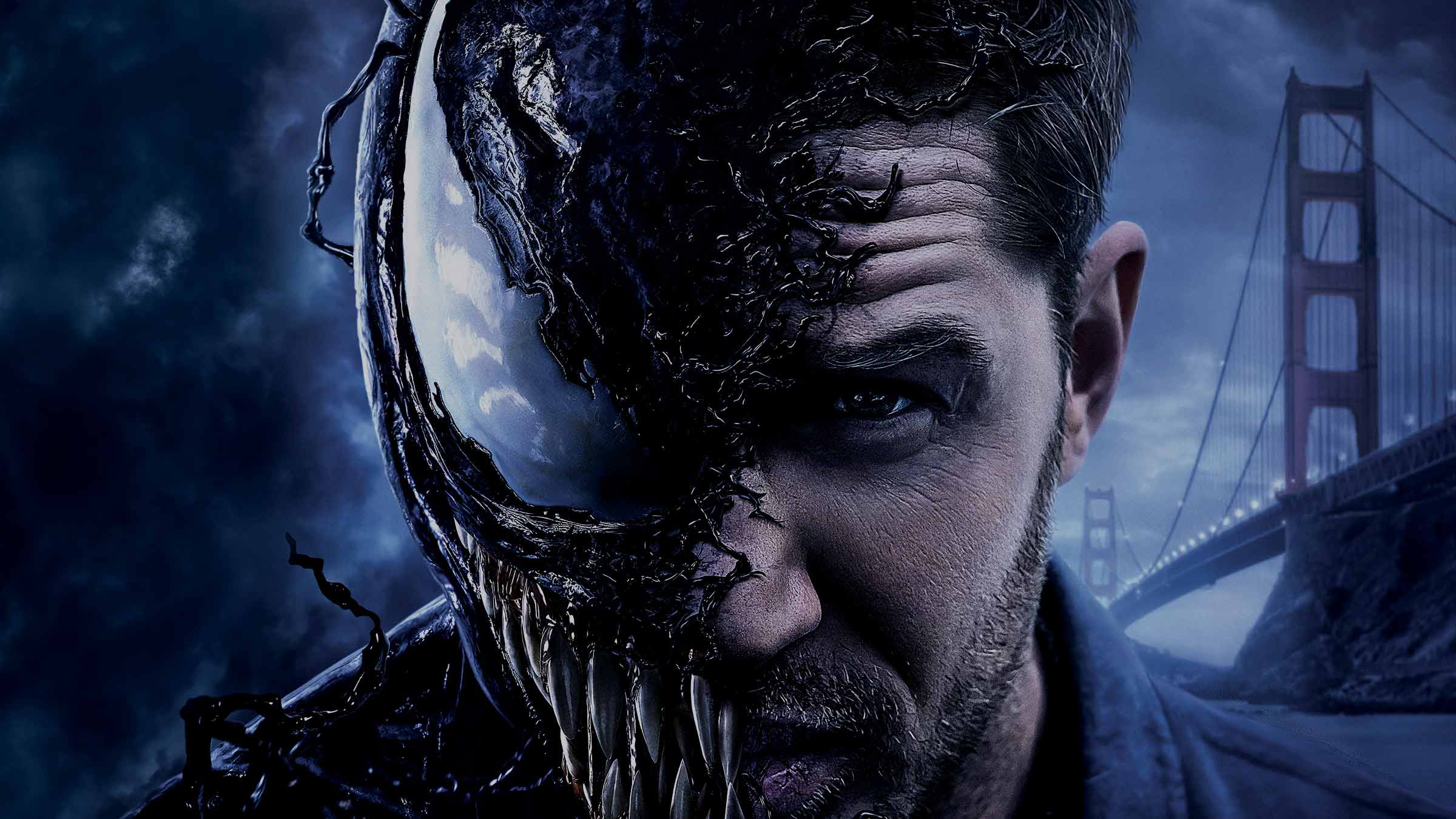 For a large number of comic fans, the current superhero movie boom has lacked one crucial ingredient: Venom
Venom™, available to buy on the Virgin Media Store. Cert PG
For years we've seen Iron Mans and Batmans come and go, but until recently, this venomous anti-hero, who went from reviled Spider-Man baddie to firm fan favourite, had only had one brief – and to some, disappointing – big-screen outing in Spider-Man 3.
But in October 2018 Venom broke free from the periphery to stand front and centre with his very own blockbuster. Starring Tom Hardy, this action-packed spectacular was a massive box office smash, making it one of Sony's most successful movies of all time. Want to know why you should buy this movie on the Virgin Media Store? Here are five reasons why you need to get onboard the Venom train…
1. It's about an iconic character
Venom began life as an adversary of everyone's favourite web-slinger, Spider-Man, but soon became almost as popular as the hero he was fighting as his story developed. But this isn't your average monster. Venom is a symbiote – an alien force that bonds to a host body in order to survive, granting the host superhuman strength, speed and fighting ability in return. Photo-journalist Eddie Brock (Tom Hardy) finds himself bound to this dark passenger, and is forced to contend with the best and worst elements of its unstable psyche.


2. It's got a great cast
Tom Hardy doesn't do half-measures, and his performance as the titular character is suitably menacing. But he also has a great cast around him. Michelle Williams (The Greatest Showman) plays Brock's lawyer girlfriend Anne Weying, while Riz Ahmed (Rogue One: A Star Wars Story) is a billionaire inventor on the verge of a new discovery. Woody Harrelson, Jenny Slate and Ron Cephas Jones also feature.


3. The action is out of this world!
In his natural habitat, Venom looks like a sentient oil spill; all coiling, liquid blackness. This means that, even when in symbiosis with Brock, it can manipulate its body to attack surrounding threats. And although Brock largely convinces the alien to only take down the bad guys, its unquenchable thirst for mayhem leads to many a sticky situation.



4. The guy in charge knows what he's doing
Director Ruben Fleischer is the man behind the great horror comedy Zombieland, and he brings his expertise to bear here. After all, there's elements of body horror as Brock wrestles with the reality of his bodily predicament; comedy as Venom spits quips mid-fight; lots of action as a variety of parties try to secure the symbiote for themselves; and even a bit of a love story!
5. There's more than one symbiote
Look, we don't want to give too much away when it comes to one of the biggest, most unmissable films of the past 12 months. But if you think Venom is the only symbiote causing havoc, you might want to think again...


6. This could affect the future of Spider-Man – and maybe more!
Since Tom Holland took over the role of Spider-Man, the character has mingled with the Avengers crew and other aspects of the Marvel Cinematic Universe. And with Venom inhabiting the same comic-book universe as Spidey, his home of San Francisco could feasibly be the one Ant-Man calls home. Time will tell, but perhaps Venom will help to create new links in the dizzying web of superhero movie crossovers in the future. What we do know is that there's a Venom sequel in the pipeline. Watch this space...


Not heard about the Virgin Media Store?
It's the place where you can buy the latest and greatest movies and TV Box Sets, yours to watch again and again, at home or on the go. Sign up now at virginmediastore.com, choose from hundreds of films and TV Box Sets and start watching instantly.
Enjoy your purchases on your Virgin TV Box (TiVo®/V6), online, or on your registered iOS and Android devices with the Virgin Media Store app.
Show me the latest releases on the Virgin Media Store.
Virgin Media Store: Separate terms and conditions apply to the Virgin Media Store service. DVD included for movie purchases only. Purchases must be made on the website or set top box. Virgin TV subscription and our latest Virgin TV V6 box required to buy and watch via set top box – Store is not available on other boxes. Compatible device & browser required. Max 5 registered devices. Max 2 devices can stream content simultaneously. Stream and download in UK only (or while temporarily in the EU).