Skip to main content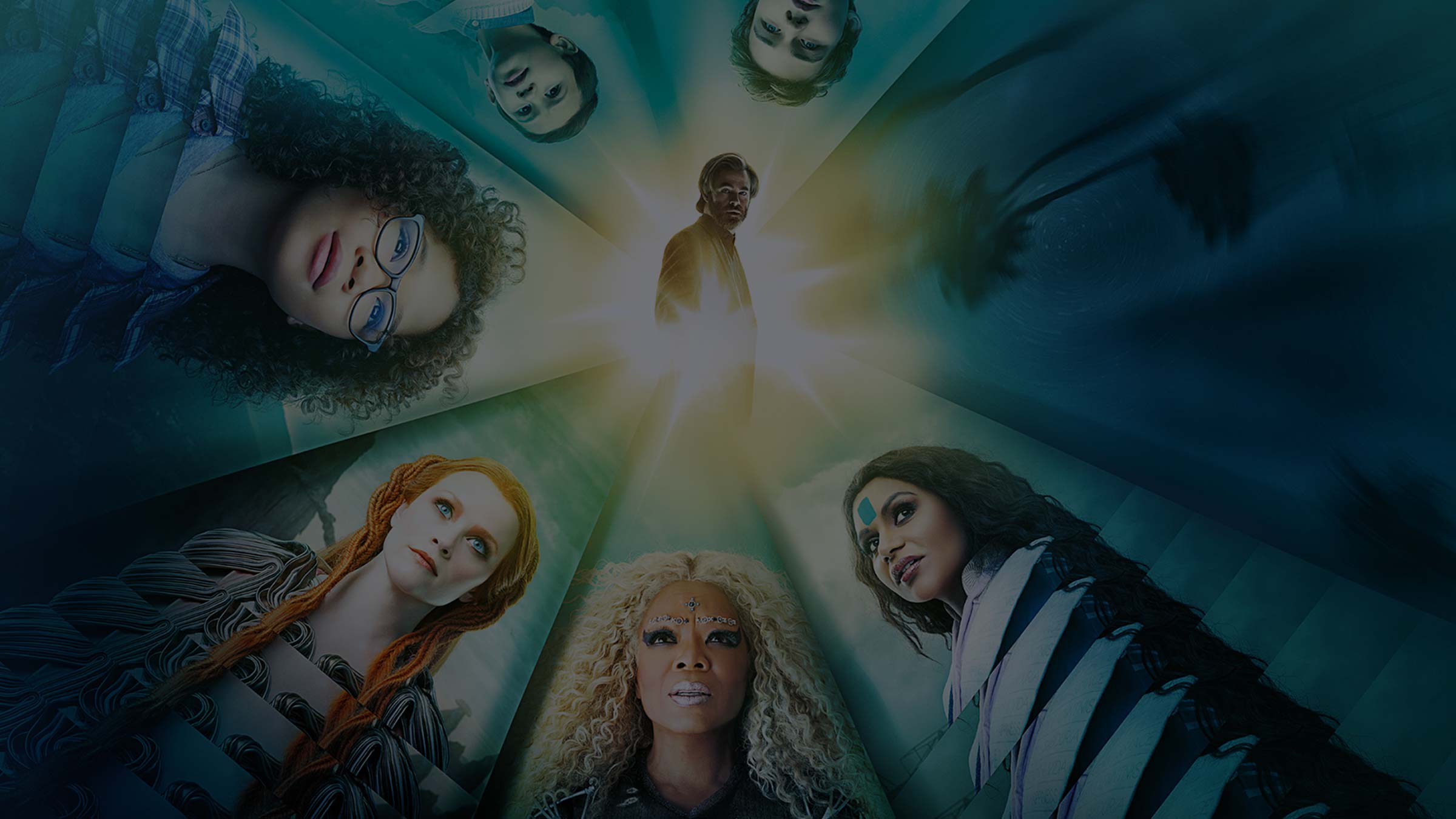 Amid the huge sequels, reboots and superhero movies released this year, there was one big-budget film quite unlike anything else…
A Wrinkle In Time, available in Sky Cinema on demand. Cert PG
Ava DuVernay's A Wrinkle In Time is the film adaptation of the classic children's book of the same name, which was first published in 1962. That's right, it's taken Hollywood more than 50 years to capture the book's colossal sense of imagination and wonder onscreen!
But if the prospect of hopping across time, the universe and everything has you scratching your head in confusion, fear not, as we've got a handy guide to help you navigate this inspiring, unique film…

What's the story?
Meg (Storm Reid) is a 13-year-old girl struggling to deal with the sudden disappearance of her father (Chris Pine) four years ago. When she and her brother Charles (Deric McCabe) meet a strange stranger named Mrs Whatsit (Reese Witherspoon), they learn that their father is alive but trapped on a different planet, and soon set off on a journey across the universe with their schoolfriend Calvin (Levi Miller) in a bid to rescue him.
Wait, Mrs Whatsit?
Exactly. Mrs Whatsit spends her time hanging out with two other odd ladies, Mrs Who (Mindy Kaling) and Mrs Which (Oprah Winfrey). They might be witches, or angels, or something altogether different. But these things are for certain: all three have extraordinary hair, make-up and clothing, and they can all change their shape, size and location at will – handy!
This all sounds rather fantastical!
It is, but the story leans more towards science fiction than fantasy. Meg and her dad are scientists; he was working on a way to travel across the universe by "wrinkling" space and time before he disappeared. Our trio of strange ladies appear to be a bit further along in their research into the phenomenon. It's like sci-fi legend Arthur C Clarke once said: "Any sufficiently advanced technology is indistinguishable from magic." Natalie Portman's character Jane Foster said the same thing in Thor, so it must be true!
OK, so we can expect our heroes to visit other planets and meet aliens?
Yes! Our intrepid adventurers explore some seriously stunning worlds and enjoy magical experiences, with Mrs Whatsit, Mrs Who and Mrs Which along for the ride. The film's huge budget went to good use in the visual effects department, artfully enhancing the already beautiful landscapes of its New Zealand locations.
Is there any action amid all this visual splendour?
Oh yes, there's a formidable adversary in town, known simply as "It" (not to be confused with Stephen King's killer clown). It is a vast, dark force that takes over planets, stripping their inhabitants of their free will and individuality. Meg will have to face this great evil if she's ever going to get her dad back – and she'll have to overcome her shyness and self-doubt in order to do it. No pressure.
This is based on a book?
Yes, authored by Madeleine L'Engel. She was fascinated by science and wanted to bring big science concepts to a wider audience, while telling a great children's story. A Wrinkle In Time was the first in a series of books about Meg and her family, but don't worry, it stands alone as an independent story – with an ending and everything!
Who made it?
Ava DuVernay, the visionary director behind Selma and 13th. The screenplay was written by Jennifer Lee (Frozen) and Jeff Stockwell (Bridge To Terabithia), so if you like those films, there's a good chance you'll love this.
Find out what's on Sky Cinema
Get even more lights, cameras and action with our movie homepage, featuring all the daily premieres and more of the thousands of films available on demand in Sky Cinema.

Watch on the go
If you subscribe to Sky Cinema on Virgin TV, you can watch on the go with the Sky Cinema app on your mobile, laptop or tablet anywhere in the UK (or while temporarily in the EU) with a WiFi or broadband connection. Just download from the Apple app store, Google Play or the Amazon appstore and log into the app to start watching.
Upgrade to Sky Cinema now
Don't have Sky Cinema? You can find out about our Sky Cinema package and upgrade here.
TV channels: Channels, content and features available depend on your chosen package. Channel line-ups and content are subject to change at any time and to regional variations.
HD: HD TV required to view HD channels. Number of inclusive HD channels depends on package.
Premium channels (add-ons): 30 days' notice required to remove premium channels/packs. Sky Sports SD subscription required to take Sky Sports channels in HD.
Sky Cinema app: Only available via the Sky Cinema websites or apps (for selected iOS and Android mobiles and tablets) to customers who subscribe to these channels. UK only. Maximum 2 devices. Only available on iOS 8 and above, and Android 4.x. Selected content may not be available to view. Separate terms and conditions apply to the Sky Cinema and Sky Sports apps and websites.