Skip to main content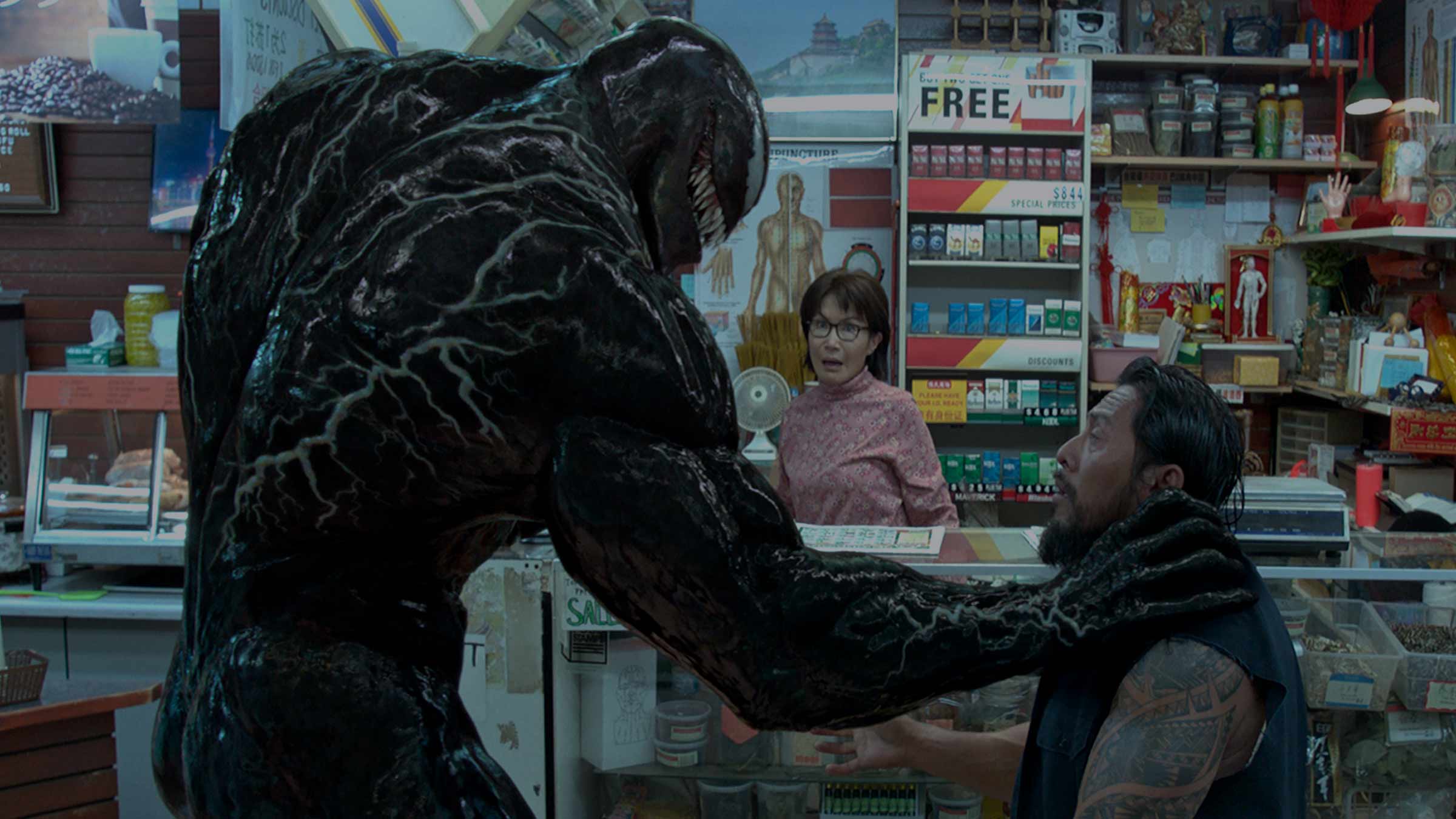 Venom says, "Eyes, lungs, pancreas. So many snacks, so little time." We say, so many film facts, so little time!
Venom, available from Friday 14 June in Sky Cinema on demand. Cert 15. Also available in HD
No one expected Venom to do quite as well as it did (actually, no one thought it would even get made in the first place), but it has raked in over $800 million at the box office internationally. The movie is a bit of an outsider, much like Venom himself, and all the better for it.
This is Sony's first foray into featuring characters from the Spider-Man comics, but Venom exists in a different world to that of Spider-Man: Homecoming. It's also not part of the deal between Sony and Disney that allows Tom Holland's Spider-Man into the MCU.

In Venom, Eddie Brock (Tom Hardy, The Revenant) is an investigative journalist who starts looking into a bioengineering corporation that has recovered symbiotic lifeforms from space. After a botched investigation into the organisation – losing both his job and his fiancée Anne (Michelle Williams, The Greatest Showman) in the process – Eddie breaks into the research facility. That's where his body merges with the alien Venom, giving him superhuman strength and power, coupled with an insatiable hunger.
Venom exists in a fantastical world of its own, and Hardy has already signed up for a trilogy of films, so it looks as though our slimy, squelchy symbiote antihero is not going anywhere anytime soon. In that case, you're going to want to gobble up the first film and all of these fun facts about it…

Tom Hardy took on the role because of his son
The only person Hardy needed, or wanted, to impress with his performance was his son Louis, who was ten when the film came out. "First and foremost, I'm a dad," Hardy said. "My son came to me with a specific character that he absolutely fell in love with." Venom, of course! "I started to take a look at it, and then, as if by magic, a script appeared on the horizon."


What was Louis' verdict though? That Hardy "could do better". Hardy added, "He was pretty much in the driving seat for a lot of it, and I did use him as my anthology and my mythology wizard. He told me what I was doing wrong, and I was doing more things wrong than I was doing right because children are deeply honest. He was my little spirit guide in that aspect."
He also improvised scenes

It was Hardy's idea to get in the lobster tank in the above scene, when Venom is bonding to Eddie, making him ravenous and feverish. He jumps in to cool himself down and to feed on one of the crunchy crustaceans. The tank wasn't built to support the weight of a person, so the crew built a special one for the scene, which was shot once with live lobsters and once with fake lobsters. The one Hardy chows down on was actually candy-coated with marshmallow filling and chocolate syrup. Yum!

And he drew upon a previous role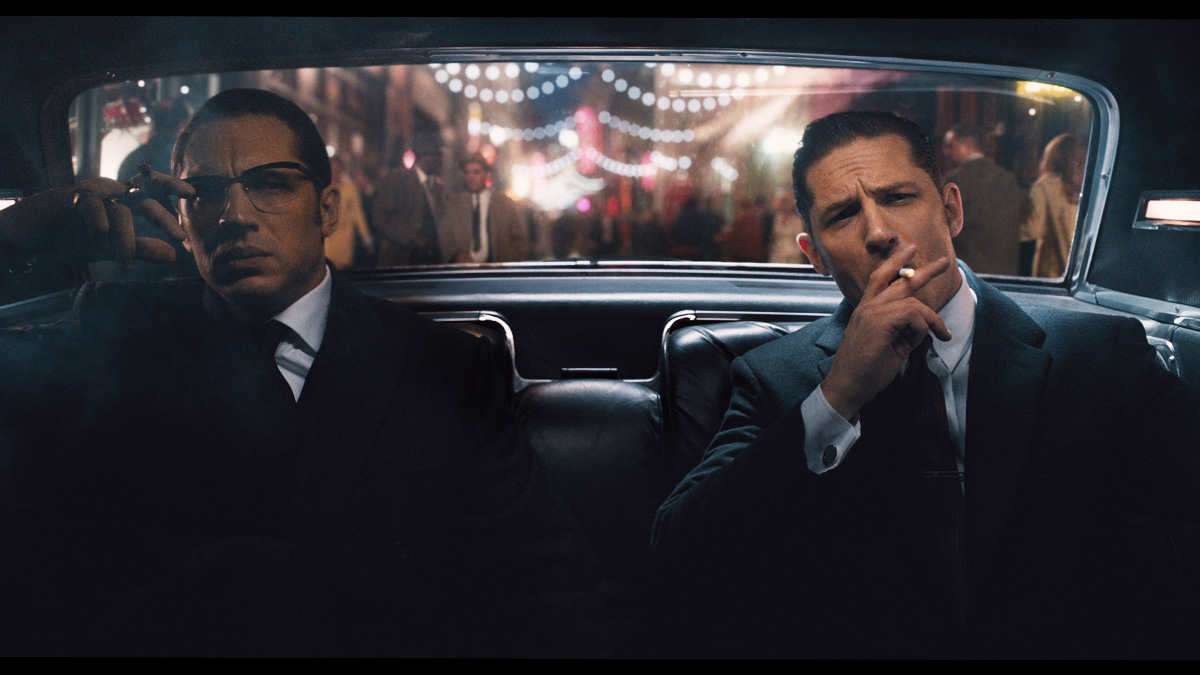 In Legend, Hardy took on the role of twin brothers Ronnie and Reggie Kray, the notorious East End gangsters. While filming, he came up with the idea of having an earpiece so he could listen to lines he'd previously recorded of whichever brother he wasn't currently playing. This process followed him to Venom. Hardy recorded all of his lines for Venom in pre-production and then they were played back to him through an earpiece during the scenes where Eddie and the symbiote talk to one another.
"To me it's exciting, because it's a double act" Hardy told Esquire. "He now has a beast who lives rent-free in him. It could be like somebody who's contracted a tropical disease and gone mad. It's like acting out mental illness in some aspects, of which I have a fair understanding, having had a certain amount of mental health problems of my own, which are relevant, being an addict. So I might as well use it."
The movie is based on two comic book story arcs
Director Ruben Fleischer (Zombieland) based the film on the 1993 miniseries Venom: Lethal Protector and the five-issue Planet Of The Symbiotes from 1995. The former sets up Eddie's origin story and establishes Venom as a vigilante protecting San Francisco and innocent people, while the latter finds Earth invaded by symbiotes. In case you were curious, Venom first appeared in The Amazing Spider-Man 300 in 1988.

Venom's name has an additional meaning
In the comics, Eddie starts out as a journalist at The Daily Globe, but his career is left in ruins after running an exposé on the supervillain serial killer Sin-Eater. His source, who he believed to be Sin-Eater, was a fake and it was Spider-Man who captured the real killer.
Thus, a rivalry was born, and Eddie was fired from The Daily Globe and forced to write venomous drivel for sensational newspapers. So if you want to geek out a bit, not only does Venom have a literal, venomous bite, but Eddie also spews out venom at his day job.
Venom has become an important film for the LGBTQA+ community
Venom is gender non-conforming and gender fluid, and uses the pronoun "we" instead of "I" when merged with Eddie. While they are technically two individuals, they present as one, and avoid the dehumanising pronoun "it." Individuals who have ever felt like outcasts or who have been made fun of for being "different" have an ally in Venom.

Venom will never exist in the Marvel Cinematic Universe
In the comics, way before Venom bonds with Eddie, Peter Parker wears the symbiote as a suit when he finds it on another planet. The movie never mentions this connection – instead the Life Foundation is credited with discovering symbiotes. You may have also noticed that the white spider insignia that's usually seen on Venom's chest is nowhere to be seen in the film.
There's another reason Venom could never be part of the MCU. Eddie is shocked at just the possibility of alien symbiotes existing, never mind the fact that they're also living on planet Earth. Ever since 2012's The Avengers, where the Chitauri (alien soldiers) invaded New York City with Loki, everyone is pretty aware that aliens exist among them. And with Eddie being an NYC reporter, there's really no reason he wouldn't have heard the news by now. Looks like Venom shouldn't expect a visit from Spidey (or Thanos) anytime soon then…

But look out for Stan Lee!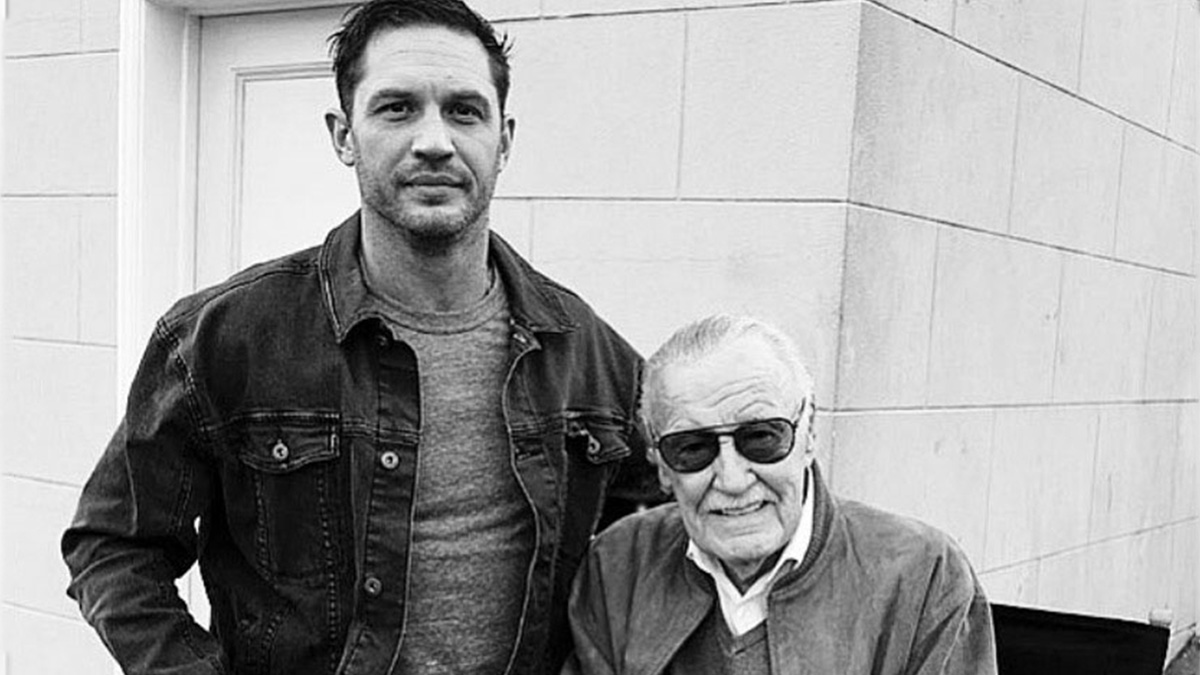 Even though Venom isn't part of the MCU, comic-book legend Stan Lee still makes an appearance near the end of the film. It was the last cameo to be released before his death in November 2018, with his final two cameos shown in Captain Marvel and Avengers: Endgame.
The interchange between Stan and Eddie/Venom is also particularly brilliant. After Eddie finishes talking to Anne, Stan, who's walking his dog, wags a wise finger and says, "Don't give up on her – either of you." "We won't," Eddie replies, with Venom pitching in, "Who's that guy?". Eddie reaches down to pet Stan's dog and Venom says, "Wait, this thing looks delicious." Ah, classic, carnivorous Venom.

Find out what's on Sky Cinema
Get even more lights, cameras and action with our movie homepage, featuring all the daily premieres and more of the thousands of films available on demand on Sky Cinema.
Watch on the go
If you subscribe to Sky Cinema on Virgin TV, you can watch on the go with the Sky Cinema app. Just download from the Apple app store, Google Play or the Amazon appstore and log into the app to start watching.
Upgrade to Sky Cinema now
Don't have Sky Cinema? You can find out about our Sky Cinema package and upgrade here.
Sky Cinema on demand: Sky Cinema subscription required
Sky Cinema HD: Sky Cinema Premiere +1 not available in HD.
Sky Cinema app: Only available via the Sky Cinema websites or apps (for compatible iOS and Android mobiles and tablets) to customers who subscribe to these channels. Maximum 2 devices. Only available on iOS 8 and above, and Android 4.x. Watch in the UK or while temporarily in the EU. Selected content may not be available to view. Separate terms and conditions apply to the Sky Cinema apps and websites.
Premium channels (add-ons): 30 days' notice required to remove premium channels/packs. Sky Cinema Premiere +1 not available in HD
Interviews: Any opinions expressed in interviews are those of the interview subject and not those of Virgin Media.