Skip to main content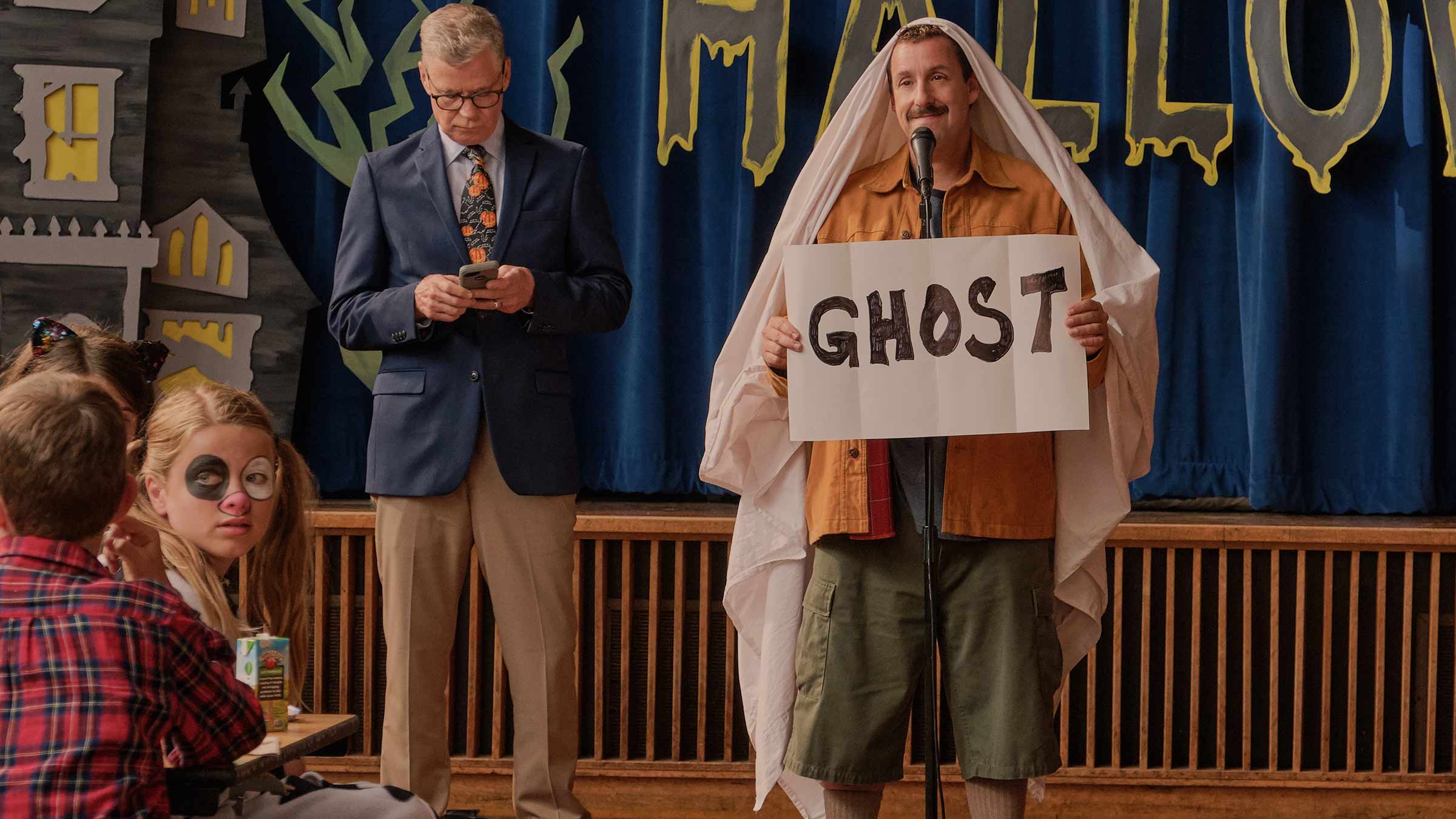 Spooky season is upon us! If you're looking for chills and thrills to entertain the kids that aren't too scary for them (or you), check out our family-friendly movie selection
By Laura Rutkowski, Staff Writer
1. Hubie Halloween
Find it in Apps & Games > Netflix
Produced by Adam Sandler's company Happy Madison, Hubie Halloween follows Hubie Dubois (played by Sandler), who wants everyone in Salem to have a happy and safe Halloween. The police (Kevin James and Kenan Thompson) see him as a timewaster and an unnecessary worrier, but when residents start to disappear, Hubie's worst fears are confirmed. The film has already shot into Netflix's Top 10, which is no surprise – it really is a sweet treat.

2. Monster House
Find it in Apps & Games > Netflix
When it was released in 2006, Monster House was applauded for its unique animation style and horror plot for kids. Almost 15 years later, it's still a clever and spooky watch. Three children believe their neighbour's house is a living thing that plans to devour trick-or-treaters on Halloween night. The only way to stop it is, unfortunately, by going inside the belly of the beast.

3. Hotel Transylvania
Find it in Apps & Games > Netflix
Adam Sandler continues in the Halloween spirit as he voices Count Dracula in this fun flick. He owns a resort for monsters, where the likes of the Invisible Man and the Mummy can kick back and relax, without being bothered by humans. Until, that is, Jonathan (Andy Samberg) gate-crashes. You can also watch Hotel Transylvania 2 and Hotel Transylvania 3: Summer Vacation on Netflix.

4. Wallace & Gromit: The Curse Of The Were-Rabbit
Find it in Apps & Games > Netflix
Wallace and Gromit have united families for years with the stop-motion animated shorts from Aardman. In their first feature film, they start a pest control business and one of their first jobs is to prevent a huge rabbit from destroying the town's crops.

5. The Addams Family
Find it in Apps & Games > Netflix
"They're creepy and they're kooky, mysterious and spooky, they're all together ooky" – all together now! – "The Addams family!" Gomez, Morticia, Pugsley, Wednesday, Uncle Fester and Grandma are preparing for a family visit in this animated movie from 2019. TV personality Margaux Needler disturbs the peace when she realises the Addams' mansion is preventing her from selling all the houses in the neighbourhood. Oscar Isaac, Charlize Theron, Chloë Grace Moretz, Finn Wolfhard, Nick Kroll and Snoop Dogg make up the star-studded voice cast.


6. Corpse Bride
Find it in Apps & Games > Netflix
Tim Burton is essentially the unofficial father of Halloween. If you're not watching at least one of his films, like Beetlejuice or The Nightmare Before Christmas (which can be enjoyed at Christmas and Halloween), during the season, you're doing it wrong. Corpse Bride is a gorgeous, blue-hued stop-motion film, featuring the voices of Burton's usual collaborators, Johnny Depp and Helena Bonham Carter. When Victor Van Dort and Emily the Corpse Bride accidentally get married, Victor's new marital home becomes the land of the dead.
7. 9
Find it in Apps & Games > Netflix
Burton makes another appearance on the list, this time as producer, with Monster House's Pamela Pettler writing the screenplay for 9. In a post-apocalyptic world where humans are long gone after a losing battle to machines, "stitchpunk" creations like 9 (Elijah Wood) are the only living things left. It's up to 9 to lead his fellow rag dolls (1, 2, 5, 6 and 7) to salvation. Don't be fooled by the cute animation, this one is a deep thinker.

8. Jumanji
Find it in Apps & Games > Netflix
If you're a fan of the latest films, but haven't watched the original, make sure this is top of your list. When siblings Peter (Bradley Pierce) and Judy Shepherd (Kirsten Dunst) find a board game called Jumanji, they discover Alan Parrish (Robin Williams) has been stuck in the game for decades. Only winning Jumanji will set him free once and for all, but they have to face some unusual obstacles, including some giant spiders that still give us the heebie-jeebies.

9. Labyrinth
Find it in Apps & Games > Netflix
What an absolute classic, right? If your kids haven't been introduced to Labyrinth yet, let them delight in David Bowie's Goblin King. Directed by the legendary Jim Henson, with George Lucas as executive producer, the film takes you on a fantastical adventure full of astonishing creatures. Teenager Sarah (Jennifer Connelly) has just 13 hours to solve a labyrinth to save her baby brother from Jareth the Goblin King.

10. Spirited Away
Find it in Apps & Games > Netflix
There are plenty of ghouls, both malevolent (No Face) and friendly (Soot Sprites), to enjoy in this stunning Studio Ghibli animated tale. Ten-year-old Chihiro and her parents visit what appears to be an abandoned amusement park, but it's actually a resort for beings not of this Earth who need a break from their time roaming the world. Chihiro and her parents become trapped and it's up to her to free them, receiving help from a mysterious boy called Haku (Miyu Irino).

11. The Little Vampire
Find it in Apps & Games > Prime Video
This film is an animated remake of the 2000 live action film, updated for a new audience. Rudolph (Rasmus Hardiker), a 13-year-old vampire, meets Tony (Amy Saville), a human boy the same age, and the pair become fast friends. Tony also helps Rudolph fend against a vampire hunter, who's more bark than bite.


12. The Dog Who Saved Halloween
Find it in Apps & Games > Prime Video
This film really needs no introduction. If the title alone doesn't make you want to stick it on immediately, do you even have a heart? We know that dogs frequently appear in Christmas movies (yes, there is a film called The Dog Who Saved Christmas), but we think we've just stumbled upon a whole other genre entirely. Get good boy Zeus on your telly ASAP!

How to watch Netflix with Virgin TV
If you have a TiVo® box or Virgin TV V6 box, powered by TiVo®:
Press home on your remote
Select Apps & Games
Select All Apps
Select Netflix
If you're already a Netflix subscriber, you can also access the app through Search & Discover or by pressing Red on channel 204. Just sign in with your existing login and start watching. And you'll only have to log in the first time you use it.
If you're new to Netflix, then you'll need to subscribe to use the app. The easiest way to do this is by going to netflix.com/virginmedia. You can also subscribe using the Netflix app in Apps & Games.


How to watch Amazon Prime Video with Virgin TV
Prime Video is available to all Virgin TV customers with a V6 box, powered by TiVo®. Simply sign up to Amazon Prime Video via their website, and you can log in on the box. And because Prime Video is fully integrated into TiVo®, you can search without even going into the app. Just select Search & Discover from the Home menu and type in the name of the show or movie you're after.
TV channels: Channels, content and features available depend on your chosen package. Channel line-ups and content are subject to change at any time and to regional variations.
Amazon Prime Video: Amazon Prime subscription required at extra cost. 18+. Click here for T&Cs.
Netflix: Netflix subscription required at extra cost.