Skip to main content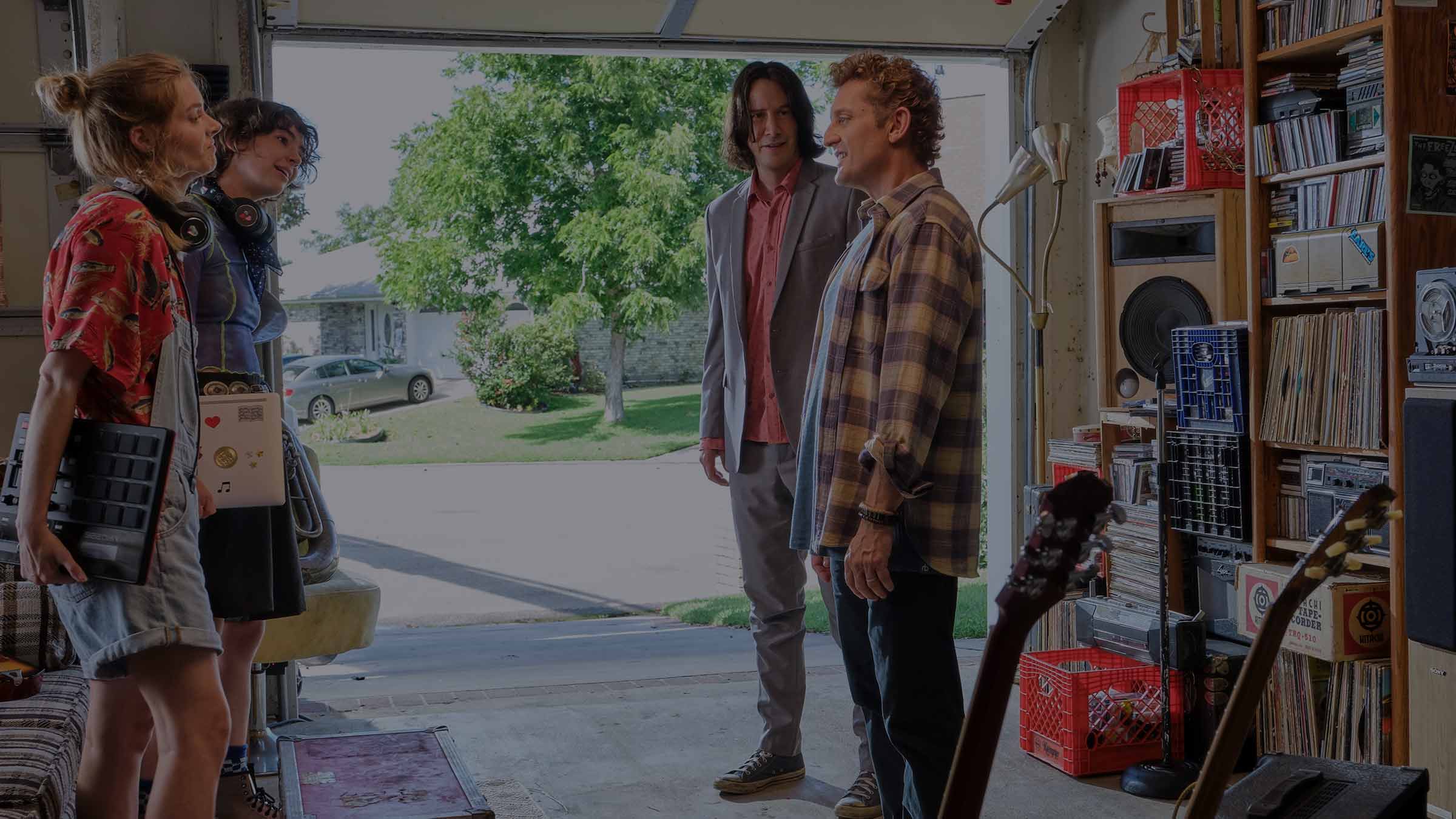 Air guitars at the ready as we take a closer look at the new trailer for the most excellent sequel, Bill & Ted Face The Music
By Virgin TV Edit
If the names Bill and Ted mean anything to you, 2020 just got a whole lot better (the bar isn't exactly high, but bear with us).
The brand new trailer for Bill & Ted Face The Music finds everyone's favourite deadbeat duo Bill S Preston Esquire (Alex Winter) and Ted "Theodore" Logan (Keanu Reeves) back for a whole new adventure. And it looks like it's gonna rock. Watch the trailer below.
Slated for a 21 August release date, this third instalment of the Bill and Ted saga comes 29 years after we last saw these iconic buddies on the big screen. But what should you expect this time around? We've dug a little deeper into the trailer to find out more…
Our heroes have hit hard times
It would appear saving the world in Bill And Ted's Bogus Journey didn't propel this pair of guitar slingers onto greater things. In fact, bogged down by middle-aged boredom, they've hit a slump that's far from bodacious. But that all changes when they're tasked with writing a song that will save the world. Again.
Their future selves are hench
The end of the trailer shows present-day Bill and Ted meeting future Bill and Ted in what looks like a prison yard. And the future Bill and Ted look like they've been pumping iron and necking protein shakes by the gallon. We've got a feeling that encounter might not end well for our time-travelling team.
They've aged most excellently
We all know Keanu Reeves made a pact with the devil to remain looking youthful for the rest of his days. And it would appear Alex Winter has struck a similar deal. Their voices may be gruffer and there may be liberal use of hair dye, but there's no denying Bill and Ted are looking good.
The Grim Reaper is back!
We've never been so thrilled to see the personification of death. Last appearing in 1991's Bill & Ted's Bogus Journey, a brief glimpse of the Grim Reaper (played once again by William Sadler) rocking some air guitar with our dynamic dudes is the blast of nostalgia we all need right now. Excellent!
It has the perfect message for these times
At the start of trailer, we see Bill and Ted in front of universe's most powerful person, The Great Leader. Asked what they've got to say for themselves, Bill replies: "Be excellent to each other". Ted responds with: "And party on, dudes." We could probably all do with thinking a little more like Bill and Ted right now.