Skip to main content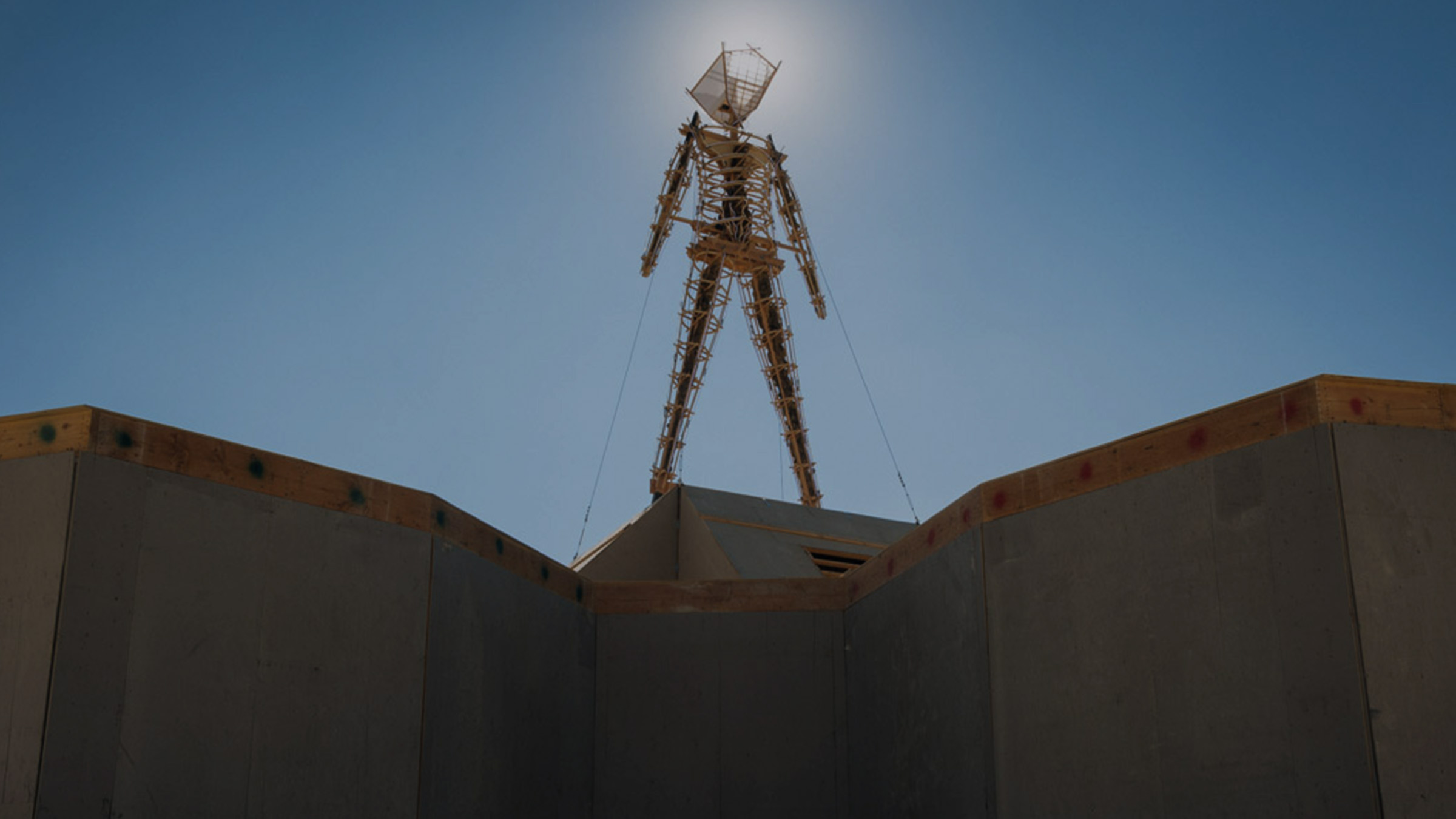 As Burning Man goes virtual this year, set your imagination alight with this new documentary. Meet the firestarters who are creating – and then burning – their art
By Laura Rutkowski, Staff Writer
"Isn't that that thing in the desert with naked hippies running around on acid?" New York-based artist Kate Raudenbush sighs on Zoom as she repeats what "everyone" asks about Burning Man. Her answer, though, which she now delivers with a giggle, is a tongue-in-cheek "yes", with a caveat: "And it's amazing art and it's amazing community".
New film Burning Man: Art On Fire sheds light on the often misunderstood yearly event (not festival – misinterpretation number one) and focuses on how the "inclusive" art is created to withstand and stand out in Nevada's Black Rock Desert. Jennifer Raiser, author of 2014's Burning Man: Art on Fire and associate producer on the film, says, "People love the sex, the drugs, the rock 'n' roll, the costumes, all of which are super fun, but it's a long way to go for a party. The art is something you can't see anywhere else."

More than just a nine-day gathering, Burning Man is also a philosophy and a culture, and the people who follow it are called Burners. Burning Man was founded by Larry Harvey ("our patron saint", says Jennifer) and Jerry James on the evening of the summer solstice in 1986. They set an eight-foot effigy of a man on fire on San Francisco's Baker Beach, while a small crowd gathered. It moved location from the beach to the desert in 1990 and now Burning Man welcomes about 70,000 people every year.
The temporary city, Black Rock City, is erected in the shape of a horseshoe, covering seven square miles. It's built by the attendees, most of whom are unpaid volunteers and just do it for the pure joy of it. They have to bring everything they will need for the duration of their stay, including supplies, food, water and tools.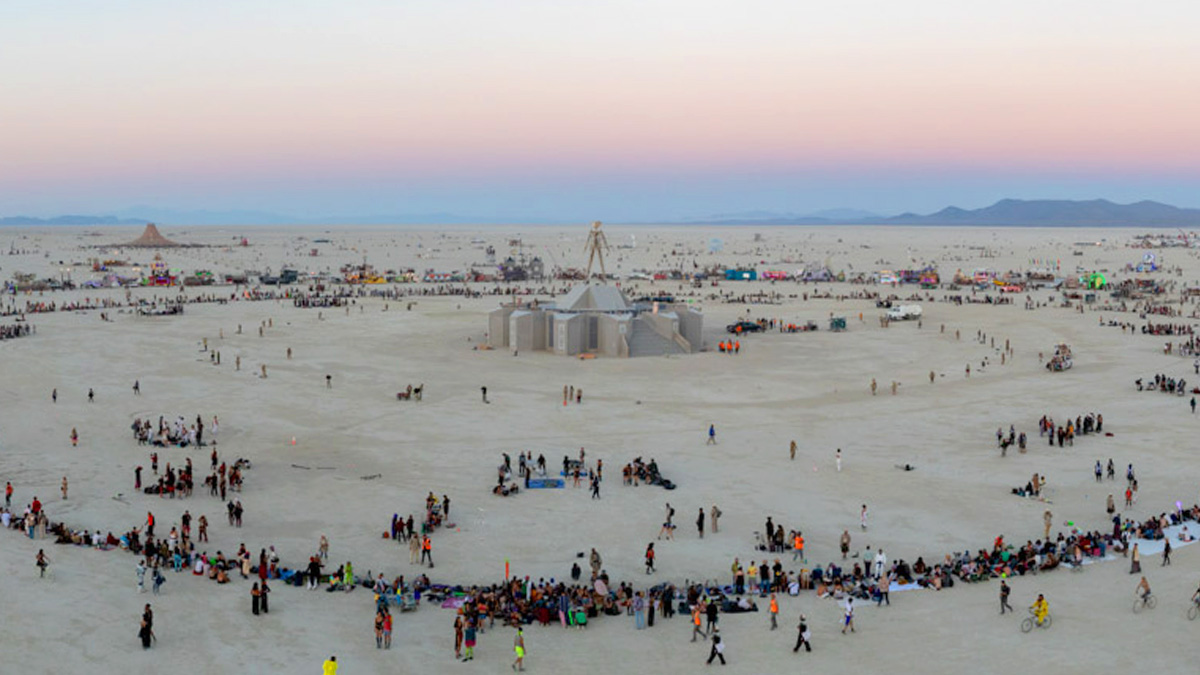 The temporary Black Rock City is centred around the Man and the Man Base

The only things available to buy are coffee and ice, while the rest of the event remains commerce-free. The arid, dusty spot is referred to as the "playa", the Spanish word for beach and also a term used to describe the remains of a dried lakebed, which is what Black Rock City sits on.
The film captures 2018's Burning Man, the first one after Larry's death the previous April and the last one he was involved in. He oversaw some of the designs and chose that year's theme of "I, Robot."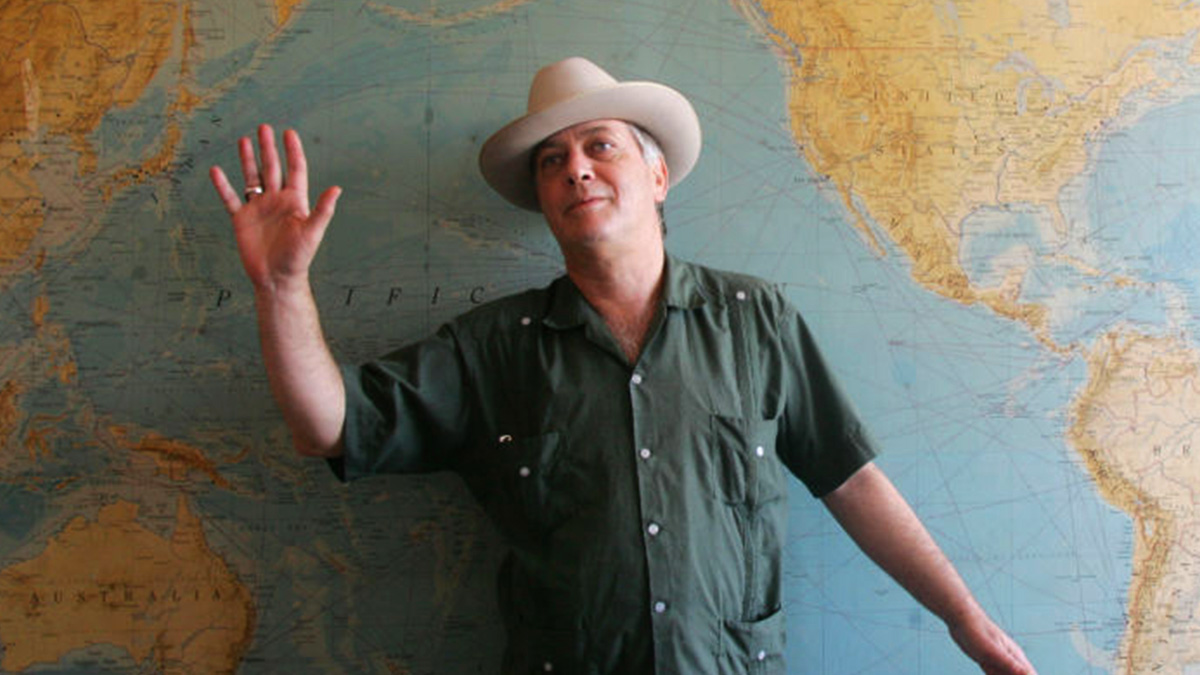 The subjects of the film all have nothing but good things to say about Burning Man's co-founder Larry Harvey

Anyone can contribute art for Burning Man, and the desert is everyone's playground, but she's a cruel mistress. Some opt to create most of their sculptures beforehand, but a lot of the assembling takes place right there on the playa, again with help from volunteers. "It's like making art on the moon," Kate says, "You know, with oxygen of course – and gravity."
To even be noticed in the vastness of the desert, the art must be taller than 10 feet, strong (or the wind will blow it away), climbable, able to withstand sandstorms and, crucially, if it's intended for a fiery fate – burnable. Not only that, but the boiling temperatures during the day and the freezing ones at night are punishing for anyone working in those conditions.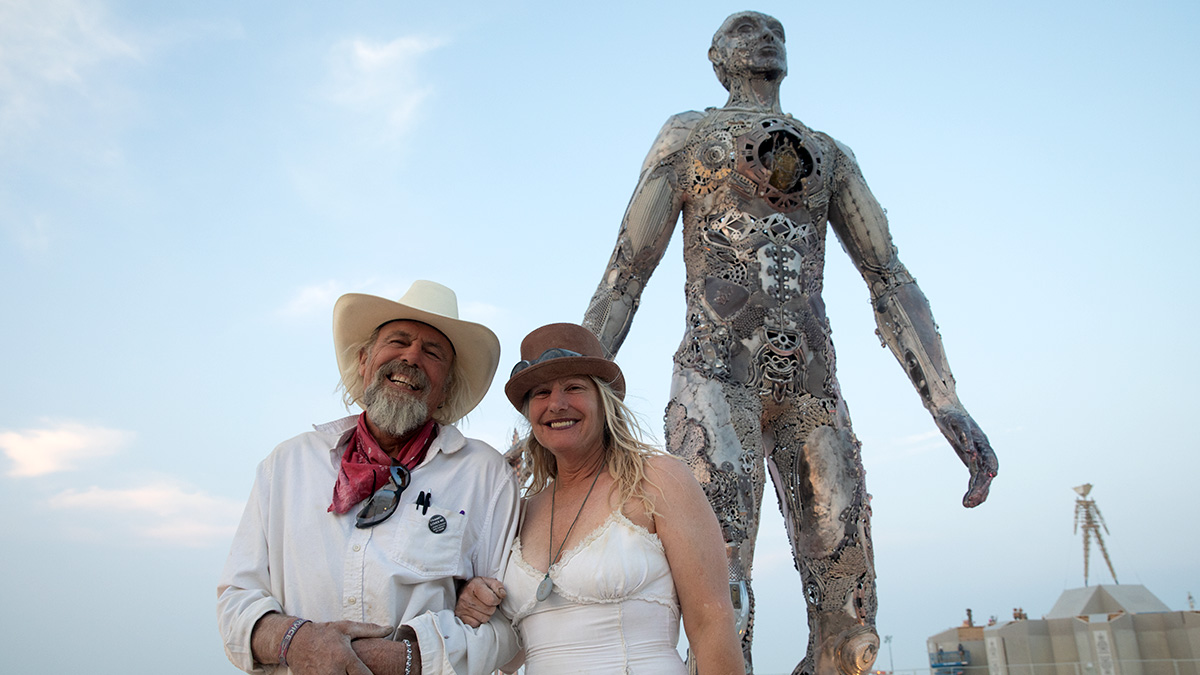 San Francisco-based artist Dana Albany stands in front of her 2018 sculpture Passage, which was made out of reclaimed parts, with her husband Michael Hopkins, aka Flash, who has been part of Burning Man since day one

"It's the opposite of a gallery in that it's made to withstand very extreme conditions for a short amount of time. It's built to be interacted with – there are no velvet ropes," says Jennifer, who's talking to us on Zoom from San Francisco. "It takes away that, "Oh, it's a Jeff Koons, you're supposed to like it because it's important."" More than 400 large-scale sculptures are on show, with some of them built with a partial grant from Burning Man, but most of them are community funded by the artists and their friends.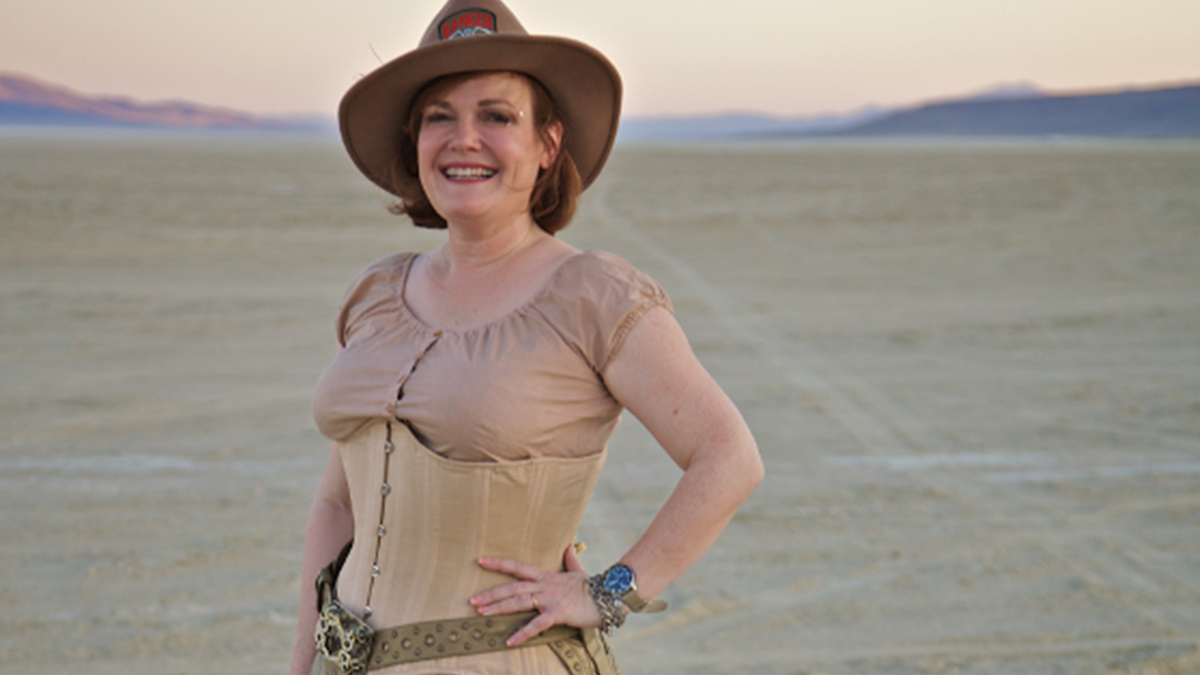 This would have been Jennifer Raiser's 15th year at Burning Man, which she calls her "psychic spa"

The crux of Burning Man is in the name. The Man effigy, which was 105 feet at its tallest and stands on what's called the Man Base, is the focal point of Black Rock City and is always burnt the Saturday night before Labour Day in the US. The Temple, which faces the Man, is burnt the next day.
The Temple is designed by someone different every year to suit their vision, with London-based French architect Arthur Mamou-Mani creating Galaxia for 2018. The spiralled creation was made of 20 timber trusses that merged into one point towards the sky. It was finished late and so was only open to the public for four days before it was burnt in a volcanic inferno.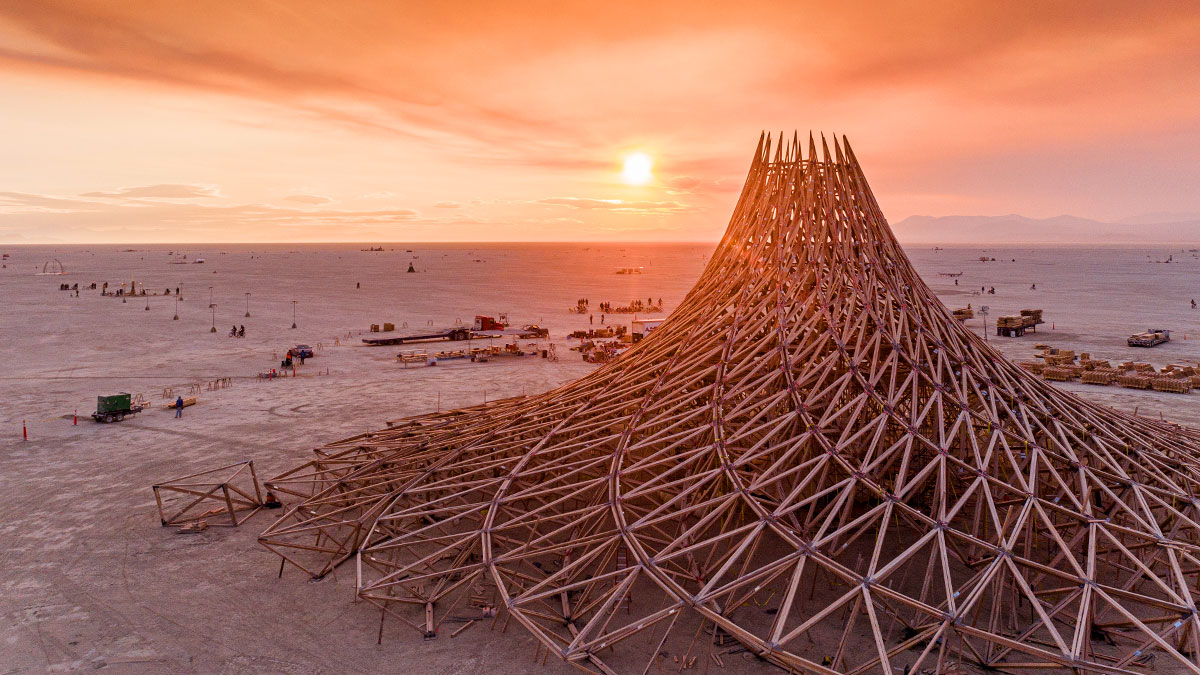 Arthur Mamou-Mani's Galaxia was selected out of 12 finalists as 2018's Temple by Larry before he died

"It was like an architectural drawing on fire. You could see every spindle of the temple all at once. When they say built to burn, it really was, because it was as beautiful, if not more beautiful, burning than it was when it was standing," Jennifer recalls.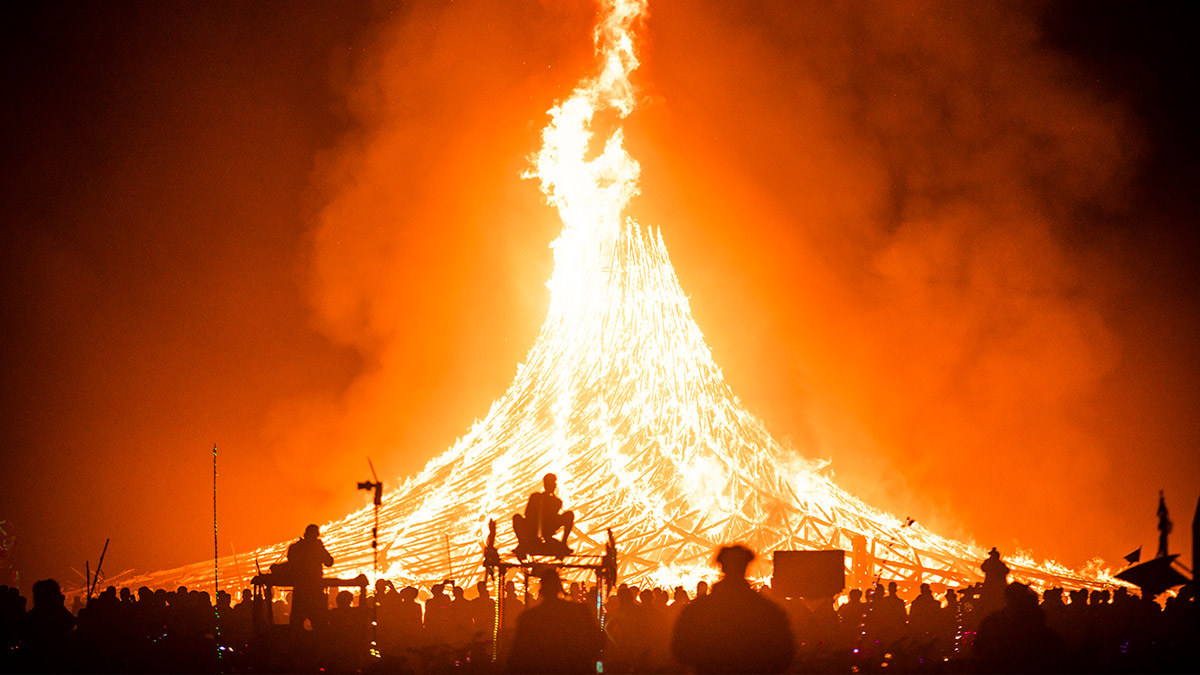 Galaxia goes up in flames for the Temple burn

The Temple burn is the "yang to the yin of the Man burn", she adds. "The Man burn is joy and celebration and happiness and release of all this energy. The Temple burn is contemplation and letting it go." While the Man burn occurs against a backdrop of cheers and fireworks, the Temple burns in complete, eerie silence as the flames lap up the intricate structure.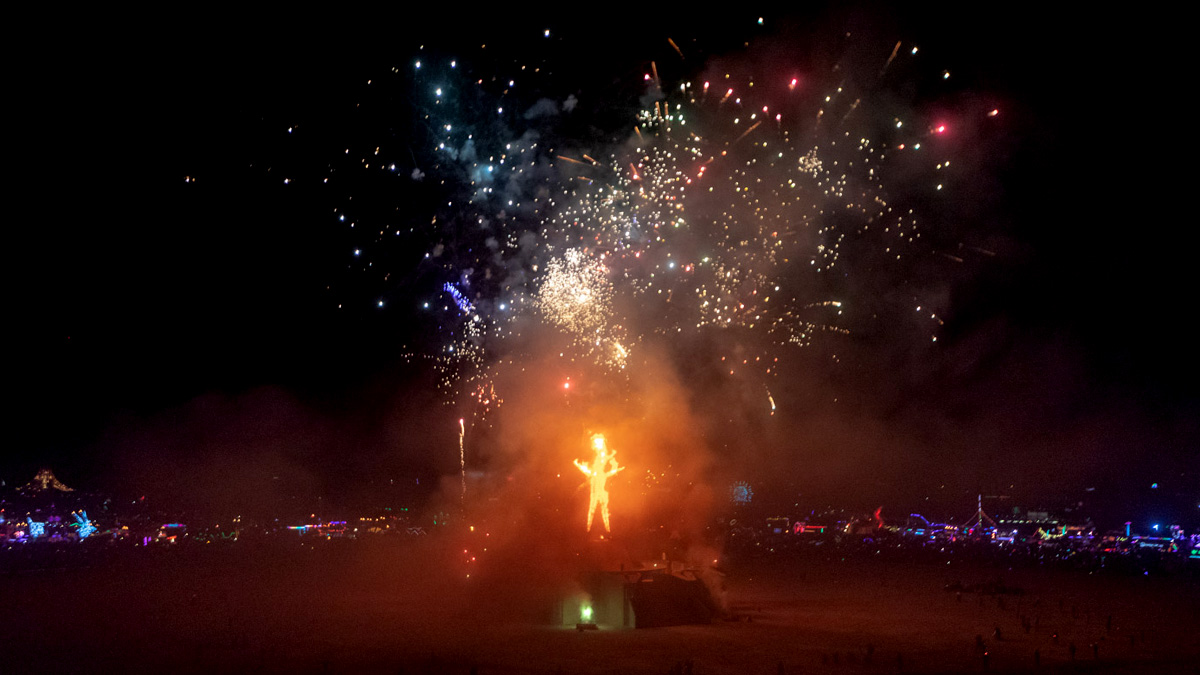 Here he is – the burning Man of Burning Man

Jennifer says, "The Temple has been filled with pictures, wedding dresses, memories, letters you read that just break your heart. Even though they're not supposed to, people put ashes in there. They write all over the Temple things they wish they'd said."
Think Midsommar, but a lot less gruesome. Both celebrate the summer solstice and director Ari Aster called Midsommar his "breakup film", while Larry also previously said that the spark for Burning Man was fuelled by a romantic breakup. However, Jennifer wants to put the record straight: "Larry was very annoyed that he'd ever said that and later in his life he said it's whatever you want to let go of. He never wanted it to be about him and he never wanted to project his experience of what needed to be burned on to everyone else."
Fewer than 10% of the art projects are also burnt, including Kate's Passage Home in 2018. The five wooden portals were a tribute to Larry. The first is an open pentagon, representing the blank slate of the playa, the second is a map of Black Rock City, the third is the map with a keyhole to symbolise what people unlock when they arrive, the fourth is the Man and the fifth pentagon features a silhouette of Larry, identifiable by his hat, a cigarette in his hand and a water bottle at his side.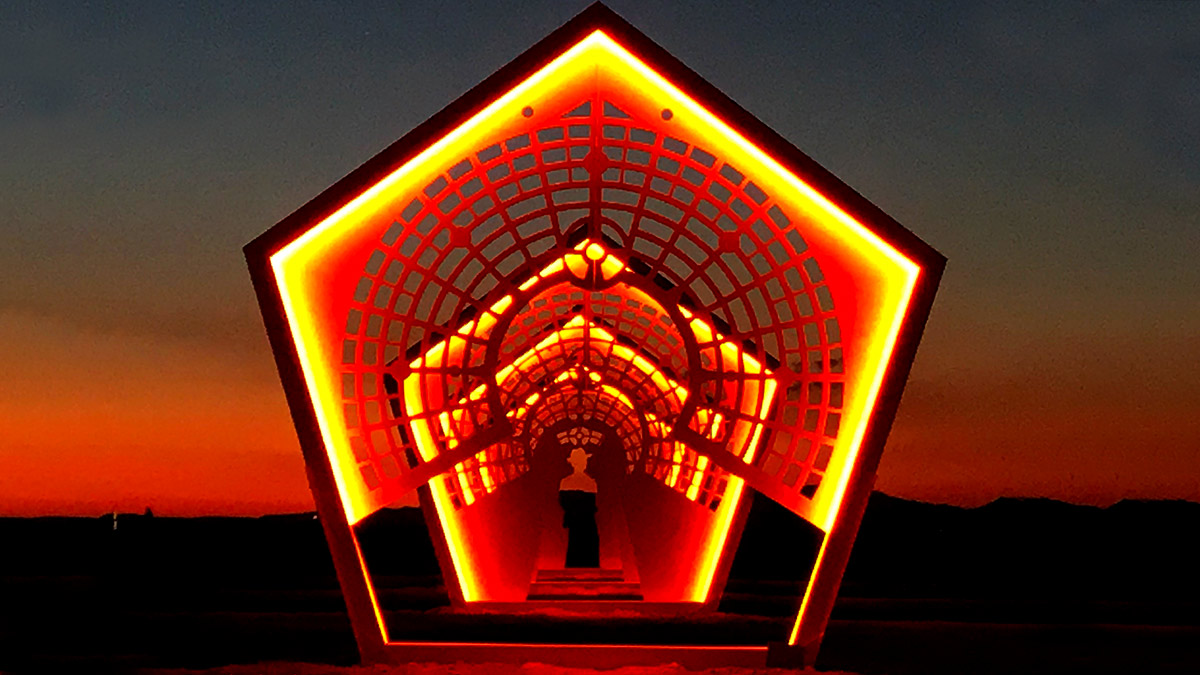 Artist Kate Raudenbush has created 18 projects at Burning Man, including Passage Home (seen here and below), since she first attended in 1999

Kate and her crew used an app called Sun Seeker to find out where the sun would be rising a week in the future so the sun would line up with the portals and pass through them. Then Kate watched as her sculpture was set alight in the Temple.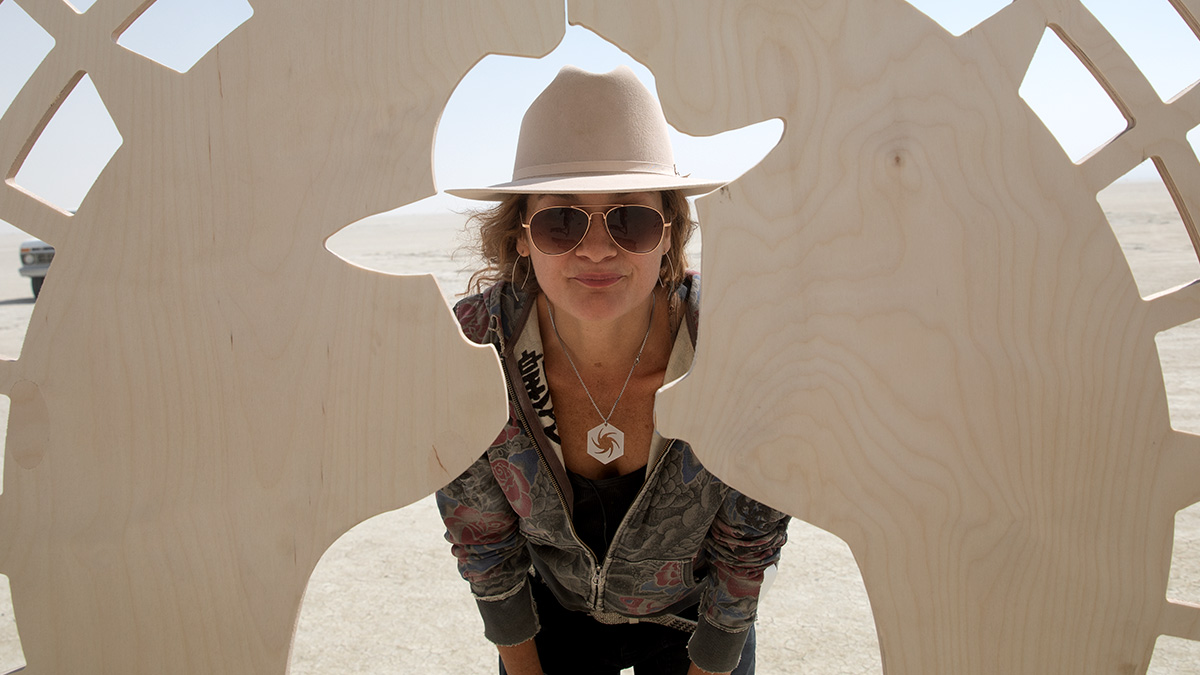 Many great hats, both practical and fashionable, are seen throughout the film, including Kate's and Larry's in sculpture form

"It's what Larry would have wanted," she says. "Fire feels like a spiritual conduit and when used in a ritual and in a respectful way, fire is the right way to release a sacred object, or something you want to let go of. It serves so many purposes: a point of gathering, a point of release, destruction, obviously."
Jennifer reveals, "In the old days, people used to burn stuff because it was easier than bringing it home, to be honest." Once everything is burnt and as Burning Man ends, all MOOP (matter out of place), as Burners call it, must be cleared as part of the Burning Man philosophy "Leaving No Trace" to restore the land back to its natural beauty, and there are no bins on site!
With this year's Burning Man cancelled, and a virtual one taking its place from 30 August to 6 September, "the serendipitous timing definitely works for the film," says Kate. "For us to not have a Burning Man, it's like missing your family reunion." Serendipity is a word Kate and Jennifer use a lot as they recount various times it's been in full force during Burning Man.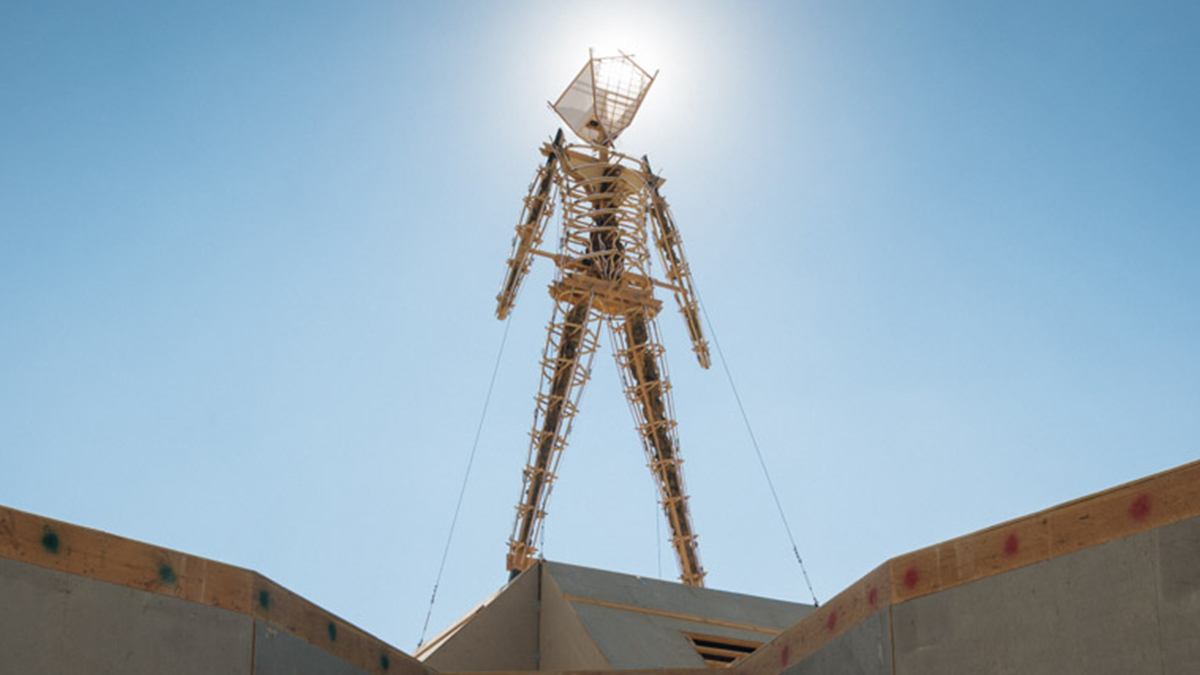 HE'S DA MAN

The most recent example is Burning Man's theme this year: "Multiverse." "It's so on point, right?" Kate gushes. "We didn't know this was gonna happen, but it did." It was decided on long before the physical event had to be cancelled due to the pandemic, yet it's incredibly fitting for VBRC (virtual Black Rock City). "You can burn a sculpture down on Monday and build it again on Tuesday. That's amazing, right?," Kate adds.
"OK, I'm gonna get really woo-woo on you here," Jennifer says. "Burning Man attracts a psychic vibration that makes amazing things happen because they're supposed to happen. We call that playa-nicity." Kate also uses the term "playa magic".
So what would Larry make of taking Burning Man virtual? "He would say there's no substitute for real experience. Having to do it virtually would be disappointing in one sense to him, because it's not visceral. On the other hand, he would say we have to grow and evolve. This is not a bonfire on the beach from 34 years ago," says Jennifer.
"This feeling of shared purpose and an opportunity to meet people and be your total self… is exactly what we need right now. What we most want is that connection when we're all isolated in our little Zoom boxes."
Way back in 1997, Larry seemed to have predicted this, when we were still coming to terms with the world wide web, let alone a virtual world. He told The New York Times: "Both Burning Man and the internet make it possible to regather the tribe of mankind." We think that's what you call playa-nicity.

When is Burning Man: Art On Fire on Amazon Prime Video?
Find the documentary in Apps & Games > Prime Video from Saturday 22 August.


How to watch Amazon Prime Video with Virgin TV
Prime Video is available to all Virgin TV customers with a V6 box, powered by TiVo®. Simply sign up to Amazon Prime Video via their website, and you can log in on the box. And because Prime Video is fully integrated into TiVo®, you can search without even going into the app. Just select Search & Discover from the Home menu and type in the name of the show or movie you're after.
TV channels: Channels, content and features available depend on your chosen package. Channel line-ups and content are subject to change at any time and to regional variations.
HD: HD TV set, V HD Box, TiVo box or Virgin TV V6 connected with HDMI cables required for HD channels. Number of inclusive HD channels depends on package.
Amazon Prime Video: Amazon Prime subscription required at extra cost. 18+. Click here for T&Cs.
Interviews: Any opinions expressed in interviews are those of the interview subject and not those of Virgin Media.
Image credits: Burning Man: Art On Fire @ Jonathan Clark, Sidney Erthal and Jamen Percy