Skip to main content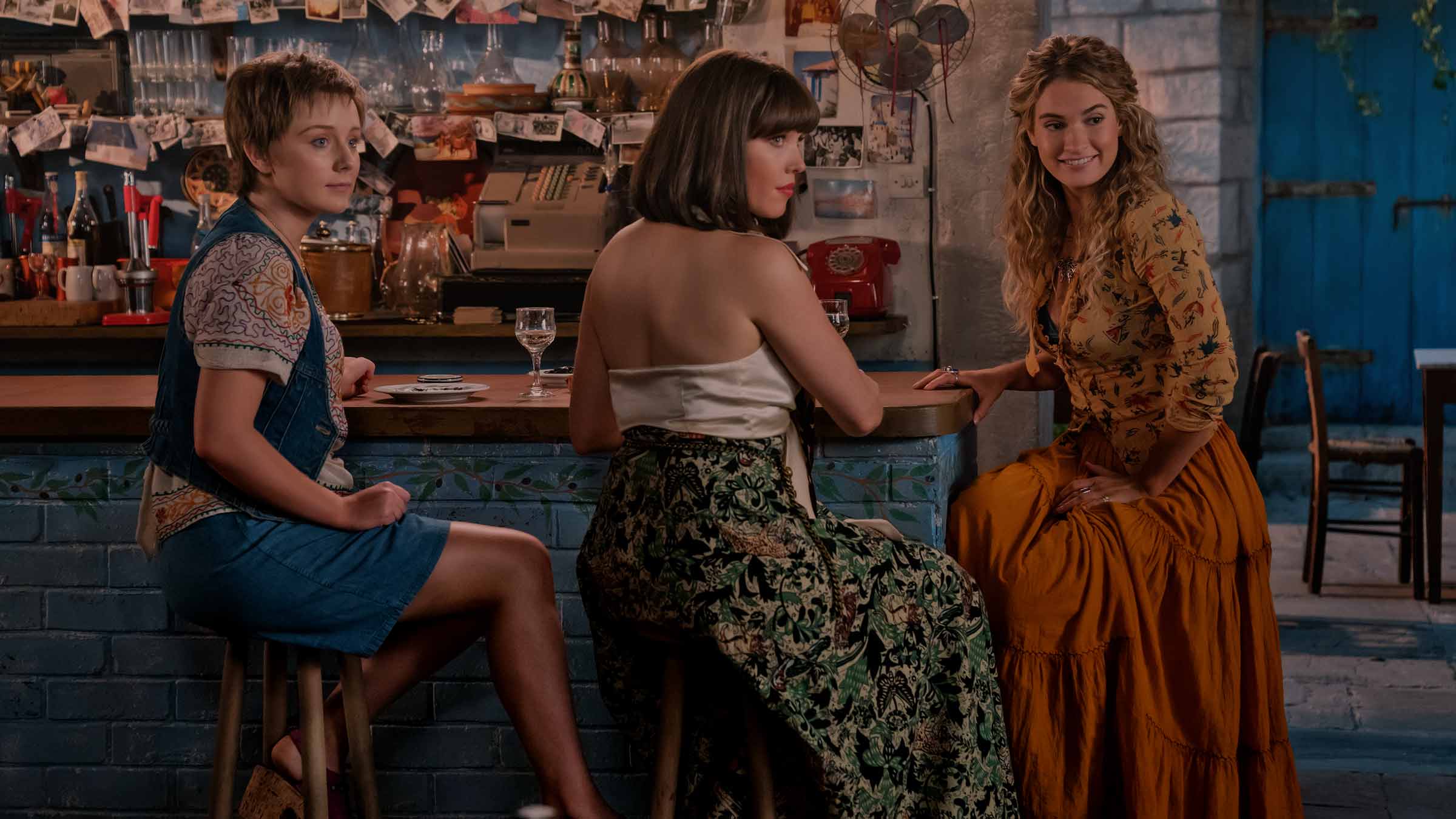 Travel back ten years to simpler times. Mamma Mia! is in cinemas… Streep sings, Brosnan boogies, ABBA fans swoon. What could ever match the mood of the original? Why, the sequel of course!
Buy Mamma Mia! Here We Go Again on the Virgin Media Store now. Cert PG
The World Cup was amazing this summer, but it wasn't that brilliant for British cinemas, which saw audience numbers slump as we cheered on our footballing heroes. But then Mamma Mia! Here We Go Again arrived, leading the public to turn off their tellies and head to the movies for some 70s pop-based partying.
People can't get enough of those cracking storytelling tunes – it's why ABBA is one of the biggest bands ever – so it's no wonder someone realised it might be time for another Mamma Mia! film. Set on the same fictional Greek island, Here We Go Again sees many original cast members return (including Pierce Brosnan, Julie Walters, Christine Baranski, Colin Firth and Amanda Seyfried) to sing and dance their way through more numbers from the Swedish songsters.
Oh, and did we mention Cher? Yes, she's in it too, playing Meryl Streep's mum. But it's not just the incredible cast and soundtrack that make the movie. Here's even more reasons why you should pull on your PJs, grab the neareast hairbrush and "Take a Chance On" Here We Go Again…
The costumes are key
Award-winning costume designer extraordinaire Michele Clapton took time off from Game Of Thrones and The Crown to work her magic with the super-70s looks of Here We Go Again. We recommend playing "spot the most outrageous outfit" while you watch. Colin Firth in Lycra gets our vote.
Whatever it is that happens with "Waterloo"
It's a scene so spectacularly cheesy that it probably should've caused some kind of diplomatic incident. But about 30 seconds in, you'll be well and truly on board with what must be one of the most sensationally surreal dance numbers you'll ever see in a movie. Plus, actual ABBA member Benny Andersson has a cameo as the piano player!
Brosnan doesn't sing, much
Sorry, 90s Bond fans, but Pierce made our ears bleed when he attempted to hold a tune in the original. Thankfully, this time around his solo moment is more of a whisper than a bellow, giving plenty of poignancy to the scene where he remembers his time with Meryl.
You'll like it even if you hated the first one
We know the very thought of it is crazy, but some people didn't like Mamma Mia! However, if you're one of those people, this one's for you. Why? Writer/director Ol Parker. Thandie Newton's hubby (with a little help from Richard Curtis) introduces a subtlety that, dare we say it, might have been missing from the original. It's still an over-the-top ABBA fest, but it's got real emotion – especially in the "My Love, My Life" number – and will have even the most hard-hearted viewer reaching for a hanky.
Say it with us now… "Cher"!
We know, we know, we said it at the start, but surely all things should both begin and end with the Goddess of Pop? The wigs, the voice, the moves, the utter disdain for anyone who doesn't realise how amazing she is. Only Cher could take a song in which two old war veterans sing about the Mexican Revolution and make it about her.
Looking for more movie magic on the Virgin Media Store?
Then you should know that the brilliant Fantastic Beasts: The Crimes Of Grindelwald is available to pre-order on the Virgin Media Store from Friday 16 November! Plus, with all eight Harry Potter movies and Fantastic Beasts And Where To Find Them available from just £7.99 until Sunday 25 November, prepare to be spellbound…
Not heard about the Virgin Media Store?
It's the place where you can buy the latest and greatest movies and TV Box Sets, yours to watch again and again, at home or on the go. Sign up now at virginmediastore.com, choose from hundreds of films and TV Box Sets and start watching instantly.
Enjoy your purchases on your Virgin TV Box (TiVo®/V6), online, or on your registered iOS and Android devices with the Virgin Media Store app.
Show me the latest releases on the Virgin Media Store.
HD: HD TV required to view HD channels. Number of inclusive HD channels depends on package.
Virgin Media Store: Separate terms and conditions apply to the Virgin Media Store service. DVD included for movie purchases only. Purchases must be made on the website or set top box. Virgin TV subscription and our latest Virgin TV V6 box required to buy and watch via set top box – Store is not available on other boxes. Compatible device & browser required. Max 5 registered devices. Max 2 devices can stream content simultaneously. Stream and download in UK only (or while temporarily in the EU).
Image credits: Mamma Mia! Here We Go Again © 2018 Universal Studios. All Rights Reserved.