Skip to main content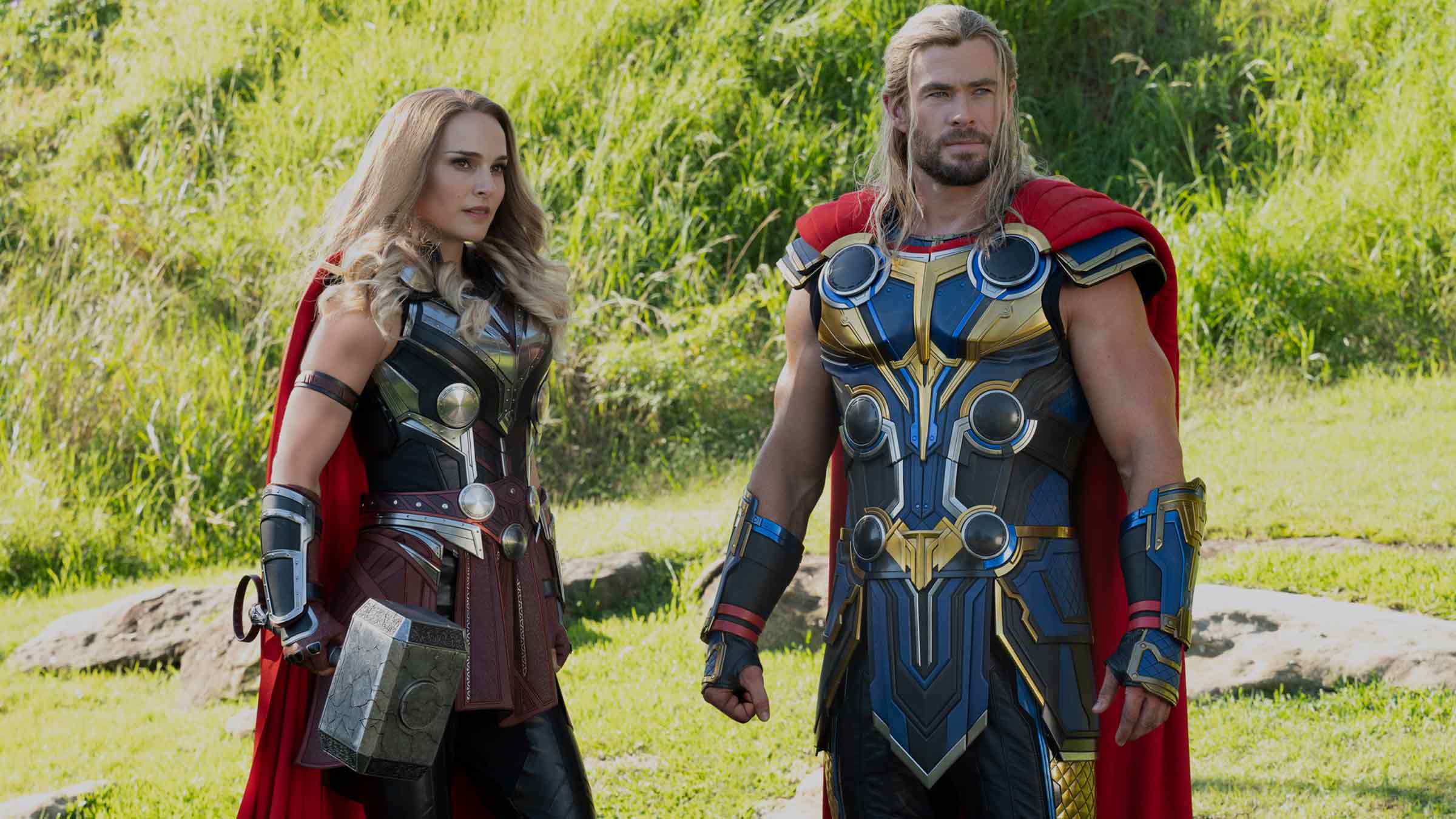 Taika Waititi's sequel to Marvel Studios' Thor: Ragnarok is goofy, romantic, action-packed and one of the most successful films of 2022 so far. Buy it now on the Virgin Media Store
By Virgin TV Edit
Starring Chris Hemsworth as the Norse god-inspired Marvel superhero, Taika Waititi's 2017 film Thor: Ragnarok was widely acclaimed for its thrilling pace and smart, vivid humour.
Now, the film's hotly anticipated sequel, Marvel Studios' Thor: Love And Thunder, is available on Virgin Media Store – you can buy it here. And it finds the Avenger and so-called "space viking" (Hemsworth) on a journey unlike anything he's ever faced – namely, a quest for inner peace.
Waititi has said that Thor is going through a midlife crisis in Love And Thunder, as he seeks to identify his purpose in life and "figure out exactly who he is and why he's a hero" – or whether he should even be a hero at all. But the thunder deity's retirement gets rudely interrupted when he learns of Gorr the God Butcher (Christian Bale), a gaunt galactic killer who's determined to exterminate all celestial beings.
At first, Thor takes on the God Butcher alongside the Guardians of the Galaxy – which means some highly enjoyable cameos from Chris Pratt as Star-Lord, Vin Diesel as Groot and Bradley Cooper as Rocket, among others. But another dream team soon comes to the fore, as two of Thor's close friends – the lovable gladiator friend Korg (voiced by Waititi) and warrior woman King Valkyrie (Tessa Thompson) – step up to support him.
Unexpectedly joining the trio is Thor's former girlfriend, Dr Jane Foster (Natalie Portman). After an eight-year absence from his life, the once Earth-bound astrophysicist is now the Mighty Thor: a superhero in her own right whose costume and powers are subversively similar to her ex-partner's. Unbeknown to Thor, Jane is seriously ill, and her sudden reappearance sends him into a highly relatable tailspin – but they're able to join forces to uncover the mystery of Gorr's vengeance.
Lightning-paced with sharp gags and plenty of slapstick moments, this epic cosmic adventure is deliberately different in tone from Thor: Ragnarok. Waititi drew inspiration from 1980s adventure movies and co-wrote the script with Jennifer Kaytin Robinson, whose credits include sharp rom-coms such as the romcom series Love Life (available in Apps & Games > BBC iPlayer) and the Netflix film Someone Great. Unsurprisingly, it's already been a box office smash hit, passing the $750 million mark worldwide – making it one of the most successful films of 2022.
You can buy Thor: Love And Thunder on Virgin Media Store on the web or directly on your box. And once you've purchased it, you can watch at home, or you can access it on the go on your registered iOS and Android devices with the Virgin Media Store app. You can also buy the previous entry in the movie series, Thor: Ragnarok, on Virgin Media Store.
If you have a TiVo® box or Virgin TV V6 box, powered by TiVo®, go to On Demand > Movies. If you have a Virgin TV 360 box or Stream, go to Box Sets & Movies > STORE.
Looking for more films to buy or rent? Search Virgin Media Store for a title, or browse by category such as Out This Week, Best Sellers or Collections. Once you've found the movie you want to rent, select Watch now to start watching instantly. Then, sit back and enjoy! You'll have up to 48 hours to finish watching your film.
Virgin Media Store: Separate terms and conditions apply to the Virgin Media Store service. Purchases must be made on the website or set top box. Virgin TV subscription and our latest Virgin TV V6 box required to buy and watch via set top box – Store is not available on other boxes. Compatible device & browser required. Max 5 registered devices. Max 2 devices can stream content simultaneously. Stream and download in UK only (or while temporarily in the EU).
Virgin TV 360 Box: Minimum of M50 Fibre Broadband required for operation. Boxes require a HDMI cable to connect to your TV.
Image credits: Marvel Studios' Thor: Love And Thunder © 2022 MARVEL