Skip to main content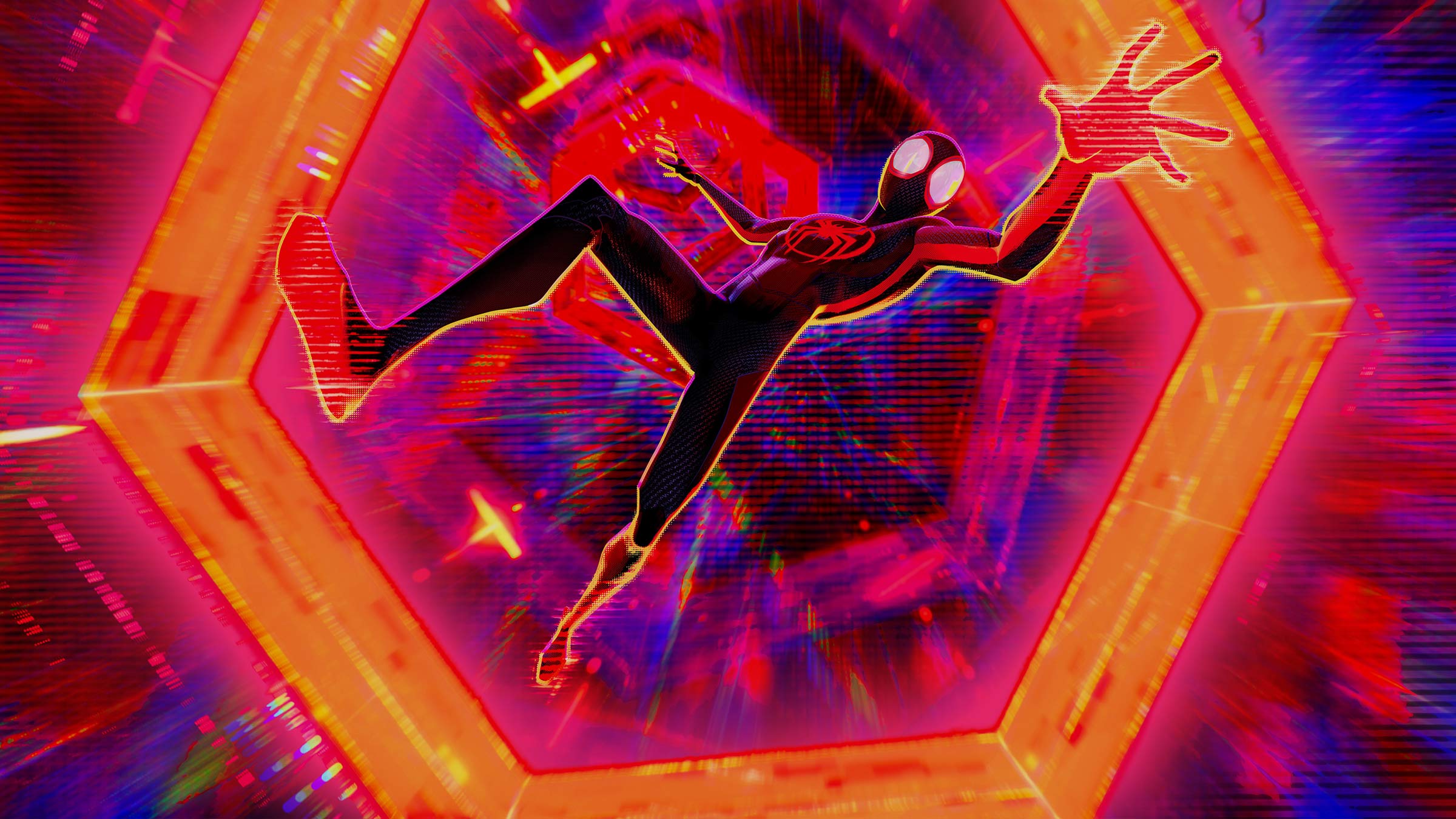 Full of jaw-dropping animation, inventive storytelling and irresistible characters, you'll want to watch this again and again. And now you can! Here's how to buy this summer blockbuster on Virgin Media Store
By Torri Mundell, Feature Writer
Watching Spider-Man: Across The Spider-Verse is a trip, a high-speed joyride through clever, criss-crossing storylines and more universes than you can sling a web at. It's a journey you'll want to take more than once, whether you want to appreciate the twists and turns of the plot or soak up the visual brilliance of the animation. The great news? The movie is now available to buy on Virgin Media Store, so you can watch it as often as you want.
Here's a taste of what to expect from this eye-opening movie…

Spider-Man: Across The Spider-Verse picks up the action a year after the events of the Oscar-winning Spider-Man: Into The Spider-Verse. In one universe is the lonely teenage Spider-Man Miles Morales, voiced by Shameik Moore (Dope). In another alternate universe is the angry, misunderstood teenage Spider-Woman Gwen Stacy (Hailee Steinfeld, Edge Of Seventeen).
Both are juggling their respective undercover superhero duties with schoolwork and parental demands. When the two Spideys meet again, Miles is catapulted into the mind-bending possibilities of the Multi-Verse, where he discovers a whole secret society of Spider-People.
There is also a villain running amok, and his powerful dark energy could destroy any one of their worlds – though he seems most preoccupied with murdering Miles' father. All of these narrative threads are spun together with poignant themes of identity and belonging, as well as an existential one about whether a superhero's fate is predestined.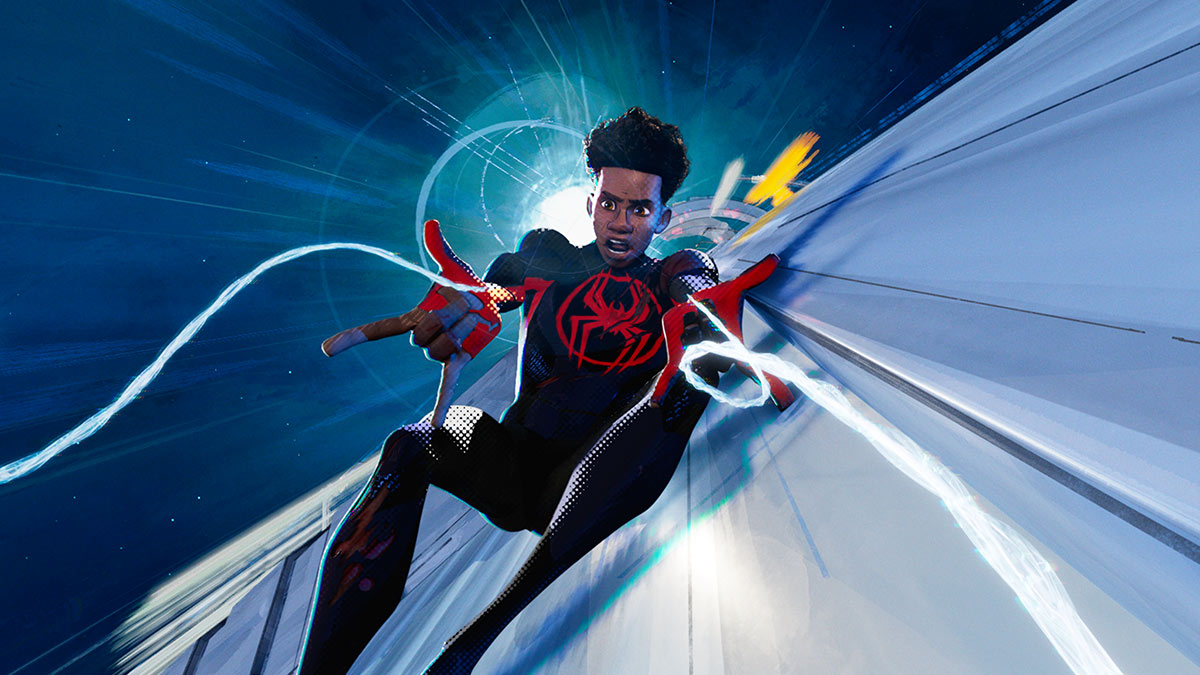 The animation team behind Spider-Man: Across The Spider-Verse must have had a ball, serving up no less than six different visual styles to reflect different cosmos and characters. All are simply splendid, from Gwen's colourful "mood ring" world, to new characters such as the chaotically scribbled Spider-Punk, voiced with tons of swagger by Get Out's Daniel Kaluuya, and the 1970s comic book-inspired Spider-Man India (Karan Soni, Deadpool 2).
It's a lot – delightfully so – and it's perfect for children from the age of 8, who will love the delirious fun of the action sequences as well as the film's quieter, more emotional moments. Grown-ups will love the complexity of the plot and some laugh-out-loud gags, including a cheeky reference to the "pointing Spiderman" meme.
You can buy Spider-Man: Across the Spider-Verse (cert PG) now on Virgin Media Store.
If you watch on a TiVo® box or Virgin TV V6 box, powered by TiVo®, go to On Demand > Movies. If you watch on a Virgin TV 360 box or Stream, go to Box Sets & Movies > Store. You can also buy or rent the earlier film in the series, Spider-Man: Into The Spider-Verse.
Thanks to Virgin Media Store, you can see the biggest releases in the comfort of your own home with a couple of clicks. Watch whatever you fancy, whenever!
Haven't signed up to the Virgin Media Store?
It's the place where you can buy the latest and greatest movies and TV Box Sets, yours to watch again and again, at home or on the go. Sign up now at virginmediastore.com, and go to On Demand > Movies to choose from hundreds of films and TV Box Sets and start watching instantly.
Enjoy your purchases on your Virgin TV Box (TiVo®/V6/Virgin TV 360). Or you can access online and on your registered iOS and Android devices with the Virgin Media Store app.
You can also rent the latest films
If you have a TiVo® box or Virgin TV V6 box, powered by TiVo®, go to On Demand > Movies. If you have a Virgin TV 360 box, go to Box Sets & Movies > STORE.
Search for a title, or browse by category such as Out This Week, Best Sellers or Collections. Once you've found the movie you want to rent, select Watch now to start watching instantly. Then, sit back and enjoy! You'll have up to 48 hours to finish watching your film.
Virgin Media Store: Separate terms and conditions apply to the Virgin Media Store service. Purchases must be made on the website or set top box. Virgin TV subscription and our latest Virgin TV V6 box required to buy and watch via set top box – Store is not available on other boxes. Compatible device & browser required. Max 5 registered devices. Max 2 devices can stream content simultaneously. Stream and download in UK only.
Virgin Movies On Demand: Virgin Movies On Demand movies are pay by title. Once rented, content available for 48 hours.
Image credits: Spider-Man: Across The Spider-Verse © 2023 Sony Pictures Animation Inc. All Rights Reserved. MARVEL and all related character names: © & ™ 2023 MARVEL