Skip to main content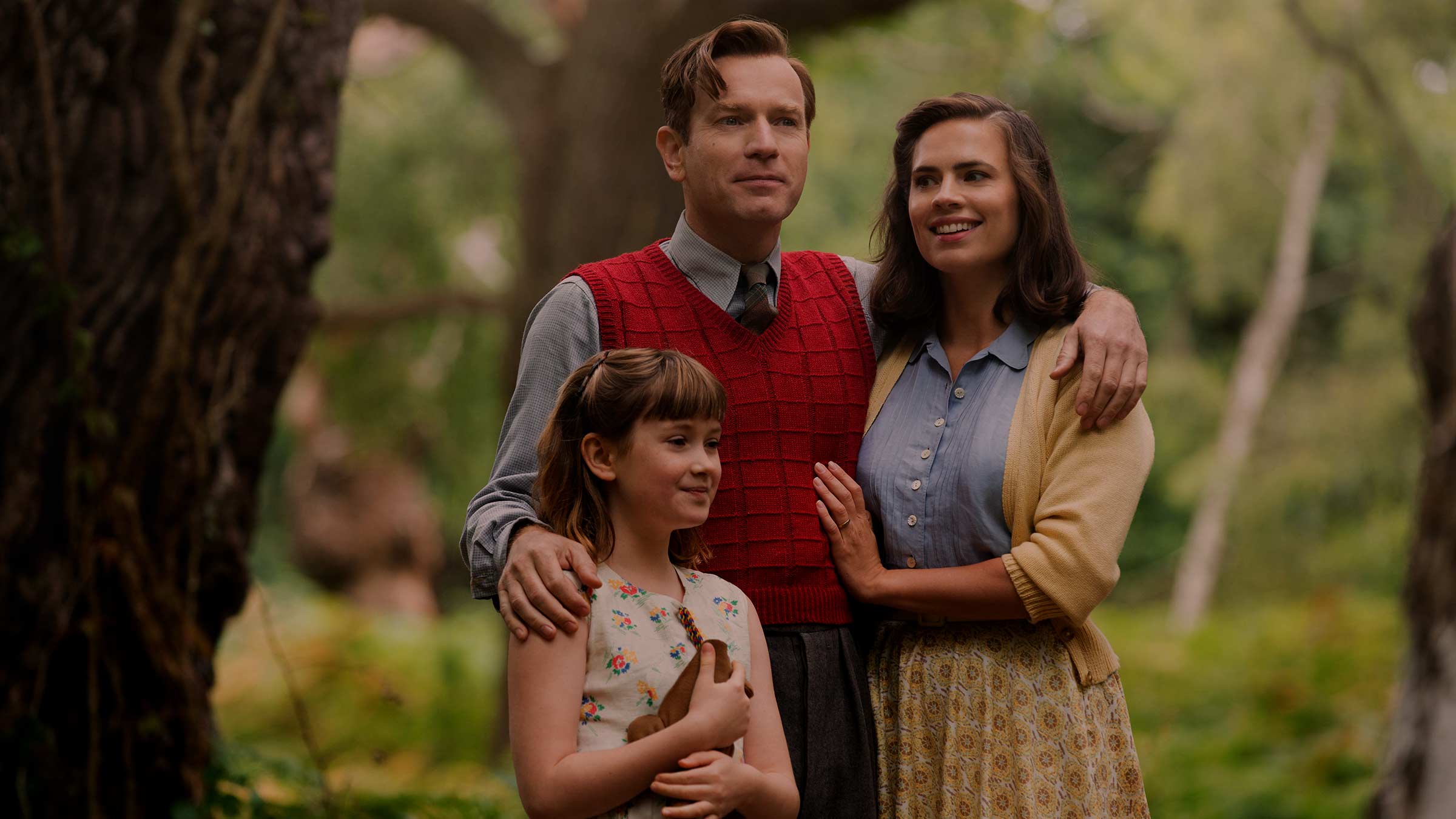 This modern-day Hook sees an older Christopher Robin return to the Hundred Acre Wood and reconnect with some not-so-imaginary friends

Even his wife Evelyn (Hayley Atwell, Agent Carter) and daughter Madeline (Bronte Carmichael), find themselves playing second fiddle to Christopher's demanding boss, Giles Winslow (Mark Gatiss). When Pooh awakes one night and is unable to find his furry friends, he sets out on a journey to London in a bid to find Christopher.
Brad Garrett, Peter Capaldi, Sophie Okonedo, Toby Jones and comedian Nick Mohammed lend their voices to the cast of critters.
Whether you grew up with the tales of Winnie-the-Pooh or are new to the honey-loving bear's escapades, Christopher Robin will definitely charm you. Its sweet story never borders on sickly and will have you thinking about your old stuffed toys with a renewed sense of wonder.
This reunion got us thinking: What might some of our other fictional favourites be up to these days? We tapped into our inner Christopher Robin to imagine where they ended up. Read on to find out more.
Monsters Inc's Mike Wazowski

Unlike his best friend Sulley, whose towering stature and earth-shattering roar are the stuff of legend, Mike Wazowski, a small, green, one-eyed monster, was never much of a "scarer". The last we saw of Mike, he was proving the energy-generating ability of children's laughter (it's ten times more powerful than screams, don't you know). His comedy career was gathering steam, and he was building up his portfolio of jokes with some seriously silly slapstick.
We reckon his next move would be a teaching position at the School of Laughing at Monsters University. The natural comedian would have his students in stitches. His side hustle would be a monster-filled variant of a show like Michael McIntyre's Comedy Roadshow. Mike, on hosting duties, would present a showcase of acts of all shapes and sizes (and monster types!) before zooming off into the night in a seriously slick red sports car.
He'd likely need a little boost to get into the car, but thankfully he's got his lovely lady friend Celia Mae (and her snake pals) at his side to help him through the tough times.
Ratatouille's Remy

We imagine Remy's career to have skyrocketed – the talented rat is highly sought after the world over for his culinary skills and has also branched out into consultancy work. He's good friends with the mouse from Mouse Hunt too, who he hits up when he needs a good cheese recommendation.
So far, so magnifique! However, he's facing a bit of a backlash, with some people expressing reservations about having a rat involved in the preparation of their food. As a result, when he's not busy jet-setting or fine-tuning recipes, Remy can be found campaigning for rodent's rights.
He's not only taking to the streets to reverse this bad rep, he's going underground – the London Underground, that is. Look out for his live demonstrations and pop-up stalls at tube stops across the capital, where he'll be serving up food and food for thought. Those hungry commuters will eat their words!
Big Hero 6's Baymax

The non-threatening, huggable aesthetic of Baymax, a personal healthcare companion, is key to his friendly, good-natured appearance. Fun fact: Disney visited a variety of universities for inspiration while designing the loveable robot and struck gold at Pennsylvania's Carnegie Mellon University, where researchers were developing inflatable, balloon-like "soft robotics".
We think that, in addition to fighting crime, Baymax would regularly visit hospitals to console patients, spread cheer and dole out quick fixes where he can (popping on a plaster here, dishing out a lollipop there). He's a big hit – making hospital stays more manageable for patients and healthcare professionals alike. We'll fist bump to that. Ba-la-la-la!
Toy Story's Sid Phillips

Ah, Sid – Andy's next-door neighbour and the antagonist of the first Toy Story movie. His exploits were the stuff of nightmares and had us holding our toys close and promising to treat them better. In Toy Story 3 it's revealed that Sid has grown up and found employment as a binman.
But before you say good riddance to bad rubbish, consider this theory that first emerged on Reddit: after finding out that his toys were alive in the first film, Sid abandoned his destructive ways and became a binman in order to rescue abandoned toys and fix them up. After all, what better way to do that than through a job that has you rifling through people's unwanted items? If the theory holds water then we couldn't be happier for the fella. Here's hoping he makes a cameo in Toy Story 4 and puts those rumours to rest.


Find out what's on Sky Cinema
Get even more lights, cameras and action with our movie homepage, featuring all the daily premieres and more of the thousands of films available on demand on Sky Cinema.

Watch on the go
If you subscribe to Sky Cinema on Virgin TV, you can watch on the go with the Sky Cinema app on your mobile, laptop or tablet anywhere in the UK (or while temporarily in the EU) with a WiFi or broadband connection. Just download from the Apple app store, Google Play or the Amazon appstore and log into the app to start watching.
Upgrade to Sky Cinema now
Don't have Sky Cinema? You can find out about our Sky Cinema package and upgrade here.
TV channels: Channels, content and features available depend on your chosen package. Channel line-ups and content are subject to change at any time and to regional variations.
HD: HD TV set, VHD Box. TiVo box or Virgin TV V6 connected with HDMI cables required for HD channels. Number of inclusive HD channels depends on package.
Sky Cinema app: Only available via the Sky Cinema websites or apps (for selected iOS and Android mobiles and tablets) to customers who subscribe to these channels. UK only. Maximum 2 devices. Only available on iOS 8 and above, and Android 4.x. Selected content may not be available to view. Separate terms and conditions apply to the Sky Cinema apps and websites.
Premium channels (add-ons): 30 days' notice required to remove premium channels/packs. Sky Cinema Premiere +1 not available in HD.
Sky Cinema on demand: Sky Cinema subscription required