Skip to main content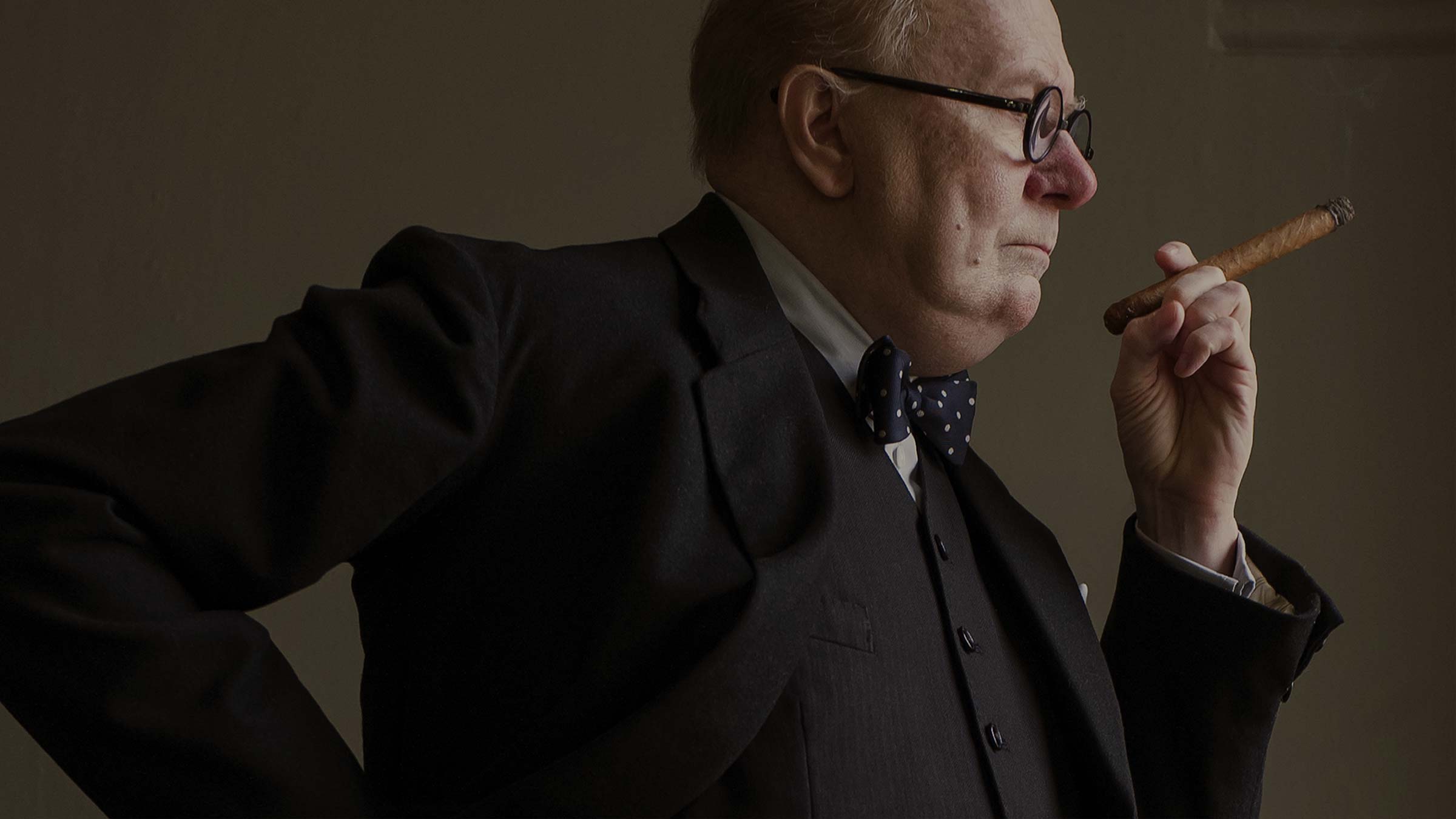 Gary Oldman has been Dracula, Sid Vicious and Sirius Black, and now he plays the PM in this stunning World War II drama

Buy Darkest Hour on the Virgin Media Store now or rent on Virgin Movies from Monday 4 June. Cert PG
Winston Churchill has not been a stranger to the screen in recent years. Brian Cox captured him in the hours leading up to D-Day in Churchill, Timothy Spall embodied him during a time of crisis in The King's Speech and Michael Gambon portrayed him as a postwar PM in ITV drama Churchill's Secret. But never has he been captured quite like this.
Set in the first few weeks of his premiership in 1940, Darkest Hour focuses on the internal clashes between Churchill and his cabinet, rather than the war with Germany. In particular, we see him at loggerheads with his predecessor Neville Chamberlain (Ronald Pickup, The Best Exotic Marigold Hotel) and the Earl of Halifax (Stephen Dillane, Game Of Thrones), who wish to negotiate with Hitler's Germany.

And you'd be forgiven for not recognising who is playing the man himself. Partly due to prosthetics (he reportedly spent a total of 200 hours in make-up), and partly due to sheer genius, Gary Oldman gives what critics have described as the best performance of his career. It won him the Oscar, the BAFTA, the Screen Actors Guild Award and the Golden Globe for Best Actor. His Churchill is outspoken and forceful at times, but it's the vulnerability Oldman gives the outwardly stoical Prime Minister – helped by the film's portrayal of intimate moments with his wife, Clemmie (Kristin Scott Thomas, The English Patient) – that makes this Churchill so special.
Directed by Joe Wright (of Atonement and Pride & Prejudice fame) and written by Anthony McCarten (The Theory Of Everything), the film also stars Lily James (Downton Abbey) as Churchill's unsung hero of a secretary, Ben Mendelsohn (Rogue One: A Star Wars Story) as King George VI, Samuel West (Jonathan Strange & Mr Norrell) as Anthony Eden, and David Schofield (The Last Kingdom) as Clement Attlee.
If you missed it at the cinema – or you saw it at the cinema and therefore know that it's worth another viewing – then make sure you see it now.
Buy Darkest Hour on the Virgin Media Store now or rent on Virgin Movies from Monday 4 June. Cert PG
Want more Gary Oldman?
Well, you're in luck! On the Virgin Media Store you can catch some of his other fantastic performances – as veteran spy George Smiley in Tinker Tailor Soldier Spy, police officer James Gordon in Batman Begins, The Dark Knight and The Dark Knight Rises, the dreadlocked villain Drexl Spivey in True Romance and Sid Vicious from the Sex Pistols in Sid & Nancy.
Not heard about the Virgin Media Store?
It's the place where you can buy hundreds of ace films and TV Box Sets. Want to know more about how to order these top movies and series? Then read our full story here.
How to use it
First, set up your account quickly and easily at virginmediastore.com. Once that's done, if you have a Virgin TV box, you can buy and watch hundreds of films and TV Box Sets via the Virgin Media Store app on your box. Alternatively, if you're not a Virgin TV customer, you can buy and watch via the Virgin Media Store website and do everything through that. Simple!
Virgin Media Store: Separate terms and conditions apply to the Virgin Media Store service. DVD included for movie purchases only. Purchases must be made on the website or set top box. Compatible devices & browser required. Max 5 registered devices. Max 2 devices can stream content simultaneously. Stream and download in UK only.